The Cursed Windeku card functionality and how to get it / La funcionalidad de la carta Cursed Windeku y cómo obtenerla [EN/ESP]
First part in English and second part in Spanish
Primera parte en Inglés y segunda parte en Español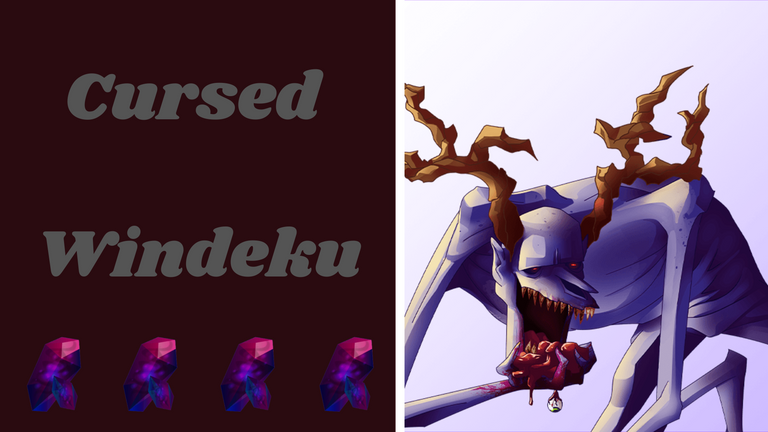 Cursed Windeku is a scary card but incredibly strong and useful for battles so don't be afraid of him because he will be an amazing ally on the battlefield.
But what does this card have to be so amazing?.
First of all he is a first position type card so he would be a defensive card but he is also incredibly powerful on offense so you have a great combination of both with this amazing card.
But why for him in the first position?
Cursed Windeku is a melee attack card and these cards are not able to attack in positions other than the first one unless they have abilities or some rule that allows them to attack from any position. As Cursed Windeku doesn't have any abilities like that so it will depend on the rule of battle, so most of the time it will have more utility in the first position.
What are the statistics for Cursed Windeku?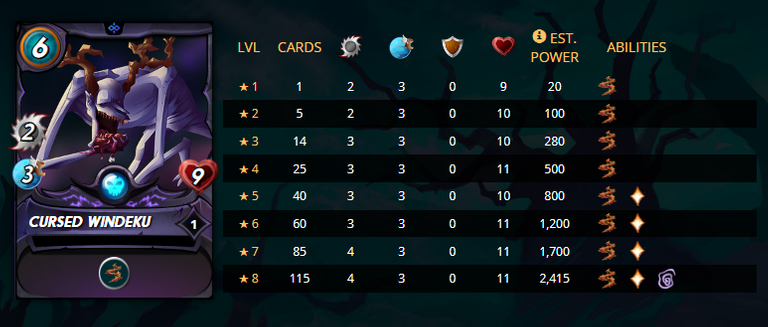 Cursed Windeku since level 1 is already quite strong because it has 9 health which is great for a defensive card, 2 attack which is not much but it has the Thorns ability that will deal damage every time a card is hit. melee attack him then this card will receive 2 damage, the more melee cards your opponent has the more useful Cursed Windeku will be. Its speed is 3 which can be considered a good speed for a level 1 card and its mana cost is 6 which is a little high but that you can put it in battles even though it has little mana available.
This is only at level 1, at higher levels she is even more amazing because her attack and health increase but her speed is still 3 at all levels and she still has 2 more abilities which are the Heal that will heal him based on his health max per round and the Slow ability that reduces the speed of opponent's cards by 1.
Remembering that he can only have the Heal ability from level 5 and that means he will only be able to use it at that level in the league or above and the Slow ability at level 8 where it is only possible to use it at that level in the diamond league or above.
What are the ways to get Cursed Windeku?
The Cursed Windeku belongs to the chaos legion edition which is the most recent edition in Splinterlands, so it is possible to get it in 2 ways.
The first is through the splinterlands market where you can buy it for $0.79 and the payment methods are DEC or credits.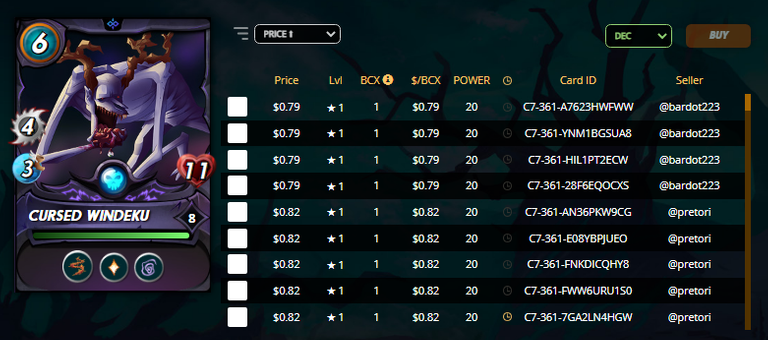 The second way is through the chaos legion packs that are still being sold and each pack costs $4, this pack comes with 5 random cards from the edition and at least 1 rare card or higher is guaranteed per pack. As Cursed Windeku is a rare card so the chances of winning it are not that small but it will depend on your luck too.
You can buy the pack through the shop in splinterlands.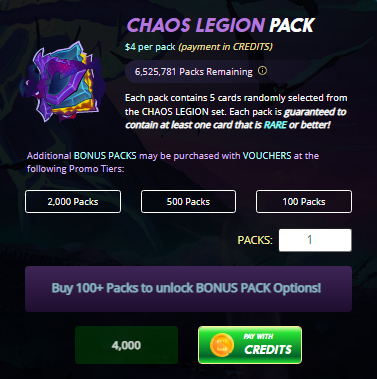 or through the hive engine where its value is traded below $4 but if you buy there you are not eligible for airdrops.

An incredible card to have in your collection, don't you agree?
If you still don't know Splinterlands and want to play you can use my referral link if you want: https://splinterlands.com?ref=dalpon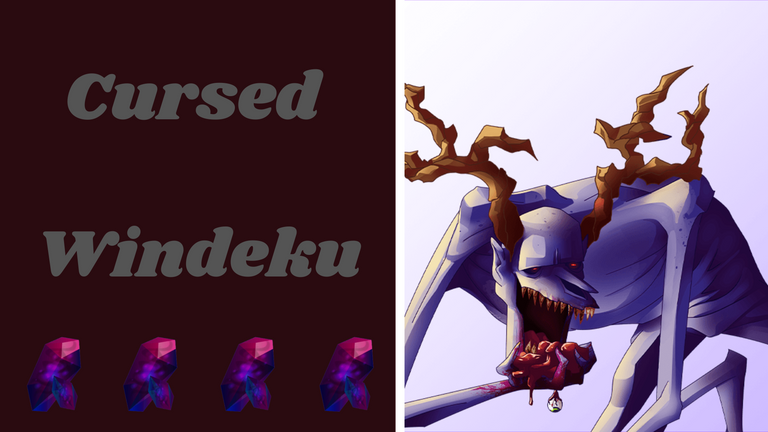 Cursed Windeku es una carta aterradora pero increíblemente fuerte y útil para las batallas, así que no le tengas miedo porque será un aliado increíble en el campo de batalla.
Pero, ¿qué tiene esta carta para ser tan asombrosa?.
En primer lugar, es una carta del tipo de primera posición, por lo que sería una carta defensiva, pero también es increíblemente poderosa en ataque, por lo que tienes una gran combinación de ambas con esta increíble carta.
Pero ¿por qué para él en la primera posición?
Cursed Windeku es una carta de ataque cuerpo a cuerpo y estas cartas no pueden atacar en posiciones distintas a la primera a menos que tengan habilidades o alguna regla que les permita atacar desde cualquier posición. Como Cursed Windeku no tiene habilidades como esa, dependerá de la regla de la batalla, por lo que la mayoría de las veces tendrá más utilidad en la primera posición.
¿Cuáles son las estadísticas de Cursed Windeku?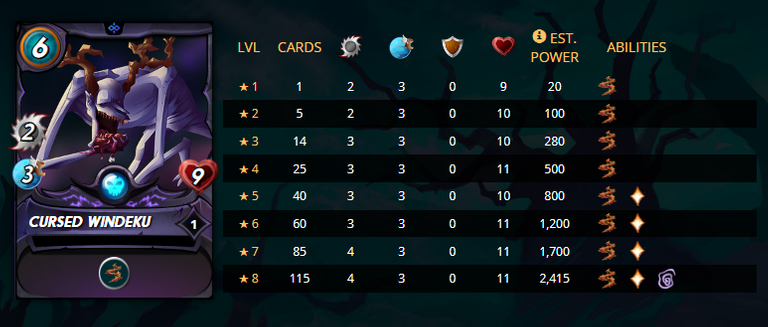 Cursed Windeku desde el nivel 1 ya es bastante fuerte porque tiene 9 de salud, lo cual es excelente para una carta defensiva, 2 de ataque, que no es mucho, pero tiene la habilidad Espinas que infligirá daño cada vez que una carta lo ataque cuerpo a cuerpo, entonces esta carta recibirá 2 de daño, cuantas más cartas cuerpo a cuerpo tenga tu oponente, más útil será Cursed Windeku. Su velocidad es 3 lo que se puede considerar una buena velocidad para una carta de nivel 1 y su costo de maná es 6 que es un poco alto pero que puedes ponerlo en batallas aunque tenga poco maná disponible.
Esto es solo en el nivel 1, en los niveles más altos es aún más sorprendente porque su ataque y su salud aumentan, pero su velocidad sigue siendo 3 en todos los niveles y todavía tiene 2 habilidades más, que son Curar que lo curará en función de su salud máxima. por ronda y la habilidad Lento que reduce en 1 la velocidad de las cartas del oponente.
Recordando que solo puede tener la habilidad Curar desde el nivel 5 y eso significa que solo podrá usarla en ese nivel en la liga o superior y la habilidad Lento en el nivel 8 donde solo es posible usarla en ese nivel en la liga de diamantes o superior.
¿Cuáles son las formas de obtener Cursed Windeku?
El Windeku maldito pertenece a la edición de la legión del caos, que es la edición más reciente en Splinterlands, por lo que es posible obtenerlo de 2 formas.
La primera es a través del mercado de splinterlands donde puedes comprarlo por $0.79 y los métodos de pago son DEC o créditos.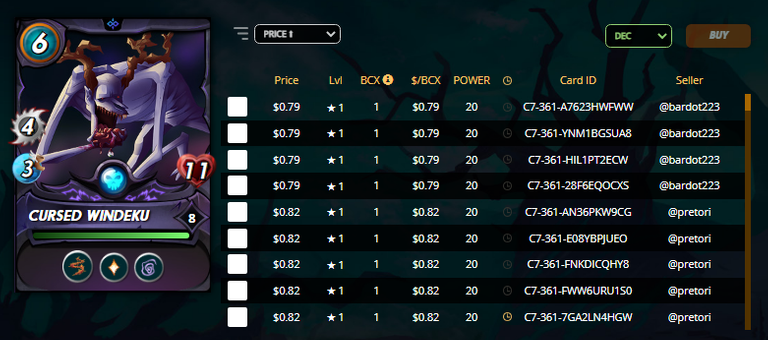 La segunda forma es a través de los paquetes de la legión del caos que aún se venden y cada paquete cuesta $ 4, este paquete viene con 5 cartas aleatorias de la edición y se garantiza al menos 1 carta rara o superior por paquete. Como Cursed Windeku es una carta rara, las posibilidades de ganarla no son tan pequeñas, pero también dependerán de tu suerte.
Puedes comprar el paquete a través de la tienda en splinterlands.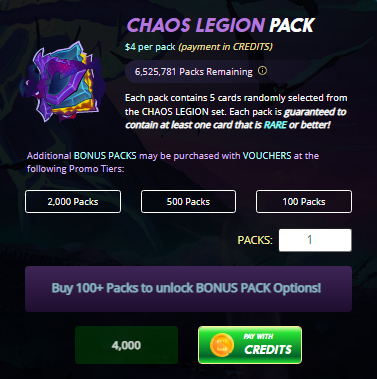 o a través del motor de colmena, donde su valor se negocia por debajo de $ 4, pero si compra allí, no es elegible para lanzamientos aéreos.

Una carta increíble para tener en tu colección, ¿no te parece?
Si aún no conoces Splinterlands y quieres jugar, puedes usar mi enlace de referencia si quieres: https://splinterlands.com?ref=dalpon
---
---