Discovering Abilities XIII: Amplify [EN - ES]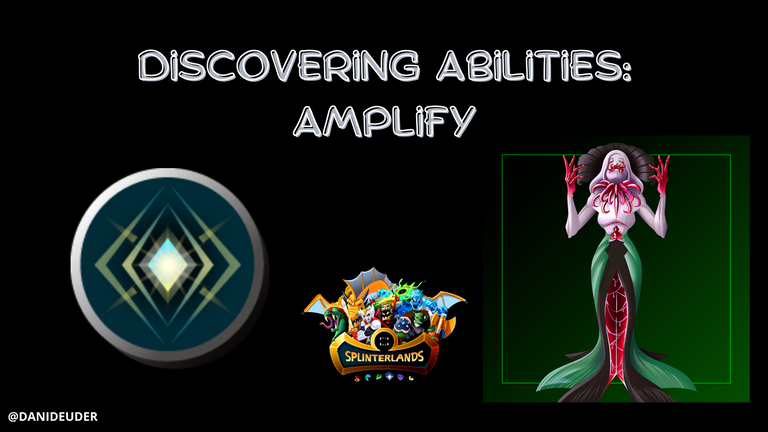 Few jokes with the skill we are analysing this week. Chapter 13 in the series analysing skills in Splinterlands. This week we discover a truly powerful ability and showcase its devastating power with a couple that wreak havoc on the land deck My game has improved considerably since I decided to go with this deck and give my collection two competitive decks for high silver and low gold. I owe much of my improved strategy to Amplify and the combo of Queen Mycelia and Minotaur Warlord. Let's start the analysis of the Amplify ability.
Pocas bromas con la habilidad que analizamos esta semana. Capítulo número 13 de la serie analizando habilidades en Splinterlands. Esta semana descubrimos una habilidad realmente poderosa y mostramos su devastador poder con una pareja que hace estragos en el mazo de tierra. Mi juego ha mejorado de manera considerable desde que decidí apostar por este mazo y dotar así a mi colección de dos mazos competitivos para el nivel alto en plata y bajo en oro. Gran parte de la mejoría de mi estrategia se la debo a Amplify y al combo que forman Queen Mycelia y Minotaur Warlord. Comenzamos el análisis de la habilidad Amplify.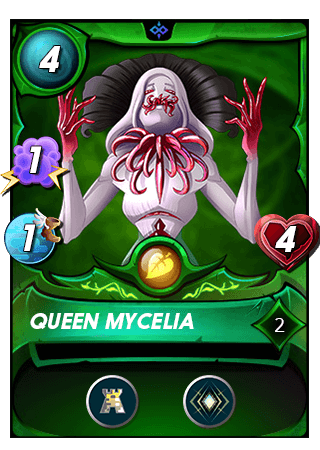 One of the cards that has the Amplify ability is the legendary Queen Mycelia at level 2. Amplify has the effect of amplifying the damage dealt by the Magic Reflect, Return Fire, and Thorns abilities. It is not an ability that adds a bonus to all cards in the lineup, nor does it add to the card that has the ability, which is how most abilities work. Rather, it applies the bonus to all cards that have the three abilities mentioned above.
Una de las cartas que cuenta con la habilidad Amplify es la legendaria Queen Mycelia en su nivel 2. Amplify tiene el efecto de amplificar el daño que causan las habilidades Magic Reflect, Return Fire y Thorns. No es una habilidad que aporte un plus a todas las cartas de la alineación ni tampoco a la carta que posee la habilidad que es el funcionamiento de la mayoría de habilidades. Si no que aplica el bonus a todas aquellas cartas que cuenten con las tres habilidades mencionadas.
This is a rare skill in the Splinterlands universe. Only eight cards have it. And there are no cards that have it at level 1 except for the summoner in the Grandmaster Rathe life deck. The rest of the cards that have Amplify are Venari Heatsmith at level 6, Queen Mycelia and Dax Paragon at level 2 and at level 4 River Nymph, Weirding Warrior, Venari Spellsmith and Venator Kinjo. Only one card in each deck has Amplify and two neutral cards plus a summoner. This is a rare and scarce ability.
Esta es una habilidad muy escasa en el universo Splinterlands. Solo ocho cartas cuentan con ella. Y no hay ninguna carta que la tenga a nivel 1 salvo el invocador del mazo de vida Grandmaster Rathe. El resto de cartas que cuentan con Amplify son Venari Heatsmith a nivel 6, Queen Mycelia y Dax Paragon a nivel 2 y a nivel 4 River Nymph, Weirding Warrior, Venari Spellsmith y Venator Kinjo. Solo una carta de cada mazo cuenta con Amplify y dos cartas neutrales además de un invocador. Estamos, pues, ante una habilidad rara y escasa.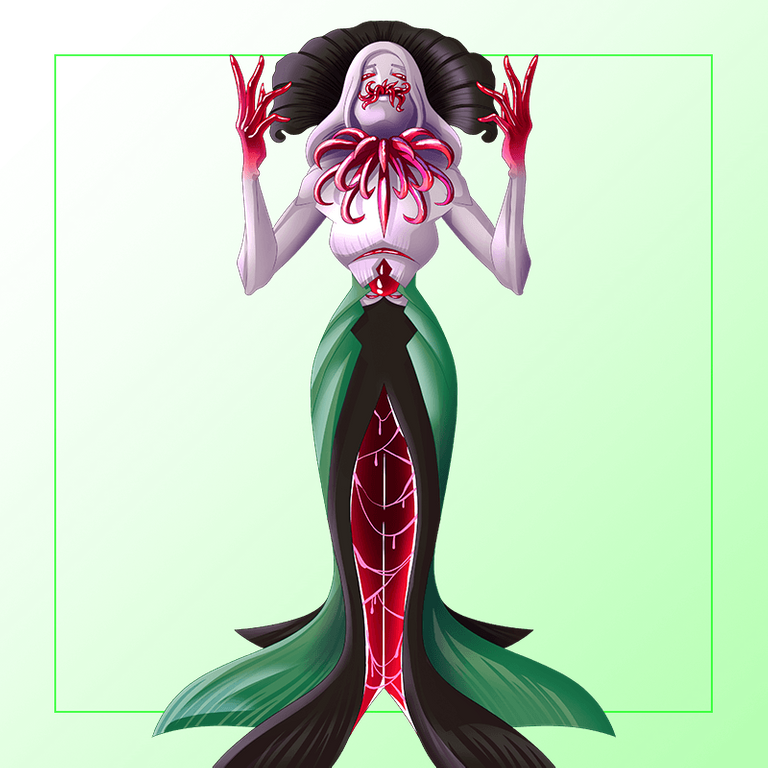 As you can imagine, it is a skill that requires certain conditions when it comes to shaping your line-up. If you don't have Magic Reflect, Return Fire, or Thorns in your lineup, Amplify is as good as gone. Now, this ability combined with Mylor Crowling, for example, is absolutely lethal. In my analysis, I combine Queen Mycelia with Minotaur Warlord who, at level 2, has two of these abilities: Return Fire and Magic Reflect. With this combination, I get Minotaur to return amplified damage when receiving ranged or magic attacks.
Como te puedes imaginar es una habilidad que te exige ciertas condiciones a la hora de conformar tu alineación. Si no cuentas en tu alineación con cartas que tengan lashabilidades Magic Reflect, Return Fire o Thorns, Amplify es como si no existiera. Ahora bien, esta habilidad combina con Mylor Crowling, por ejemplo, resulta absolutamente letal. En mi análisis combino a Queen Mycelia con Minotaur Warlord que, en su nivel 2, tiene dos de estas habilidades: Return Fire y Magic Reflect. Con esta combinación consigo que Minotaur devuelva daño amplificado cuando reciba ataques a distancia o mágicos


The example battle pits me against
@vmetelz7
and his fire deck with Tarsa at level 4. A very powerful deck that can cause me a lot of trouble. To face him I will use my earth deck with predominantly magic attack using Obsidian, level 3, as my summoner.
Let's see how the Minotaur Warlord + Queen Mycelia combo performs
against an opponent that will have a melee-heavy attack in its ranks and could use some powerful ranged cards. Cards that, as you can imagine, will suffer greatly from the presence of Amplify in Minotaur Warlord.
La batalla de ejemplo me enfrenta a @vmetelz7 y su mazo de fuego con Tarsa a nivel 4. Un mazo muy poderoso que me puede causar muchos problemas. Para enfrentarlo utilizaré mi mazo de tierra con predominio de ataque mágico utilizando a Obsidian, nivel 3, como invocador. Vamos a ver que tal rinde el combo Minotaur Warlord + Queen Mycelia ante un rival que tendrá predominio de ataque cuerpo a cuerpo en sus filas y que podría utilizar algunas cartas poderosas con ataque a distancia. Cartas que, como podrás imaginar, sufrirán mucho ante la presencia de Amplify en Minotaur Warlord.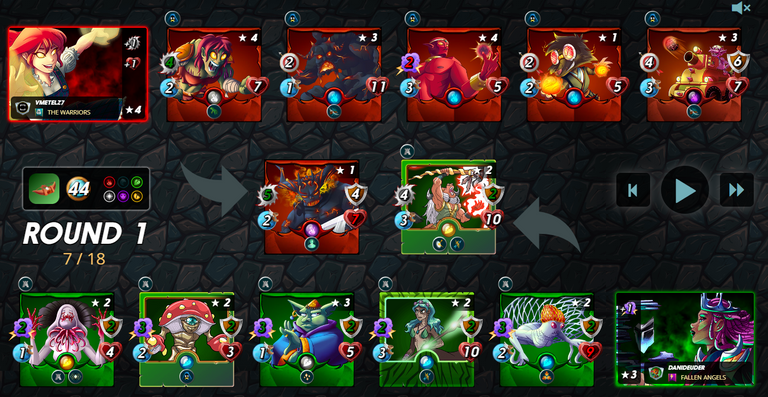 Up to four cards will take damage when attacking Minotaur Warlord my opponent places in their lineup. An evenly matched battle easily goes my way thanks to all the damage Minotaur Warlord passively deals thanks to the Amplify ability The battle will end with only one casualty in my ranks and a significant amount of damage caused by Amplify which, along with all the magic damage I deal each round, means that my opponent has no chance of winning at any point.
Hasta cuatro cartas que sufrirán daño cuando ataquen a Minotaur Warlord coloca mi rival en su alineación. Una batalla igualada cae facilmente de mi lado gracias a todo el daño que causa Minotaur Warlord de forma pasiva gracias a la habilidad Amplify. La batalla acabará con solo una baja en mis filas y con un importante destrozo causado por Amplify que, junto a todo el daño mágico que causo en cada ronda, hacen que mi rival no pueda tener opciones de victoria en ningún momento.


A totally destructive ability is Amplify. It's true that it forces you to have cards in your line-up with all three of the abilities it boosts. However, the reward for doing so exponentially increases the performance of those cards and thus our chances of victory. It's a rare ability, and one that can only be used in Enhanced decks because there are no cards at level 1 that have Amplify but the difference between having this ability in battle and not having it is something very important to keep in mind. A must-have ability. Especially in mid to high level leagues in the Splinterlands universe.
Una habilidad totalmente destructiva es Amplify. Es cierto que te obliga a tener en tu alineación cartas con las tres habilidades que potencia. Sin embargo, la recompensa por hacerlo aumenta de manera exponencial el rendimiento de esas cartas y, por tanto, nuestras opciones de victoria. Es una habilidad rara y que solo podremos utilizar en mazos mejorados pues no hay cartas a nivel 1 que cuenten con Amplify. Pero es que la diferencia entre contar con esta habilidad en batalla a no tenerla es algo muy importante a tener en cuenta. Habilidad imprescindible. Especialmente en ligas de nivel medio o alto en el universo Splinterlands.

If you want take a look at all my reviews here are the links:
I.- Cripple
II.- Trample
III.- Double Strike
IV.- Magic Reflect
V.- Heal
VI.- Void Armor
VII.- Bloodlust
VIII.- Resurrect
IX.- Reach
X.- Opportunity
XI.- Silence
XII.- Affliction

All the images in this article are credited to splinterlands.com. Cover image made in canva.com and headers with cooltext.com
Divider credited to @kyo-gaming. You can find more dividers from kyo here.
Don't have an account in the game. Join us and conquer splinterlands with my referral link.
---
---