Share your battle - arrived from the crypt [EN - ES]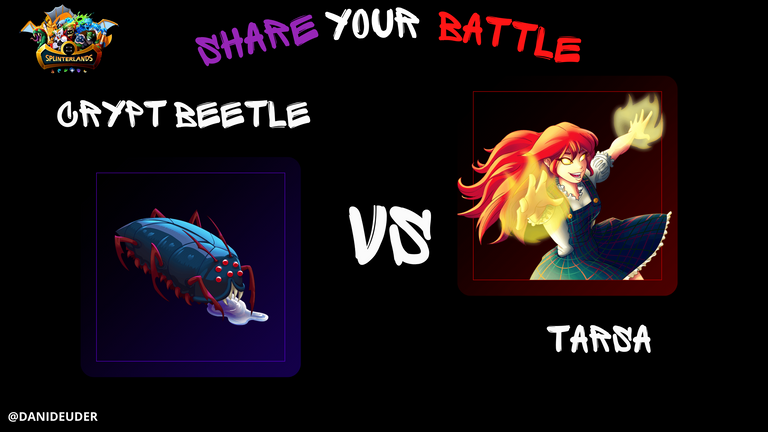 Yesterday we enjoyed the Social Media Challenge and today, Wednesday like Sheffield, it's time to enjoy the Share your Battle. This week it's the deck of death and a card that, moreover, has it in its DNA to come out of death. We analyse Crypt Beetle and its abilities in the last share your battle of this month of April. Let's get to know this jolly beetle a little better.
Ayer disfrutamos con el Social Media Challenge y hoy, miércoles como el Sheffield, toca disfrutar con el Share your Battle. Esta semana ha tocado el mazo de muerte y una carta que, además, lleva en su adn salir de la muerte. Analizamos a Crypt Beetle y sus habilidades en el ultimo share your battle de este mes de abril. Vamos a conocer un poco más a este alegre escarabajo.
CRYPT BEETLE
THE CARD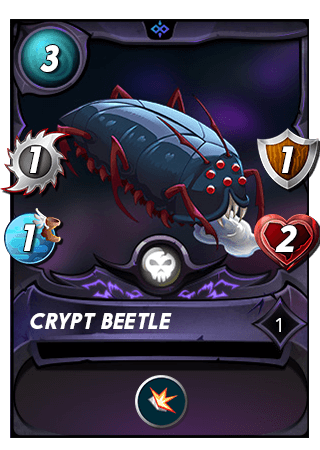 This week we return to the deck of death and a card that has more potential than it might seem at first glance. Having a base ability at level 1 like Shield gives a good bonus to a card that can play a good role as a tank to avoid the first two or three attacks thanks to both that ability and the small shield point it has.
Esta semana volvemos a la carga con el mazo de muerte y con una carta que tiene mayor potencial del que a primera vista pudiera parecer. Y es que tener una habilidad de base ya en el nivel 1 como es Shield aporta un buen bonus a una carta que puede hacer un buen papel como tanque para evitar los primeros dos o tres ataques gracias tanto a esa habilidad como a su pequeño punto de escudo que posee.
This beetle from a random pharaoh's crypt is of common rarity. It has a summoning cost of 3 points, perhaps a little high, and basic stats of 1 attack point, speed and shield, and 2 life. Very modest stats that improve with the Shield ability. This ability reduces the melee and ranged damage dealt by opponents, making it a little harder to get rid of this little beetle.
Este escarabajo salido de una cripta de un faraón random es de rareza común. Tiene un coste de invocación de 3 puntos, quizá un poco elevado, y unas estadísticas básicas que aportan un punto de ataque, velocidad y escudo y una vida de 2 puntos. Estadísticas muy modestas que mejoran con la habilidad Shield. Esta habilidad reduce el daño de mele o a distancia que le causen los rivales haciendo que sea un poco más difícil deshacerse de este pequeño escarabajo.
It is a card that returns to use in two positions and, beyond that, little else. Putting Cryot Beetle in the centre of your line-up is a waste of potential. Where you can get the most out of its abilities is mainly as a tank ahead of a higher-powered tank in medium-high mana battles or in the last position to protect a card that does damage to your opponent's rear. In low mana battles he is a more than interesting tank as he could relatively easily last the first round of the battle.
Es una carta que vuelve a tener uso en dos posiciones y, más allá de eso, poco más. Colocar al Crypt Beetle en el centro de tu alineación es una pérdida de potencial. Donde se puede sacar el jugo a sus habilidades es, principalmente, como tanque por delante de otro tanque de mayor poder en batallas de maná medio-alto o en la última posición para proteger a una carta que haga daño a la retaguardia rival. En batallas de poco maná es un tanque más que interesante ya que podría aguantar con relativa facilidad con vida la primera ronda de la batalla.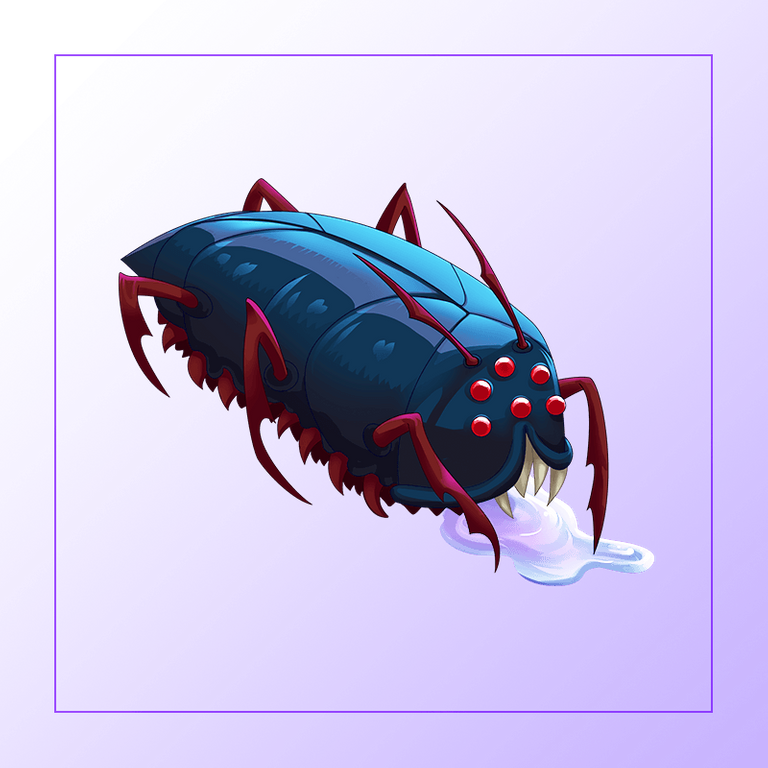 THE CRYPT BEETLE'S ABILITIES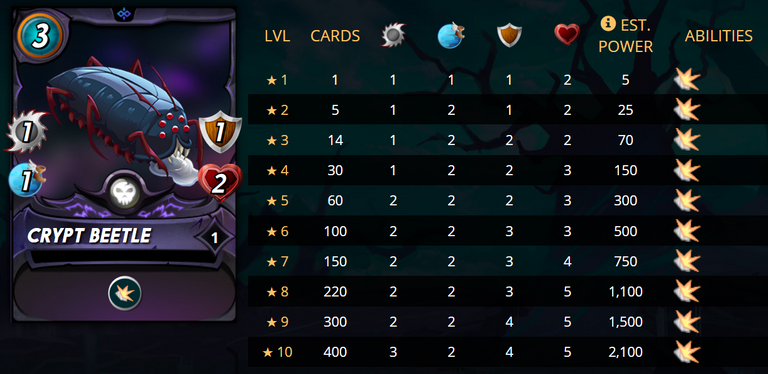 As we can see from Crypt Beetle's abilities, we will not be lucky enough to get any additional special abilities as we level up our beetle. What will gradually increase is the rest of the skills. So, at maximum level, he will have 3 attack points, 2 speed points, his shield will have increased from one point to four and his health will have increased to five points. We can't expect a spectacular increase in a card of common rarity, can we?.
Como vemos en las habilidades de Crypt Beetle no vamos a tener la suerte de que sume alguna habilidad especial adicional a medida que aumentamos el nivel de nuestro beetle. Lo que si irá aumentando de manera paulatina es el resto de habilidades. Así, a nivel máximo, tendrá 3 puntos de ataque, 2 de velocidad, su escudo habrá aumentado de un punto a cuatro y su vida hasta los cinco puntos. Tampoco podemos esperar un aumento espectacular en una carta de rareza común, ¿no?
Crypt Beetle is a so-called Starter card, so we can all use it from the first minute we start playing. If you still want to own it, it will cost you, at the time of writing, 0.076 dollars and, for rent, just 0.10 dec/day. Prices always talking about level 1.
Crypt Beetle es una carta de las llamadas Starter por lo que todos podemos utilizarla desde el minuto 1 en el que empezamos a jugar. Si aún así la quieres tener en propiedad te costará, en el momento de escribir este análisis, 0,076 dolares y, en alquiler, apenas 0,10 dec/día. Precios siempre hablando para el nivel 1.
| Name | Crypt Beetle |
| --- | --- |
| Rarity | Common |
| Splint | Death |
| Mana Cost | 3 points |
| Abilities | Shield at level 1 |
| Market Price | 0.076 dollars and 0.1 dec for rent |
THE BATTLE
For the battle we took as an example of a possible use for Crypt Beetle, we measured ourselves against a fire deck led by Tarsa as the summoner. Living Lava as a tank with the same Shield ability as our beetle, Disintegrator to reduce my melee attack and a couple of cards to do damage to my rearguard plus an interesting card like Scavo Hireling to restore his tank's shield after each round. A well-balanced and well-designed line-up to face the opponent, in this case, my deck of death.
Para la batalla que tomamos de ejemplo de un posible uso para Crypt Beetle nos medidos a un mazo de fuego liderado por Tarsa como invocadora. Living Lava como tanque con la misma habilidad Shield que posee nuestro beetle, Disintegrator para reducir mi ataque cuerpo a cuerpo y un par de cartas para hacer daño a mi retaguardía además de una carta interesante como Scavo Hireling para ir restaurando el escudo de su tanque tras cada ronda. Una alineación compensada y bien diseñada para enfrentarse al rival que le toque, en este caso, mi mazo de muerte.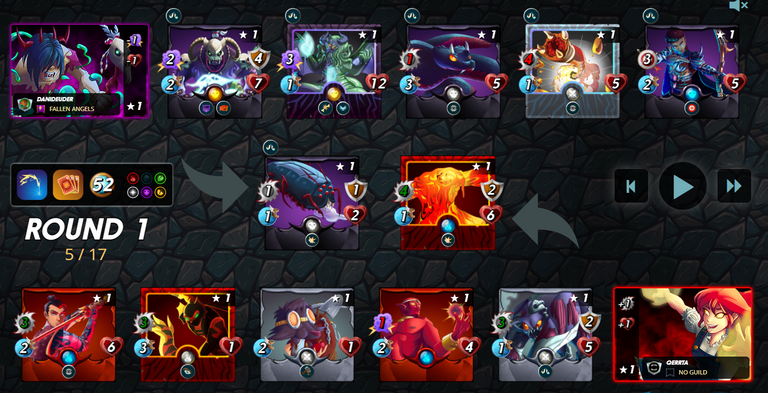 | Card | Explanation |
| --- | --- |
| Lorna Shine | For me the best summoner in the life deck. Her Divine Sheild ability causes the first attack on every creature on your team to be reduced to zero. |
| Crypt Beetle | Mini tank to take the opponent's first damage points and protect, in turn, my real tank who is in second position on standby. |
| Djinn Muirat | A superb tank with a magic attack and void ability that reduces the opponent's magic damage, making the 4 point shield and high seven point health very useful. |
| Cthulhu | H.P. Lovecraft's dream in Splinterlands. Little to say about this legendary card that literally shatters the enemy every time it casts its magic attack. |
| Silent Sha-VI | Chosen for his sneak ability and damage to the opposing rearguard. |
| Sand Worm | Same reasoning as with Silent Sha-VI. Also, in a high mana battle its high damage is important even though it is reduced by the enemy Disintegrator's ability. |
| Dhampir Stalker | A card I love because of its True Strike ability. Three points of ranged damage that won't miss a round. |
Crypt Beetle, as planned, held on for the entire first round alive and allowed Djinn Muirat to make it through the second round intact. An easy win in which the level of my cards was superior and they performed perfectly.
Crypt Beetle, como estaba planificado, aguantó toda la primera ronda con vida y permitió que Djinn Muirat llegara la segunda intacto. Victoria asequible en la que el nivel de mis cartas era superior y cumplieron a la perfección.
CONCLUSIONS
Crypt Beetle is a useful card. The proof is in the market itself. It is up to three times more expensive than other common cards and is in our deck without the need to buy it. A good tank in low mana battles and useful in higher mana battles thanks to its Shield ability which is what really gives value to this Beetle from the death deck. Good Challenge this week with a good card for the lower tiers of the rankings.
El escarabajo de la cripta es una carta útil. La prueba está en el propio mercado. Es hasta tres veces más caro que otras cartas comunes y está en nuestra baraja sin necesidad de comprarlo. Un buen tanque en batallas de bajo maná y útil en batallas de mayor maná gracias a su habilidad Escudo que es lo que realmente da valor a este Escarabajo del mazo de la muerte. Buen Reto esta semana con una buena carta para los niveles más bajos de la clasificación.

¿Quieres unirte al Clan Fallen Angels? Clica aquí
All the images in this article are credited to splinterlands.com. Cover image made in canva.com
---
---