Splinterlands - Season End: New Wild vs Modern Formats
The big news this Season was the start of the Modern and Wild formats. I have to admit that I played only a handful of matches in the Wild format. I ran out of time to try and split my matches between the two formats.
Even though I was able to receive 48 Silver chests, the value was on $0.59 USD. I thought that was a little low but I was still pleased to get as many cards as I did. The 562 DEC was very nice as well.

The above card summary is run from https://splintershare.info/
Season End Performance
I run my season end report from this site: https://kiokizz.github.io/Splinterlands/seasonReportCard
Wild Format
I did not play in the wild format very much this season. Honestly, I kept forgetting about it. I had a season high rating of 750 and ended the season with a rating of 711 - Bronze 1.
My win/loss ratio was less than 1 at 0.82 with 14 wins and 17 losses. When I would play wild matches, I kept encountering summoners leveled up to level 4 through 6 with the associated leveled up cards so that sort of discouraged me also for having more matches in the Wild format.
Modern Format
I spent most of my time in the Modern Format playing matches. I had a season high rating of 2119 and that is where I ended the season in Silver I.
My win/loss ratio was 1.11 with 182 wins and 164 losses. My longest streak was 8 match wins.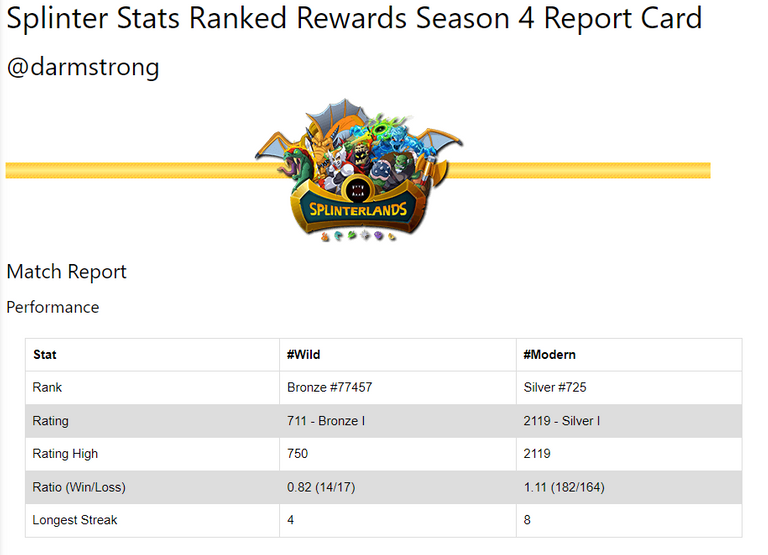 Season End Ranking
In the Modern format, I finished the season with a rating of 2,119 down around 400 points from last season's rating. I finished last season with a ranking of 2878 in the Silver League. This season I finished Ranked 661 a major jump but I think this must have been that more players either split their time or jumped up to Gold League. Maybe I can push that up even more this season.
I was able to have ranked battles 328 times which was 64 less than last season. My total wins were 192 down from the 215 wins of last season. This resulted in a 58.5% win rate compared to the 54.8% win rate I had last season. I would like to have a season where my % was greater than 60%. Maybe that will happen this next season.

I did think it was very strange that four of the five top ranked winners of all the DEC only played one match and were able to win the season. Even the 3rd and 4th place players did not even win that one match they played and stay earned a lot of DEC for placing. This may have been due to the change occurring on the second or third day of the season and what rating you had at the time was assigned to both formats. I do not expect this to happen again this season so I might end up with a higher ranking.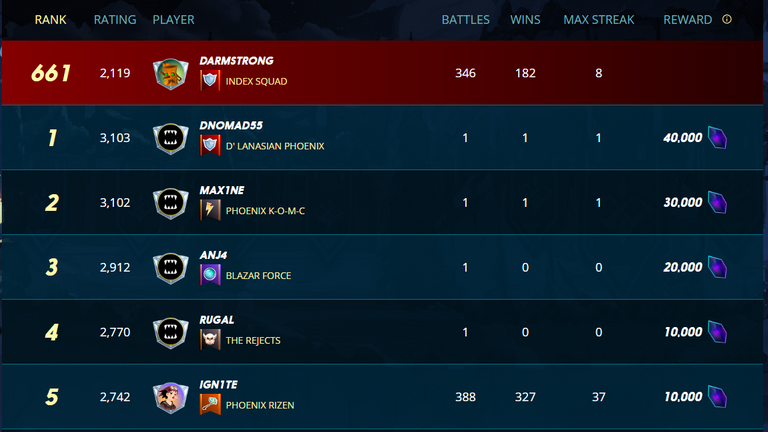 Tournaments
I played in seven tournaments this season, three less than last season but won slightly less SPS. The fees reflect the higher silver league entry fees but I had entered them when I was in the bronze league so paid less than what it is reflecting.

The interesting part about the tournaments is that my highest payout was from my worst performance in a tournament where I only won one match. One of the tournaments, I was able to make it to the second round and played a total of 21 matches. In that tournament, I only won 3 SPS.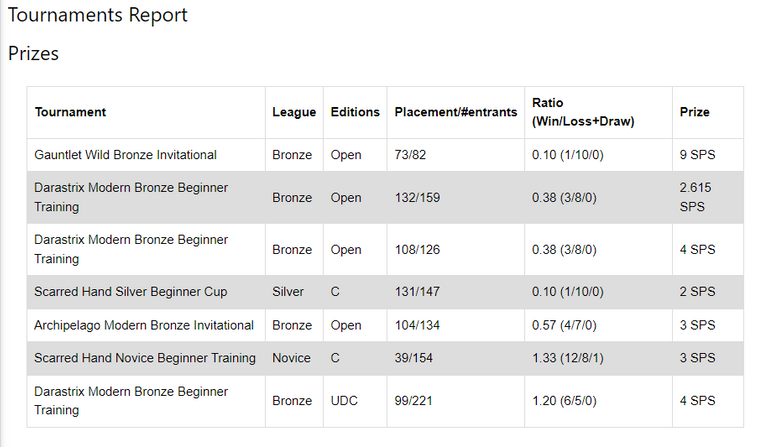 Rented into Silver I
Since the collection power requirements are lower in the Modern League, I rented enough cards to get me into Silver I. This helped me earn more points for both Daily Focus and Season Chests.

I do not yet know if this was the wisest decision based on the value of the chests I earned during the season. As you noticed above, my season end total chests were valued at $0.59 USD. Most of my daily focus rewards were valued under $0.05 USD and my lowest valued reward was zero... Not worth anything at all???

I guess the good news is I added 61 potions (30 Legendary, 31 Alchemy). However I do not currently buy packs to be able to use them. I guess I will need to start buying packs to be able to use the rewards I win during the season.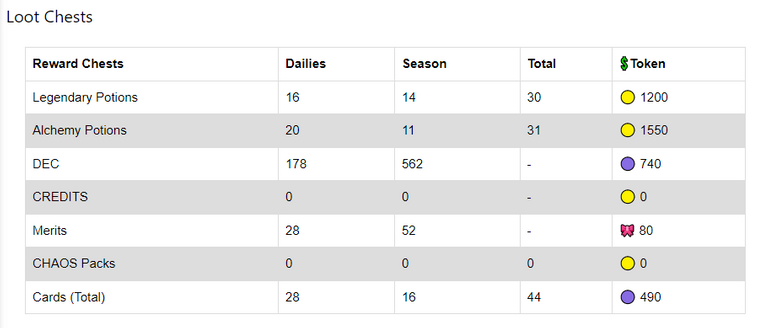 ---
If you have not started playing this exciting Play2Earn game, you should start. Here is my link to sign up:
https://splinterlands.com?ref=darmstrong
---
To help support the community, I have become a Hive Engine Witness. My HE witness name is @darmst . If you would like to support me support the community, I would appreciate your Workerbee vote. You can vote at https://primersion.com/he-witnesses I am currently around 30th on the list.
Posted using Splintertalk
---
---