SHARE YOUR BATTLE Weekly Challenge! MYCELIC SLIPSPAWN. [Eng-Esp]
On this occasion, I faced @jhled25666062 , logically I had to use Mycelic Slipspawn and the mana of the battle was 26, so I created the following strategy.
En esta ocasión, enfrente a @jhled25666062 , lógicamente había que usar a Mycelic Slipspawn y el mana de la batalla era de 26, así que cree la siguiente estrategia.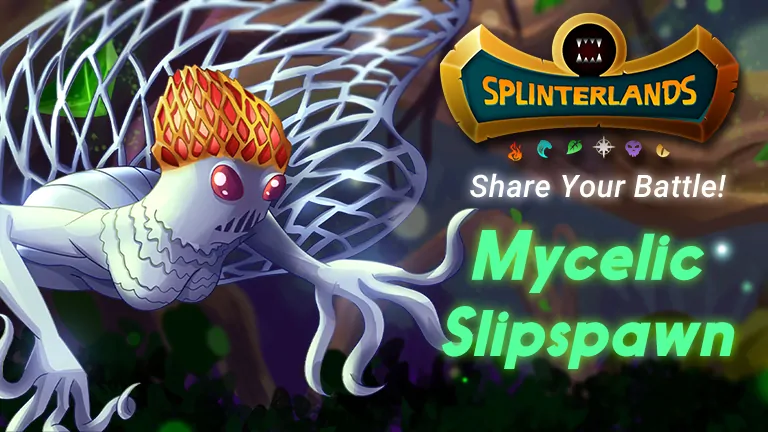 Source:.
Use: Obsidian, Unicorn Mustang, Mycelic Slipspawn, Khmer Princess and Djinn Biljka, this way I would cover the total mana available for the battle, besides that I used some of my favorite cards.
Utilice a: Obsidian, Unicorn Mustang, Mycelic Slipspawn, Khmer Princess y Djinn Biljka, de esta forma cubriría la totalidad de mana disponible para la batalla, ademas de eso use algunas de mis cartas favoritas.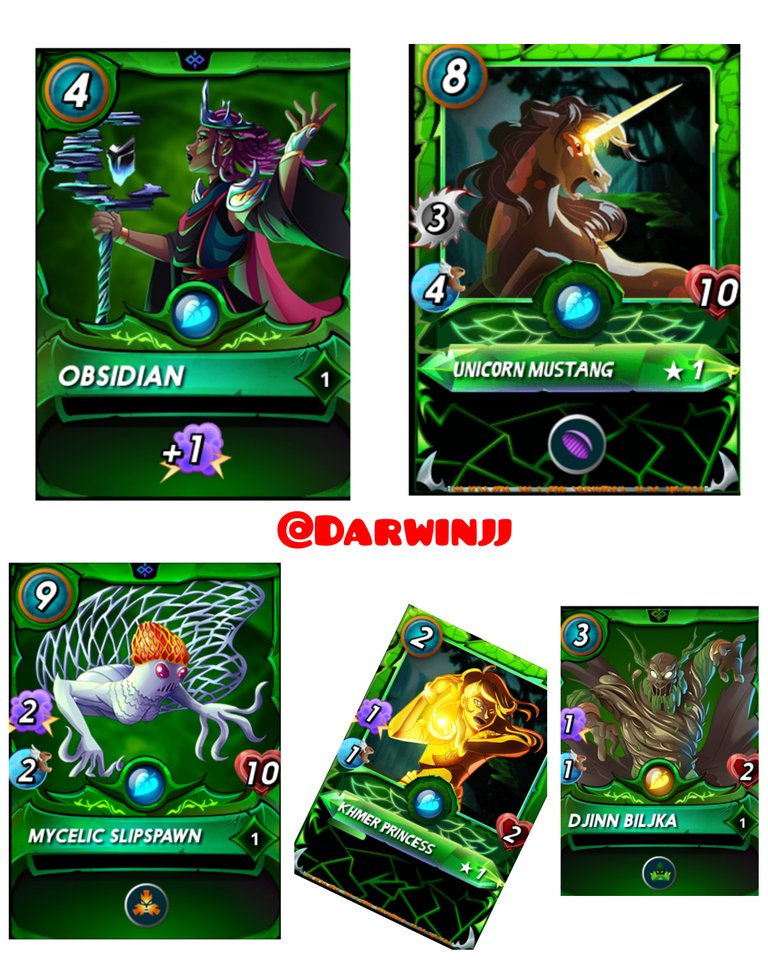 Image created in GripArt.
Obsidian: This summoner allows me to increase the magic of my cards, which is fantastic, since I like to use magic cards in every element.
Obsidian: Este invocador me permite aumentar la magia de mis cartas, lo cual es fantástico, ya que me gusta usar cartas mágicas en cada elemento.
---
Unicorn Mustang: It is very strong and can be used in the first position, due to its resistance, plus it reduces the opponent's magic attack.
Unicorn Mustang: Es muy fuerte y puede ser usado en la primera posición, debido a su resistencia, además de que reduce el ataque mágico del oponente.
---
Mycelic Slipspawn: This card has a good attack, but its main attraction is that it works as a bait, since it receives all the attacks and thus protects the other cards.
Mycelic Slipspawn: Esta carta tiene un buen ataque, pero su principal atractivo es que funciona como una carnada, ya que recibe todos los ataques y así protege a las demás cartas.
---
Khmer Princess: It is great to use it when there is little mana left and we want to use magic as the main element, because Obsidian allows you to increase the attack and only consumes 2 mana.
Khmer Princess: Es genial usarla para cuando queda poco mana y deseamos usar la magia como elemento principal, por el hecho de que Obsidian le permite aumentar el ataque y solo consume 2 de mana.
---
Djinn Biljka: This legendary card has a very useful special ability, since it does not receive attacks in the last position, besides it also has a low mana cost and increases the magic attack with the Obsidian summoner, therefore, we can be sure that it will perform several attacks and that it will remain in battle.
Djinn Biljka: Esta carta legendaria tiene una habilidad especial muy útil, puesto que no recibe ataques en la ultimas posición, además de que también tiene un bajo costo de mana y aumenta el ataque mágico con el invocador Obsidian, por lo tanto, podemos tener la seguridad de que realizara varios ataques y que permanecerá en batalla
---
Battle:
In this battle use the m.plinterlands.io demo, because it is best viewed on the phone.
En esta batalla usela demostracion de m.plinterlands.io , debido a que se visualiza mejor en desde el telefono.
Round 1.
In the first round I finished off my opponent's Mycelic Slipspawn, as all my allied cards performed their attack and destroyed his 10 life.
En el primer round acabe con Mycelic Slipspawn de mi oponente, ya que todos mis cartas aliadas realizaron su ataque y destruyeron sus 10 vidas.
---
Round 2.
In the second round I destroyed Regal Peryton and even my Mycelic Slipspawn was still in battle, so it resisted very well, in this same round I also finished with Goblin Psychic, so I was left with many cards in the battle.
En el segundo round destruí a Regal Peryton y aun mi Mycelic Slipspawn seguía en batalla, por lo tanto, resistió muy bien, en este mismo round también acabe con Goblin Psychic, de esta forma quede con muchas cartas en la batalla.
---
Round 3.
The last card standing of my opponent was Khmer Princess, this card was destroyed by Unicorn Mustang.
La última carta en pie de mi oponente fue Khmer Princess, esta carta fue destruida por Unicorn Mustang.
---
Round 1.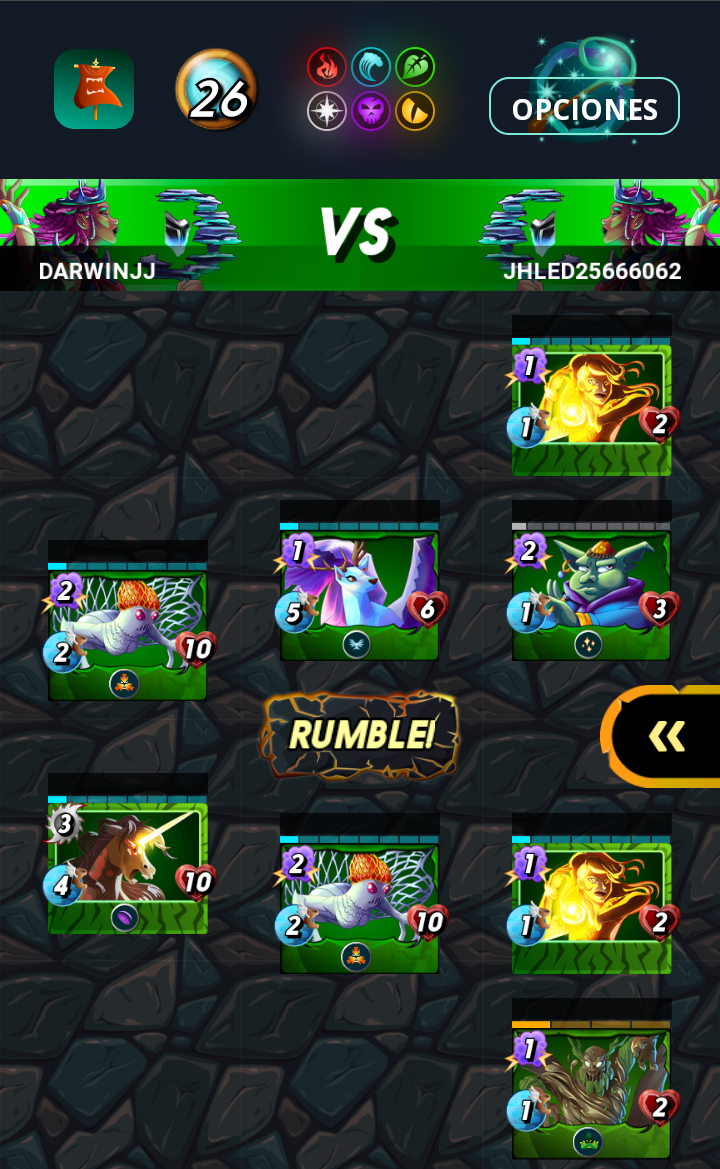 ---
Round 3.
---
---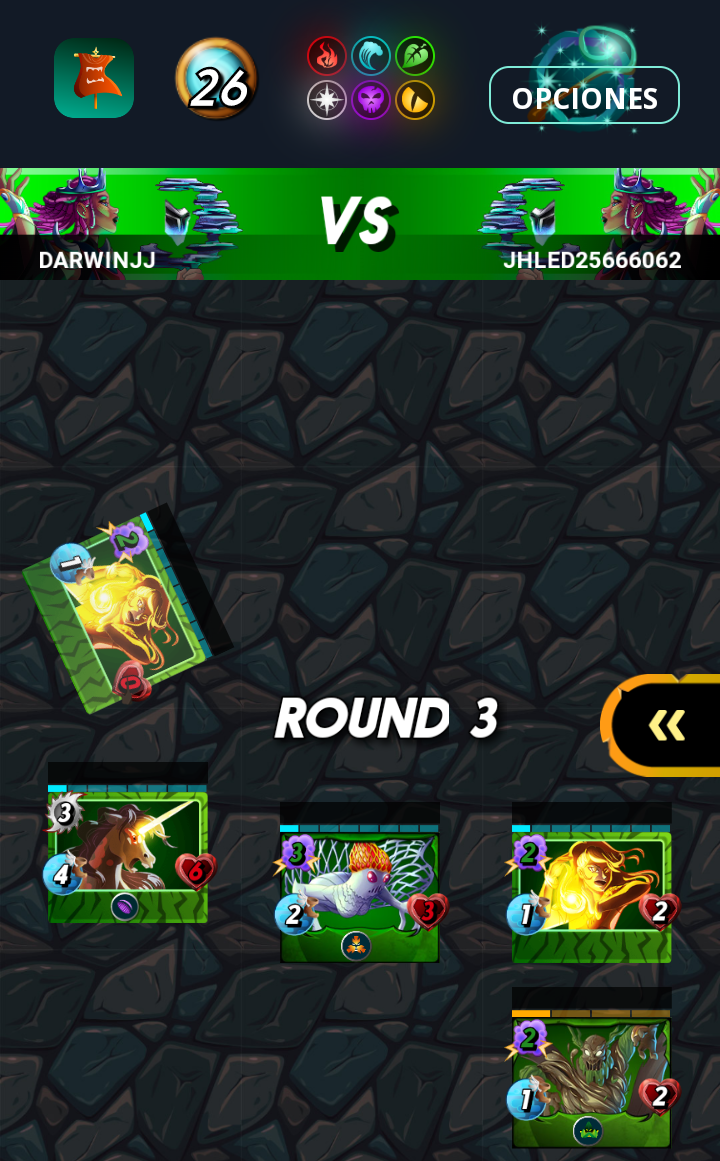 Round 2.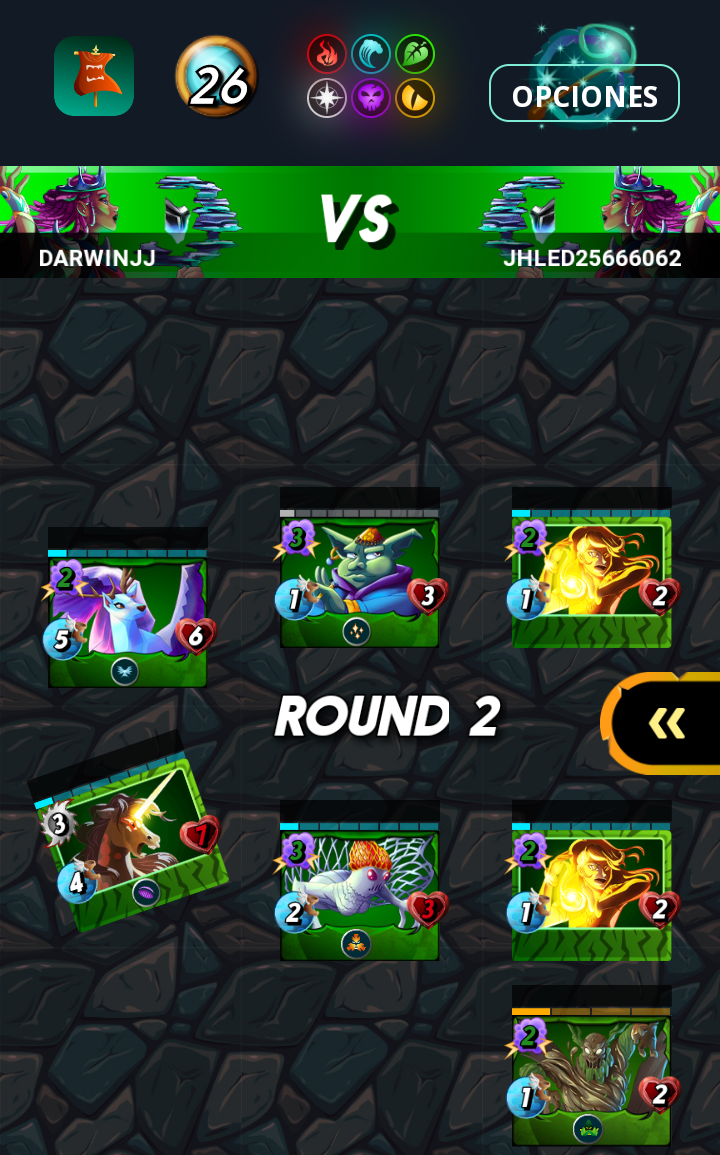 ---
As you can see, my strategy was superior to my opponent's and the fact that the opponent used Goblin Psychic to increase life did not work, since all his cards were destroyed and mine were left standing in the battle.
Como se puede apreciar, mi estrategia fue superior a la de mi adversario y que el oponente usara a Goblin Psychic para aumentar la vida no le funciono, ya que todas sus cartas fueron destruidas y las mías quedaron en pie en la batalla.
.
Link: https://m.splinterlands.io/#/battle/game/process/sl_7444d7e32534e2aaa82ffdaefe720312
---
- Conclusion.
This was the culmination of my battle in which I was able to demonstrate how useful Mycelic Slipspawn is and how it can be used, it was a lot of fun to participate.
De esta forma culmino mi batalla en la cual pude demostrar lo util y el modo en que se puede usar a Mycelic Slipspawn, fue muy divertido participar.

I hope I have fulfilled your expectations and that you have enjoyed watching my publication.
---
Written in Spanish and translated with www.DeepL.com/Translator (free version)

---
---