Splinterlands Battle Weekly Challenge ! DRAGONS! |ESP | ENG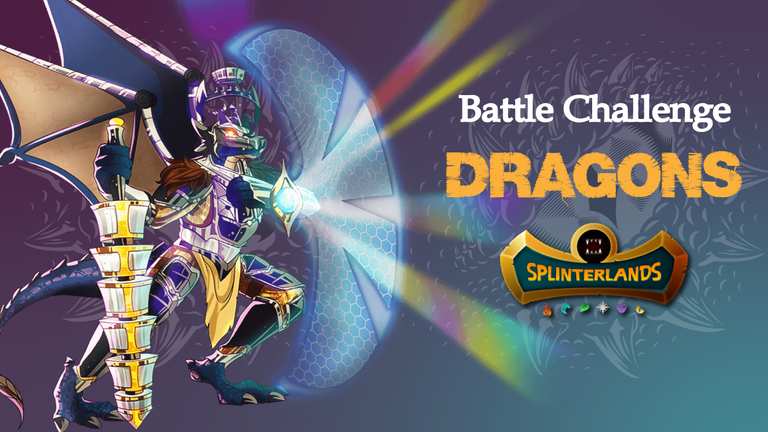 Hello my @splinterlands lovers, I have already said in other occasions that I love dragons is one of my favorite elements these are so cool without any doubt, when I saw this week's challenge I was mega happy to see that it was about this element and without thinking twice I went to create a battle with the dragon I wanted to talk about in this post because I have not talked about it in other occasions and I thought it was a good idea to share about it and without further ado I tell you that this dragon that I have selected to share with you is ROBO-DRAGON KNIGHT this belongs to the Reward edition.
Hola mis amantes de @splinterlands, ya he dicho en otras ocasiones que me encantan los dragones es uno de mis elementos favoritos estos son tan geniales sin duda alguna, cuando vi el reto de esta semana me puse mega feliz al ver que se trataba de este elemento y sin pensarlo dos veces me puse a crear una batalla con el dragón del que quería hablar en este post ya que no he hablado de él en otras ocasiones y me pareció una buena idea compartirlo y sin más preámbulos les cuento que este dragón que he seleccionado para compartir con ustedes es ROBO-DRAGON KNIGHT este pertenece a la edición Reward.
My Battle 🏆
Mi batalla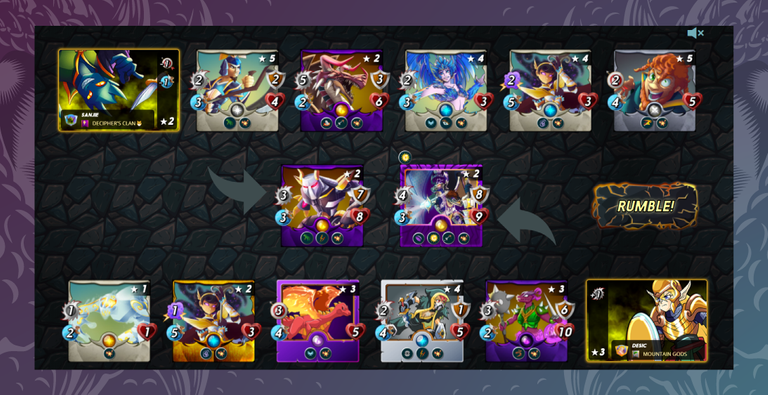 Link to my Battle🏆
The battle I share with you today is a melee based battle taking advantage of the rules of the moment and this battle was super close as it was a dragon vs. dragon battle something quite fascinating to watch round after round despite knowing that you can click and see results but I preferred to see each round until the end and it feels exciting to have beaten this team which was strong.
La batalla que les comparto hoy es una batalla basada en el combate cuerpo a cuerpo aprovechando las reglas del momento y esta batalla estuvo súper reñida ya que fue una batalla de dragón contra dragón algo bastante fascinante de ver ronda tras ronda a pesar de saber que se puede hacer click y ver los resultados pero preferí ver cada ronda hasta el final y se siente emocionante haber vencido a este equipo que estaba fuerte.
Rule of my Battle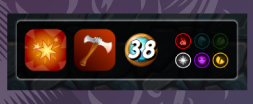 Mana: 38
Explosive weahponry: all monsters have the explosive ability.
Melee Mayhem: melee attack: all monsters can attack from any position.
Mana: 38
Explosive weahponry: todos los monstros tienen la habilidad de explosión.
Melee Mayhem: ataque de cuerpo a cuerpo todos los monstruos pueden atacar desde cualquier posición.
My lineup and strategy
Mi alineación y estrategia

---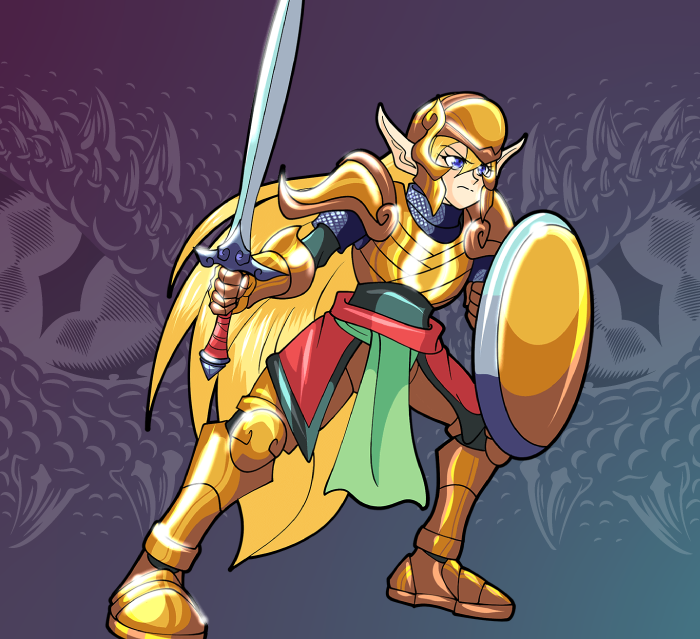 SummonerD ARIA DRAGONSCALE
I love this dragon summoner, last time there was a dragon battle challenge I decided to talk about this one because I use this one a lot, now this summoner has the ability to give you 1+ attack to melee allied cards and this summoner was ideal to use because of the rules at the moment and this one consumes 4 mana and I own it at slight 3.
Este invocador de dragón me encanta, la última vez que hubo un desafío de batalla de dragón decidí hablar de este porque este lo uso mucho, ahora bien este invocador tiene la habilidad de darte 1+ de ataque a las cartas aledas de cuerpo a cuerpo y este invocador era ideal para usarlo por la reglas de momento y este consume 4 de mana y lo poseo en leve 3.
---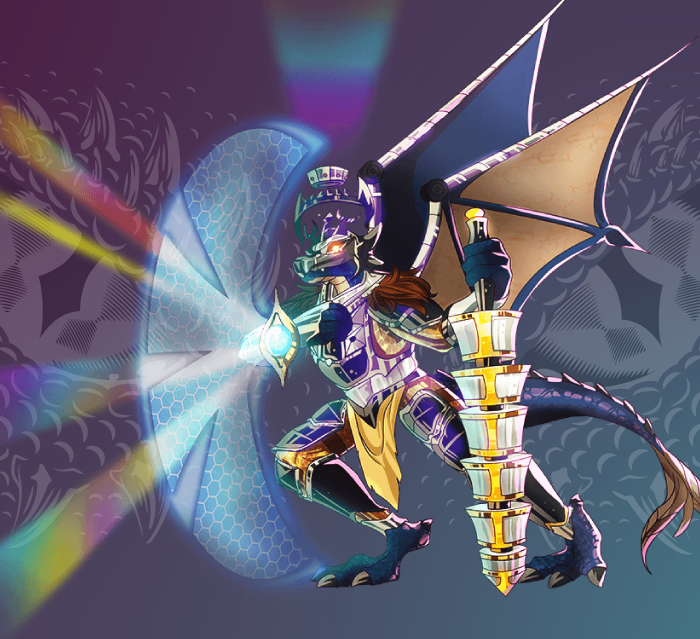 ROBO-DRAGON KNIGHT
First position; This monster is ideal to take it in the first line because it is a melee card and also has some skills that I really like these are Void, Divine Shield and Piercing these 3 skills help me a lot because the first attack that I throw will receive the magic shield and I can pierce his shield and attack health, plus if you attack with magical attacks these will be reduced without a doubt is fantastic this card. For its part has 3 speed, 4 attack, 9 health, 8 shield and consumes 11 mana which is quite a lot but this card is worth it, all these statistics that I mentioned are in the slight 2 of this card.
Primera posición; Este monstruo es ideal llevarlo en la primera línea ya que es una carta de cuerpo a cuerpo y además posee unas habilidades que me gustan mucho estas son Void, Divine Shield y Piercing estas 3 habilidades me ayudan mucho ya que el primer ataque que me lance lo recibirá el escudo mágico y puedo traspasar su escudo y atacar la salud, además que si le atacan con ataques mágicos estos van a ser reducido sin duda alguna es fantástica esta carta. Por su parte pose 3 de velocidad, 4 de ataque, 9 de salud, 8 de escudo y consume 11 de mana lo cual es bastante pero esta carta lo vale, todas estas estadísticas que eh mencionado son en el leve 2 de esta carta.
---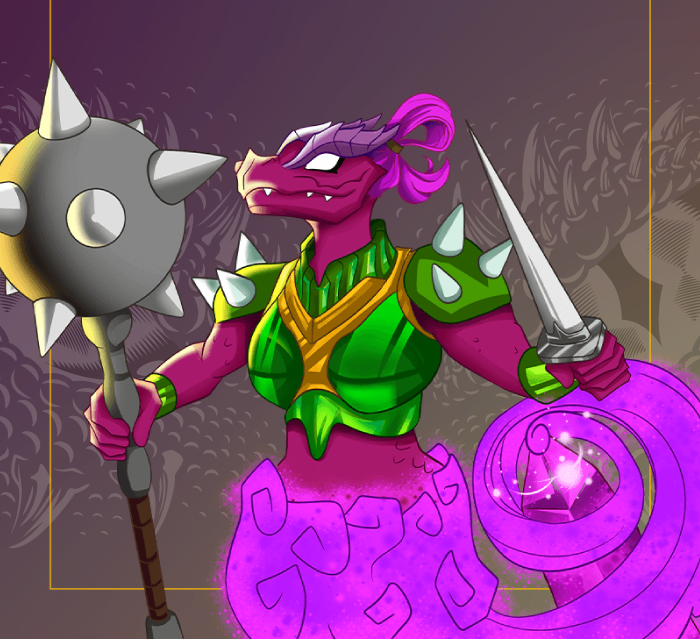 DJINN CHWALA
Second position;This card like the previous one is dragon and is melee I put this one because of the moment rules that say that melee cards can attack from any position and also the other rule of explosion weaponry which is that the Monsters adjacent to the target Monster will get secondary damage and this card has 6 shield which is enough to protect from melee and ranged attacks. On the other hand this card has 3 attack, 2 speed, 6 shields, 10 health and consumes 8 mana. The other thing is that it has the Thorns ability.
Segunda posición; Esta carta al igual que la anterior es de dragón y es de cuerpo a cuerpo coloque esta por las reglas del momentos que dicen que las carta de cuerpo a cuerpo pueden atacar desde cualquier posición y también la otra regla de armamento de explosión que se trata de que los Monstruos adyacentes al Monstruo objetivo obtendrán daños secundario y esta carta posee 6 de escudo lo cual es bastante para protegerse de los ataque de cuerpo a cuerpo y de distancia. Por su parte esta carta posee 3 de ataque, 2 de velocidad, 6 escudos, 10 de salud y consume 8 de mana lo otro es que posee la habilidad de Thorns.
---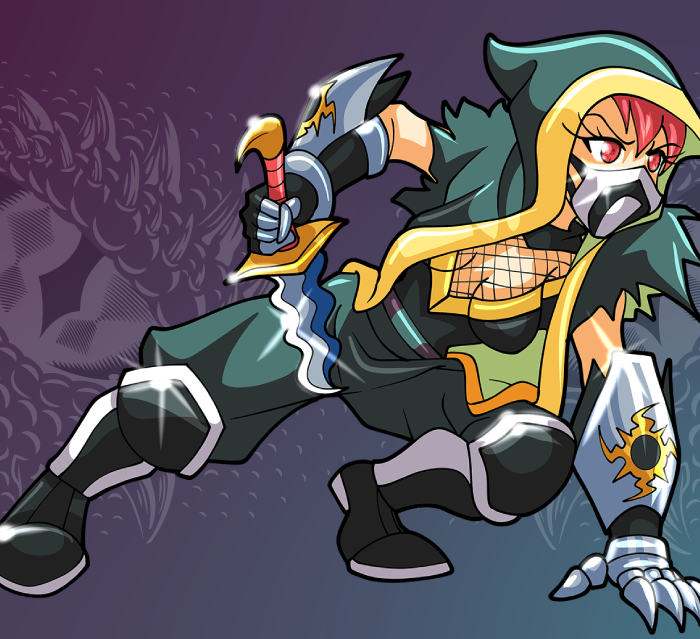 SILVERSHIELD ASSASSIN
Third position;This card is a melee card but with the Sneak ability that attacks back and also has the other ability Double Strike that attacks the opponent 2 times and I decided to take it for this reason and because it has 4 speed which will attack among the first and I took it for this reason. In addition, it has 2 attack, 4 speed, 1 shield and 5 health all these stats at level 5.
Tercera posición; Esta carta es de cuerpo a cuerpo pero con la habilidad de Sneak que ataca atrás y aparte tiene la otra habilidad de Double Strike que ataca 2 veces al oponente y decidí llevarla por esta razón y porque esta tiene 4 de velocidad lo cual va atacar entro los primero y la tome por esta razón. Ademas, tiene 2 de ataque, 4 de velocidad, 1 de escudo y 5 de salud todas estas estadísticas en nivel 5.
---
FIRE SPITTER
Fourth position: This card is a distance attack card and I decided to place it in this position because this way I have it away from the first position and I also selected it for its speed because it activates the explosion weapon rule and attacking among the first is an advantage. For its part, this card has 3 attack, 4 speed, 6 health and consumes 4 mana these stats are level 4.
Cuarta posición:Esta carta es de ataca de distancia y decidí colocarla en esta posición porque de esta forma la tengo alejada de la primera posición y está también la seleccione por su velocidad ya que esta activa la regla de armamento de explosión y al atacar entre los primero es una ventaja. Por su parte, esta carta tiene 3 de ataque, 4 de velocidad, 6 de salud y consume 4 de mana estas estadísticas son el nivel 4.





---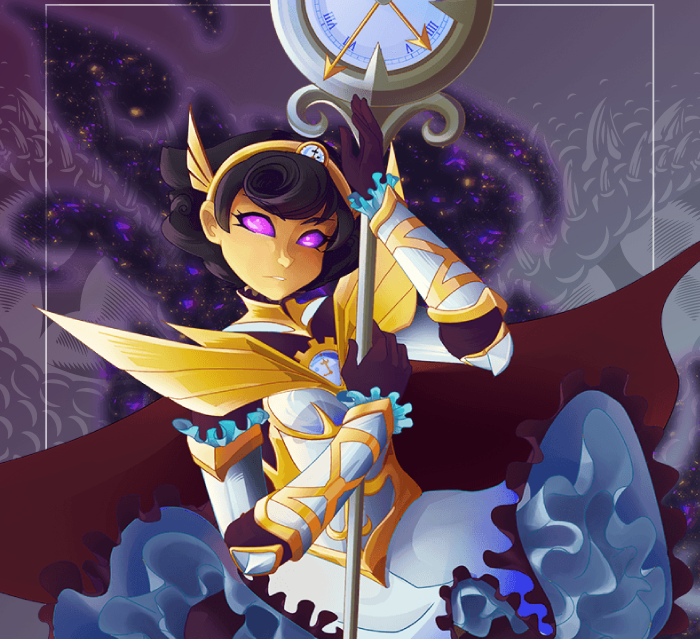 TIME MAGE
Fifth Position: This card I took it because it has the ability of Slow and the intention was to reduce a little the speed of the opponent because I wanted my cards were the first to attack and thus have the advantage because it is active explosion weaponry as mentioned above and this can make a lineup is eliminated super fast, so my cards that selects most are great speed like this. For its part, this card has magic attack, 4 speed, 3 health and consumes 4 mana and these stats are at level 2.
Quinta Posición: Esta carta me la lleve porque posee la habilidad de Slow y la intención era reducirle un poco la velocidad del oponente ya que quería que mis cartas fueran las primeras en atacar y así tener la ventaja porque está activo armamento de explosión como ya antes mencione y este puede hacer que una alineación se elimine súper rápido, por eso mis cartas que selecciona la mayoría son gran velocidad al igual que esta. Por su parte, esta carta tiene de ataque mágico, 4 de velocidad, 3 de salud y consume 4 de mana y estas estadísticas son en el nivel 2.
---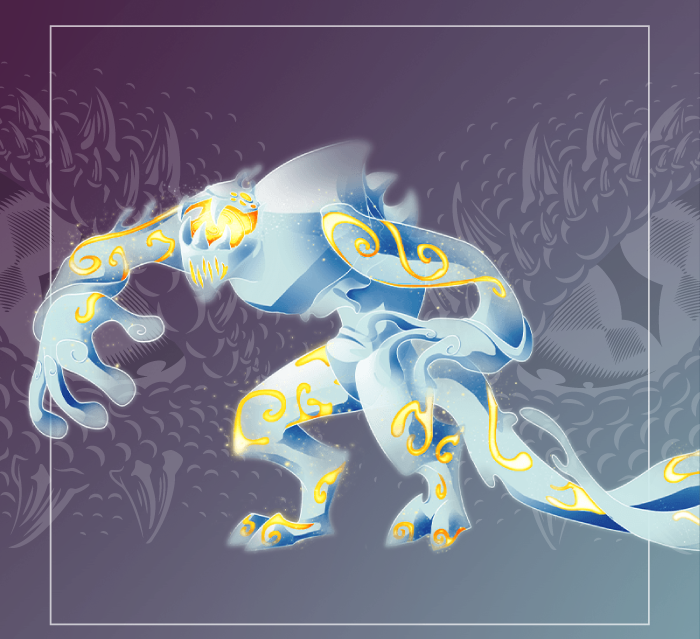 SOUL FIEND
Sixth position: The function of this card was to be a kind of bait in case I get to attack the rear this would receive the attack before they reached my main cards is a good idea to take this because it does not consume mana. Besides this card has 2 speed, 1 attack, 1 health and 0 mana all these stats at level 1.
Sexta posición: La función de esta carta era ser tipo carnada por si me llegaran atacar la retaguardia esta recibiera el ataque antes que llegaran a mis cartas principales es una buena idea llevar esta porque no consume mana. Además esta tiene 2 de velocidad, 1 de ataque, 1 de salud y 0 de mana todo estas estadísticas en nivel 1.
Did your strategy work?
¿Tu estrategia funcionó?
The strategy I applied in this battle worked even though my opponent used a strategy similar to mine but mine resisted more when it came to attack, my strategy was to reduce his speed and attack between the first to carry card with enough speed and my front cards had enough shield so that they could resist the attacks of my opponent, the other thing that favored me is that I attacked his rear and weakened his alignment and this favored me to get the victory.
La estrategia que aplique en esta batalla funciono a pesar de que mi oponente utilizo una estrategia parecida a la mía pero la mía resistió más a la hora de ir a los ataque, mi estrategia era reducir su velocidad y atacar entre lo primero al llevar carta con bastante velocidad y mis cartas de adelante tenían bastante escudo para que estas pudieran resistir los ataques de mi oponente, lo otro que me favoreció es que le ataque su retaguardia y le debilité su alineación y esto me favoreció para obtener la victoria.
Do you like DRAGONS, why or why not?
¿Te gusta los DRAGONS? ¿Por qué o por qué no?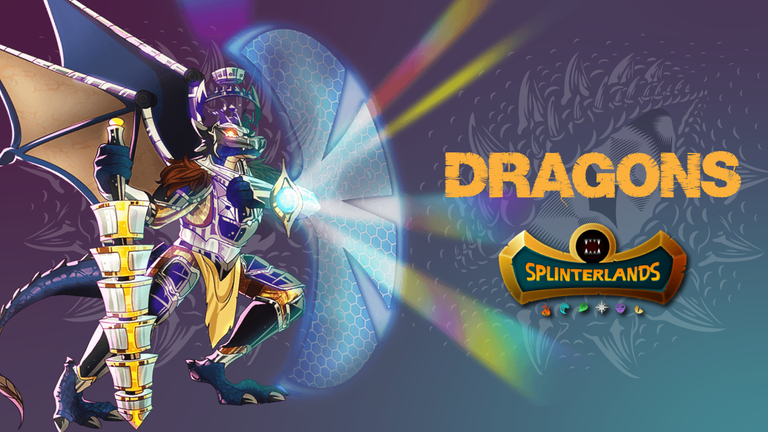 I love dragons and I never get tired of saying it, these are wonderful and you can create great lineup with these monsters and summoners without a doubt I love it when they choose the challenge to be dragon.
Me encantan los dragones y no me canso de decirlo, estos son maravillosos y puedes crear grande alineación con estos monstruos e invocadores sin duda alguna me encanta cuando elijen que el desafío sea de dragón.
On the other hand, ROBO-DRAGON KNIGHT is an amazing dragon to take into battle so I decided to create a battle with this one because I like it a lot and this one is from the Reward edition and it is a legendary which makes it more attractive to me.
Por otro lado, ROBO-DRAGON KNIGHT es un dragón increíble a la hora de llevártelo a una batalla por eso decidí crear una batalla con este ya que me gusta mucho y este es de la edición Reward y es una legendaria lo cual la hace más atractiva para mí.
Background elements of the images taken from freepik
Elementos de fondo de las imágenes tomadas de freepik
Thanks for your support, see you in the next post Kisses!

Sígueme para más contenido.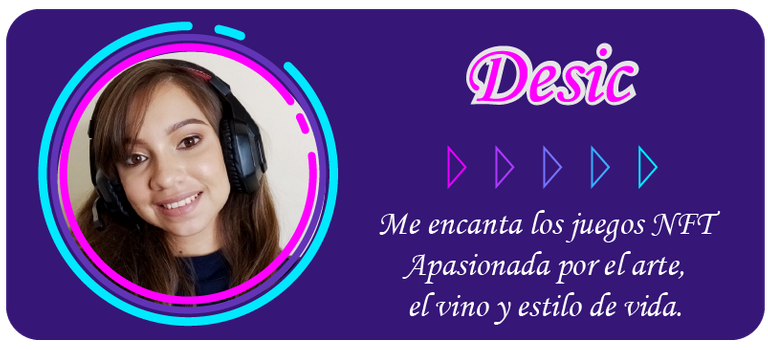 Creador de contenido Original.
Traducido con https://www.deepl.com/
---
---