BATTLE MAGE SECRETS: HEAL, HEAL AND KEEP HEALING WHEN EVERYONE IS EQUAL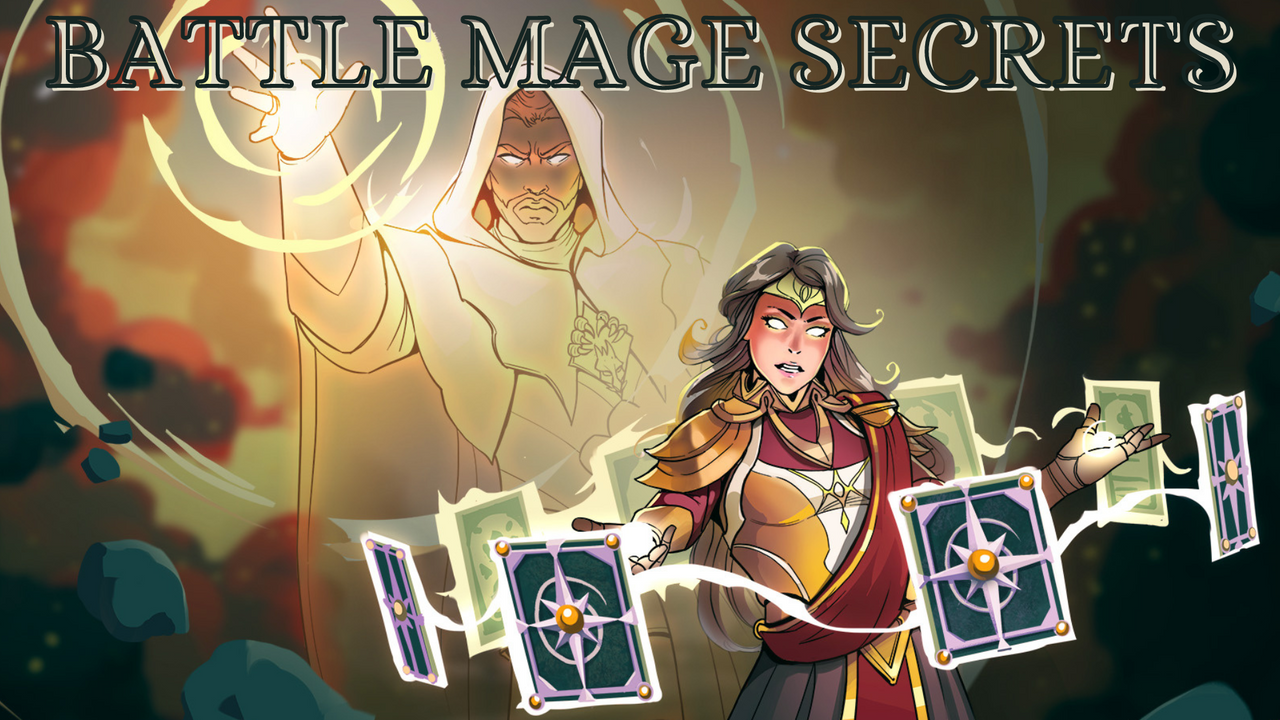 Hello Hivers, welcome back my weekly Splinterlands BATTLE MAGE SECRETS and today topic is about EQUALIZER ruleset.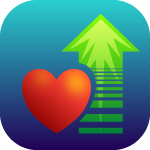 EQUALIZER Ruleset is a ruleset that makes all monsters in the battlefield starts with the same health point as the highest health on either team. So everyone here are equal, none has better endurance compared to others. So what we do now if everyone is equal? There are a few approaches we can do during this ruleset.
1. HEAL, TANK HEAL, and TRIAGE
This is very basic approach, if everyone has the same health point, any healing ability will be very dominant. There are two things why healing become dominant:
Heal will differ the number of Health between you and your opponent. More healing supports in your team means you will be regenerating more health than your opponent and this can be a point of differentiation between you and your opponent.
Because of the same health point everyone have, they become equal, which means all are worthy to be saved, or to be heal because... They are equal. There is no tank, there is no small filler monsters and others, all are equal, go save and protect them!
2. FIRE POWER IS THE KEY
If the first point is about healing as a differentiation , a move to make your team better than your opponent, the second approach is pilling up fire power which mean you pump up your attack damage. Try to outgun your opponent, bring a squad with Blast abilities, Double Strike, and 4-6 damage hitters.
The main point here is to kill your opponent before they can recover or get healed.
3. TRICK THEM USING SMALL MONSTERS
The last but not the least, use some small monsters which capable to trick your opponents. Some small monsters are meant to be weak due to low health, however when they health are huge, they are not weak anymore and maybe capable of giving a massive headache to your opponents.
Take Gargoya Scrapper for example. He is an anti magic filler, in normal battle he might be able to endure 1-2 magic attacks. However in Equalizer Ruleset, lets say his health point become 10... he is no longer small and weak, he becomes one big annoying anti magic wall.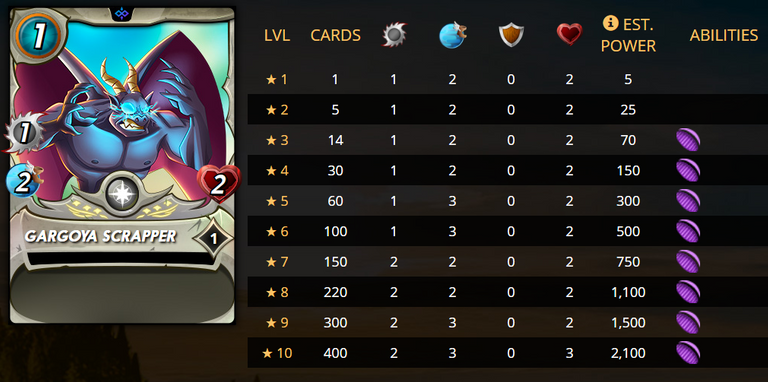 THE BATTLE RULESET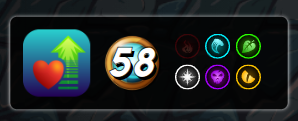 I pick this battle due to simplicity, only one ruleset, the EQUALIZER. We can use all kind of monsters except monsters from Fire Element. My focus is on Earth Element and Water Element, I do not like Water because Merdaali Guardian does not contribute in damaging her opponents.
Oh by the way I forget to tell you this is a silver league battle, so we will not meet many kind of abilities here. So.. yeah... I go with the Earth Element.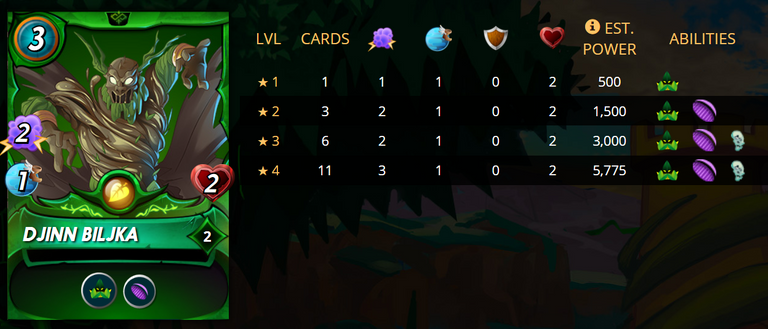 My first trump card is Djinn Biljka. He will be a massive anti magic tank who shoots magic attacks. I hope this will suprise my opponent because they won't anticipate my team has an anti magic who is not Unicorn Mustang with his melee type attack.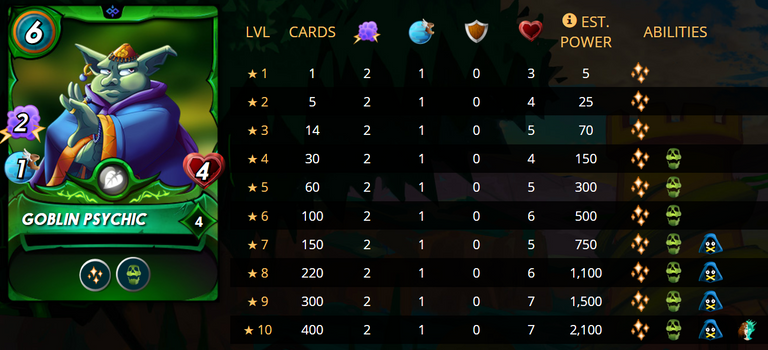 The second trump card is Goblin Psychic. I still see people underestimating Goblin Psychic, they think he is just a slow mage-healer. Goblin Psychic main power lies in his affliction ability, its a perfect counter against opponent who relies on healing.
THE BATTLE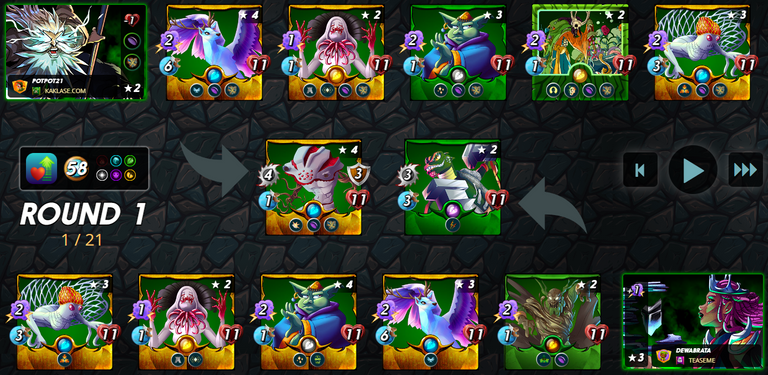 ~Click The Image Above To See the Full Battle~
Both of us using the earth element. In general, I should lose this battle because no way Obsidian could win against Immortalis. However I had 2 trump cards, didn't I? let see how things would progress
ROUND 1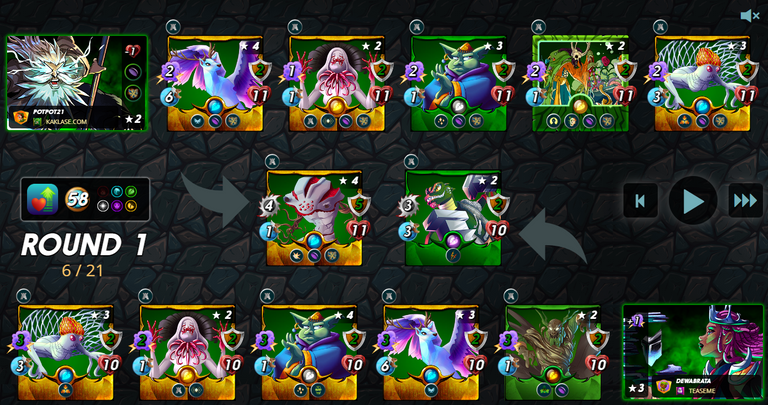 The battle started with both of us Buffing up our team and debuffing our opponents.
My opponent came with 4 Melee Damage, and 9 magic damage per round. overall they had 13 damage per round
My team had 3 melee damage and 14 magic Damage per round. It's 17 Damage per round
Although I had higher magic damage, they had immortalis who gave all his monsters a void ability to reduce my magic attacks. So everythings were still equal here.
ROUND 2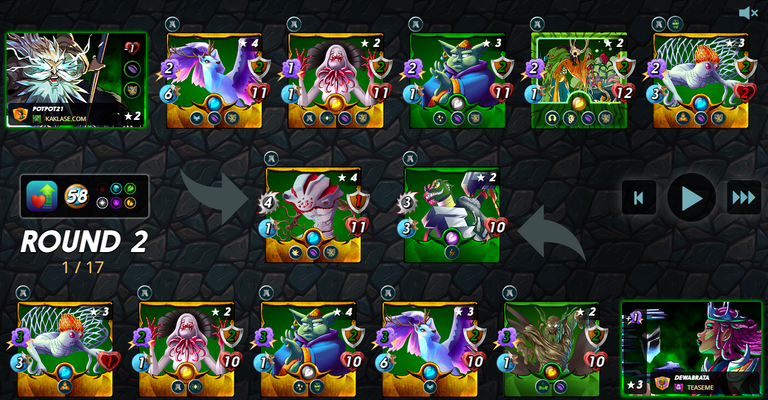 Nobody died in the first round and both of our Mycelic Slipspawn were heavily wounded.
ROUND 3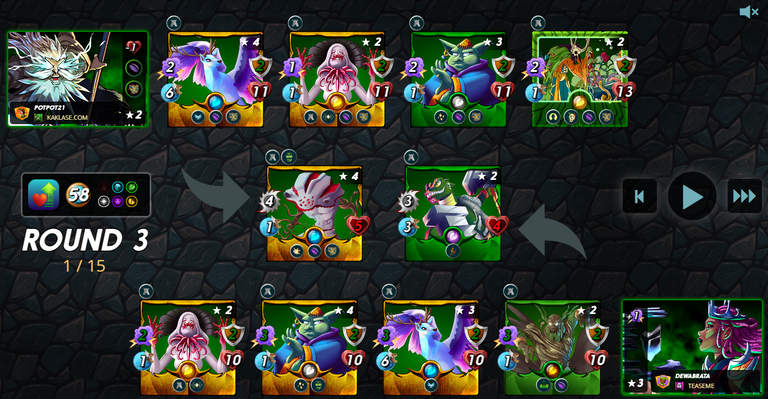 It's 5 vs 5 now, we lost our Slipspawn on the backline.
ROUND 4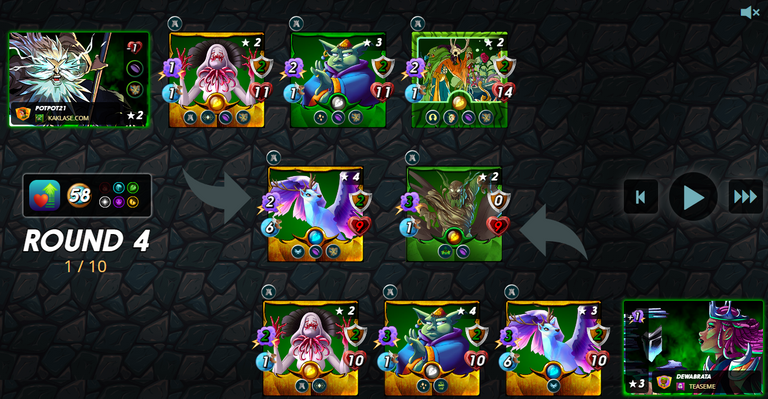 Now its 4 v 4. Our main tank had gone now, so from this point forwards its the battle of mages.
ROUND 5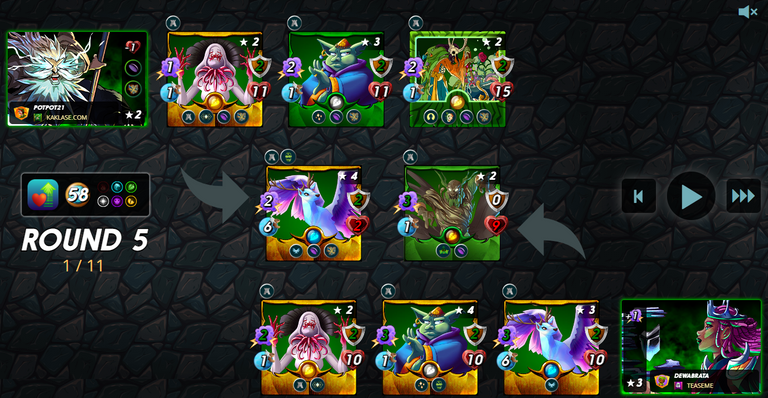 It's started to be a dull battle, both mages on the main tank position had the void ability.
ROUND 6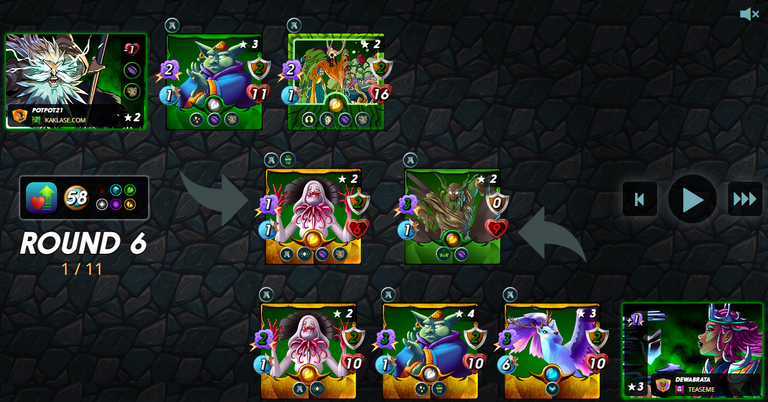 Their Regal Peryton finally fell down. now its became 3 vs 4.
ROUND 7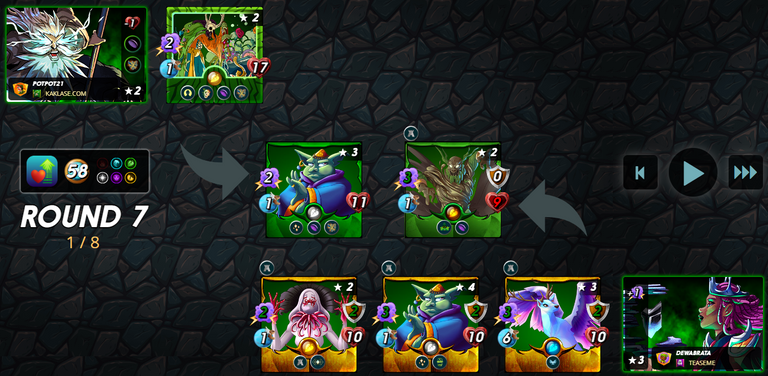 Now it becamse 2 vs 4. Their Queen Mycelia could not survive and swept away in one turn.
ROUND 8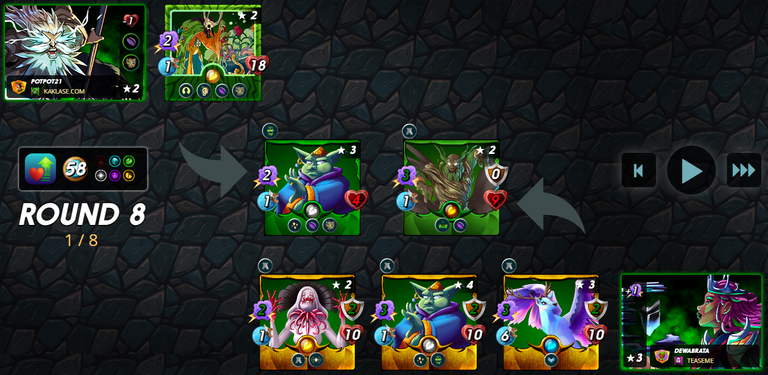 Their Goblin Psychic was hanging on a thin line, could only buying time now.
ROUND 9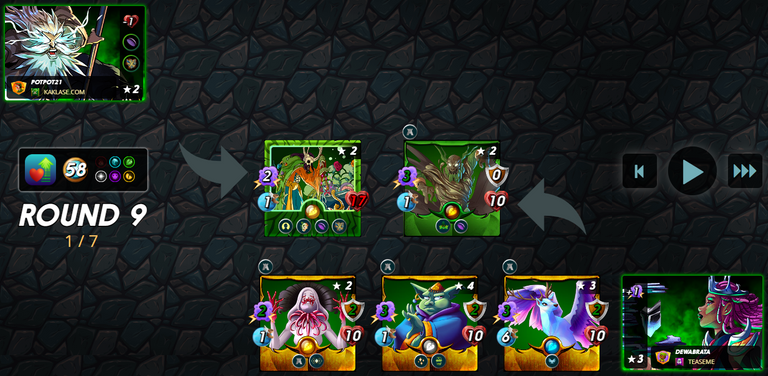 Their Goblin Psychic was gone, its 1 vs 4. I could not see how they could come back up now. Good Game

CLOSURE AND DISCUSSION
What a long round, everything moved so slow due to small damage per round from both party. Finally I have won the battle, and actually both of us came with similar tactic and there are some points we can take from this battle.
1. Small Monsters Does Bring Surprise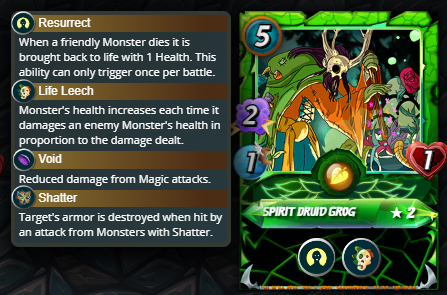 Spirit druid Grog indeed is strong during Equalizer. I have to speed up battle because although they can not win, it takes many round just to take him down.
The same goes for Djinn Biljka from my side. Their downfall started when my Djinn Biljka came forward and sit on main tank position. Their magic attack started to flop at that point.
2. NO HEALING MEANS YOU LOSE
Why do I win this battle? Here the facts:
Their line up was better due to Immortalis.
They came with similar tactic.
Their damage per round was on par, no less than mine.
They should win that battle, but all failed due to one main thing only... Their Goblin Psychic was on level 3, not yet gain the Affliction ability. That's suck, isn't it? 1 level different on a single monsters decided the result.
So during Equalizer, Affliction definitely can be the game changer ability here. Once your opponent or maybe yourself get affliction and can not be healed, then its all over.
Ok that's all for today post. Have fun with your EQUALIZER battles!!

---
Thank you for visiting my BATTLE MAGE SECRETS Weekly Challenge, don't forget to leave your comments and feedback below. There are credits in this post for these people:
@splinterlands : for holding weekly social media challenge events
carrieallen : for ultimate markdown tutorial
bulldog1205 : for the scholarship account : blackkrrsantan
thepeakstudio : for wonderful divider art
---
---