CRUSTACEAN KING : Good Old Water Team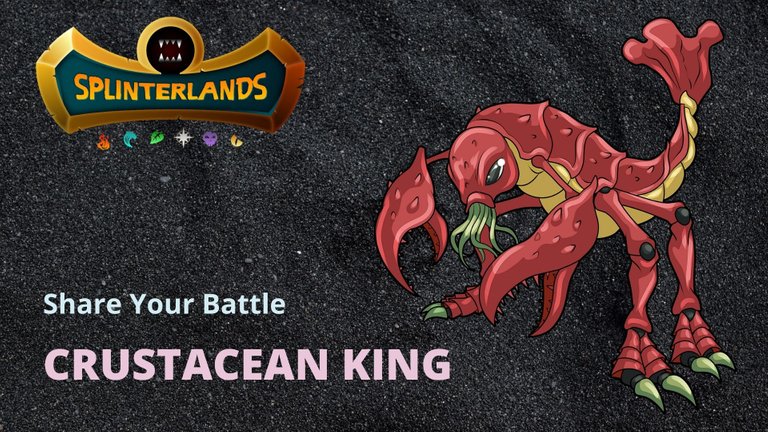 Hi everyone, welcome back to my Splinterlands weekly battle challenge. This week I choose to have this old monster, Crustacean King as our main theme, not Antoid Platoon because somehow I haven't got fire focus point recently.
Crustacean King is a common Rarity Monster from Alpha-Beta Edition, yes it's an old monsters and it is only available for Wild format. I have got a few water focus point so I think having some old monsters will bring back good old memories, and they did!!

QUICK INSIGHT ON CRUSTACEAN KING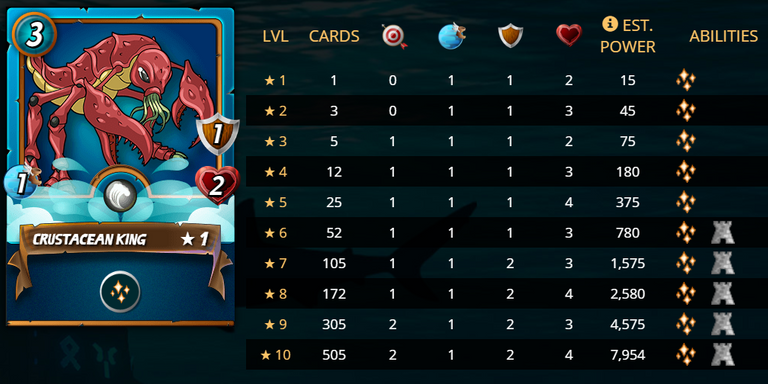 We can say that Crustacean King is the predecessor of Merdalii Guardian of Chaos Legion Edition. A 3 mana healer, very similar... In general term, I prefer Merdalii Guardian more because I think she is a better healer, however there is one traits Crustacean King has that Merdalii Guardian doesn't have it... It's attack damage.
Crustacean King can attack, well not a hard hitter, only 1 damage... but that one damage often become the decisive factor whether we win or not. Any healer or support who can hit always become a major threat to the opponent.

Battle Preparation
I had been spamming using Bortus and I got this ruleset, which I thought would be a perfect one for Crustacean King:

EXPLOSIVE WEAPONRY ~ All Monsters have the Blast ability.
KEEP YOUR DISTANCE ~ Monsters with Melee attack may not be used in battles.
28 MANA
Why were these rulesets perfect for Crustacean King?
28 Mana. My Crustacean King had 1 attack damage. During high mana cap, this wouldn't make any different, however the smaller mana cap we had, any small damage would be more worthy.
Keep your distance would make my opponent went for range attack. I had been using Bortus, -1 magic damage, my opponent would knew that and prefered range over magic.
My Crustacean king had a protect ability, he gave armors and this would hold off blast damage from range attacks.
So here was my line up that I could come up with:
| Position | Card | Ability | Plan and Strategy |
| --- | --- | --- | --- |
| Summoner | | -1 magic damage | One of my favorite water summoner mostly due to affordable rent cost |
| Main Tank | | Void, Slow, Strengthen, Heal | One of the strongest none attacking tank we have in this game. I have him at level 3, getting a Heal ability. Attacking this whale using magic is quite useless especially when I have Bortus as the summoner |
| Second | | Triage | This frog has good health point and a triage ability. I need him to heal himself so it will nullify the blast damage. We can say he is the blast damage absorber |
| Third | | Headwinds, Shatter | I have predicted my opponent would attack me using range attack, so this Naga Headwinds would be a fun surprise for him |
| Fourth | | Tank heal. Protect | Our main actor for this week. This Shrimp will be the core of my team defense |
| Fifth | | Tank Heal, Repair | On Gold League Level, Merdalii Guardian becomes super strong support monsters because she heals and repairs armors at the same time, and this is the reason why I say she is the best support monster in Water Element |
| The Last | | Protect, Dispel | This cheap reward card is actually my all time favorite support mage in Water Element. Together with Naga, they will make a stacked doube protect abilities |
This was a super defensive team filled with bunch of healers and supports. Let see how this would be going....

HERE COMES THE BATTLE!!!
If you want to see the battle directly, you can see it directly here:
https://splinterlands.com?p=battle&id=sl_33396eca4fda63faa8296049ea6f0f2d&ref=dewabrata
It's a Gold League Rank Battle of Water vs Death. As I had expected, my opponent using range attacker as his primary damage dealers. However 28 mana made him unable to build a 6 monsters team and I believe this would be his biggest mistake in this game.
Round 1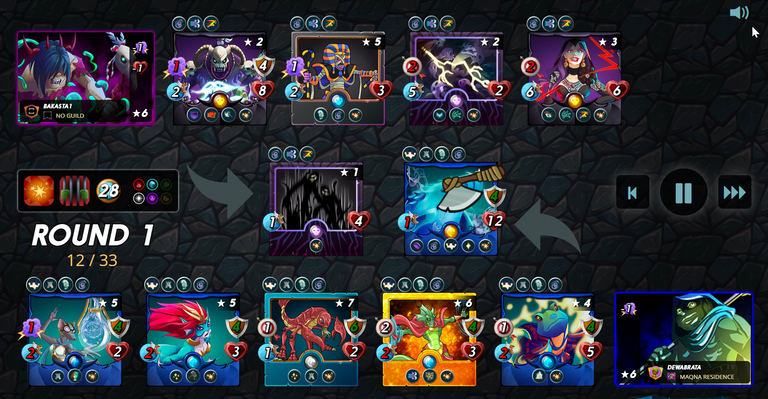 The game started as both party buffing and debuffing their monsters and opponent's monsters.
My opponent had 2 magic damage, 4 range damage.
My team had 4 range damage, and 1 magic damage.
This could be a long fight, I really hope blast damage could help this battle sped up.
We exchanges damages however due to small damage we had per turn, only their Shadowy Presence died
Round 2
Due to low health point, their Undead Priest and Soulstorm died from blast damage
Round 3 and 4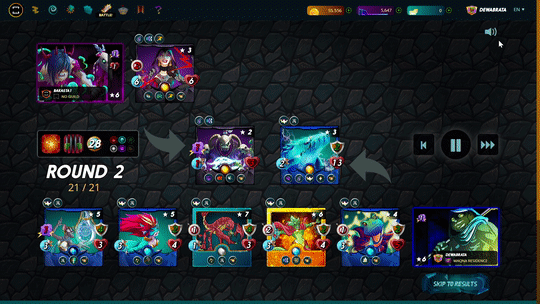 I speed up things here, the last two round there werent anything they could do.
It's an easy win for me

This was a flawless victory, none of my monsters were hurt. They all were at their highest health.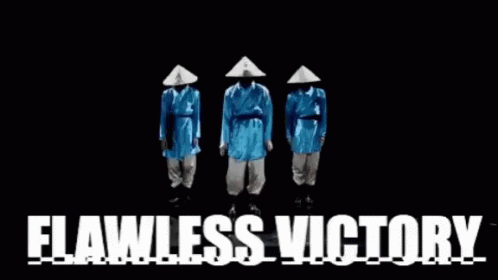 Battle Discussion
This turned out to be an uneven battle, my opponent was completely countered, nothing he could do. So here were some points we learn from this battle
a stacked Protect ability worked well.
Crustacean King was excellent during smaller mana cap. I didn't share here but It was not working well on big mana cap. Those were the area which Merdalii Guardian outperformed Crustacean King.
When you had above 20 mana cap, please tried your best to get 6 monsters team. Having a few great monsters sometime would end up beaten by a bunch of smaller monsters.

Thank you for visiting my weekly battle challenge, don't forget to leave your comments and feedback below. There are credits in this post for these people:
splinterlands : for holding weekly battle challenge events
carrieallen : for ultimate markdown tutorial
kyo-gaming : for wonderful divider art
---
---