Sorry Ms. Portal Spinner, I am not hiring you into my team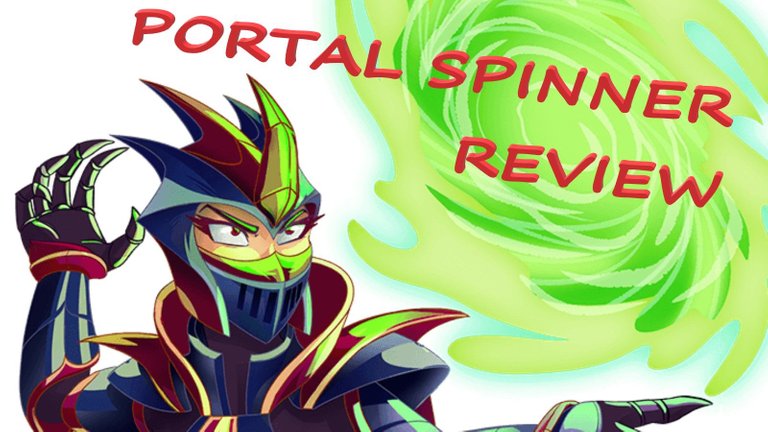 Portals Spinners are members of the Cult of the Rift, a faction within the Chaos Legion that harnesses rift magic to cast deadly spells.

Hello everyone, in this post I am giving my review on Portal Spinner. She is the only one in Life Element Deck who has Scattershot ability. Honestly I am a bit disappointed after I read her lore, because I think this girl should be a mage, not a range attackers. Anyway let's forget her lore, we can see her stats below: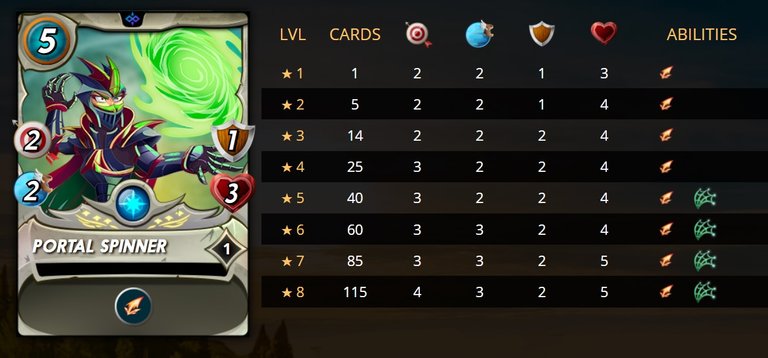 The first time I saw her stats, I felt that this card was an impostor of Lone boatman, only differed in ability. Well that was my second bad impression of this Portal Spinner. Actually her stats is good, good damage, not a 1 speed card, and she has better health than Pelacor Arbalest. Let's resume those into the pros and cons table below:
| | PROS | CONS |
| --- | --- | --- |
| STATS | Good and well balanced, starts with 2 attack, 2 speed, 3 health with an armor | Many doubt that she can compete on Gold League or above with additional snare ability |
| | | There are Evangelist and Air Elemental that are more powerful and favorable |
| Scattershot | Random attack bypassing opponent Taunt ability. This is very important because usually people use Taunt Tank to protect low health monsters that have good buff or high attacks. | |
| 5 Mana cost | | Too many substitute... Maybe Portal Spinner will get more favorable if she has lower mana cost compensated with reduced stats |
| Compatibility | She works well with General Sloan | For people who like to make a focus attack area, such as 2-3 sneak attackers or overloading direct damage to tank... Scattershots really ruins the pattern |
| Price | Cheap, I mean very cheap. You can buy this card directly only for $0.13/bcx (as now January 2022) or rent her. Even you don't use this card often, its a very affordable way to build up your Collection Power (CP) | |
---
BATTLE SIMULATION
you can see the full battle on this link:
https://splinterlands.com?p=battle&id=sl_7638715d8107cf36f56dd28c277f4f27&ref=dewabrata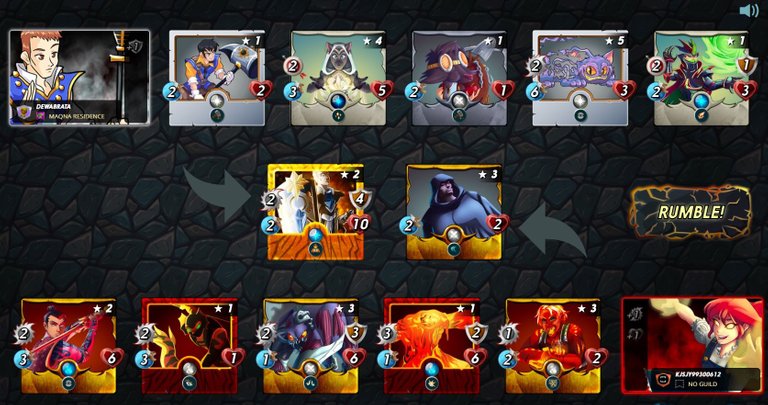 For a battle simulation, I am using a great wall formation, A Shieldbearer +2 armor repair + 1 healer. Sometime I use A shieldbearer +2 healer + 1 armor repair... but please don't use 2 healers and 2 armor repair because this will guarantee our own lose due to lack of attack damage.
From these line up we can already predict opponent will lose badly. They don't have enough active melee damage to kill my Shieldbearer with his 3 supporters. However we are not talking about winning or losing here, we want to see how this Portal Spinner will deliver her attacks.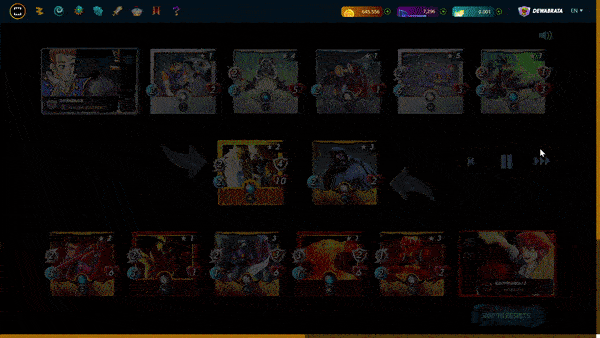 In the first round, Portal Spinner killed opponent Serpentine Spy then in the second round she hit opponent Tenyii Striker.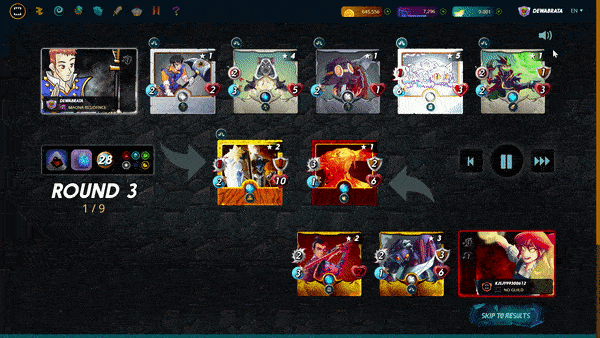 In the third round, Portal Spinner killed opponent Tenyii Striker then in the fourth round she destroyed Disintegrator's armor.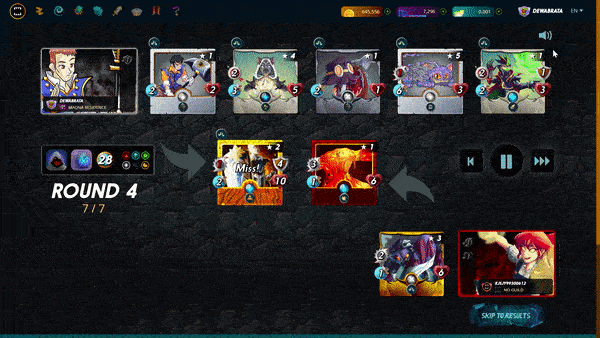 She hit Disintegrator in the fifth round then unluckily she chose to hit Living Lava in the sixth round, not killing Disintegrator in that round.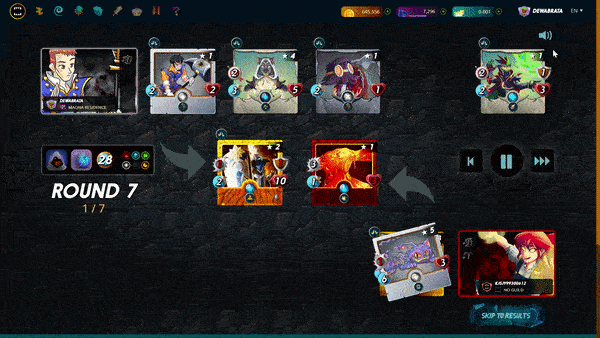 She didn't kill anyone in these round.
So what we can learn from this simulation are:
Scattershot picks target in random, so prepare some surprises that result in good and bad. If bad result comes first, this might mean your chance to win get lessen.
Eventhough Portal Spinner was on level 1, she could perform as well as level 4 Venari Crystalsmith and level 5 Feral Spirit. In term of damage-wise, she is good
---
My Conclusion
If I have to recommend a good Life Element Range Attacker with 5 Mana, the first one which pops out in my mind is Lone Boatman. On later stage, Lone Boatman has a Repair ability so he will attack and defend his team at the same time. The second one will be Earth Elemental, it has tremendous speed and very dodgy. you can see both of them stats below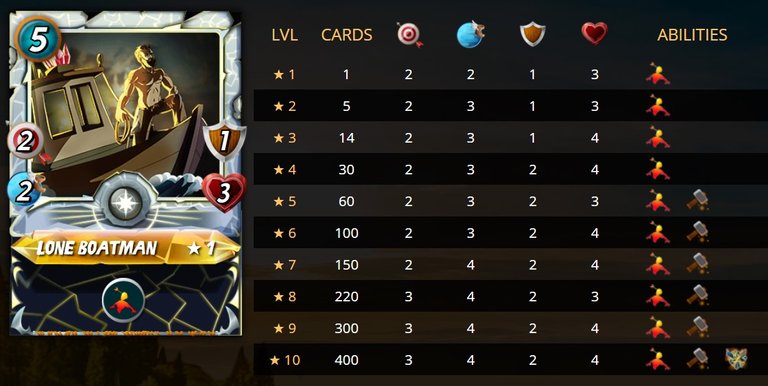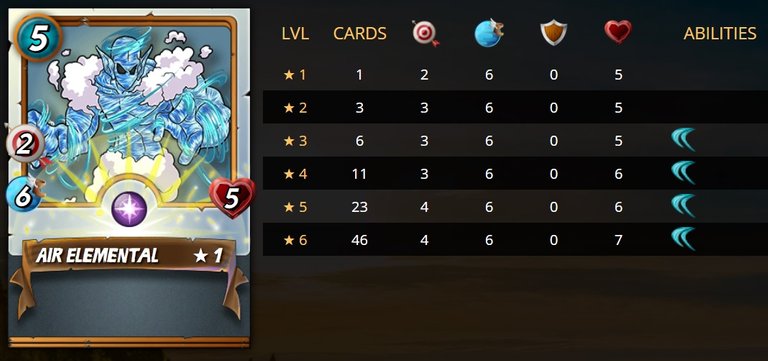 I know it's a sad thing that I recommend other cards when I am reviewing Portal Spinner. Please don't take this as I am saying Portal Spinner is bad... She is good but she doesn't stand out nor being special... Having 5 Mana cost means she has to compete against those two which I believe those two are superb and special. It's a bad luck for her.
There is another reason why I am reluctant to say good things and recommend this Portal Spinner. I prefer a focused attacks. Either using 2 sneak attackers or overflooding damage onto opponent main tank. Scattershot really doesn't fit well in my strategy. I often feel very irritated whenever Scattershot picks the worst target.
---
Thank you for reading my review. I know some might have different opinions and views, so please help us enrich our view and understanding by leaving your feedback and opinion in the comment section below.
---
---