Desafio de redes sociales splinterlands segundo post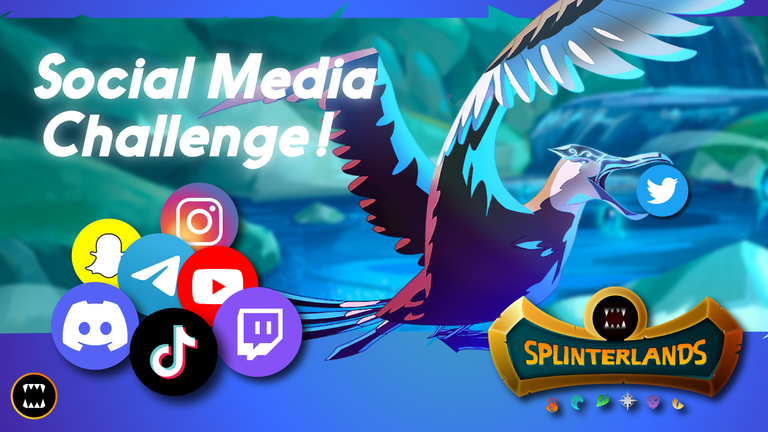 Hola que tal amigos sean bienvenidos todos a este mundo 🌍 de splinterlands dónde la misión de hoy es hacer el mejor post de splinterlands sin más preámbulo comencemos
Hello, how are you friends, welcome everyone to this world 🌍 of splinterlands where today's mission is to make the best post d
Round 1
Bueno comenzamos la batalla y yo gano en unidades yo tengo 6 y mi enemigo tiene 5 las reglas de la batalla son la siguiente ⏭️ no exceder de mana de 4 es decir mounstro que sobrepase los 4 de mana no contara en los mazos de la batalla comienzo yo atacando con mi gato donde atacó al último de la fila enemiga ahora el enemigo hace un ataque cuerpo a cuerpo desde de la primera fila hacia mi tropa de primera posición ahora el enemigo ataca desde su última posición hacia mi tropa de última posición después hace otro ataque desde cuarta posición con un ataque mágico también hace un ataque a distancia de 3 posición hacia mi tropa de primera posición ahora mi curandera le restaura la vida a mi mounstro de primera fila después el enemigo también hace otro ataque desde su última posición hacia mi tropa de primera fila ahora es mi atacar desde primera posición hago un ataque cuerpo a cuerpo después hago un ataque de 5 posición hacia a la base enemiga de última posición
Round 1
Well, we start the battle and I win in units. I have 6 and my enemy has 5. The rules of the battle are as follows: Do not exceed 4 mana, that is, a monster that exceeds 4 mana will not count in the decks of the battle. me attacking with my cat where it attacked the last of the enemy row now the enemy makes a melee attack from the first row towards my first position troop now the enemy attacks from its last position towards my last position troop then makes another attack from fourth position with a magic attack also makes a ranged attack from 3 position towards my first position troop now my healer restores life to my front row monster then the enemy also makes another attack from his last position towards my troop front row is now my attack from first position I make a melee attack then I make a 5 position attack towards the enemy base in last position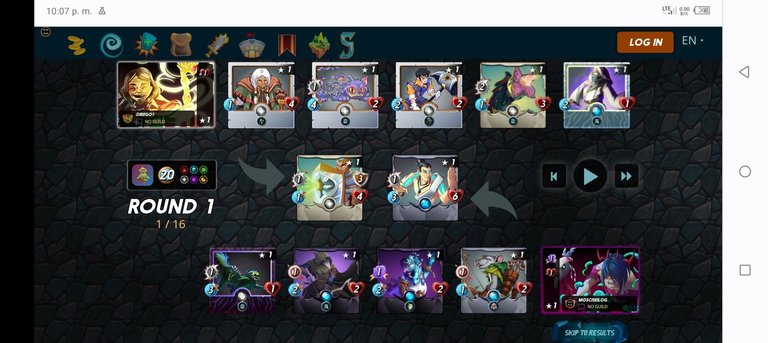 Ronda 2
Comienza la batalla estamos iguales desde de la primera ronda pero obvio con mounstros graves de salud ❤️‍🩹 pero vamos a ver qué se espera de esta ronda hago un ataque desde tercera fila hacia tropa de última posición enemiga donde hago un ataque mortal hacia su mounstro ahora tiene un mounstro menos ahora el enemigo hace en conjunto un ataque cuerpo a cuerpo y un ataque mágico hacia mi mounstro de primera fila pero logro resistir también hace un ataque desde segunda posición y última posición hacia mi mounstro de primera fila ahora mi reparador de armadura actúa ahora yo hago un ataque cuerpo a cuerpo y un ataque sneak desde 5 posición
Round 2
The battle begins, we are the same from the first round but obviously with serious health monsters ❤️‍🩹 but let's see what to expect from this round I make an attack from the third row towards the enemy's last position troop where I make a deadly attack towards their monster now he has one less monster now the enemy makes a combined melee attack and a magic attack towards my front row monster but I manage to resist he also makes an attack from second position and last position towards my front row monster now my armor repairer act now I make a melee attack and a sneak attack from 5 position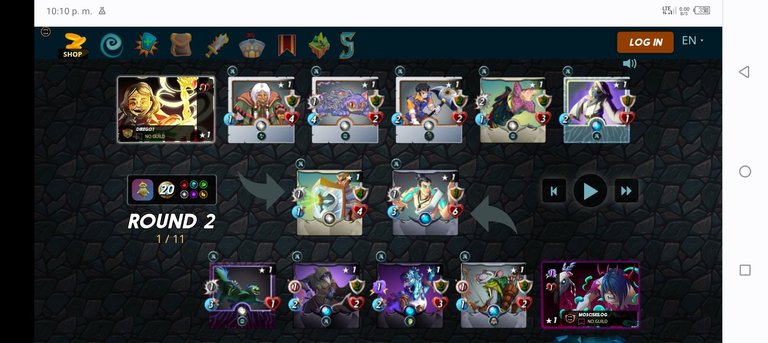 Ronda 3
Empieza la batalla ahora el enemigo cuenta con solo 4 mounstros y y yo tengo mis unidades completas ahora hago un ataque desde 3 posición hacia última posición enemiga ahora el enemigo ataca desde primera posición con un ataque cuerpo a cuerpo después hace ataque mágico desde tercera posición hacia mi mounstro de primera fila también hacé un ataque desde 4 fila al mismo de mi mounstro ahora actúa mi reparador de armadura también el enemigo hace un ataque de segunda posición y yo hago un ataque desde primera posición ahora hago un ataque mortal desde 5 fila hacia el mounstro de 4 fila donde lo logro matar
Round 3
The battle begins now the enemy has only 4 monsters and I have my complete units now I make an attack from 3 position towards the last enemy position now the enemy attacks from first position with a melee attack then makes a magic attack from third position towards me front row monster I also make an attack from the 4th row to the same one as my monster now my armor repairer acts also the enemy makes an attack from the second position and I make an attack from the first position now I make a deadly attack from the 5th row towards the monster 4 row where I managed to kill him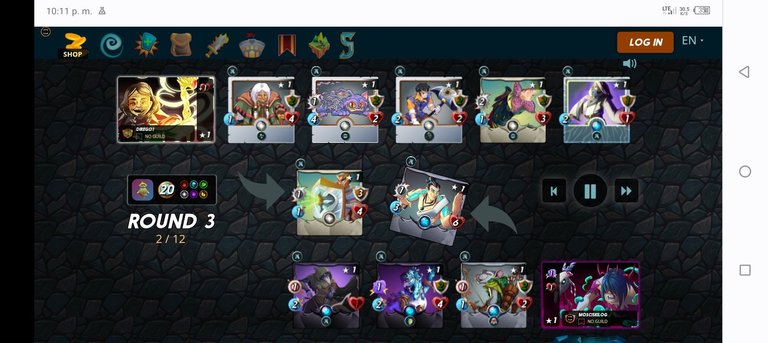 Ronda 4
Comienza la batalla ahora el enemigo solo cuenta con tres mounstros y yo conservo mis unidades completas comienzo atacando desde 3 fila hacia última fila enemiga el enemigo ataca desde primera posición y última posición hacía mi mounstro de primera fila pero logro resistir el ataque también hace un ataque desde segunda fila ahora hago un un ataque desde 5 fila hacia posición enemiga de última posición también hago un ataque desde primera fila
Round 4
The battle begins now the enemy only has three monsters and I keep my complete units I start attacking from the 3rd row towards the enemy's last row the enemy attacks from the first position and last position towards my front row monster but I manage to resist the attack he also makes an attack from the second row now I make an attack from the 5th row towards the enemy position in the last position I also make an attack from the front row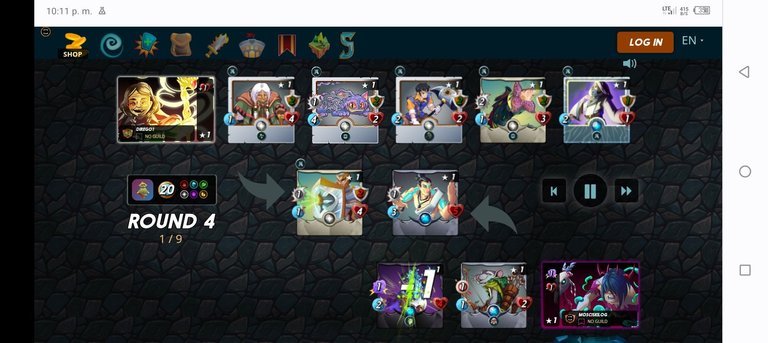 Ronda 5
Comienza la batalla de esta ronda ha Sido una guerra muy dura y de estrategia todavía el enemigo no seda por vencido todavía conserva sus tropas yo comienzo con ataque desde 3 fila hacia última posición enemiga ahora el enemigo hace un ataque cuerpo a cuerpo y desde tercera fila hacia mi mounstro de primera fila pero gracias a mi reparador de vída y armadura todavía lo conservo vivo también hace un ataque desde segunda fila también hago un ataque desde 5 fila hacia mounstro enemigo de última posición pero lo logra esquivar también hago un ataque cuerpo a cuerpo desde primera posición
Round 5
The battle of this round begins. It has been a very tough and strategic war, yet the enemy is not defeated, he still retains his troops. I begin with an attack from the 3rd row towards the last enemy position. Now the enemy makes a melee attack and from the third row. towards my front row monster but thanks to my life and armor repair I still keep him alive he also makes an attack from the second row I also make an attack from the 5th row towards the last position enemy monster but he manages to dodge I also make a melee attack from first position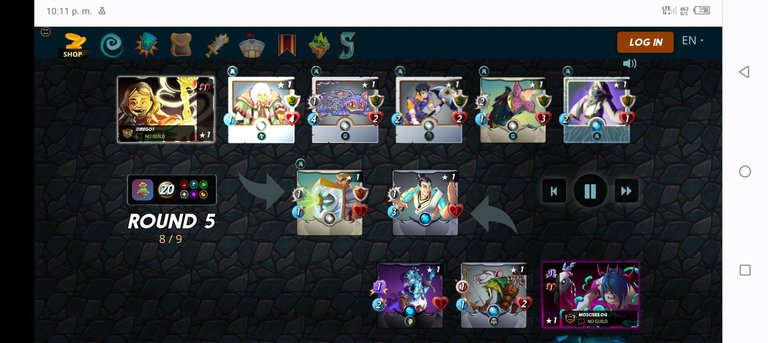 Ronda 6
Comienza la batalla el enemigo no seda por vencido pero maldita sea con esta guerra todavía no se acaba ahora comienzo con ataque de sneak desde tercera fila pero no logro matar al mounstro las tres unidades enemigas hace un varios ataques hacia mi mounstro de primera fila pero mi curandera actúa y mi reparador de armadura mi último de esta ronda lo hace mi tropa de 5 fila
Round 6
The battle begins, the enemy is not defeated but damn, this war is not over yet, now I start with a sneak attack from the third row but I can't kill the monster. The three enemy units make several attacks towards my front row monster but my healer acts and my armor repairer my last one of this round is done by my 5 row troop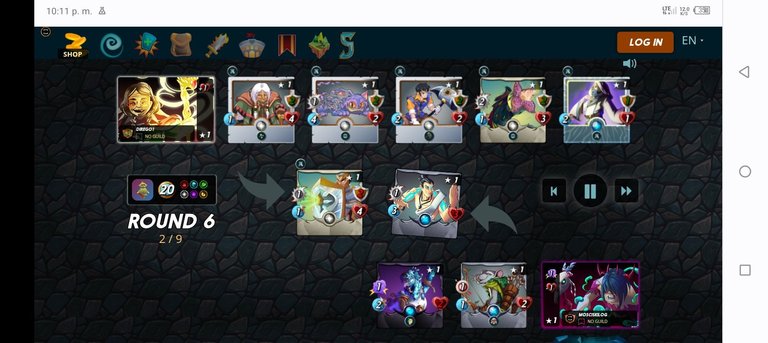 Ronda 7
Comienza la batalla con mi ataque demoledor de tercera fila donde le acabo la vida al mounstro enemigo de última posición el enemigo hace un ataque cuerpo a cuerpo y también desde segunda fila mi tropa lo hace de nuevo está desde 5 fila matando al mounstro enemigo de segunda posición
Round 7
The battle begins with my devastating attack from the third row where I kill the enemy monster in the last position. The enemy makes a melee attack and also from the second row my troop does it again. It is from the 5th row killing the enemy monster in the second row. position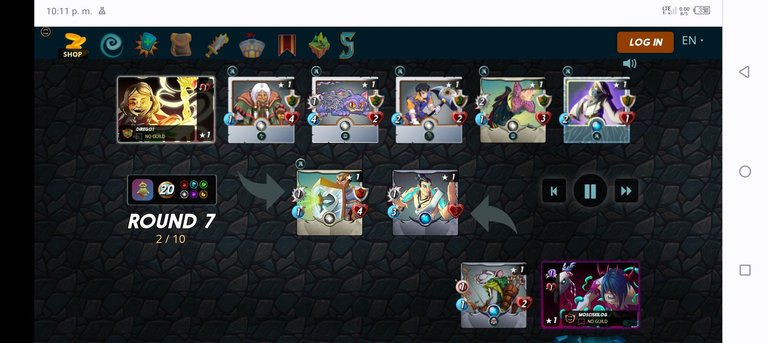 Ronda 8
Empieza la batalla de esta guerra de cartas está vez el enemigo solo cuenta con una unidad y yo tengo mis 6 unidades gracias a las diferentes táctica de guerra que he utilizado el enemigo comienza atacando desde primera fila
Ahora atacó desde tercera fila después atacó desde 5 fila el enemigo logra esquivar varios ataques por eso es que conserva la vida
Round 8
The battle of this card war begins this time the enemy only has one unit and I have my 6 units thanks to the different war tactics that I have used the enemy begins attacking from the front row
Now he attacked from the third row, then he attacked from the 5th row, the enemy manages to dodge several attacks, which is why he conserves life.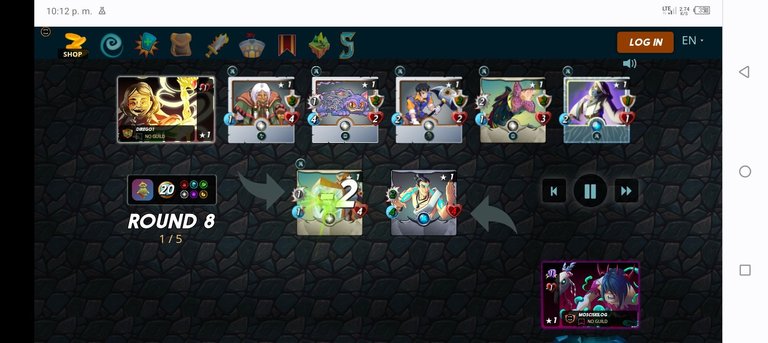 Ronda última
Empieza de nuevo la batalla está vez el enemigo conserva la misma unidad de la ronda anterior
El enemigo hace el último ataque cuerpo a cuerpo pero todo se acaba con el ataque desde tercera fila buenos está fue toda la batalla espero que le haya gustado chao hasta pronto
last round
Start the battle again this time the enemy keeps the same unit from the previous round
The enemy makes the last melee attack but everything ends with the attack from the third row. Well, that was quite the battle. I hope you liked it. Bye, see you soon.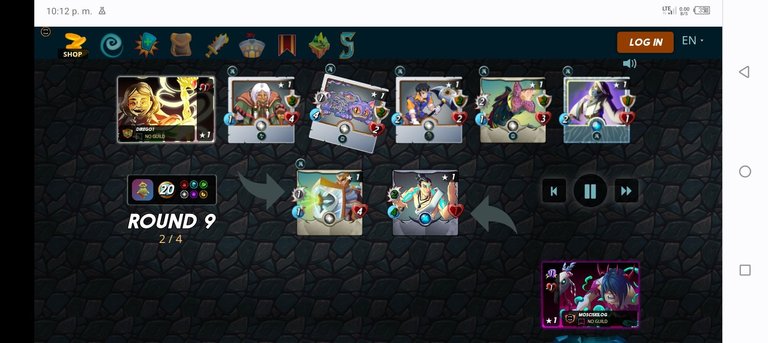 https://splinterlands.com?p=battle&id=sl_72f0150da633b6c0e2508cf9478b1415&ref=
---
---