SHARE YOUR BATTLE Weekly Challenge! HAUNTED SPIDER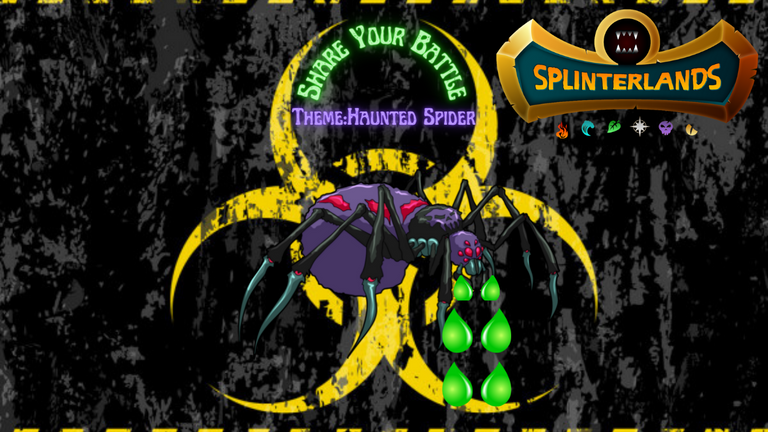 Hello, fellow Splinterlandians
This is the first time I'm trying out this weekly battle looks like a fun and cool idea, and have always been tempted to try one but never have until now.
This week's theme is the good ole haunted spider one of my favourite death cards. I didn't use him in a traditional death lineup, but I still got an easy victory over my opponent in this match. I will break it down to the best of my ability and tell you why I picked each card for this lineup.


Summoner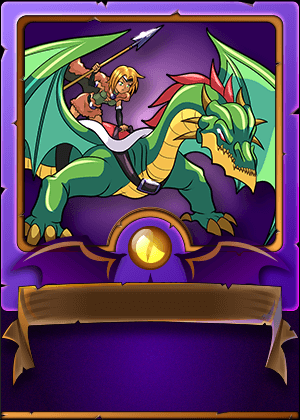 I picked Selenia Sky here as she is not only one of my favourite summoners but also works wonders in the blast ruleset. Her being a dragon summoner lets me choose any other splinter to pair with her so, I went death in this situation to try and complete this weekly battle; Figured it would be a good choice since I could also use some very good dragon cards in this lineup as well.


Postion 1 Tank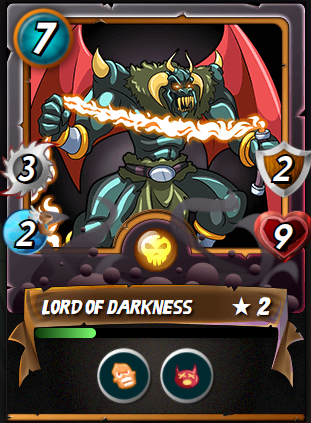 With taking death it was an easy choice to slot big bad LOD in my first position. He provides so much damage with the enrage and stun and can be a force to reckon with. In the blast ruleset, this is even further evidence that he only needs to get one attack off to start crushing the frontline and dishing out a ton of splash damage to the second slot monster. If his stuns go off too it's pretty much GG.


Postion 2 Utility Scaler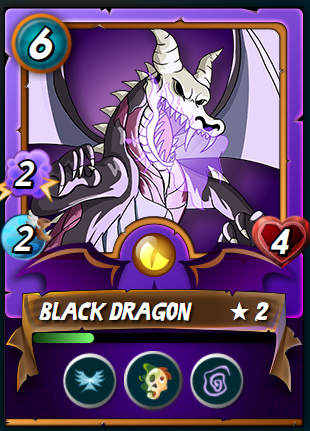 Now, this was not the best spot for black dragon in spot 2; He could have gotten sniped off very quick, or even destroyed by the blast effect. However his life leech and slow are so clutch. The slow provided a huge benefit here, slowing his sneak minions which could have resulted in disaster for me if I didn't have this. With it being blast as well life leech is a supreme ability to have in it especially with magic as it penetrates right through armour and gets that double stack.


Postion 3 Ranged Speedster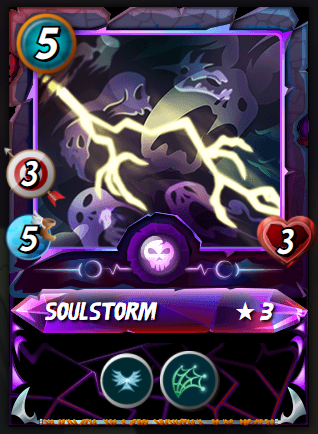 This is where I started to go psycho with the ranged overkill. Slammed Soulstorm in my 3rd slot with the Selenia Sky buff to ranged and blast ruleset this guy was gonna put in work; Going up to 4 damage for a 5-speed unit is very good in this ruleset, especially since I slowed down his lineup further with my 2nd slot monster, means this guy was most likely to be one of the first to attack. Sure enough, he did attack first and destroyed the enemy team's armour in one the first hit lining up an easy one-two kill of his first two monsters.


Postion 4 Ranged DOT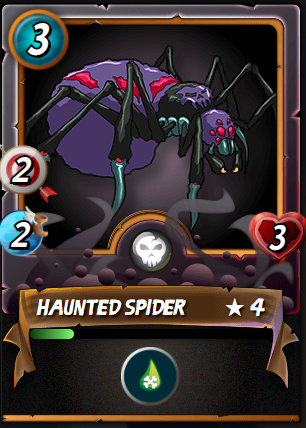 This is where we get to the theme of the week, Haunted Spider. Again the pairing with Selenia Sky here bumps this eight-legged freak up to 3 damage and with the poison that's just cruel. I love this unit in any ranged comp I use; He is a staple for my death builds and very easy to fit in at only 3 cost. In this particular battle, he didn't get to show off too much because we just shoved an immense amount of damage to the opponent's face and, blasted them all away before they could get anything going. Unfortunately, his poison did not take effect in this match but is always a very helpful ability to have; It has won me numerous matches in the past when it hits.


Postion 5 Even More Ranged Damage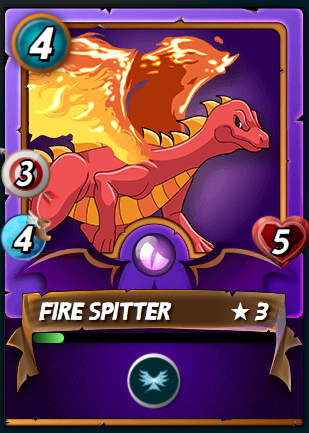 Yep another ranged, and you can see how much damage we are starting to build up now. The Flame Spitter is one of my favourite dragons; I always find him helpful in a lot of situations, again with this one specifically; With his speed at 4 and going up to 4 damage with my summoner; Fire Spitter and SoulStorm paired together to pump the damage out fast and heavy.


Last Postion Ranged Utility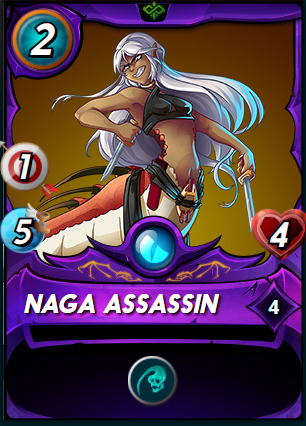 Oh my, here we go again with another ranged unit. You can see how aggressive this comp is with a ton of damage stacking up paired with some good speedsters and a few awesome utility units. I love this new reward unit. The naga assassin can be very clutch if the enemy misses and takes that backfire, being a 5-speed unit paired with a slow unit can be very useful. Being only a 2 cost with 5-speed and 4-health is something else this card can provide so many uses in a variety of formats, and again pairs well with Selenia Sky for obvious reasons.


The Battle and Lineup Formation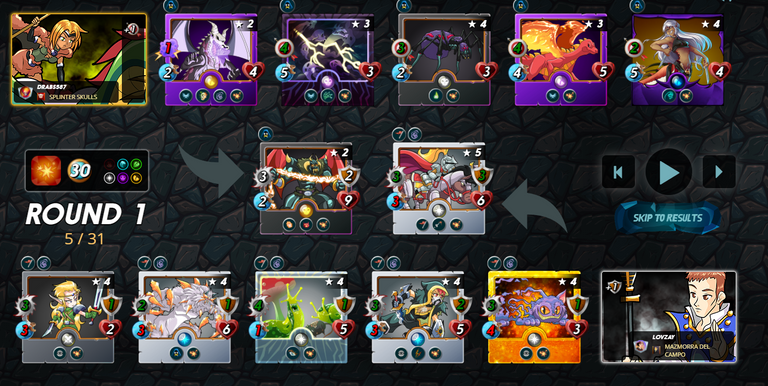 This is what my lineup looks like, and you can see that speed debuff was crucial in slowing down both his feral spirit and silvershield assassin. You can now see that my SoulStorm, FireSpitter, and Naga assassin are all gonna go first dishing out a whopping 10 damage.
Taking out both silvershield silvershield knight and feral spirit. It forces the assassin into the first spot early and pretty much nullifies it; If my opponent put her in the back they most likely would have taken out some of my backline and could have spelled trouble for me. But I think they were under the assumption I would have gone with sneak monsters instead.
My strategy was to stack as much damage and speed and hopefully kill them off first before they could do anything and it worked pretty well. We speed-blitzed him and removed a lot of damage before the start of the second round.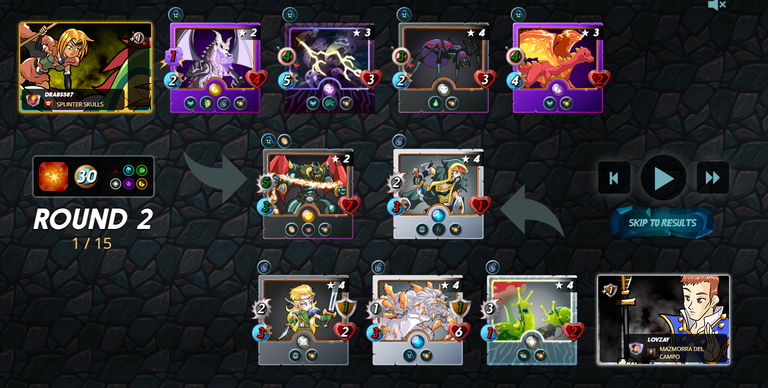 Moving on to round 2 and you can see how much of a compromised position my opponent is in now. We are gonna get 3 attacks before they get in one pretty much decimating all his damage and securing the win. Haunted spider was not used to his full potential here but still added in a nice damage boost. I try to fit him into my ranged teams whenever possible and this was one of those times where I felt he could be utilized well but overall had far too much damage for the opposing team to deal with.


Match Replay
Here is a link to the full replay in case you are interested in watching it. We crushed them pretty well in this one and look forward to making more weekly challenge posts. Had a lot of fun writing this up and will try to showcase the featured unit a little better next time.
Full Battle Replay: https://splinterlands.com?p=battle&id=sl_0317e47235cbfacc52e4dd4a26cc8da3&ref=drabs587
Thanks for reading,
Much Love, Drabs587
---
---