Taking Down A Top 10 Guild In The Brawls
Another First Place For The Splinter Skulls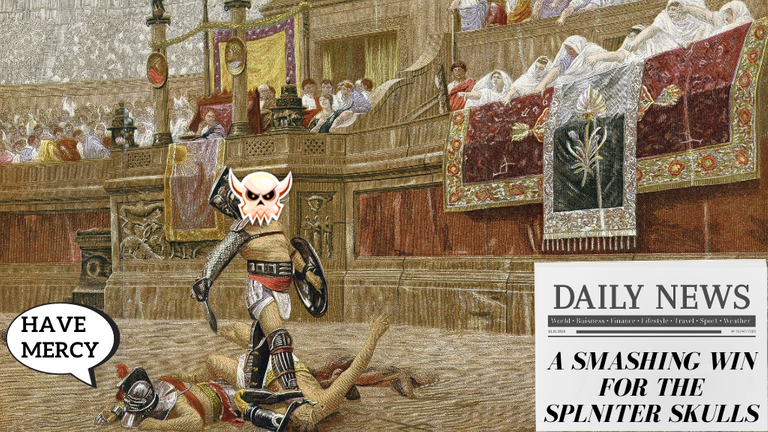 Hello everybody, I'm here for my first ever brawl review shout out to @mozzie5 and @kennysgaminglife for the idea to make my first post on this. Mozzie is one of my awesome guildmates and I'm sure he will be posting his as well soon so make sure to go follow him for his overview as well.
For this brawl, I felt I had to do a post on it as we beat a guild ranked in the top 10, the Immortal Army current rank #8. When we saw we would be facing them we were all wondering how we got matched up with such a strong guild.
As you can see they have a very strong guild a lot of members and a really high rating. Going into this we thought we might get bamboozled. However, we showed up ready for a bloodbath this brawl we consistently place in the top 3 pretty much every brawl and have never had a really bad performance at worst getting 4th place which is a very big accomplishment for a small guild like ours.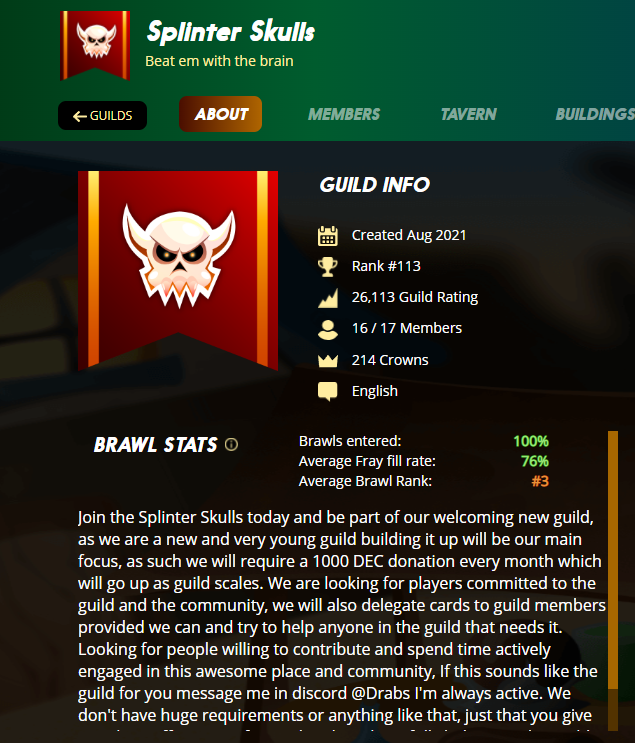 We usually leave our gold frays open as we do not have many players that can compete in it yet as we are all growing our collections. I actually went into a gold fray this time because I got some lucky delegations from @godislove777 on his stream without them I probably wouldn't have even considered playing in one. There are not many battles either in the gold frays usually only 1-2 for us as we are matched up with similar guilds that have the same issues not many gold cards.

Battles

I only had 2 battles and went 1-1 nothing spectacular but still a great accomplishment in my eyes as I never compete in these gold ones. Not only that but I also beat the member of the immortal army.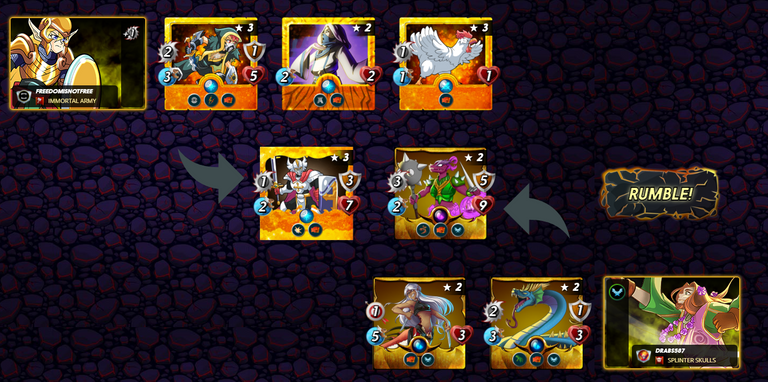 This was the earthquake ruleset so I opted to go for brighten bloom here for the obvious reason but also because I had more gold dragon cards than any other splinter. I went with djinn Chawala as my tank. Such a good card and paired with flying to avoid the earthquake damage she was going to do some work and she did. Pretty much single handily winning this fight all the armour and thorns crushed a lot of his lineup and compounded with the earthquake we made quick work of him.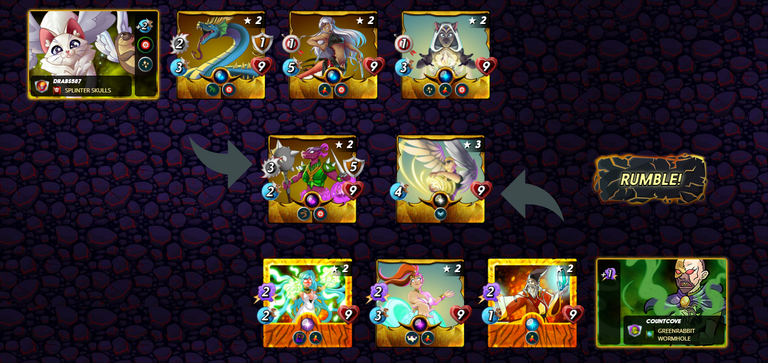 The next battle was not so good I ran pretty much the same comp as I was really limited to what I could use. I was worried he would go magic and he did but I did not have a magic reflect monster it was also the target practice ruleset and equalizer so I thought I would run a healer and have double heals from the kitty and crystal smith. His magic damage was still way too much to deal with dishing out an insane 9 damage he made pretty quick work of my team.


Final Overview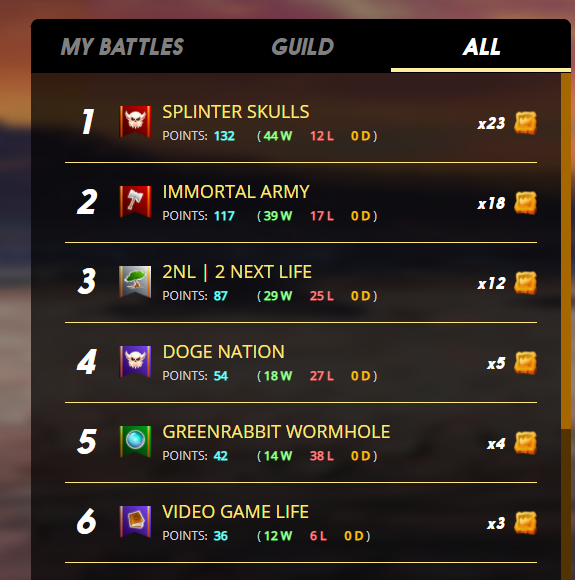 Overall shoutout to all the members of the splinter skulls you guys really killed it and this is an absolutely massive accomplishment taking down a top 10 guild. We are constantly growing and getting better each and every brawl and we have not even unlocked the ability to use our gladius cards yet. We took 1062 merits home and 23 crowns overall a really good showing and very good payout for this brawl.
We also have an open spot in our guild so if you are interested in joining this amazing place give me a shout in discord Drabs#6979 or reply to this post. We are looking for a serious player looking to grow with us but also invested in the game long term we have some amazing members and we are always looking to improve the strength of the guild.


Follow me over on Twitch

Check me out on YouTube

Thanks to flauwy for providing the dividers

Thumbnail made using Canva



---
---