splinterlands opening the end of season chests
Hello everyone, welcome to another review of splinterlands, this was a season, well disputed, in which I tested several different strategies, with different decks, in different amounts of mana and combat conditions that allowed me to reach the light bronze II of the game and I even got close to bronze I, but my amount of power didn't allow me to change levels, so let's go to the chest awards.
What I won?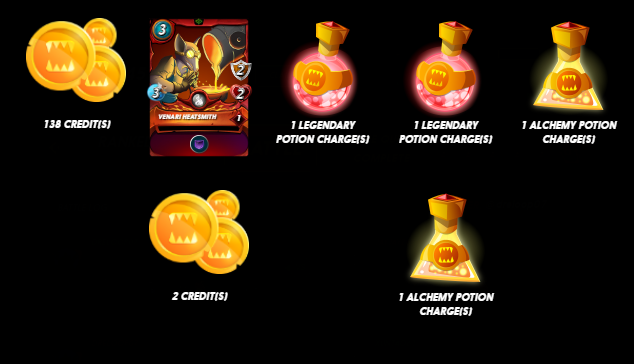 my end of season gains were a total of 140 in credits, 4 potions: 2 alchemy and 2 legendary and finally a common card from the fire deck (VENARI HEATSMITH) with volder armor ability is a kind of armor for magic attack.
What did I do with the winnings?
The 140 credits, instead of buying new cards, prefer to use it to slightly improve the cards I already had, so I did my first sorting by decks, choose the water deck and then choose the card (PELACOR BANDIT).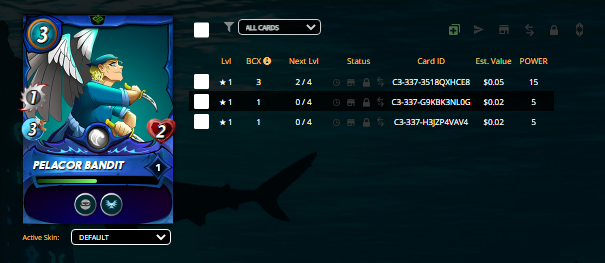 So I bought several cards from her, and made several combinations, reaching the light 3, I realized that the card increased the speed, which can be further enhanced with a good summoner from the water deck and card with sneak and flying skills are always in the my main choices at the time of form a deck for battle and with two abilities in the same card better still. As relations the potions I'm just accumulating I still haven't found uses for them and finally I'll talk about the card I won.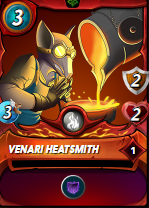 Right above is the card (VENARI HEATSMITH) common card of the fire deck, with special ability (volder armor) armor against magic attacks, it has no attack, has speed level 3, shield and HP level 2, it can be useful, today the deck of fire is the main one I use to level up in the season, I used this card more defense, positioned both in the first deck, to delay attacks on my tank and strengthen the HP of my card with vulture skill or to protect my card sneak o opportunistic attacks for example from a spell card with sniper ability.
Conclusion
I believe they were good prizes and of course good expenses that will allow me to have a great season towards bronze II again, so if you liked my prizes, leave them in the comments, say what you won, thanks and until next time.
---
---