For Guild & Glory: Brawl Report #141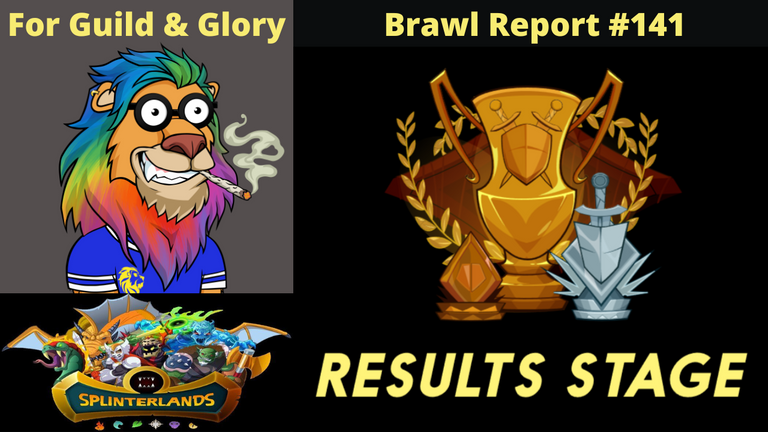 Overview
Welcome back Splinterlands battlemages to another edition of "For Guild & Glory," my brawl report series covering all the action from my three accounts: @ducecrypto in Tier 4 with @shield-of-glory, @treycrypto in Tier 3 with YGG Brawlers (Niðavellir) and @shaelien in Tier 3 with the always lively @the420syndicate. You can see my last report for Brawl #140 here.
DuceCrypto & Shield of Glory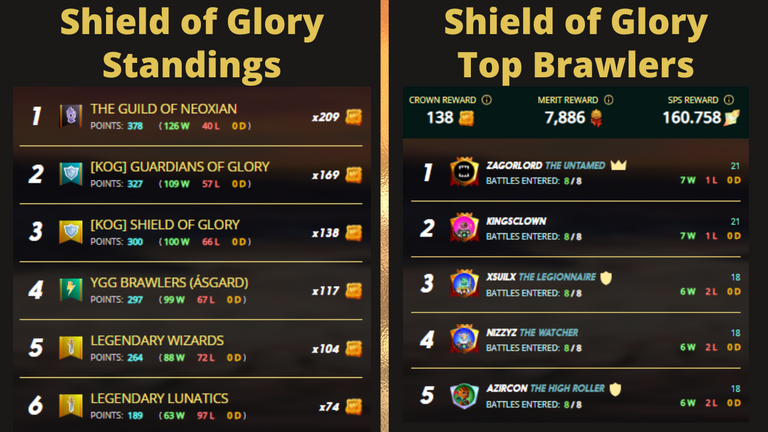 In Brawl #140, Summoner's Tribe broke Shield of Glory's Tier 4 win streak at 6, so we were hoping to get back to winning ways in Brawl #141. For the first time ever, we had to face off against other Kingdom of Glory (KoG) guilds in Tier 4, as well as the formidable The Guild of Neoxian. Let's just say things didn't really go as planned. Not only did we finish a staggering 26 wins behind Neoxian, but we also fell to our own KoG alliance guild, Guardians of Glory, by 9 wins. Still, 138 crowns, 7886 merits and 160 SPS for a 3rd place finish isn't the worst, but it is lower than we have come to expect from previous Tier 4 results.
By all accounts, we were off our game this time around. We didn't have a single undefeated brawler - our best records were @zagorlord and @kingsclown at 7-1. While I am pleased to report that I won both of my battles against our KoG alliance guilds, I only finished with a 5-3 record in Fray 18 - Modern Silver Gold Foil. My personal 62.5% win rate was just slightly better than our guild's ~60% win rate this brawl. Again, I lost the battle against my most challenging opponent, Neoxian's @dagger212, whose Kralus was just too strong in an Ilthain mirror match. I'm confident we will do better in Brawl #142.
TreyCrypto & YGG Brawlers (Niðavellir)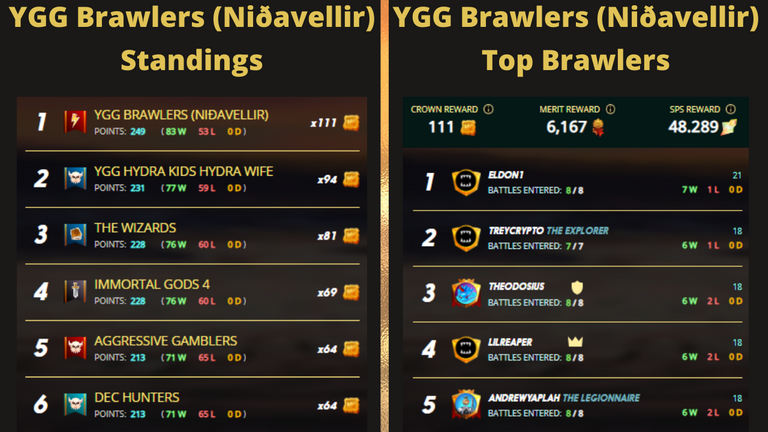 With an average finish of 1st place, YGG Brawlers (Niðavellir) has been dominating Tier 3 recently, so I wanted to make a strong first impression brawling in the YGG guild alliance. Overall we performed well, continuing our streak of 1st place finishes and edging out another allied guild, YGG Hydra Kids Hydra Wife, by 6 wins. The performance was good for 111 crowns, 6167 merits and 48 SPS.
Thankfully, I was allowed to take my usual spot in Tier 3, defending Fray 16 - Modern Silver Gold Foil, and I did not disappoint in my debut. Although I really wanted the clean sweep, I settled for a 6-1 mark, only one win behind our best brawler - @eldon1 with a 7-1 record. Regarding my lone loss, it was completely my fault; I used Yodin when blast was already in the rule set and got destroyed by Lorna and Captain Katie. On the other hand, I was very pleased with this battle, a Jacek mirror match, against @slibrut from Immortal Gods 4. Not sure about y'all, but it just never makes sense to me to play less than six monsters in an equalizer rule set.
Shaelien & The 420 Syndicate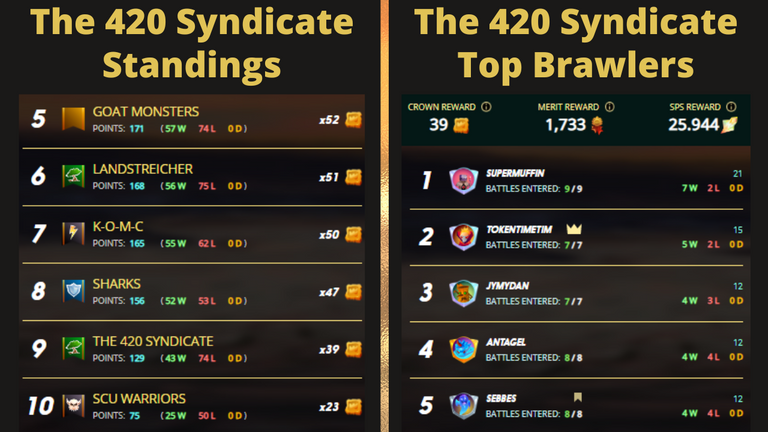 After the high of finishing in 2nd place in our last brawl, The 420 Syndicate was knocked back down to earth with a humbling 9th place performance out of 10 guilds. We barely won a third of our battles, recording 43 wins and 74 losses, but we still earned 39 crowns, 1733 merits and nearly 26 SPS four our troubles.
@supermuffin lead us with a stellar 7-2 mark, but he was one of only three brawlers with a win rate over 50%. I know we can do better as a guild, and I can do better in Fray 13 - Modern Diamond than my 2-6 record. It will always be tough for me since I'm playing in a diamond league fray with a gold league deck, but it does make the wins that much more rewarding. Check out this upset against @pretzeleo, the brawler for winning guild, Knights of Praetoria. In the low-mana, death mirror match, my two fliers, Ever-Hungry Skull and Pelacor Deceiver were the difference-makers. Although I do have Lux Vega as a max-level summoner, all my monsters are at gold league level against their maxed Thaddius Brood lineup.
The Gladius Cases
With the Shield of Glory store at Level 8, last week I was finally able to load up on Power Stones for the Gold Foil multiplier and Blood Stones for the Legendary multiplier. However, the evidence clearly shows that my stones are broken and I will be filing for a refund. Below is my haul of new Gladiators from the merits earned in brawl.
DuceCrypto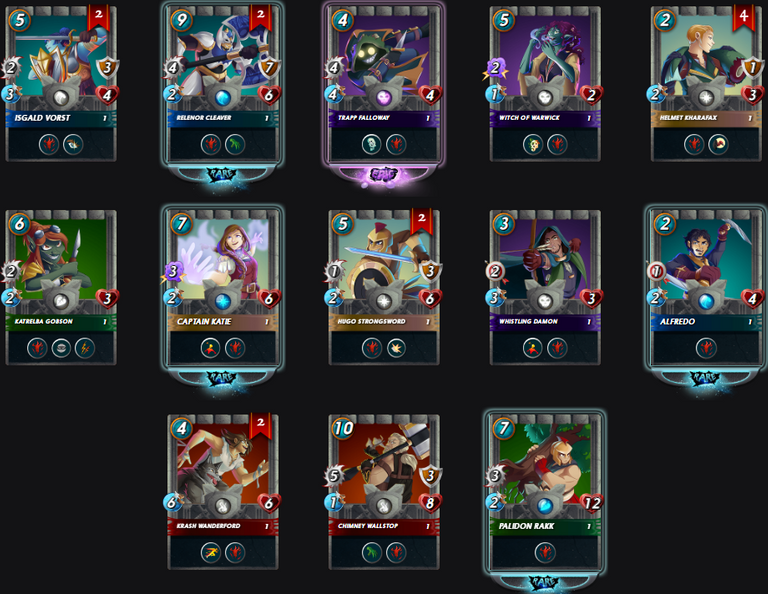 TreyCrypto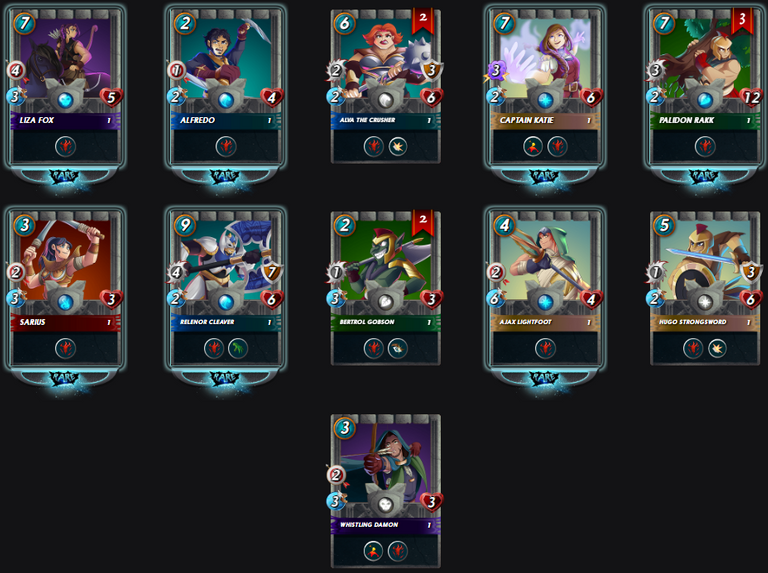 Shaelien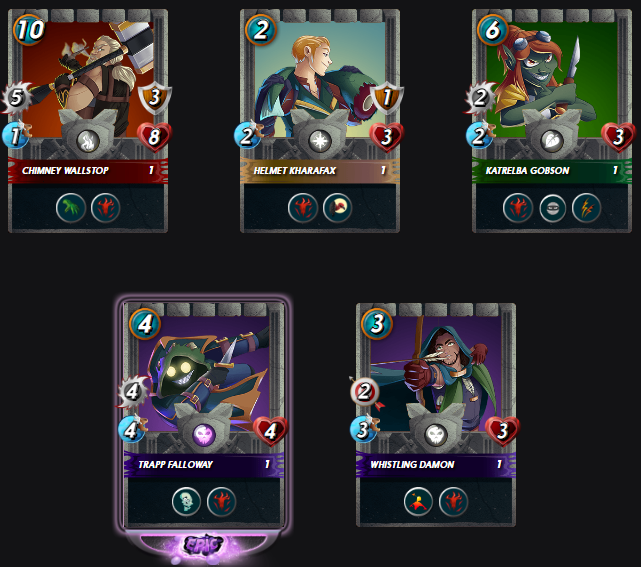 New Brawl Preview
In Tier 4, Shield of Glory will be looking to get back to winning ways, but Summoner's Tribe stands in the way again. There will also be another KoG vs. KoG showdown as No Guts No Glory has been drawn against us again. With a more consistent performance in Brawl #142, I think we can definitely close the gap between us and ST.
In Tier 3, YGG Brawlers (Niðavellir) and The 420 Syndicate were drawn into the same group for Brawl #142. Thank goodness my two accounts play in different frays! The 20th-ranked YGG Brawlers (Niðavellir) will have to contend with another YGG alliance guild, YGG Legacy, to take down the top spot. I'm confident Niðavellir will pull out another win, and hopefully, The 420 Syndicate can finish in the Top 6.
Thanks for stopping by and supporting my brawl report. If you have anything to say, give me a shout in the comment section below - I always enjoy interacting with my readers. For those new to Splinterlands, you can use my link below to check out the game and get started!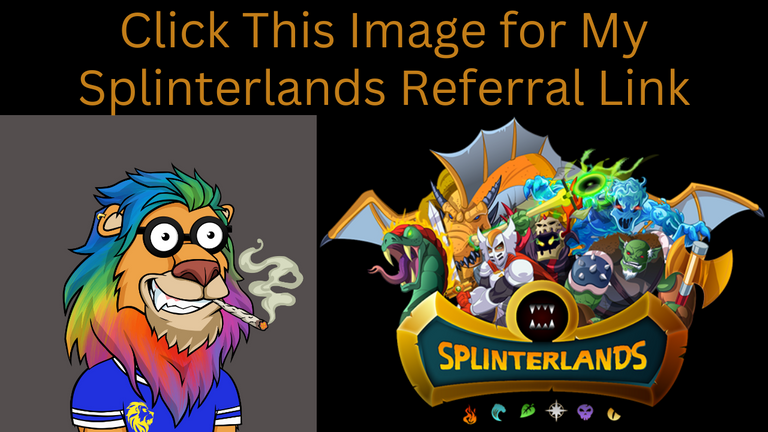 ---
---