SHARE YOUR BATTLE Weekly Challenge! SCAVO FIREBOLT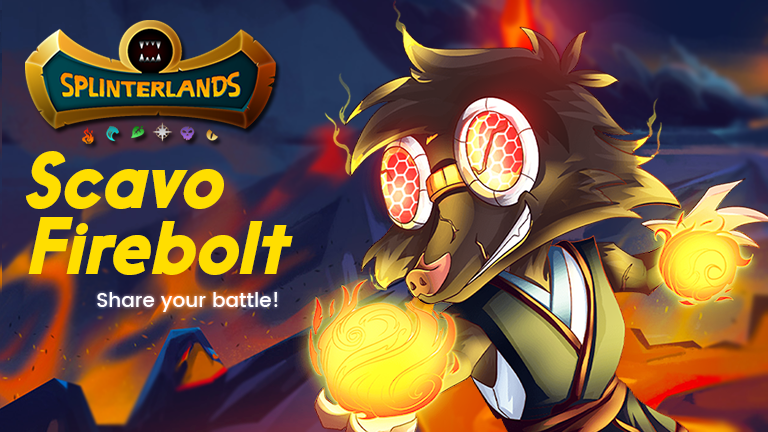 [🇺🇸 - EN & 🇧🇷 - PT/BR]
Hello, everyone! 😄
Let's talk about Scavo Firebolt for the Share Your Battle Weekly Challenge!
I don't use this card very often, because most of the times I build my lineup focused on melee attack for synergizing better with Tarsa +1 Melee, so I don't like using much Scavo Firebolt.
Olá, pessoal! 😄

Vamos falar sobre a Scavo Firebolt para o Desafio Semanal de Compartilhar Sua Batalha!

Eu não uso essa carta com muita frequência, porque na maioria das vezes eu construo minha formação focada no ataque corpo a corpo por ter uma sinergia melhor com a Tarsa dando +1 Dano Corpo a corpo, então não gosto muito de usar o Scavo Firebolt.

SCAVO FIREBOLT X KULU SWIMHUNTER
Taking into account only the Chaos Legion Set, Scavo Firebolt and Kulu Swimhunter are very similar! Both cost 4 Mana and has a few differences of attributes and rarity (Rare x Common).
Considerando o Conjunto da Legião do Caos, Scavo Firebolt e Kulu Swimhunter são muito semelhantes! Ambos custam 4 de Mana e possuem apenas pequenas diferenças de atributos e raridade (Raro x Comum).
---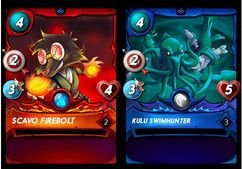 Bronze League: the only difference is one extra HP that Kulu Swimhunter, therefore point for Kulu Swimhunter!
Liga Bronze: a única diferença é um HP extra que Kulu Swimhunter, portanto ponto para Kulu Swimhunter!
---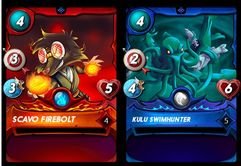 Silver League: I think Scavo is a little bit better due to his extra attack (3🏹) against 2🎯 of Kulu. Although Kulu has an extra HP and Speed. Point for Scavo Firebolt! (1-1)
Liga de Prata: Acho que Scavo está um pouco melhor devido ao seu ataque extra (3🏹) contra 2🎯 de Kulu. Embora Kulu tenha um HP e velocidade extras. Ponto para Scavo Firebolt! (1-1)
---
Gold League: Scavo acquires the Knock Out ability, which can be very useful, while Kulu remains without an ability. Point and victory to Scavo Firebolt! (2-1)
Conclusion: in my opinion Firebolt is superior to Kulu Swimhunter.
Liga de Ouro: Scavo adquire a habilidade Knock Out, que pode ser muito útil, enquanto Kulu permanece sem uma habilidade. Ponto e vitória para Scavo Firebolt! (2-1)

Conclusão: na minha opinião o Firebolt é superior ao Kulu Swimhunter.
---
Good Combinations: before the Gold league he is just a monster to cause good damage in the backline (position 5 or 6) and works better with Yodin or Pyre.
Gold League or above with the Knock Out ability you can combine with monsters like: Lava Launcher, Pit Ogre, Djinn Inferni and Spark Pixies due to their Stun ability.
Boas Combinações: antes da liga Gold ele é apenas um monstro para causar bons danos na linha de trás (posição 5 ou 6) e funciona melhor com Yodin ou Pyre.

Liga Ouro ou superior com a habilidade Nocaute você pode combinar com monstros como: Lava Launcher, Pit Ogre, Djinn Inferni e Spark Pixies devido à sua habilidade de atordoamento.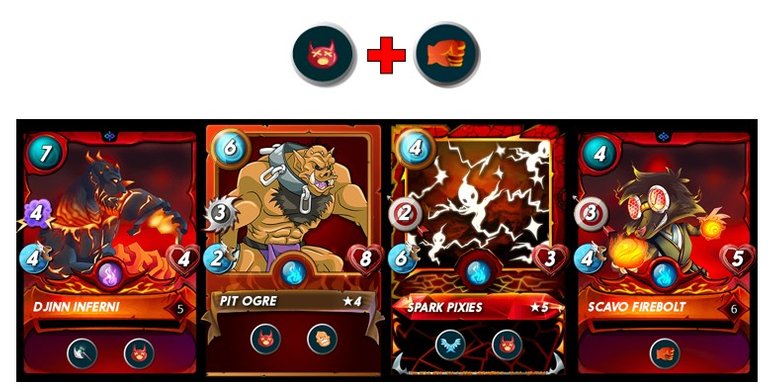 ---
Best Position:5 or 6
Melhor Posição: 5 ou 6
---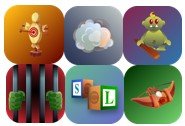 Best Rule Sets: he is very versatile, but he will perform better on Target Practice, Fog of War, Keep your Distance, Little League and especially on Back to Basics and Close Range.
Melhores Conjuntos de Regras: ele é muito versátil, mas terá um desempenho melhor em Tiro ao Alvo, Névoa de Guerra, Mantenha sua Distância, Liga Infantil e especialmente em Volta ao Básico e Próximo.
---

Rules to Avoid: Earthquake, Reverse Speed, Noxious Fumes and Equal Opportunity.
Regras a evitar: terremoto, velocidade reversa, fumaça nociva e igualdade de oportunidades.
---
LINEUP
The Rule Set was Noxious Fumes + Holy Protection. Only Earth 🌿 wasn't available. I think my best two options was Water 🌊 with River Nymph (Cleanse) and River Hellondale (Resurrect, so the monster would revive without poison) or Fire 🔥 with Forgotten One due to his immunity + Scavo Chemist (Cleanse), Fire looked like a better option.
O conjunto de regras eram Fumaça Nociva + Proteção Sagrada. Apenas Terra 🌿 não estava disponível. Acho que minhas duas melhores opções eram Água 🌊 com River Nymph (Cleanse) e River Hellondale (Resurrect, para que o monstro revivesse sem veneno) ou Fire 🔥 com Forgotten One devido à sua imunidade + Scavo Chemist (Limpar), Fire parecia uma opção melhor.
---

---
Summoner (Tarsa): she is a good option on Noxious Fumes, because many times her +1 HP allows the monster to survive an extra round.

Tank (Tusk The Wide): on noxious fumes I always try to look for monsters with: high HP, Immunity, Heal or Cleanse abilities. Tusk fits in the high HP class and also could tank against magic attacks for having Void.

Scavo Chemist: his job was just to clean the poison of Tusk and take some hits in case of Snipe monsters of the opponent.

Forgotten One: his Immunity ability makes him perfect on Noxious Fumes.

Xenith Monk: on noxious fumes I always focus on surviving as long as we can. His healing ability would allow him to survive.

Scavo Firebolt: with his 4 HP + 1 Tarsa he would be able to cause some damage and survive 3 rounds!

Lava Spider: same reason of Scavo, but costing one less mana and with only 1 damage.
Invocador (Tarsa): ela é uma boa opção em Noxious Fumes, pois muitas vezes seu +1 HP permite que o monstro sobreviva a uma rodada extra.

Tanque (Tusk The Wide): em fumaças nocivas eu sempre tento procurar monstros com: habilidades de HP alto, Imunidade, Cura ou Limpeza. Tusk se encaixa na classe alta de HP e também pode resistir a ataques mágicos por ter Void.

Scavo Chemist: seu trabalho era apenas limpar o veneno de Tusk e levar alguns hits no caso de monstros Snipe do oponente.

Forgotten One: sua habilidade de Imunidade o torna perfeito em Noxious Fumes.

Xenith Monk: em fumaças nocivas eu sempre me concentro em sobreviver o máximo que pudermos. Sua habilidade de cura lhe permitiria sobreviver.

Scavo Firebolt: com seus 4 HP + 1 Tarsa ele seria capaz de causar algum dano e sobreviver 3 rodadas!

Lava Spider: mesma razão de Scavo, mas custando 1 mana a menos e com apenas 1 de dano.


THE BATTLE
My opponent also picked Fire, but with a setup of 4 monsters focusing on high HP ❤️ and good damage ⚔️.
Meu oponente também escolheu Fogo, mas com uma configuração de 4 monstros focando em alto HP ❤️ e bom dano ⚔️.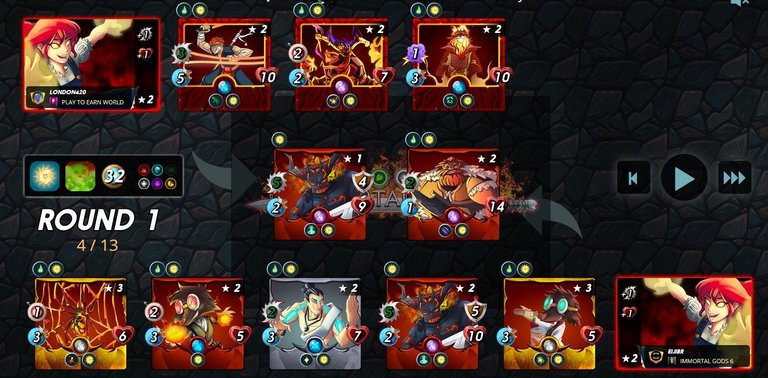 Key Points
He placed Forgotten One in the 1st position which in my opinion is not a good choice, because you want him to enter the fight when most of the monster already died or are almost dead due to the poison.
Xenith Monk with heal made a huge difference and worked perfectly with the strategy I had in my mind.
Scavo Firebolt + Lava Spider contributed with a total of 6 damage + 2 hits to take divine shield down!
His idea of using Last Stand of Efreet Elder was very good! I thought the battle was over when suddenly he got extra HP/damage! And I thought: "Oh my god, it is not over yet!" 😱
Ele colocou Forgotten One na 1ª posição o que na minha opinião não é uma boa escolha, pois você quer que ele entre na luta quando a maioria dos monstros já morreram ou estão quase mortos devido ao veneno.
Xenith Monk com heal fez uma diferença enorme e funcionou perfeitamente com a estratégia que eu tinha em mente.
Scavo Firebolt + Lava Spider contribuíram com um total de 6 de dano + 2 acertos para derrubar o escudo divino!
A ideia dele de usar o último suporte de Efreet Elder foi muito boa! Eu pensei que a batalha tinha acabado quando de repente ele ganhou HP/dano extra! E eu pensei: "Oh meu Deus, ainda não acabou!" 😱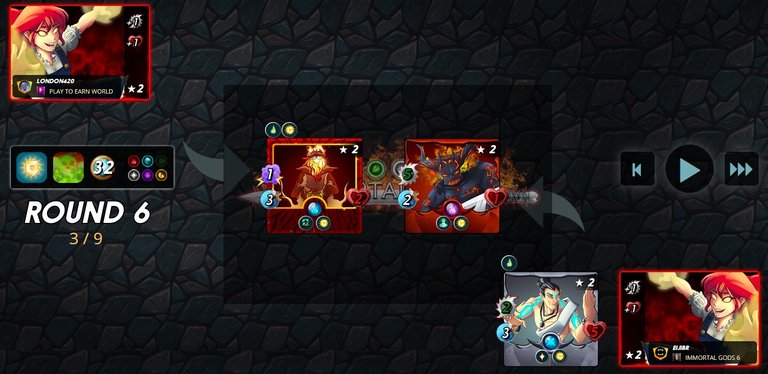 "Alright we got this". Moments before the "Last Stand".
"Beleza vamos ganhar". Momentos antes do "Última Posição".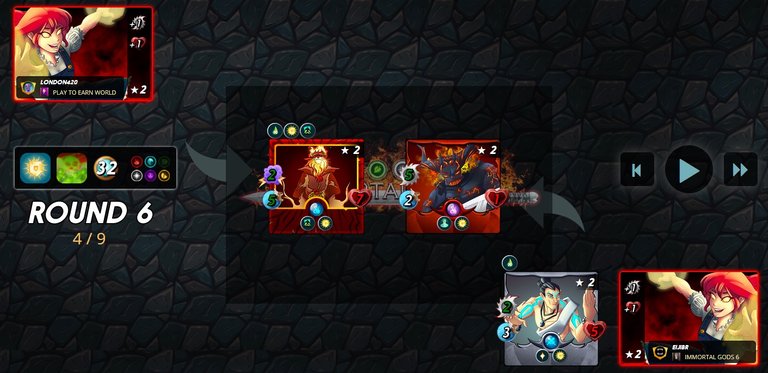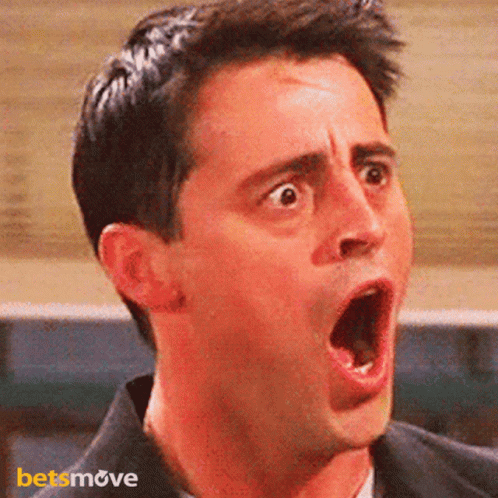 If you want to find out who won the battle, click here!
If you want to start playing Splinterlands, please use my referral link by clicking here!
Thanks for reading!
Se quiser descobrir quem ganhou a batalha, clique aqui!

Se quiser começar a jogar Splinterlands, por favor use meu link de referência clicando aqui!!

Obrigado pela leitura!

| | | |
| --- | --- | --- |
| SPLINTERLANDS | SPT | RISING STAR |
---
---