Esp/Eng End of season chests and Legendary pack/Final de temporada cofres y pack Legendaria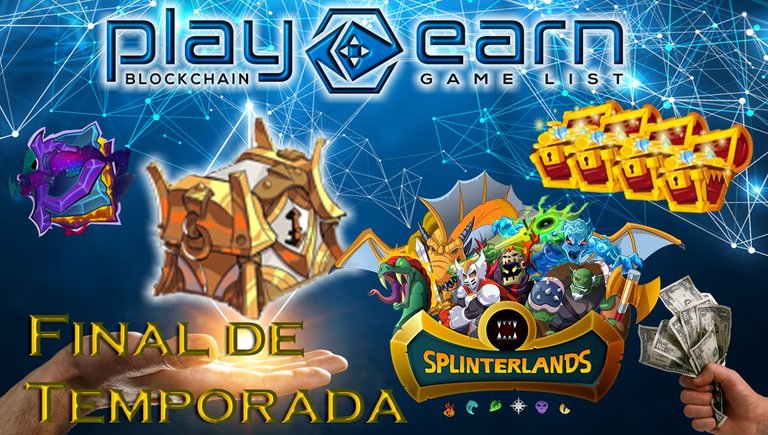 Saludos comunidad en esta ocasión les quería compartir mi final de temporada en
#Splinterlnads
, esta semana estuve algo ocupado y no pude jugar como antes es por eso que tengo pocos cofres pero han sido bastante buenos. También estoy haciendo algunos movimientos en mis cuentas porque con las cartas que he acumulado espero llegar a diamante para esta temporada. Tengo una buena estrategia para lograr pasar a diamante que luego que la pruebe se las comparto.
Greetings community, this time I wanted to share my end of the season in
#Splinterlnads
, this week I was a bit busy and I couldn't play like before, that's why I have a few chests but they have been quite good. I'm also making some moves in my accounts because with the cards I've accumulated I hope to reach diamond for this season. I have a good strategy to get to diamond that after I try it I will share with you.

En la que ahora será mi cuenta principal en el juego cobre 45 con muy buenos resultados 1 Legendaria, 1 Épica, 1 Rara dorada, 5 Raras y 9 Comunes además 656DEC, 626 Merit y 2 pack.
In what will now be my main account in the game, I collected 45 with very good results: 1 Legendary, 1 Epic, 1 Golden Rare, 5 Rares, and 9 Commons, as well as 656DEC, 626 Merit, and 2 pack.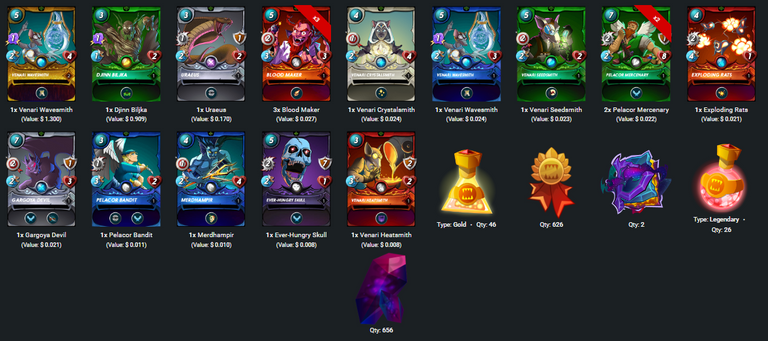 Esos Pack estuvieron excelentes un invocador y 2 Épicas que realmente me hacían falta todo en total sumo 15.738$ según el explorador de
#PeakMosters
.
That Pack was excellent a Summoner and 2 Epics that I needed all in total I add up to $15,738 according to the
#PeakMosters
explorer.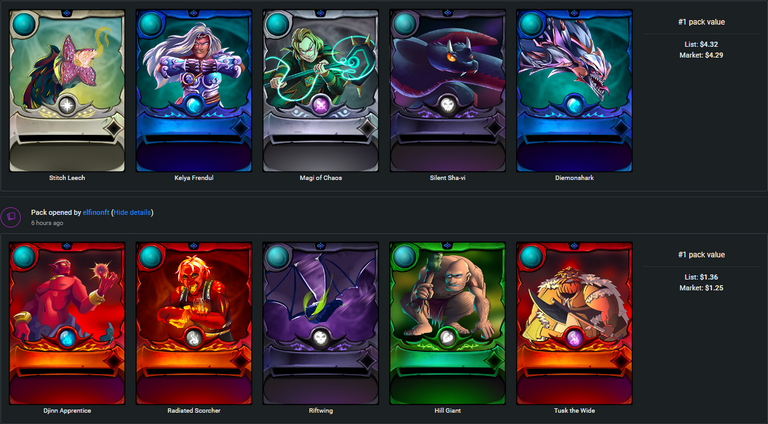 En mi otra cuenta la jugué un poco menos por falta de tiempo de hecho en esta cuenta alquile la mayoría de mis cartas los últimos días de la temporada y esta temporada esta cuenta la comenzaré a jugar de forma competitiva en bronce es parte de mi estrategia que desde ya comenzaré a aplicar. Realmente tengo muy buenas expectativas para esta nueva temporada que pronto estaré dando a conocer. Abrimos un total de 39 cofres bastante interesantes 1 Épica, 1 Raras, 1 Común Dorada y 6 Comunes además 1760DEC, 24 Merit y 2 pack.
In my other account, I played it a little less due to lack of time. In fact, in this account, I rented most of my cards on the last days of the season, and this season I will start playing this account competitively in bronze. It is part of my strategy that I will start applying from now on. I have very good expectations for this new season that I will soon be announcing. We opened a total of 39 quite interesting chests 1 Epic, 1 Rare, 1 Gold Common, and 6 Commons plus 1760DEC, 24 Merit, and 2 packs.

Esos Pack estuvieron excelentes una Legendaria Dragon que me hacía mucha falta realmente fue lo mejor, es muy buena carta más allá del costo que pueda tener, es una carta que uso mucho y normalmente alquilaba me gusta. Para esta cuenta en total sumo 13.691$ según el explorador de PeakMosters.
Those packs were excellent, a Legendary Dragon that I needed was the best, it is a very good card beyond the cost it may have, it is a card that I use a lot and I normally rent, I like it. For this account, in total, I add $13,691 according to the PeakMosters explorer.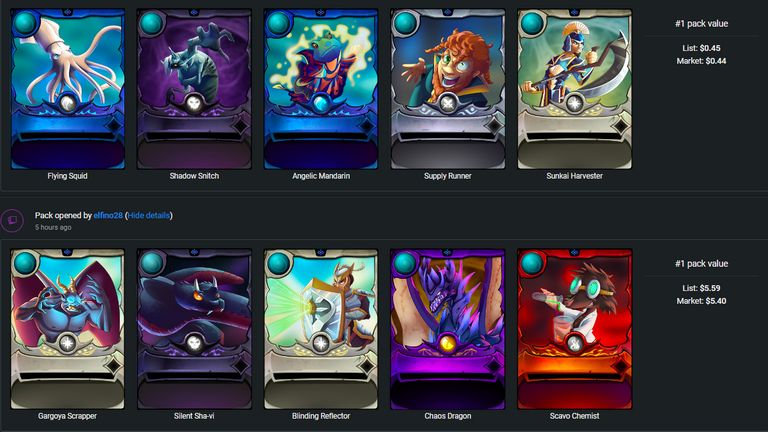 Para mi fueron excelentes recompensas gracias a estos nuevos cambios que se han implementado creo que ya el equipo de Splinterlands ha logrado un gran balance en todas las recompensas para los jugadores.
For me they were excellent rewards thanks to these new changes that have been implemented, I think that the Splinterlands team has already achieved a great balance in all the rewards for the players.


Si eres hispano y quieres unirte a un clan haz click aqui
@fallen.angels
Si aún no tienes Cuenta de Splinterlands regístrate aquí
Splinterlands https://splinterlands.com?ref=elfino28
Comunidad Oficial de Splinterlands en Español https://t.me/splinterlandsES
My social networks
Hive: @elfino28
https://twitter.com/ElFinoNFT
https://www.instagram.com/ElFinoNFT
https://www.youtube.com/user/KBI93X
telegram https://t.me/ElFinoNFT


---
---