Esp/Eng I managed to see the dispel ability in action/Logré ver la habilidad disipar en acción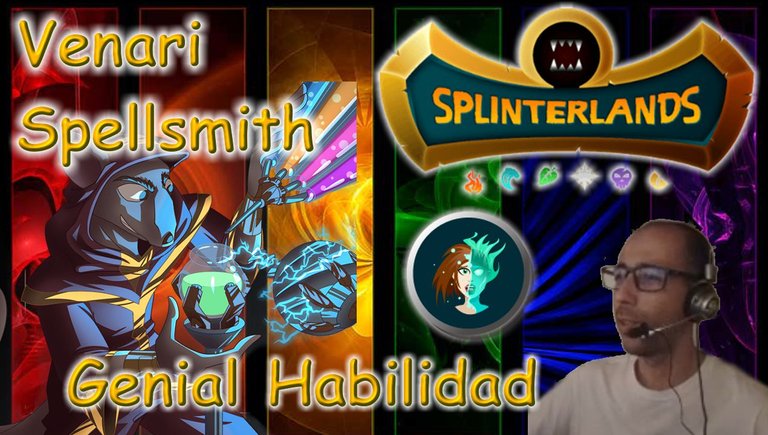 Saludos comunidad esta es mi participación en el Desafío Semanal de
@Splinterlands
, debós decirle que desde hace tiempo no me divertía tanto en un desafío y es que en esta ocasión toco una carta súper genial. VENARI SPELLSMITH es una carta rara del elemento neutral un excelente mago con la habilidad Dispel desde su inicio y a partir de nivel 4 aprende la habilidad Amplify.
Greetings community, this is my participation in the
@Splinterlands
Weekly Challenge, you must tell him that I haven't had so much fun in a challenge for a long time, and this time I play a super cool card. VENARI SPELLSMITH is a rare card of the neutral element, an excellent magician with the Dispel ability since its inception and from level 4 learns the Amplify ability.

VENARI SPELLSMITH me gusta mucho combinarlas con cartas que tenga la habilidad Magic Reflect, Return Fire y Thorns porque como mencione a nivel 4 tiene la habilidad de Amplify, esto hace que las cartas que tengan estas habilidades amplifiquen su daño, realmente es genial la uso mucho cuando veo que el otro jugador usa magia, automáticamente es parte de mi estrategia anti-magia con el Magic Reflect. También la he usado con MYLOR CROWLING y es increíble el daño que hace.
VENARI SPELLSMITH I like to combine them with cards that have the ability Magic Reflect, Return Fire, and Thorns because as I mentioned at level 4 it has the ability to Amplify, this makes the cards that have these abilities amplify their damage, it's great I use it a lot when I see the other player using magic, it's automatically part of my anti-magic strategy with Magic Reflect. I have also used it with MYLOR CROWLING and the damage it does is incredible.

Realmente siempre usaba la carta por su segunda habilidad y nunca por su primera habilidad Dispel, técnicamente esta habilidad elimina los efectos positivos que tiene la carta objetivo, pero nunca había visto en acción esa habilidad así que no sabía lo que era, hasta este momento, realmente es difícil apreciar esta habilidad en los combates, pero ahora que ya sé lo que hace esa habilidad puedo buscarle mejores usos a esta carta.
I always used the card for its second ability and never for its first ability Dispel, technically this ability removes the positive effects that the target card has, but I had never seen that ability in action so I didn't know what it was, until now, It's really hard to appreciate this combat ability, but now that I know what that ability does, I can find better uses for this card.

Al ver que teníamos la condición Close Range inmediatamente pensé en usar mi invocador preferido el GENERAL SLOAN es perfecto para provechar al máximo esta condición.
Seeing that we had the Close Range condition, I immediately thought of using my favorite summoner, GENERAL SLOAN, it's perfect to make the most of this condition.

Como tanque principal PELACOR CONJURER me encanta por la habilidad de reflejó mágico y para potencial su daño cartas con la habilidad Amplify DAX PARAGON y VENARI SPELLSMITH esto es un gran poder que se le da al reflejo mágico.
As a PELACOR CONJURER main tank, I love it because of the magic reflection ability and to potential its damage cards with the ability Amplify DAX PARAGON and VENARI SPELLSMITH this is a great power that is given to the magic reflection.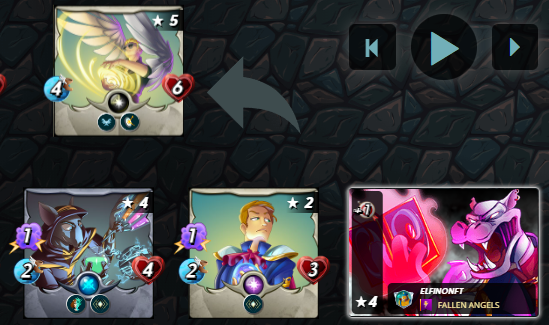 En la 4ta posición use a CELESTIAL HARPY una gran carta con la habilidad oportunista que va casando a las cartas más débiles.
In the 4th position, I used CELESTIAL HARPY a great card with the opportunistic ability that is marrying the weakest cards.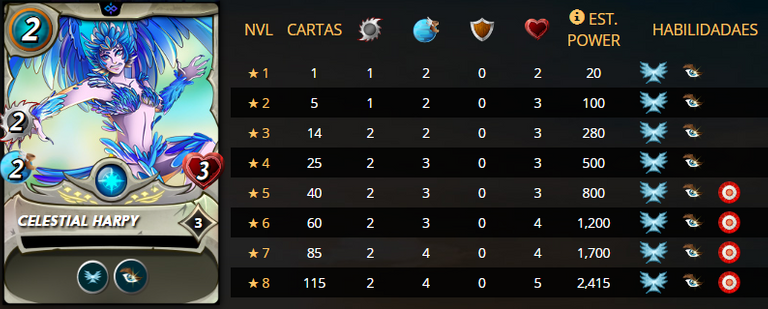 En la 5ta posición VENARI CRYSTALSMITH esta carta es excelente con ataque a distancia y con la habilidad de curar a la carta en la primera posición muy útil para ir curando al tanque.
In the 5th position VENARI CRYSTALSMITH this card is excellent with a ranged attack and with the ability to heal the card in the first position very useful to heal the tank.

Y en la última posición XENITH ARCHER una excelente arquero con tan solo 2 de mana también la uso mucho sobre todo en las batallas con poco mana.
And in the last position, XENITH ARCHER is an excellent archer with only 2 mana I also use it a lot, especially in low mana battles.

Para apreciar esta gran batalla lo puedes verla desde este link o en el video comentado en español que te dejo por aquí.
To appreciate this great battle you can see it from this link or in the commented video in Spanish that I leave you here.


Realmente me encanto al fin poder ver el efecto que hace esa habilidad Dispel que es quitar el efecto en este caso del escudo. Ahora solo fue a la carta que tenía la habilidad las otras cartas que también toman el efecto de escudo no son afectadas. Y so conocen algún otro efecto que tenga esta habilidad agradecería que lo dejaras en los comentarios. Por otro lado use dos amplificadores para potenciar el reflejo mágico, esto hizo que el reflejo mágico quitara -3 de vida pero a las dos cartas Legendarias solo le quito -2 de vida, no sé si es un error del juego o alguna condición por ser cartas Legendarias si sabes la respuesta del porque pasa esto espero ver tus comentarios.
I loved finally being able to see the effect that this Dispel ability has, which is to remove the effect in this case from the shield. Now it only went to the card that had the ability, other cards that also take the shielding effect are not affected. And if you know of any other effect that this ability has, I would appreciate it if you would leave it in the comments. On the other hand, I used two amplifiers to enhance the magic reflection, this made the magic reflection take -3 life but the two Legendary cards only take -2 life, I don't know if it's a game error or some condition to be Legendary cards if you know the answer to why this happens I hope to see your comments.


Si eres hispano y quieres unirte a un clan haz click aqui
@fallen.angels
Si aún no tienes Cuenta de Splinterlands regístrate aquí
Splinterlands https://splinterlands.com?ref=elfino28
Comunidad Oficial de Splinterlands en Español https://t.me/splinterlandsES
My social networks
Hive: @elfino28
https://twitter.com/ElFinoNFT
https://www.instagram.com/ElFinoNFT
https://www.youtube.com/user/KBI93X
telegram https://t.me/ElFinoNFT


---
---