Esp/Eng Sharing my Battle with PELACOR ARBALEST/Compartiendo mi Batalla con PELACOR ARBALEST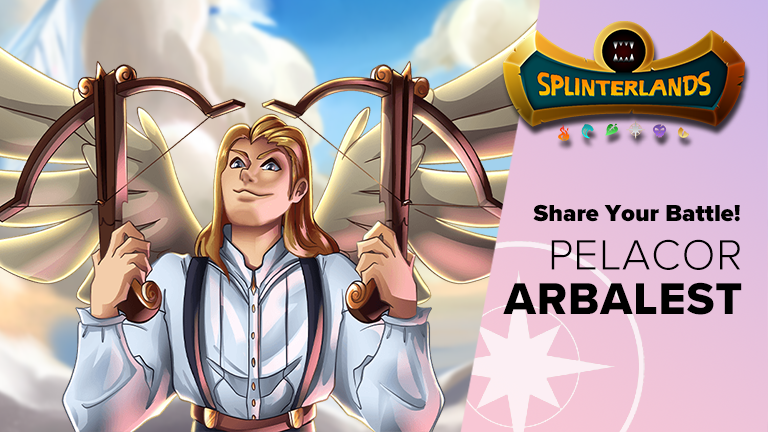 Saludos comunidad, el desafío de esta semana de
@Splinterlands
fue genial toco una de las cartas que considero está muy rota, tiene un poder impresionante PELACOR ARBALEST, es una carta Rara de ataque a distancia con la habilidad Doble golpe es decir ataca dos veces combinada con el GENERAL SLOAN es realmente mucho poder al potenciar su ataque pocas cartas resisten este castigo.
Greetings community, this week's
@Splinterlands
challenge was great I touched one of the cards that I consider to be very broken, it has an impressive power PELACOR ARBALEST, it is a Rare card for distance attack with the ability Double hit, that is, it attacks twice combined with GENERAL SLOAN, it is a lot of power to enhance its attack, few cards resist this punishment.

Actualmente tengo al PELACOR ARBALEST a nivel 6 estoy jugando en la Liga de Oro, para este nivel obtiene sus alas y si como se ve en la imagen de la carta yo antes pensaba que era solo de adorno pero si obtiene la habilidad Volador esto le da la posibilidad de esquivar algunos Sneak, también es muy útil con la condición terremoto.
Currently, I have the PELACOR ARBALEST at level 6 I am playing in the Gold League, for this level he gets his wings and yes, as you can see in the image of the card, I used to think it was just for decoration but if he gets the Flying ability this gives him the chance to dodge some Sneak, is also very useful with the earthquake condition.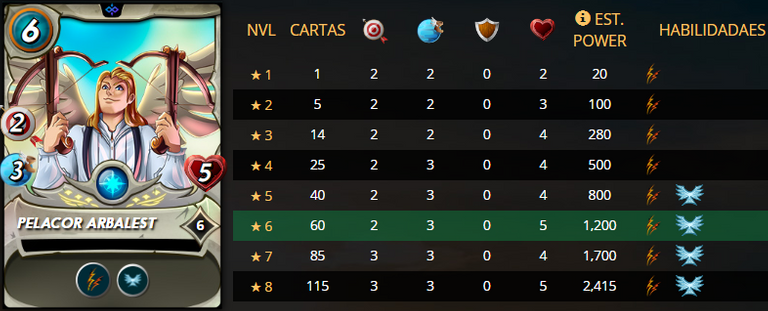 Realmente me encanta esta carta pega muy duro así que les voy a contar como yo me imagino esta gran batalla.
I love this card, it hits very hard so I'm going to tell you how I imagine this great battle.

El campo de batalla está preparado para la contienda ente el Reino de Muerte comandado por WAKA SPIRITBLADE un terrible hechicero con la habilidad de hacer llover veneno un ácido que afecta gravemente a los adversarios que se le enfrenta causando heridas grabes durante la batalla. Vs el Reino de Vida comandado por el GENERAL SLOAN un guerrero especialmente entrenado en el ataque con arco si sola presencia en el campo hace que si leales súbditos de ataque a distancia obtengan más fuerza.
The battlefield is prepared for the conflict between the Kingdom of Death commanded by WAKA SPIRITBLADE, a terrible sorcerer with the ability to rain poison. This acid seriously affects the opponents that face him, causing severe injuries during the battle. Vs the Kingdom of Life commanded by GENERAL SLOAN a warrior specially trained in the bow attack if his mere presence on the field makes his loyal ranged attack minions gain more strength.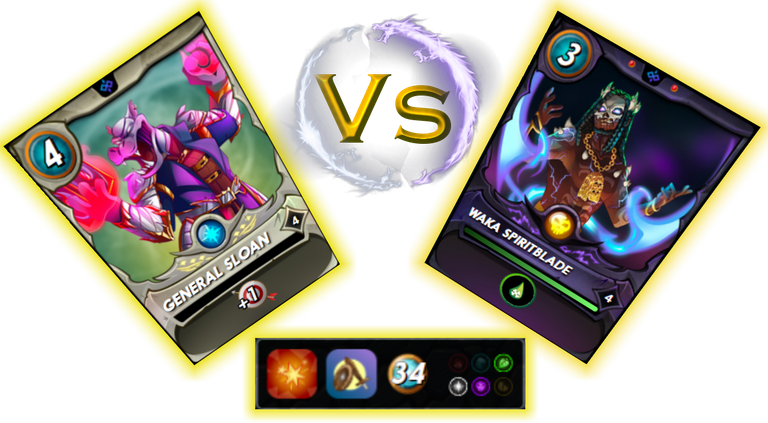 El GENERAL SLOAN armo una tropa de 6 guerreros en el frente de la batalla XENITH MONK un chamán de la aldea neutral con la habilidad de curar sus heridas y disminuir los ataques de magia, seguido de TIME MAGE una gran maga con la habilidad de controlar el tiempo y hace más lento los ataques del enemigo, continuando con los arqueros leales guerreros potenciando su ataque por el GENERAL al frente de la batalla, GARGOYA DEVIL esta bestia además de ser un gran arquero a distancia tiene la habilidad de entrar al frente de la batalla y poder atacar además tiene una armadura que lo protege de las explosiones.
GENERAL SLOAN assembled a troop of 6 warriors on the front lines of the battle XENITH MONK a shaman from the neutral village with the ability to heal his wounds and decrease magic attacks, followed by TIME MAGE a great mage with the ability to control the time and slows down the enemy's attacks, continuing with the loyal warrior archers enhancing their attack by the GENERAL at the front of the battle, GARGOYA DEVIL this beast besides being a great ranged archer can enter the front of the battle and being able to attack also has an armor that protects it from explosions.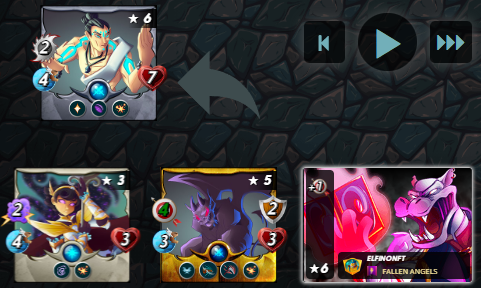 SUPPLY RUNNER este arquero es un gran corredor difícil de atrapar en la batalla y contagia su velocidad a leales compañeros así que todos pueden atacar más rápido, y el último de los arqueros PELACOR ARBALEST con un daño letal siempre preparado con dos arcos para disparar dos veces de manera continua y por ultimo STITCH LEECH una planta mostro con la habilidad de Sneak y el compromiso de proteger al PELACOR de los Sneak del enemigo.
SUPPLY RUNNER this archer is a great runner hard to catch in battle and spreads his speed to loyal companions so everyone can attack faster, and the last of the archers PELACOR ARBALEST with lethal damage always ready with two bows to shoot twice continuously and finally STITCH LEECH a plant showed with the ability to Sneak and the commitment to protect the PELACOR from the enemy's Sneak.

Impresionantes guerreros que fueron a la batalla y puedes observar aquí.
Impressive warriors who went to battle as you can see here.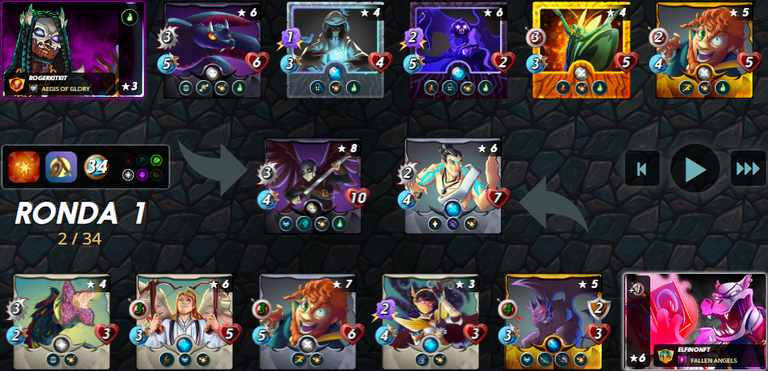 Para la condición Explosión lo mejor es ser más rápido que el oponente por eso use Aceleración y Ralentizar combinadas afecta bastante la velocidad del enemigo y al ser el primero en atacar puedes ir eliminando más rápido las cartas del enemigo y con el poder de la explosión siempre caen varias a la vez también es buena opción un oportunista para acabar rápidamente a la carta más débil, solo que los oportunistas que tiene vida son un poco lento por eso no lo quise usar, de echo si notas la primera carta que me elimino fue mu Sneak por lo lento y poca vida.
For the Explosion condition, it is best to be faster than the opponent, that's why using Acceleration and Slowdown combined affects the enemy's speed a lot, and by being the first to attack you can eliminate the enemy's cards faster, and with the power of the explosion always several falls at the same time an opportunist is also a good option to quickly finish off the weakest card, only that the opportunists that have life are a bit slow that's why I didn't want to use it if you notice the first card that I eliminated was very Sneak so slow and low life.


Si eres hispano y quieres unirte a un clan haz click aqui
@fallen.angels
Si aún no tienes Cuenta de Splinterlands regístrate aquí
Splinterlands
Comunidad Oficial de Splinterlands en Español
My social networks
Hive: @elfino28
https://twitter.com/ElFinoNFT
https://www.instagram.com/ElFinoNFT
https://www.youtube.com/user/KBI93X
telegram https://t.me/ElFinoNFT


---
---