Buying Cards with Credits and more at Splinterlands [ESP/ENG]
Greetings again my dear friends of Hive Blockchain. On this occasion, I wish to write a little bit about one of the PlayToEarn games that I like the most and that is Splinterlands. I have been playing for about two months now and I will show in this post, a summary of my progress and statistics, as well as some information about DECs and Credits, two of the internal currencies of the game and that, are very useful to grow and develop our accounts.
First I want to remind you that Splinterlands is one of the games of our Blockchain Hive that has grown the most in recent times and that within this momentum of games with NFT elements it has had a prominent position as a reference within this fabulous world where we earn money for playing.
Saludos de nuevo mis apreciados amigos de Hive Blockchain. En esta ocasión deseo escribir un poco sobre uno de los juegos PlayToEarn que más me gusta y que es Splinterlands. Ya tengo unos dos meses jugando y voy a mostrar en esta publicación, un resumen de mis avances y estadísticas, así como algo de información sobre los DEC y los Créditos, dos de las monedas internas del juego y que son de mucha utilidad para hacer crecer y desarrollar nuestras cuentas.

Primero quiero recordar que Splinterlands es uno de los juegos de nuestra Blockchain Hive que más ha crecido en los últimos tiempos y que dentro de este impulso de los juegos con elementos NFT ha tenido una posición destacada como referencia dentro de este fabuloso mundo donde ganamos dinero por jugar.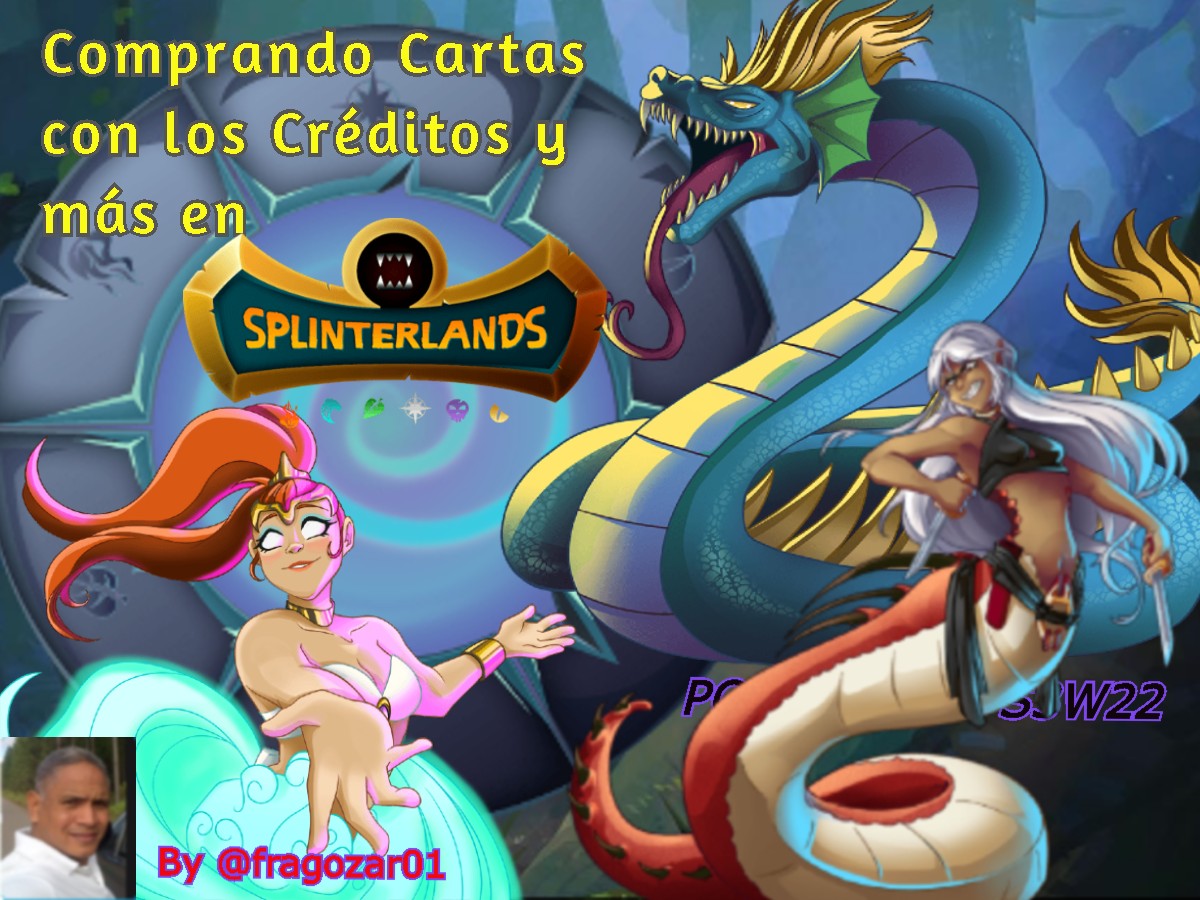 Imagen Editada en Pixlr.com
---
I am very happy because I have managed to increase my deck of cards. I have received some of the seasonal rewards and others that I have acquired through the internal market. This has brought my power to 440 points, which although it is not a high-level power, guarantees me the Bronze III level. Among my acquisitions, there is an Epic type card which is the Djinn Renova, a Splinter of the water element and whose main ability is to strengthen the health of the monsters of the team where he is battling. I also acquired five cards of the Rare type plus one that I had already obtained in a quest reward. The rest of the cards I own are all of the Common types for a total of 27 cards and I am thinking of making other investments to acquire new cards and guarantee a higher level in the ranking leagues.
Estoy muy contento porque he logrado aumentar mi mazo de cartas. He recibido algunas de las recompensas de temporada y de misión y otras que he adquirido a través del mercado interno. Esto ha llevado mi poder a 440 puntos, que si bien no es un poder de gran nivel, me garantiza el nivel Bronce III. Dentro de mis adquisiciones, se cuenta una carta del tipo Épica que es la Djinn Renova, un Splinter del elemento agua y que tiene como principal habilidad el fortalecer la salud de los monstruos del equipo donde esté batallando. También adquirí cinco cartas del tipo Rare más una que ya había obtenido en una recompensa de misión. El resto de cartas de mi propiedad son todas del tipo Common para un total de 27 cartas y estoy pensando realizar otras inversiones para adquirir nuevas cartas y garantizar un nivel más alto en las ligas de clasificación.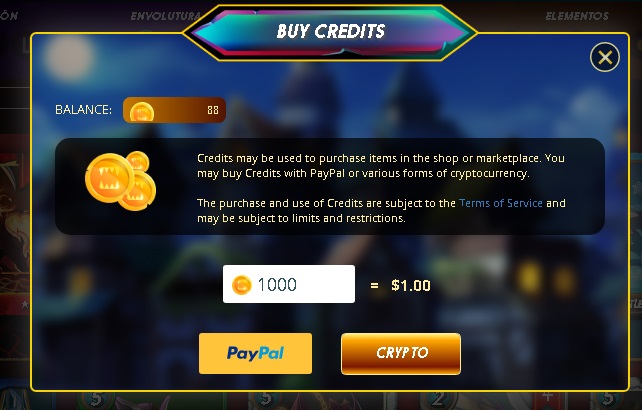 The cards I bought were purchased with Credits, an option available in the game and that was the one I used to buy the mission potions. Since it is no longer possible to buy these potions with Credits, I had some there that I decided to spend on the purchase of the cards and I also used some DEC to buy the last one, which includes the Epic card. This option of Credits is a great advantage within the game and you can acquire them in a very simple way. To do so, just click on the option to buy Credits at the top, next to the Credits balance.
Las cartas que adquirí lo hice con los Créditos, una opción disponible en el juego y que era la que utilizaba para comprar las pociones de misión. Debido a que ya nos es posible comprar estas pociones con los Créditos, tenía algunos allí que decidí gastarlos en la compra de las cartas y también utilice algunos DEC para comprar las últimas, la que incluye la carta Épica. Esta opción de los Créditos es una gran ventaja dentro del juego y puedes adquirirlos de una forma muy sencilla. Para ello, solo debes dar click a la opción de comprar Créditos en la parte superior, al lado del saldo de Créditos.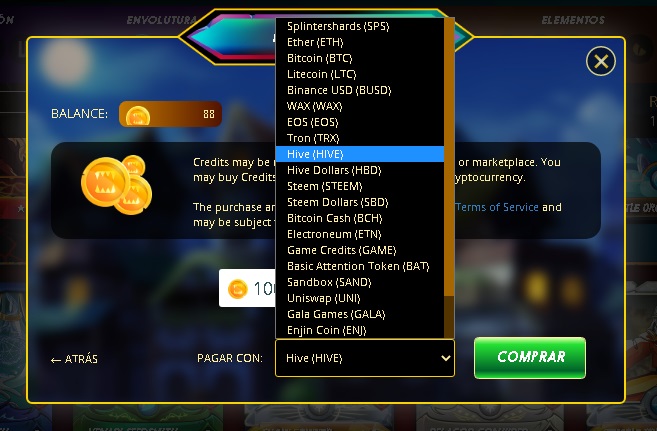 In the window that opens, you will be able to choose how many Credits you want to buy being the minimum amount of $1 which would be 1000 Credits. You can choose to buy more than that amount, placing the amount to buy in the corresponding box, which will show you the amount in dollars that you will have to pay. You will have the option to pay with Paypal or with Cryptocurrencies, having for this option, a wide range of possibilities to pay. I have made my purchases with HIVE, as I find it very easy, simple, and straightforward, but you can also do it with HBD.
En la ventana que se te abre, podrás elegir cuantos Créditos deseas comprar siendo el monto mínimo $1 que serian 1000 Créditos. Puedes elegir comprar más de esa cantidad, colocando el monto a comprar en la casilla correspondiente, lo que te arrojara el monto en dólares que deberás pagar. Tendrás la opción de pagar con Paypal o con Criptomonedas, disponiendo para esta opción, de un amplio abanico de posibilidades para pagar. Yo he hecho mis compras con HIVE, ya que me parece muy facil, simple y sencillo, pero puedes hacerlo también con HBD.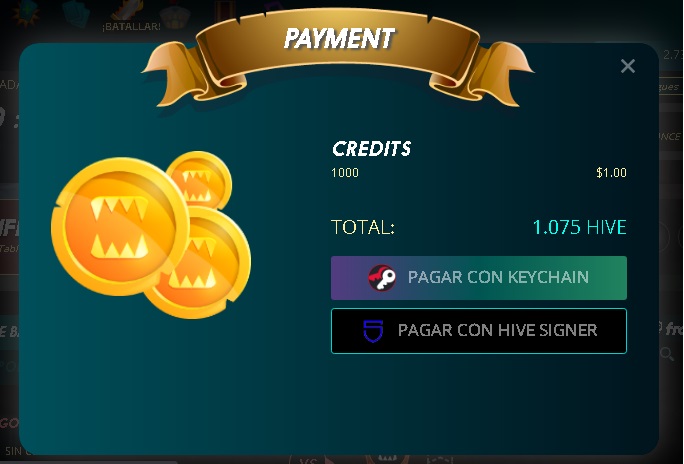 Clicking on "Buy" will open the purchase confirmation window, where you will be able to see the amount to pay in HIVE or HBD and the options to cancel with your Keychain or HiveSigner. When you click on "Page", the confirmation window of your keychain will open to sign the transaction, and then you will see a window where you will be informed that your purchase will be subject to the confirmation of the transaction in the Blockchain, which may take a few seconds.
Al hacer click en "Comprar" se te abrirá la ventana de confirmación de la compra, donde podrás ver el monto a pagar en HIVE o HBD y las opciones para cancelar con tu Keychain o HiveSigner. Al hacer click en "Pagar", se abrirá la ventana de confirmación de tu llavero para firmar la transacción y se te desplegará luego una ventana donde se te informa que tu compra estará sujeta a la confirmación de la transacción en la Blockchain, cosa que puede demorar unos pocos segundos.

Once you have the balance of your credits purchased, you can go to the marketplace and buy or rent the cards you want and pay with Credits. Just make sure to change the payment option to Credits. When you have selected the card you wish to rent or buy, clicking on it will open a confirmation window with the number of credits to be paid and when you accept, you will have to sign the transaction with your favorite keychain, either Keychain or HiveSigner. In a few seconds, you will be able to visualize your purchased or rented card in the card option and the increase in Power that they leave you. For this post, I bought the card Naga Assassin, a Splinter of the Rare type and Dragon element, which cost me 690 Credits, a little more than $0,60, very cheap.
Ya con el saldo de tus creditos comprados, podras dirigirte al mercado y comprar o rentar las cartas que desees y pagar con los Creditos. Solo asegurate de cambiar en la opcion de pago a Creditos. Cuando hayas seleccionado la carta que desees rentar o comprar, al hacer click se te abrira una ventana de confirmacion con el monto en creditos a pagar y al aceptar, deberas firmar la transaccion con tu llavero favorito, sea este Keychain o HiveSigner. En pocos segundos podras visualizar tu carta adquirida o rentada en la opcion de cartas y el aumento en Poder que las mismas te dejan. Para este post, compre la carta Naga Assassin, un Splinter del tipo Rare y elemento Dragon, que me ha costado 691 Creditos, un poco ma de $0,65, muy barata.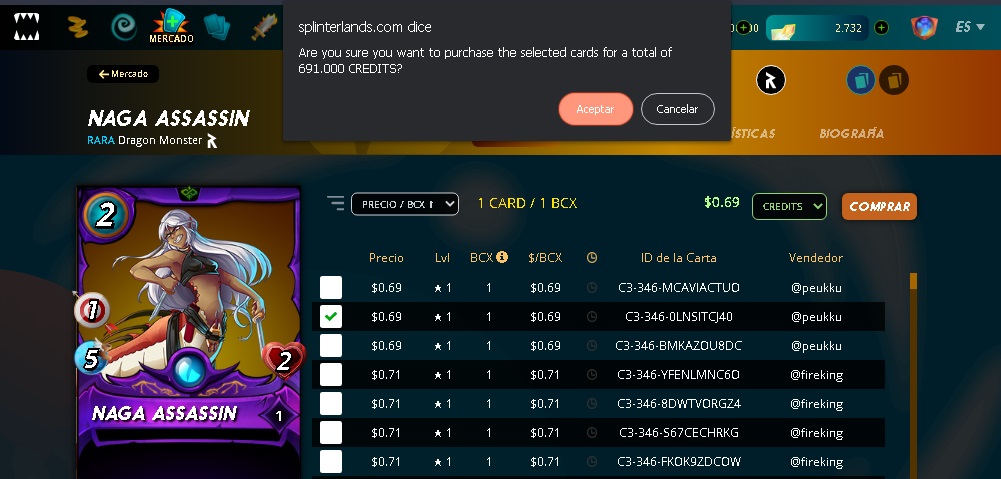 I think it is an excellent and simple option to buy Credits and thus be able to acquire or rent cards. The advantage is that you can do it with your HIVE, which allows you to cancel in a very comfortable and simple way. I recommend you to use the Credits option in this great game like Splinterlands. If you are not playing Splinterlands yet, join right now from here.
Me parece una opción excelente y sencilla el comprar Créditos y así poder adquirir o rentar cartas. La ventaja es que puedes hacerlo con tus HIVE, lo que te permite cancelar de una manera muy cómoda y sencilla. Te recomiendo uses la opción de los Créditos dentro de este gran juego como lo es Splinterlands. Si aún no estás jugando Splinterlands, únete ahora mismo desde aquí.

Este post es de mi autoría y expreso en él, mis experiencias y aprendizajes cada día en este Blockchain. Todas las imágenes son editadas por mí y corresponden a capturas realizadas en mi PC y las fuentes están indicadas en cada caso. Si te gusta, puedes dejar un comentario u opinión y tu voto favorable.
---
This post is of my authorship and I express in it, my experiences and learnings every day in this Blockchain. All images are edited by me and correspond to captures made on my PC and the sources are indicated in each case. If you like it, you can leave a comment or opinion and your favorable vote.


Join me/Unete a mi Fan Base en/in Hive.Vote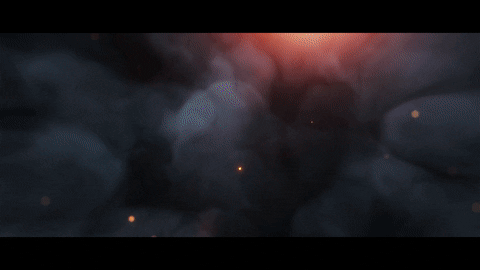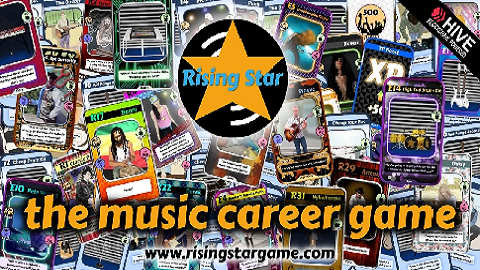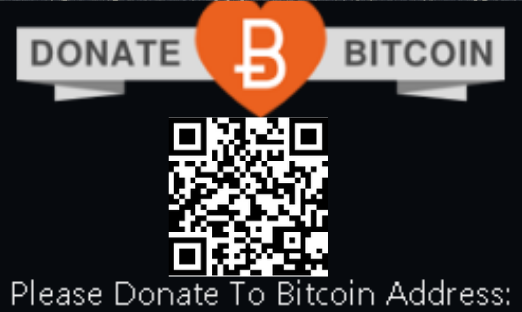 |
Si Te Gusto el Contenido
Puedes Donar Bitcoin a esta Direccion:
If You Like the Content
You can donate Bitcoin to this Address:
|
1FP9J4tJWwECH7LfcMsVEuUH7YWdtkf7CG
---
Edición de Imágenes con/Images Editing by Pixlr.com
Traducido con/Translate with DeepL Traductor
Ortografía y Gramática con/Spelling and Grammar with Corrector Castellano.com
---
---