Weekly Battle Challenge featuring: Ant Miners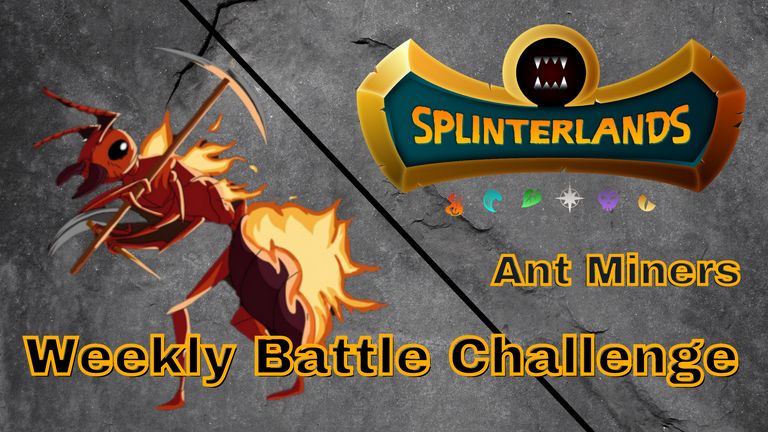 Weekly Battle Challenge - Ant Miners
This week, Splinterlands encouraged us to play with little ants, so I did.
But as I battled away, to come across a rule set fitting for Ant Miners, an opponent chose the card, and this will be my fight, I want to show.
---
Game Settings
The rule set was Opportunity and my adversary chose to place Ant Miners in the fifth position.
Mana cap was 23
Opponent chose Fire (Pyre; +1 Speed)
I tried my luck with Water (Alric Stormbringer; +1 Magic Attack)
I don't know, if that was a good idea, because opportunity lets all creatures attack the monster with the lowest health and Ant Miners at level 1 has one health.
He chose the fire summoner Pyre, so he thought, he would be quick to kill my low-health monsters, but I chose two cards with one health as decoys. Albatros and Furious Chicken have no attack at level 1 and were throwaway monsters for me in this game.
My strategy was, to kill as many low-health monsters in the first round with +1 magic from Alric and Lobstradamus would tank the damage in the first one or two rounds easily. And that is, what happened, even with my opponent to have had the first strike.
If you want to see this fight for yourself click here
It was quite a teachable fight. With those rule sets, you learn something new about the dynamics of Splinterlands every time and in that, you will incrementally become a better player.
Battle Line-Up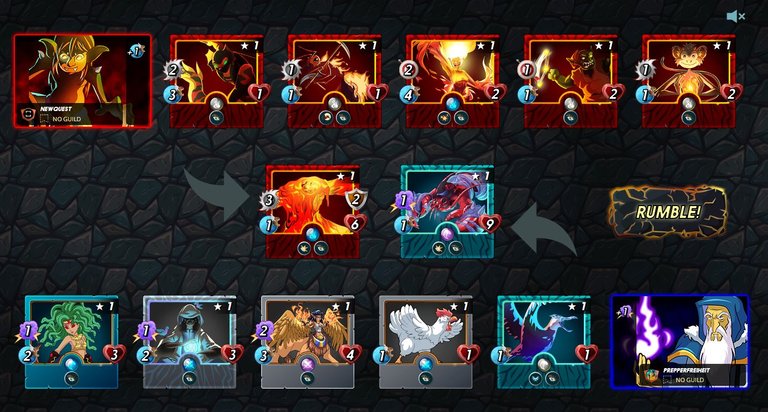 First Round
As I intended, the first blows from the enemy were targeted at Albatross and he dodged the first. With the second attack, he was killed, but then, my back-row could attack and took 3 of his monsters out.
Ant Miners accumulated health after health, but his friends around him bit the dust. My Chicken was fried as well, but all in all, the first round was good for me.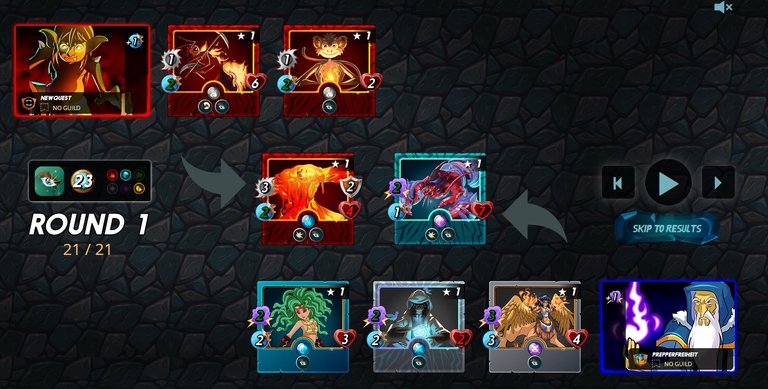 Round Two and three:
His speed-monsters were eliminated in the first round, so I had the first three strikes, and because of the scavenge skill from Ant Miners, Living Lava was the monster with the lowest health and his armor was no use to him with my magic undercutting it. Ant Miners was the last man standing, but could do no damage to my Lobstradamus.
He was easy picking in Round three.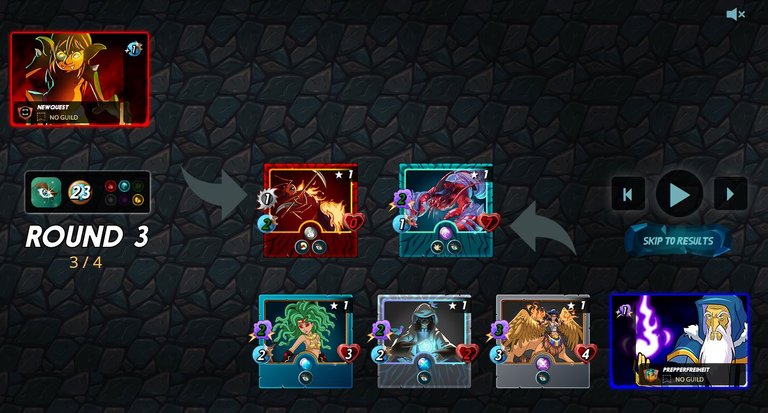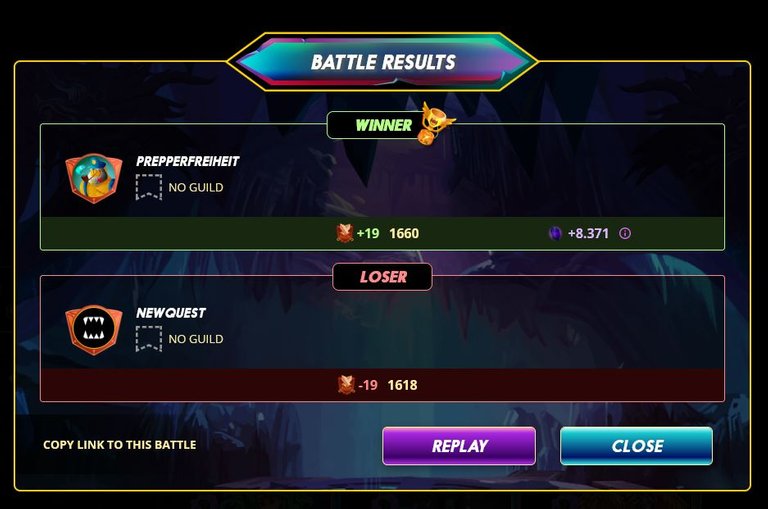 Conclusion
It was an interesting strategy by my opponent, to place Ant Miners in an "opportunity" rule set. If I hadn't chosen water and two cannon fodder cards, maybe, it would have been a winning strategy, but I was pretty proud of myself, as my strategy proved to be the winning one.
Ant Miners could be an asset, when snipe/sneak are eliminated in a rule set and is placed as one of the last monsters. But at level one, he is not a strong monster.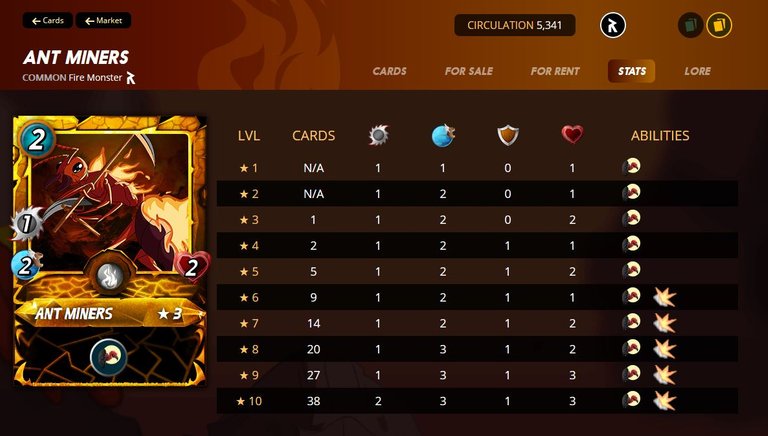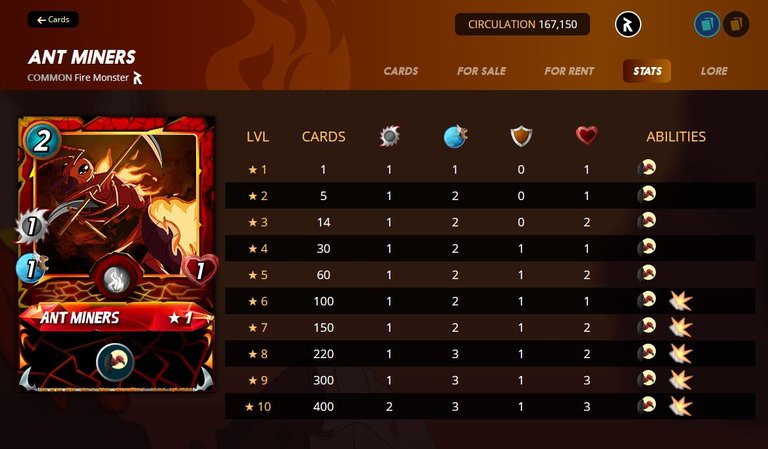 With level 6 it gets shield and is a bit more protected, but even at that level his initial health is 1, so he has to be placed carefully.
A card with potential and in specific rule sets an asset, but not a super important one.
---
Thank you for reading my entry for the Weekly Battle Challenge of Splinterlands.
This article will be posted as an Splinterlands social media promotion post on Twitter and Instagram.
If you want to try playing this incredible game, please consider joining with my referral-link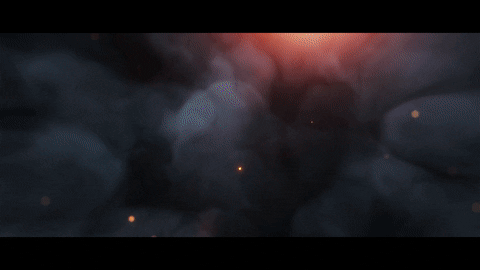 ---
---