Don't spend money on card rentals for more season rewards without watching this first!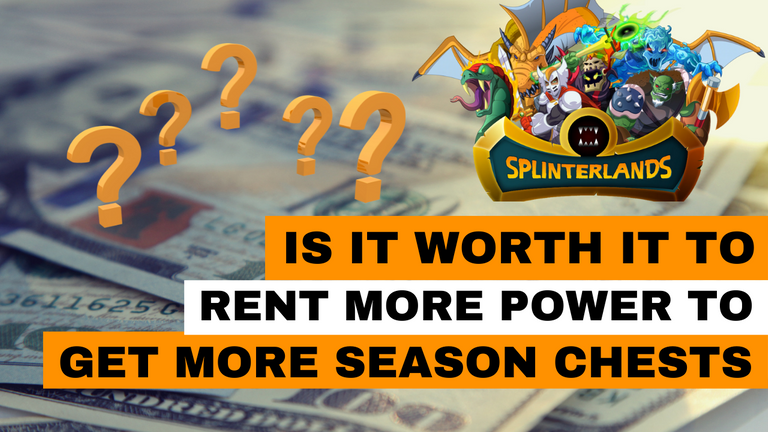 Splinterlands renting guide video below. This how to splinterlands guide will show you how I calculate the rental costs of renting more power to get more season rewards and if it is worth it or not in my opinion. I have concluded that at the current rental rates that are inflated before the season end that it is only really viable to rent enough for the 12 chests to reach Silver 3 even though with enough power I could be in Gold 2. I also feel like you shouldn't rent more than 25k power extra just to reach more chests in Silver league. This video does not apply to GOLD and above since the rewards are more chests, but you can feel free to calculate it the same way and come to your own conclusion on how much you feel the chests are worth. Good luck with your rewards :)
MY SPLINTERLANDS GAME REFERRAL LINK :
https://splinterlands.com?ref=gameboyali
Subscribe to my YouTube for more play to earn passive income generating gaming content.
If you'd like to learn more about Blockchain Gaming please join the gaming community I have created to help others. We also do a ton of giveaways in the Discord Chat Group, don't miss out! :D
YOUTUBE CHANNEL: https://www.youtube.com/gameboyali
GAMEBOY ALI DISCORD LINK : https://discord.gg/WuQeKBYQgn
INSTAGRAM : https://www.instagram.com/gameboy_ali/
TWITTER : https://twitter.com/gameboy_ali_
TWITCH : https://www.twitch.tv/gameboy_ali
FACEBOOK GROUP :
https://www.facebook.com/groups/gameboyali/
#splinterlands #spt #howto #tutorial #guide #playtoearn
*disclaimer nothing in this group is financial advice please research everything on your own and use the information here with caution.
---
---