SPLINTERLANDS TWITCH CHANNEL REACHES 500 FOLLOWERS 😁❤️ HUGE GIVEAWAYS AND STREAM PARTY!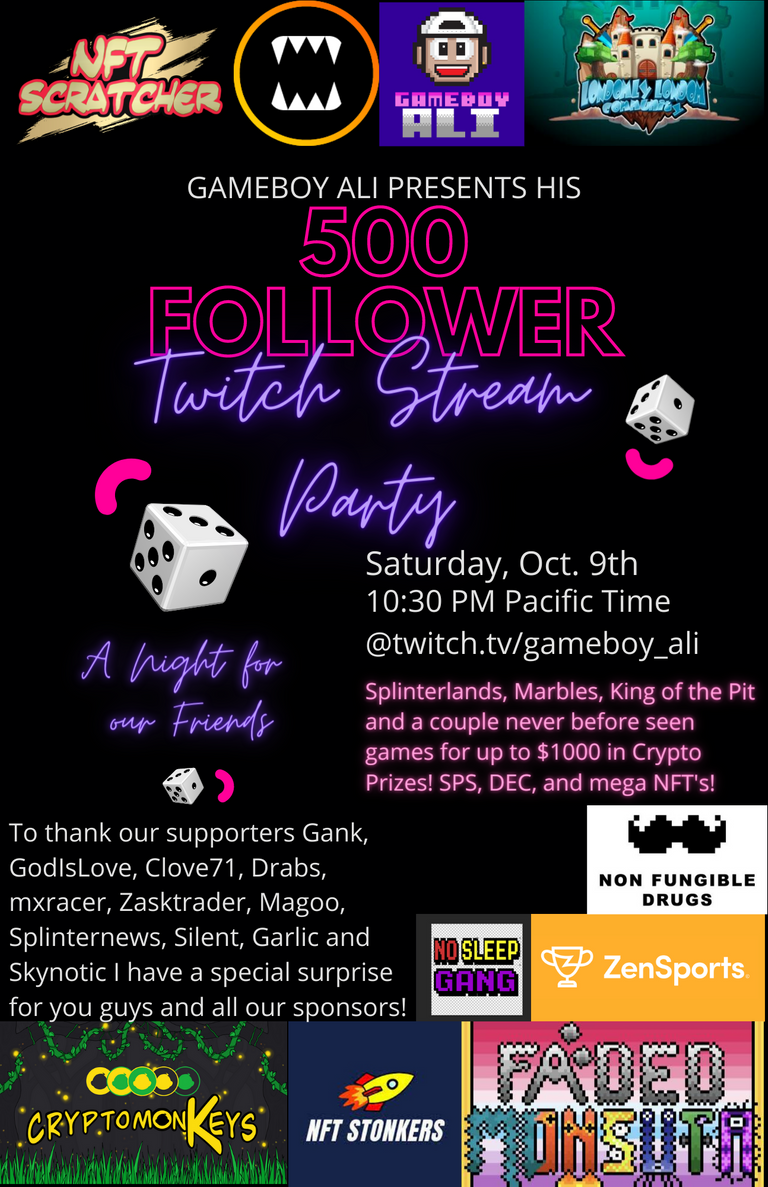 Hello hello friends, I am so excited to share with you Gameboy Ali's 500 Followers Twitch Stream Party celebration tonight at 10:30 PM Pacific, which is 5:30 AM UTC! First and foremost I would like to say that none of this would have even been possible without such major support from this extraordinary Splinterlands community! The thought of you guys when I wake up every day just puts a huge smile on my face and warmth in my heart. You guys are like no community I have ever been in and I would have never imagined we could grow at a pace like this. It is only possible because each and every one of our streamers promotes one another during their streams and tries their best to bring all their viewers from their stream over to raid another when they are finished.
Barney the famous purple dinosaur once said we're a happy family and this couldn't be more true within the Splinterlands community! I love you, you love me, we're a happy family ❤️. The people here truly care about one another so much, and we would love to extend our hand and love to you too. Whether you enjoy playing the game, would like to learn more or would like to become a streamer yourself! We are here to help you with whatever you need. Don't hesitate to let us know hehe. That is what we are all about, sharing the positivity and love with one another.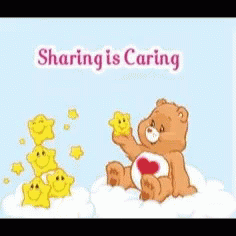 This story has a beginning for my journey on Twitch it all started from the shining example @clove71 was setting during her Splinterlands stream. When my interests started getting greater in Splinterlands I one day decided to see if anyone was streaming it and came across her stream. This was truly a life changing moment for me.. I had watched twitch before, but I have never seen anything like this.. @clove71 was such a natural, her knowledge of the game was far greater than anything I had even begun to know and then soon after I got to see her generosity as a streamer too, which I had never seen before on stream. I could instantly tell that she enjoyed more than anything to bring joy to others sharing her positive outlook on life. Whether she knew it at the time or not she was changing alot of lives for the better and making this world a better place. Talking about this almost brings tears to my eyes, because this really is what we need more of in this world we live in right now.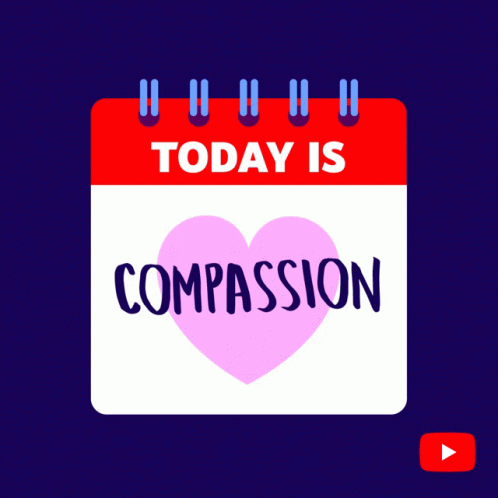 I never would have thought how writing this today would have me feeling so emotional.. This must be because to me and many others Splinterlands players this isn't just a game. This is a huge part of our lives and I hope will be forever and ever. All the friendships, laughter, inside jokes, seeing our streamers with their families, talking about their beliefs, their friends, where in the world they reside. It all resonates with me in one way or another.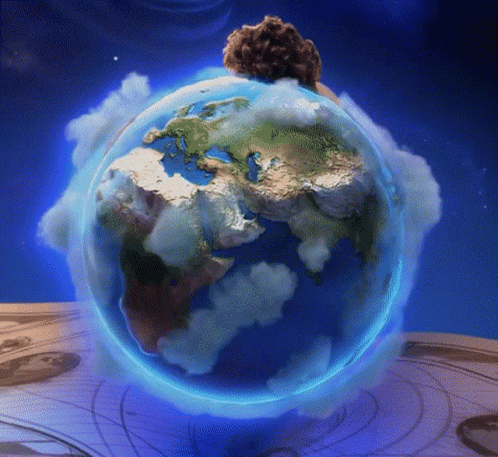 Monday is another great celebration! It will be the birthday of our Splinterlands OG Queen @clove71 so make sure to keep you calendar open so you too can see what we are all experiencing! She is the one who inspired me to get my Twitch channel setup and continue sharing with our community following her example of generosity, putting smiles on people's faces all around the world. On this momentous day she will be live streaming and hosting her own Tournament for all to play in for DEC prizes! So make sure you join to practice your skills and hang out with our loving community hehe. Happy Birthday Clove! I hope it is the most amazing day of your life because you deserve the world and so much more ❤️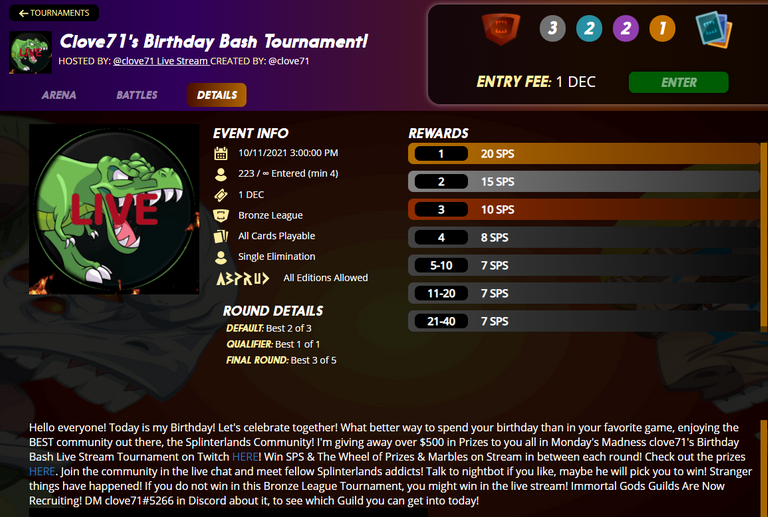 The next streamer that I met on this amazing adventure was my Canadian brother @drabs587 wow where do I even begin. This man is truly the brother I never had, his high energy and gameplay had me hooked the second I landed on his stream. Though he has said he has only been streaming for abit over a month, there is no way you could tell! This man is destined to be a successful streamer! Even just last night I had asked him for his help to get my stream all perfected for tonight and without any hesitation we got on a discord screen share and he walked me through some of his settings even allowing me to use his other account to set up a test stream where he gave me feedback on what was working properly and what wasn't. Bro your story has touched my heart and I in turn will be here for anything you ever need! Because we are family now! make sure you give this man a follow on here because he writes a ton of great posts on Splinterlands that you should give an upvote. I can't wait to meet you one day, since I already feel like I know you hehe.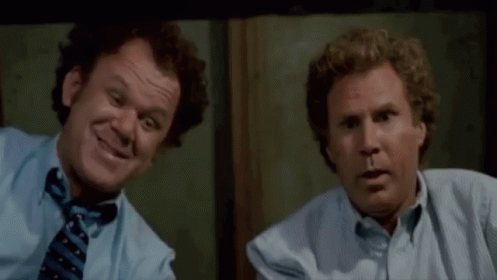 Somebody sound the horn!! Cause here comes the great @splinterlandshq with his trusty NFT guru @walkingkeys this unstoppable duo comes with all the knowledge you could yearn for, whether it be Gank aka @splinterlandshq with his highest level gameplay as a Champion league top 100 player or Walking Keys with his NFT project knowledge! The two of them streaming together is just magic! Their friendship of 20 years can really be felt through the camera and they are definitely achieving their goal of helping players with their journey through Splinterlands and showing support for the greatest game ever created! I love hearing the stories of their friendship together. It's like watching a flashback movie, which has me smiling for miles. I am so very excited to spend more time getting to know these guys, chatting with Walking keys about NFT's and how I will be beating his butt purple when we finally meet and play some Mario Kart haha. Though I know in my heart if we touched Golden Eye even with OddJob I would not stand a chance :p
Even as we speak right now I am conversating with Gank and our conversations are so meaningful. This guy is very special and one of the smartest guys I know. He has gone through such an fascinating journey in life that has led him here I mean just look at this picture of him sitting with Phil Ivey! My boy @splinterlandshq on May 11th 2004 with a $5000 dollar buy in won his first World Series of Poker Bracelet! Wow what an achievement! He 37.5x his buy in just like that and achieved something so many in this world would only dream of. If his dad had won 1 in the past instead of pulling 2nd place they would have been the first father/son to have pulled this off! His father must have been so proud, and knowing Gank that is more of a prize than the bracelet. ❤️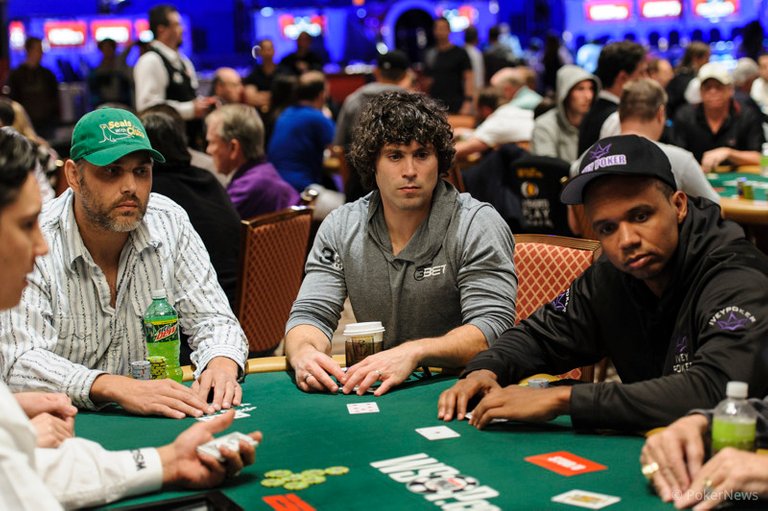 Thank you so much Gank for all your generosity and kindness towards me this man has transformed my Splinterlands Deck preparing me to be quite competitive in the future of this game and it is something I will never forget in this lifetime. Friends like this come once in a lifetime and I am truly lucky to have one like you.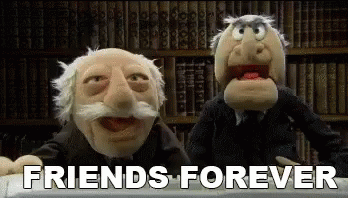 Wow it has been 2 hours since I started writing this post.. it's funny to think that I thought this post would have been easy to write and I'd be able to write about all the amazing people I have encountered throughout my journey in Splinterlands in a mere 2 hours. But dang I just have so many good things to say about all the people in our community. I promise to write about each of you who have made such a great impact on me in the near future which at the time of writing has also been @godislove777 @Ohmygod @themxracer121 @zasktrader @magooz @splinternews @silentxnecrosis @cmmndrbawang @skynotic and the whole No Sleep Gang.
Thank you so much for everything! This party is for you 😝 Let's get silly and I hope everyone will get a chance at some awesome prizes on the stream! We will be playing numerous games online for prizes together and some new games I have never shown to anyone yet. So make sure you come join in on the fun and experience this love for yourselves twitch.tv/gameboy_ali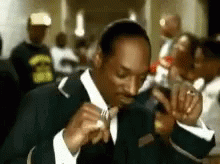 MY SPLINTERLANDS GAME REFERRAL LINK IF YOU HAVEN'T PLAYED :
https://splinterlands.com?ref=gameboyali
If you'd like to learn more about Blockchain Gaming please join the gaming community I have created to help others. We also do a ton of giveaways in the Discord Chat Group, don't miss out! :D
YOUTUBE CHANNEL: https://www.youtube.com/gameboyali
GAMEBOY ALI DISCORD LINK : https://discord.gg/WuQeKBYQgn
INSTAGRAM : https://www.instagram.com/gameboy_ali/
TWITTER : https://twitter.com/gameboy_ali_
TWITCH : https://www.twitch.tv/gameboy_ali
FACEBOOK GROUP :
https://www.facebook.com/groups/gameboyali/
#splinterlands #spt #playtoearn #nosleepgang #1up #oneup #saltgang #giveaway #spl #sps #dec #hivegaming #steemmonsters #monster-curator #splintertalk #leofinance
*disclaimer nothing in this group is financial advice please research everything on your own and use the information here with caution.
---
---