Daily Report (September 24, 2021) - Day 36 with Splinterlands and Hive blockchain!
Hello Splinterlands and HIVE Community!
Looks like things are getting really hyped up with the recent announcement from today regarding the Chaos Legion Set and of course the Presale Info. From my point of view as a small account; i will just wait to see how much Vouchers i will manage to get and then i will make my strategy... anyway we are living interesting days and for sure is going to be a super Dope end of the year!
Now back to my daily quest. For today i had the Earth one, and have to admit it went out really fast. As well i manage to have my first guild battles as i am in PeakMonsters Feeder 3, guild by @peakmonsters, and i am proud to say that for the moment my first 4 battles were 4 wins...

For the moment i am still in Silver 1, as i had a super busy day and did not manage to play more to reach Gold. I still need a bit over 100 points to reach Gold and i will take all the time in the world tomorrow to do that as it will me my first time reaching so high in the leagues....


Now back to the Daily Quest:
Well....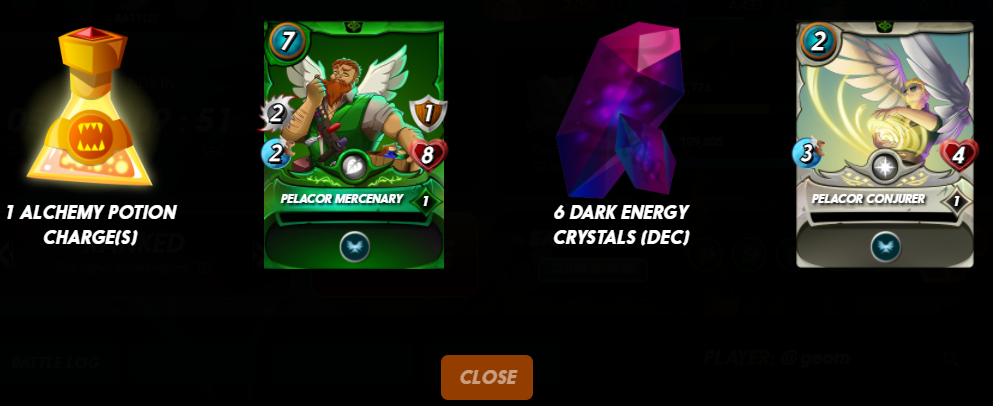 Again the the greatest rewards but still not bad i might say... 2 more cards for my collection and great to see Pelacor Conjurer, as this is a card i did not own so far!
Looks like i am expending my Life deck which is great as i really don't have a great one...
Today i received another share of the SPS airdrop and i did stake it. As a matter of fact i did stake all my SPS so far!
Well i think that's all from my side...
Stay well and stay healthy and see you all on the Splinterlands battlefield!
---
---