Splinterlands Season 60 Report Card

It might be a little late to do a Season Report Card, considering that we're about to finish season 61 in a few days. However, I just discovered this handy tool, and thought it would be a great way to show how my season went, and reflect on what I did wrong, and what my strategy will be on the future.
So, without further ado, let's begin.
---
Match Report
After my first season renting to play in Silver (59), I decided to try my luck in Gold League and see how far I could go, and if I could break even with the rental costs.
As you can see, my rating high was 2170, which landed me in Gold III, however I opted to not stay in that league for the End of Season, because, thanks to the auto bid system, the rental prices went up like crazy.
| Stat | # |
| --- | --- |
| Silver Rank | 4802 |
| Rating | 2054 - Silver III |
| Rating High | 2170 |
| Ratio (Win/Loss) | 0.94 (266/282) |
| Longest Streak | 7 |
Rewards Report
My End of Season rewards, excepting for Djinn Renova, was a little underwhelming. I think I got accustomed on getting around 7-8 cards on my End of Season rewards, since that was what I got on the previous ones. But alas, luck won't always be on your favor. Either way, I'm really happy with Renova, since she's a really powerful monster.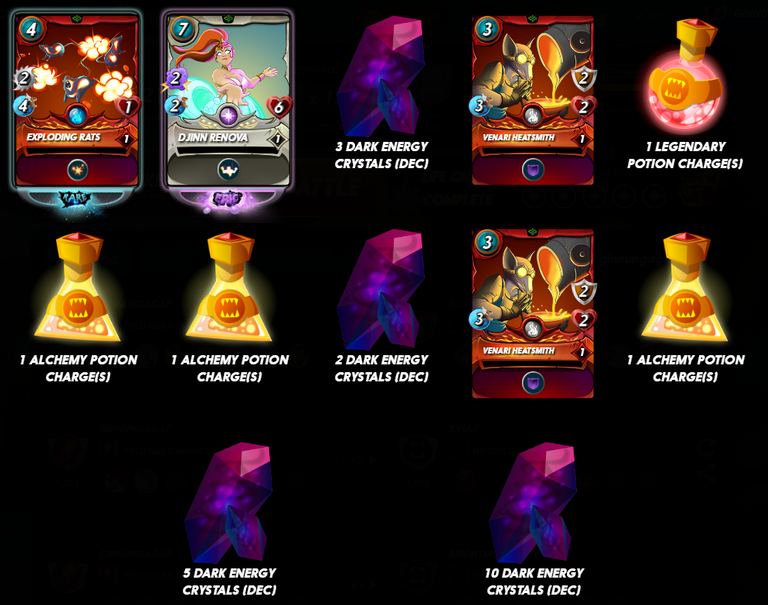 As for the rest of the season, I got very lucky and got 1 legendary and 1 Gold Foil card! (I wish it was a Gold foil legendary, hahaha).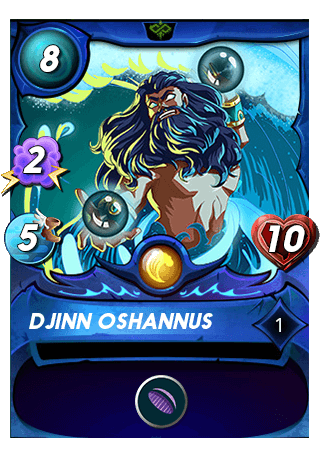 This is the 2nd Djinn Oshannus I get from quests and I couldn't believe it when I saw him for the 2nd time, coming out of that chest. He's really fun to play with, but since I already had one, I've been renting him out, for some passive income.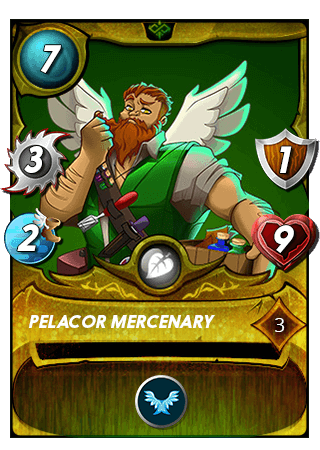 And this handsome Pelacor Mercenary is my first ever Gold Foil in 2 months of playing! I couldn't be more excited when I saw him turn shiny. He's a great source of power for my deck and I'm glad I got him.
As for the rest of the rewards, here they are.
| Rarity | Quantity | 🔥DEC🔥 |
| --- | --- | --- |
| DEC | - | 73 |
| Common | 23 | 115 |
| Rare | 3 | 60 |
| Epic | 1 | 100 |
| Legendary | 1 | 500 |
| Gold | 1 | 125 |
| Total | 29 | 973 |
Captured DEC
This season I played A LOT. Since I rented for Gold League, it was hard to break even, since I had spent a lot to get there, and thus I had to play a lot of matches to make up for it. Either way, it was really fun playing in that league, and I hope in the future, to grow my collection, and be able to play there again.
| Ranked Play Wins | DEC Earned |
| --- | --- |
| 266 | 3058 |
Rental Report
As you can see, my expenses are larger than my DEC earned in battle, but it was alleviated with my rental revenue, all thanks to my Djinn Oshannus that I got.
| Type | DEC (fees) |
| --- | --- |
| Revenue | 274.37 (13.717) |
| Expenses | (3223.203) |
| Cancellation Refunds | 0 |
| Total | (2962.55) |
SPS Report
Before the Chaos Legion pre-sale started, I was quite excited to get some vouchers and that's why I staked some SPS, however, since I realized I wouldn't get enough airdropped to buy a pack, I decided to unstake my SPS and put it in a Liquidity Pool! Because of that, my SPS airdropped increased drastically this season.
| Type | Amount Claimed |
| --- | --- |
| Airdrop | 16.679 |
| Staking Rewards | 0.563 |
| Total | 17.242 |
Final Thoughts
Overall, it was a good season. I really enjoyed playing, and Gold was a lot of fun. However, I learned my lesson and now I know that Gold is out of my reach (for the time being), so I'll focus on Silver for a few more months, until I'm ready to climb back to Gold.
---
Next week I'll come back and tell you how Season 61 went for me and I'll compare it with this one.
In the meantime, if you also want to earn money while playing a really fun game, and being part of an awesome community, click here to get started!
---
---