Splinterlands Social Media Challenge!: Uriel The Purifier in Battle EN-US/PT-BR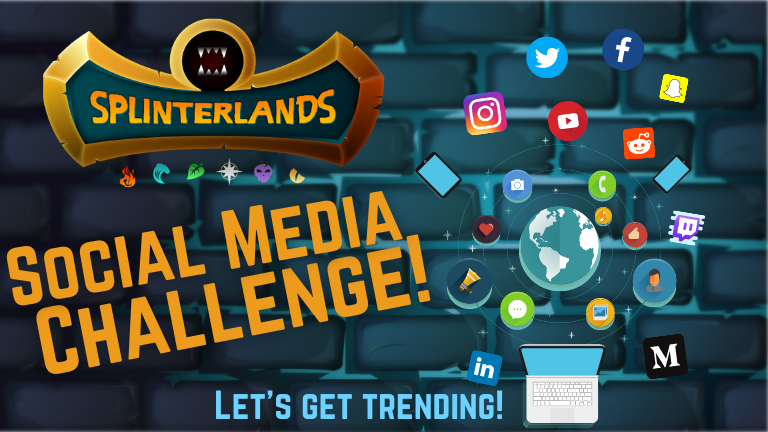 Introduction
This week's social media challenge has been launched in which we can address any topic about the Splinterlands game.
In the last few days, there was the second wave of Airdrop from Chaos Legion, with the cards Baakjira and Uriel The Purifier. Of the two cards there was a greater hype about Baakjira, due to its low MP, high HP, Void skill (which in the blue deck is scarce) and Slow already at level 1. Due to my affinity with Splinter Life I was hoping to drop the Uriel The Purifier and sought to acquire packs to have a chance. When the news came out that it would take 300 packs to guarantee the drop, I'm not going to lie that I was discouraged, because due to the need for Vouchers and my low amount of stacked SPS I didn't believe I would have a chance to drop with the 20 packs I managed to buy. Well, the day came to check if I had dropped anything, first I checked Baakjira and I wasn't surprised to see that there was nothing. But when I checked the Purifier's Uriel...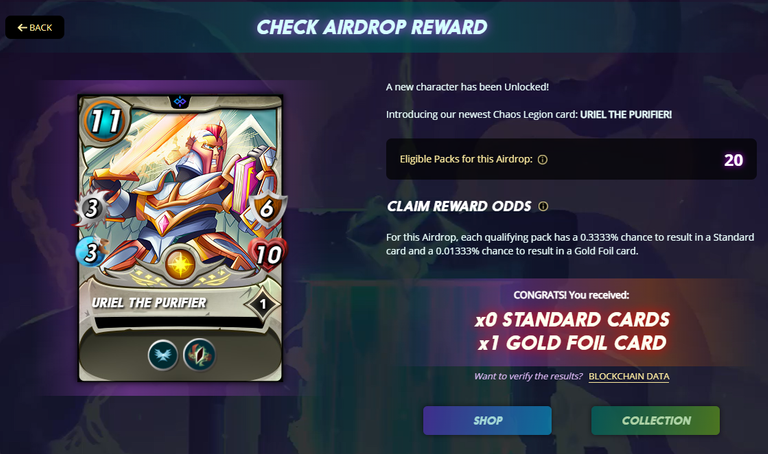 HE CAME, AND GOLD FOIL!!! Thus, I don't see a better subject to include in the challenge than to comment a little on the card and show it in action in a battle.
The Card
Uriel The Purifier's stats can be tracked below: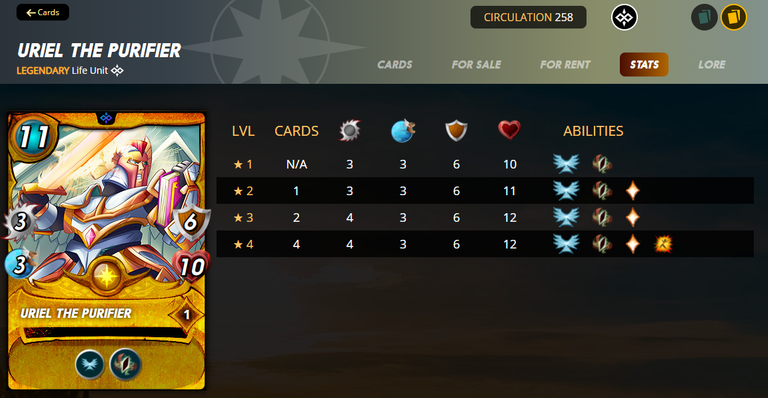 It begins at level 1 with the Flying and, the newly added to the game, Recharge skill. At level 2 he gains Heal and at level 4 Redemption. All of these abilities are powerful, but Recharge has some characteristics that can make you hate or love it.
Triple the damage by not having to attack every 2 turns seems to be very good at first, as it is a way to eliminate enemy tanks with high HP that are receiving Heal from their allies without having to resort to Affliction. The problem is that because it is a melee skill, it has a chance of miss and if the target enemy's shield has not been eliminated, the damage will only remove it and can even be counterattacked with the Repair abilitie.
Another disadvantage of the card is that it doesn't have either the Shield ability or the Void present in many tanks, which disfavors its use in situations where you seek to mitigate physical or magical damage. The Flying and Heal skills (obtained at level 2) and its high HP/Shield balance this lack a bit, but it still has the problem of the high MP required for its use.
However, there are situations in which it benefits, such as the Melee Mayhem and Super Sneak game modes in which it can occupy a position outside the front line (Equal Opportunity makes no sense to take advantage of it in any position other than the first, because with the its high damage the ideal is to destroy the front line). It can also be useful in Noxious Fumes mode with its Heal ability receiving a Cleanse from an ally with the plus of being able to be combined with the summoner Byzantine Kitty among other strategies.
The battle that I will demonstrate the use of Uriel The Purifier was with the Super Sneak game mode active.
The strategy before the battle
When the Super Sneak game mode is active, it's always unknown if the enemy will use it or will punch a lot of magic or ranged damage and destroy you by breaking your front line. Checking my opponent's history I saw that he was abusing Fire Splinters, with melee damage and analyzing the available Splinters (Fire, Life and Dragon) I realized that there was little probability of much magic damage on the enemy side. This way I focused on having melee damage taking advantage of the game mode and didn't prioritize my front line. I used the summoner Tyrus Paladium because the shield gain is important to mitigate some of the physical damage.
As all the melee damage would attack my last position, I put the Enchanted Defender with its Thorns skill in order to reduce some of the enemy team's HP/SHIELD that abused this lane. In the penultimate position I placed our star, Uriel The Purifier, to be a second tank from the backline while carrying his high attack damage. In the first position I put the Furious Chicken expecting little damage in this route. In the second position I put the Crystal Werewolf to reduce magic damage from the enemy team if there was. In third place came Soul Fiend with its null MP for summoning and in fourth came Silvershield Knight with the Inspire skill, increasing 01 melee damage from all my monsters.
Team assembled, let's go to battle!
The battle
Lucky for me, my opponent tried to take advantage of the game mode and he expected me to do the same, as he put Living Lava, with its Shield ability, in the last position.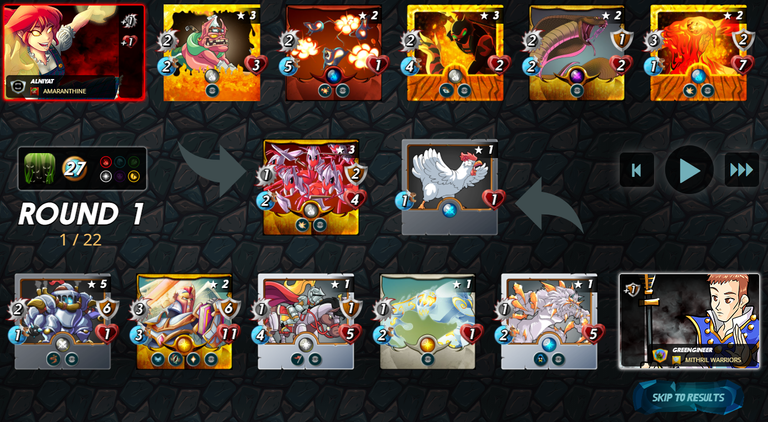 In the first position he used the Antoid Platoon that also has the Shield ability, nullifing my Furious Chicken's null attack. In second position he placed the Kobold Miner, the one who didn't take advantage of the game mode because he already had the Sneak ability. In third place came Exploding Rats, a card that like Exploding Dwarf takes advantage of this ruleset very well, as does Melee Mayhen. In fourth place came the Serpentine Spy with its Opportunity ability and in fifth place the Uraeus who shared the uselessness of their ability with the Kobold Miner. All these monsters received the buff from summoner Tarsa, which increases one HP and one Melee damage of their allies.
At the end of the first round my Enchanted Defender had already fallen, but not without reducing the HP/Shield of 3 enemies (Kobold Miner, Serpentine Spy and Uraeus). My Furious Chicken was still protecting my frontline and the Living Lava had taken off most of my Uriel's shield but had lost all of its own.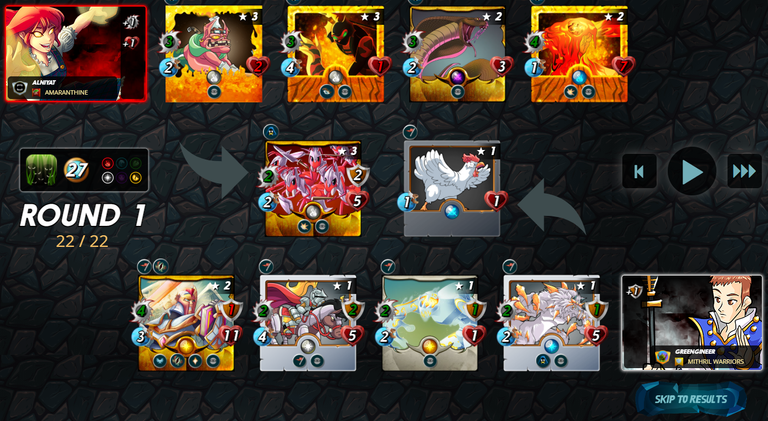 At the end of the second round Uriel did his devastating attack with 12 damage that managed to kill Living Lava in one hit (he was at 6 HP + Shield ability). The Uraeus were also eliminated. By my side I was left without my Furious Chicken.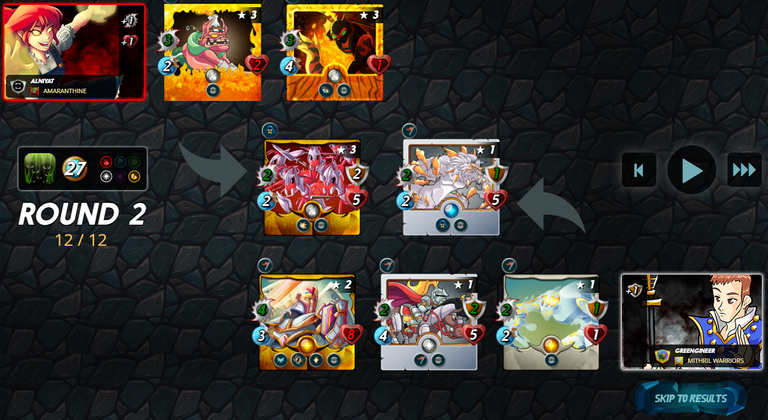 At the end of the third round, Kobold Miner and Serpentine Spy had been eliminated and only Antoid Plantoon remained. And my Uriel already had his next attack charged.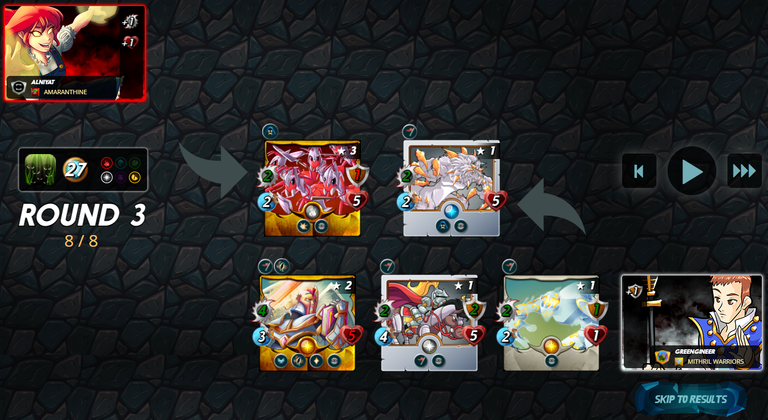 And in the last round my Silvershield Knight removed the shield of the last enemy standing who was at the mercy of my Uriel's overwhelming attack, which eliminated him in one hit.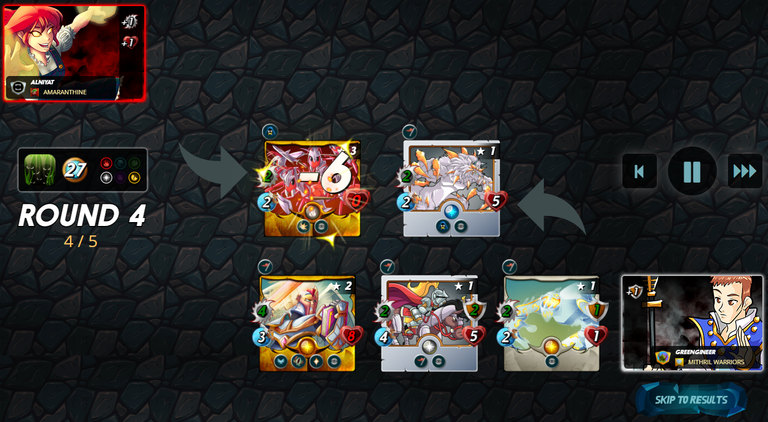 That's it folks, don't lose hope of dropping your GFL (Gold Foil Legendary Card), one hour it comes and it can appear when you least expect it.
I hope you enjoyed this strategy of using Uriel The Purifier taking advantage of the Super Sneak game mode. In this link you can follow the battle in detail: LINK
PS: Sorry if there is any error in the above writing, as English is not my mother language.
---
------------------------PT-BR------------------------
Introdução
Foi lançado o desafio de media social desta semana no qual podemos abordar sobre qualquer tema sobre o jogo Splinterlands.
Nos últimos dias houve a segunda leva de Airdrop do Chaos Legion, com as cartas Baakjira e Uriel The Purifier. Das duas cartas houve um hype maior sobre o Baakjira, devido ao seu baixo MP, alto HP, habilidade Void (que no deck azul é escassa) e Slow já no level 1. Devido a minha afinidade com o Splinter Life eu torcia para dropar o Uriel The Purifier e busquei adquirir packs para ter alguma chance. Quando saiu a notícia que seriam necessários 300 packs para garantir o drop não vou mentir que dei uma desanimada, pois devido à necessidade de Vouchers e minha pouca quantia de SPS stackado não acreditava que teria chance de drop com os 20 packs que consegui comprar. Bem, chegou o dia de conferir se havia dropado algo, primeiro verifiquei o Baakjira e não me surpreendi de ver que não havia vindo nada. Mas quando conferi o Uriel de Purifier...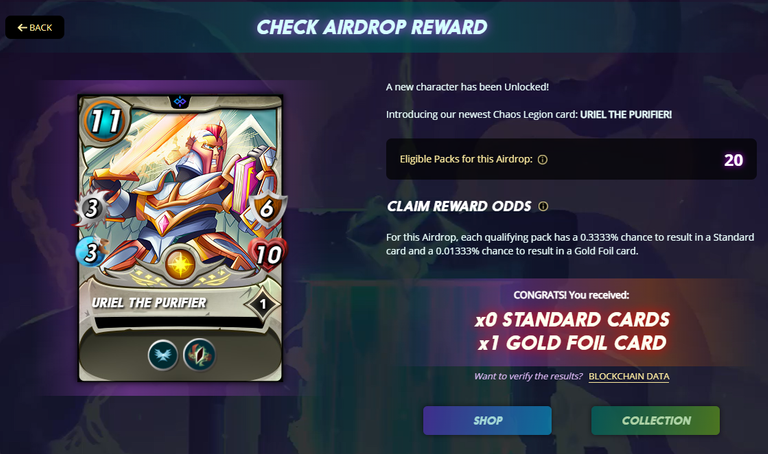 ELE VEIOOOOO, E DOURADA AINDA POR CIMA!!! Desta forma não vejo assunto melhor para incluir no desafio que comentar um pouco da carta e mostrá-la em ação em uma batalha.
A Carta
Os stats do Uriel The Purifier podem ser acompanhados a seguir: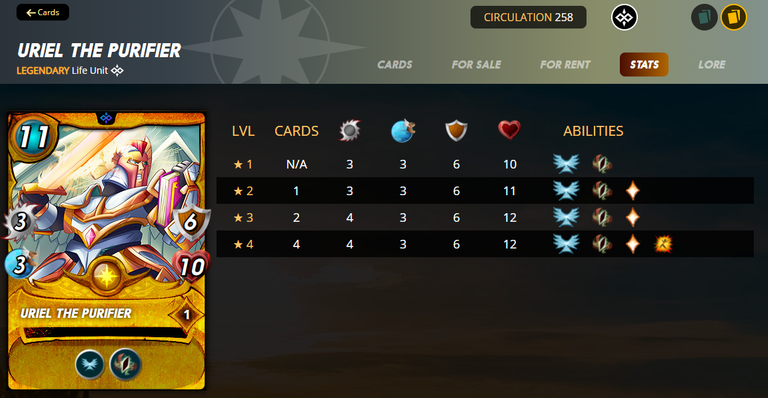 Ele vem no nível 1 com as habilidades Flying e, a recém adicionada ao jogo, Recharge. No level 2 ele ganha Heal e no 4 Redemption. Todas estas habilidades são poderosas, porém a Recharge possui algumas características que podem fazer você odiá-la ou amá-la.
Triplicar o dano tendo que não atacar a cada 2 turnos parece ser muito bom de início, pois é uma forma de eliminar tanks inimigos com alto HP que estejam recebendo Heal de seus aliados sem precisar apelar para Affliction. O problema é que por se tratar de uma habilidade melee ela possui chance de erro e caso o escudo do inimigo alvejado não tenha sido eliminado o dano só retirará ele de jogo, podendo inclusive ser contra-atacada com a habilidade Repair.
Outra desvantagem da carta é ela não possuir nem a habilidade Shield e nem a Void presente em diversos tanks, o que desfavorece seu uso em situações em que se busca mitigar dano físico ou mágico. As habilidades Flying e Heal (obtida no level 2) e seu alto HP/Shield equilibram um pouco esta falta, mas ainda tem o problema do alto MP necessário para seu uso.
Porém há situações em que a mesma é beneficiada, como os modos de jogo Melee Mayhem e Super Sneak em que pode ocupar uma posição fora da linha de frente (Equal Opportunity não tem sentido aproveitá-la em outra posição senão a primeira, pois com o seu alto dano o ideal é destruir a linha de frente). Também pode ser útil no modo Noxious Fumes com sua habilidade Heal recebendo um Cleanse de um aliado com o plus de poder ser combinada ao summoner Byzantine Kitty, entre outras estratégias.
A partida que irei demonstrar o uso do Uriel The Purifier estava com o modo de jogo Super Sneak ativo.
A estratégia antes da batalha
Quando o modo de jogo Super Sneak está ativo é sempre uma incógnita se o inimigo se utilizará do mesmo ou vai socar bastante dano mágico ou à distância e te destruir quebrando sua linha de frente. Verificando o histórico do meu oponente vi que o mesmo abusava do Splinter Fogo, com dano melee e analisando os Splinters disponíveis (Fogo, Life e Dragão) percebi que havia pouca probabilidade de surgir muito dano mágico no lado inimigo. Desta forma foquei em ter dano melee aproveitando o modo de jogo e não priorizei minha linha de frente. Utilizei o summoner Tyrus Paladium devido ao ganho de escudo ser importante para mitigar parte do dano físico.
Como todo o dano melee atacaria minha última posição coloquei o Enchanted Defender com sua habilidade Thorns visando reduzir um pouco do HP/SHIELD da equipe inimiga que abusasse desta rota. Na penúltima posição coloquei nossa estrela, Uriel The Purifier, para ser um segundo tanque da backline enquanto carregava seu alto dano de ataque. Na primeira posição coloquei o Furious Chicken esperando pouco dano nesta rota. Na segunda posição coloquei o Crystal Werewolf para reduzir dano mágico da equipe inimiga, caso houvesse. Na terceira posição veio o Soul Fiend com seu MP nulo pra invocação e na quarta o Silvershield Knight com a habilidade Inspire, aumentando 01 de dano melee de todos os meus monstros.
Equipe montada, vamos à batalha!
A batalha
Pra minha sorte meu oponente buscou aproveitar o modo de jogo e ele esperava que eu fizesse o mesmo, pois colocou o Living Lava, com sua habilidade Shield na última posição.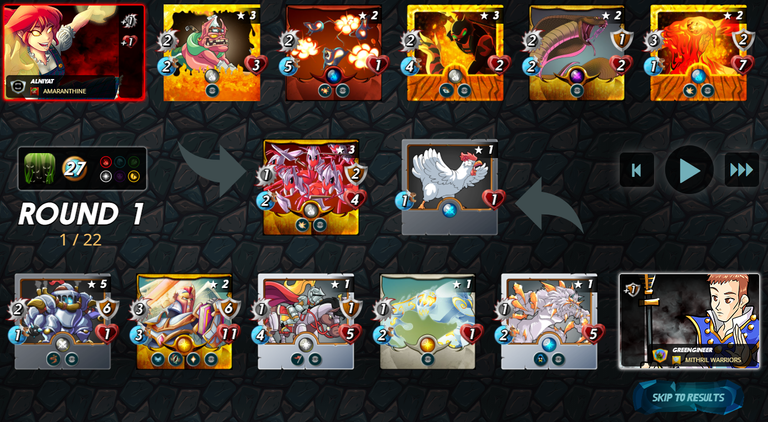 Na primeira posição ele utilizou o Antoid Platoon que também possui a habilidade Shield, prejudicando o ataque nulo de minha Furious Chicken. Na segunda posição ele colocou o Kobold Miner, esse que não aproveitou o modo de jogo por já possuir a habilidade Sneak. Na terceira posição veio o Exploding Rats, carta que como o Exploding Dwarf se aproveita muito bem deste tipo de modo de jogo, assim como o Melee Mayhen. Na quarta posição veio o Serpentine Spy com sua habilidade Opportunity e na quinta posição Uraeus que compartilhou a inutilidade de sua habilidade com o Kobold Miner. Todos estes monstros receberam o buff da summoner Tarsa, que aumenta um de HP e de dano Melee de seus aliados.
No final do primeiro round meu Enchanted Defender já havia caído, mas não sem reduzir o HP/Shield de 3 inimigos (Kobold Miner, Serpentine Spy e Uraeus). Meu Furious Chicken ainda estava protegendo minha linha de frente e o Living Lava havia retirado quase todo o escudo de meu Uriel, mas tinha perdido todo o seu.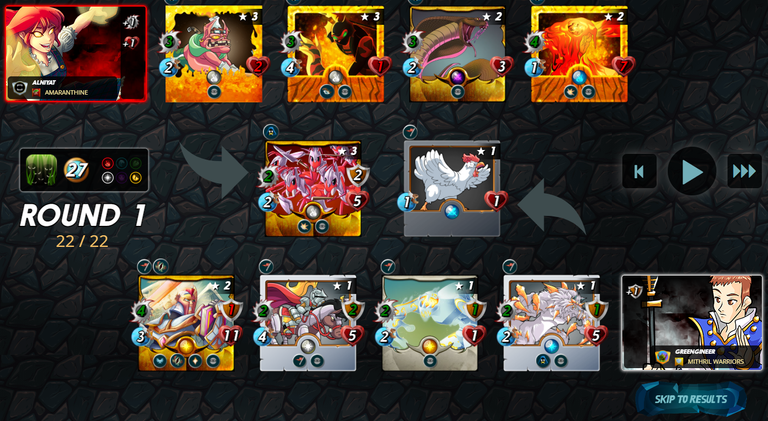 No final do segundo round o Uriel deu seu ataque devastador com 12 de dano que conseguiu abater o Living Lava em um só golpe (ele estava com 6 de HP + habilidade Shield). O Uraeus também foi eliminado. Do meu lado fiquei sem meu Furious Chicken.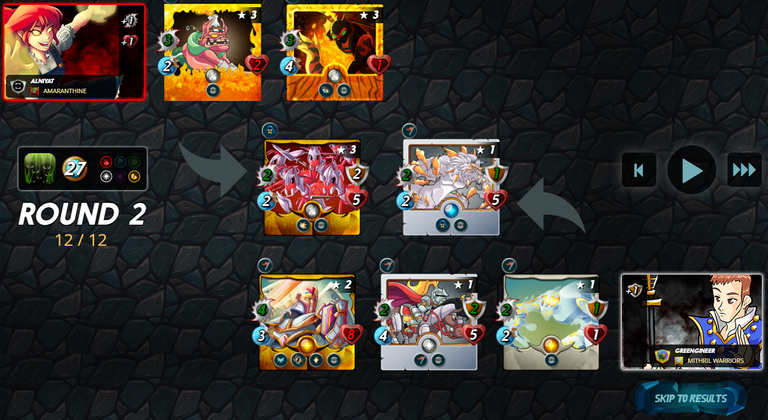 No final do terceiro round o Kobold Miner e o Serpentine Spy haviam sido eliminados e só restava o Antoind Plantoon. E meu Uriel já estava com seu próximo ataque carregado.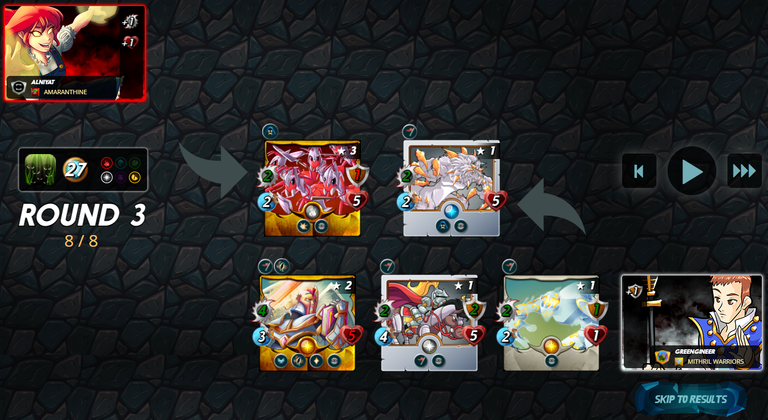 E no último round meu Silvershield Knight retirou o escudo do último inimigo em pé que ficou a mercê do ataque avassalador de meu Uriel, que o eliminou em um só golpe.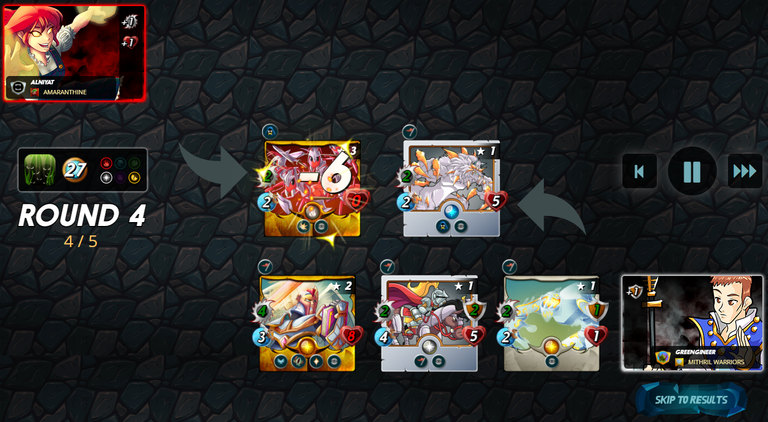 É isso gente, não percam a esperança de dropar sua GFL (carta lendária folha de ouro), uma hora ela vem e pode aparecer quando menos se espera.
Eu espero que tenham gostado desta estratégia de uso do Uriel The Purifier aproveitando o modo de jogo Super Sneak. Neste link você pode acompanhar a batalha em detalhes: LINK
---
---