Zintar Mortalis | Splinterlands Fan art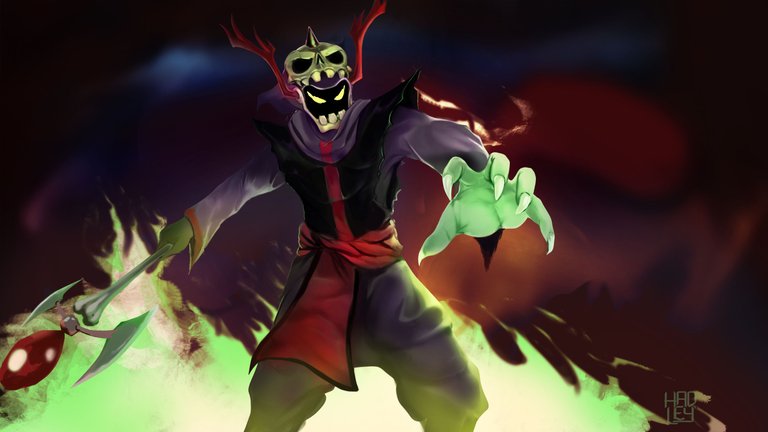 ---
Welcome once again to my blog dear friends! today I want to show you what I think has been the worst illustration I've done for @Splinterlands 😅
Yes, I'm already warning you that I'm not at all satisfied with the final result I got this time. In my head the scene looked completely different and it was full of epicness and green magic.
But who have I portrayed? it's Zintar Mortalis, one of the most powerful summoners of Splinterlands lore, who carries a skull on his hood, and if something has skulls you know I'm going to like it and I'll draw it 😌. Although this time I went too far with the contrast between the main colors, come with me to see the step by step and the sequence that led me to not like what I got.


Tools:
Gaomon S620
Photoshop
Brushes courtesy of Imad Awan: Download here
🔰Process🔰

-Step 1:
The first idea that came up with the sketch, was to make Zintar in a scene where he was absorbing the vital energy of some guy, to gain more energy, I think it would be something typical that a sorcerer of his caliber would do, plus he is Death class.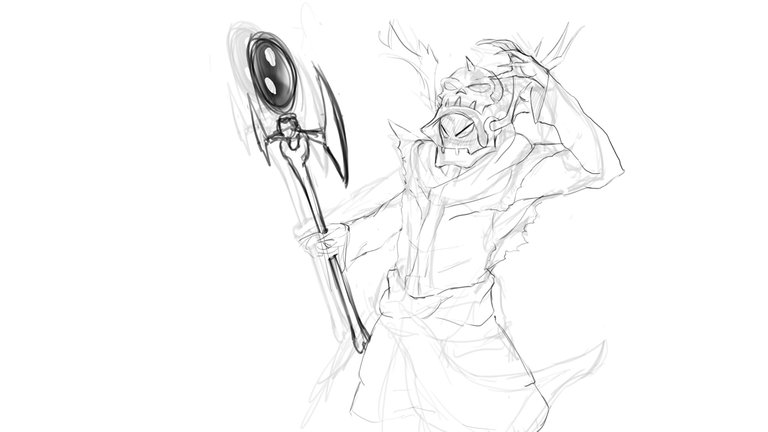 -Step 2:
But while I was already adding shadows in gray, it occurred to me to try what professional artists usually do, and that is to make several miniatures and in each of them handle an idea of the illustration, which comes in handy because maybe a change of perspective or a new pose that you've always wanted to do would be perfect for the scene you want to do.
In my case I made three miniatures, I didn't make more because the second one I made was perfect for the character, so the third one I made just to add something more quickly, that's why it's the less defined and proportioned of the three.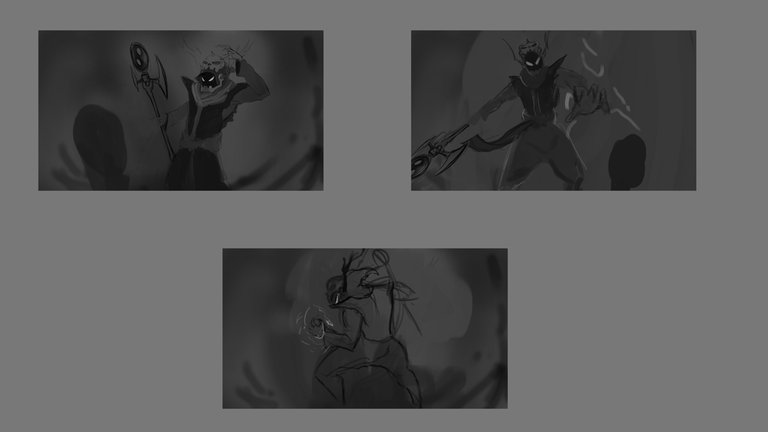 -Step 3:
So I took the second miniature, enlarged it and started to add more details in gray, especially in the clothes. And the truth is that I like much more the result of the grays together with the green, than the final result.

-Step 4:
With a layer in the "color" blend mode I saturated the work I had done so far, following the colors of Zintar's garments and trying to match it with the background.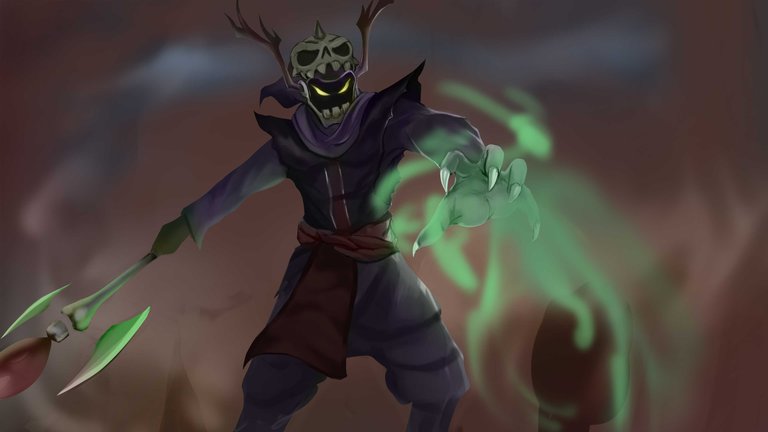 -Step 5:
I needed something to explode the scene, so I resorted to fire, first I thought about making some explosion with flames between orange and green, but this didn't fit with the color palette, rather, it didn't fit the way I wanted to apply it, So just add green fire and eliminate the magic that came out of the hand (bad decision) Here I felt that the scene was getting out of hand and was far from being what I wanted.
So I had to take a break and talk to myself, I love to draw, but there come times when it becomes frustrating not being able to capture in the image what's in my head, so I could spend a few more hours trying to improve the colors, the background and other details that I did not like, or leave everything exactly as this, to end it and continue drawing other ideas that I have in mind, avoiding falling into frustration and creative block. Also the week just begins and maybe I make a new drawing for the weekly Splinterlands contest, because I do not feel comfortable participating with an illustration that did not reach its full potential.
---

I will leave you a GIF with the whole process on it, so you can better appreciate the illustration process.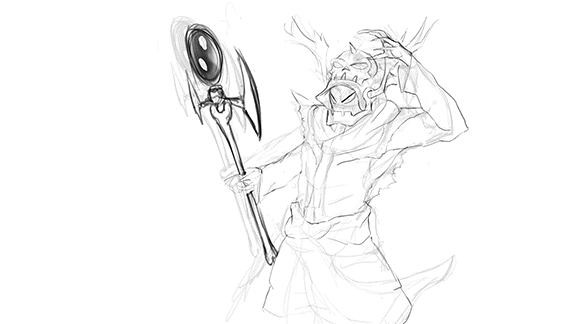 Tell me in the comments that you imagine when you see this illustration.

---
---
See you in a future post!
Thank You for Supporting My Artwork
TWITTER | GHOSTMARKET |TERRA VIRTUA |NFT SHOWROOM | INSTAGRAM | FACEBOOK
⬆️ Follow ⬆️

---
---