Share Your Battle Weekly Challenge: Wave Runner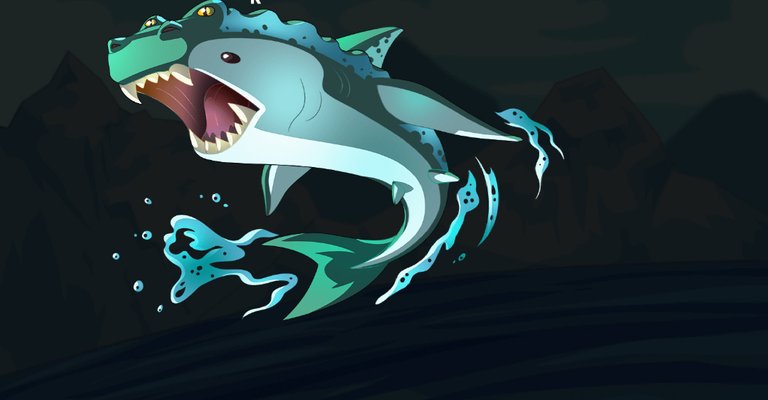 Hello splinterlords and splinterladies, how are you feeling about splinterlands?
Everytime I read splinterlands blog, I always happy just the way things are going. I read about 21 rewards cards that would be released which every splinter will have Opportunity to receive 3 new cards. I was fortunate to get new three cards yesterday when I completed my daily quest yesterday, I got Venari Heatsmith, Venari Bonesmith, Pelacor Deceiver and Nightmare.
I was waiting today for season to end today; few hours for season to ends, I checked splinterlands website and I did not play any game till the season ended. I got so many cards today like never before. in the past season rewards, I gets DEC than cards but in this recent season reward, I got 14 cards, and one loot chest for DEC.
This Week battle challenge is Wave Runner, the monster that I nearly forgot that I have. The reason I don't like using wave runner is because of its small health; It is very easy to eliminate because of the health and often misses chances when I needs it most.
Wave Runner is a common water monster with amazing abilities. This monster is good and active when is in the second position in the lineup. Level 1 of this monster has 2 melee and level 10 has 4 melee. It has 3 speed at level 1 and 5 speed at the highest level. This speed is one thing I enjoyed about Wave Runner; it is very fast to attack due to its speed. It has zero armor and 4 health at level 1 and 7 health at level 10. The soft nature of Wave Runner makes me not to use it. It is very easy to destroy.
WAVE RUNNER ABILITIES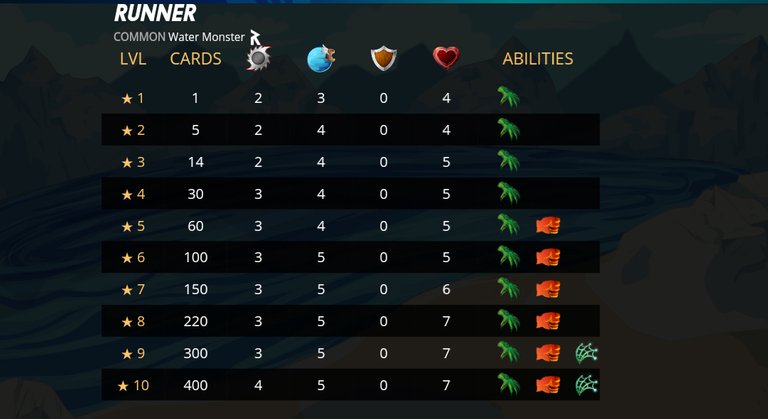 Reach ability: monsters with this ability can fight in the second position. With reach ability, Wave Runner can fight in the second position. One of the things I learned using Wave Runner in the second position is, 'your first monster in the lineup should be very strong and have abilities to withstand pressure and attack from different monsters.
Knock out ability: this ability can only be activated in level 5. Monsters with this ability does double damage when attacking monster is stunned.
Snare ability: the moment monsters with snare ability removes flying ability, it can not miss attack.
BATTLE RULE



Aim True: Melee and Range attacks always hit their target.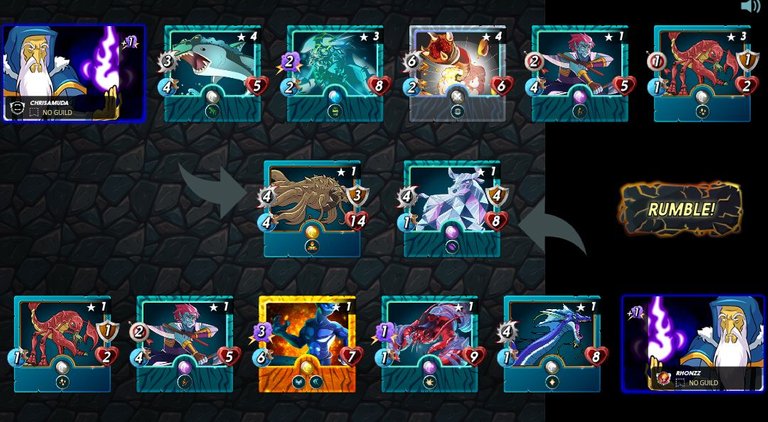 click here to watch the battle.
BATTLE ARRANGEMENTS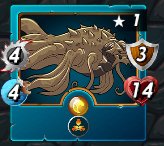 The Kraken: With 46 Mana costs, choosing the Kraken wouldn't be a problem.
The taunt ability makes all monsters focus only on the kraken and forgot other monsters.
The melee: 4 melee attack was very instrumental to me. Kraken was first attacked by phantom of the abyss and also twice by Axemaster.
Then, my Axemaster was my first monster to attack; it attacked Torhilo The Frozen twice, then kraken and Wave Runner attacked Torhilo The Frozen which damages its health to 2 before it was finally eliminated by Captain Ghost. There was no Opportunity for Torhilo The Frozen to attack.
The health of the kraken: despite of massive attack from my opponent monsters, the kraken was not destroy in round 1. The kraken was eliminated in the middle of round two because of long lifespan.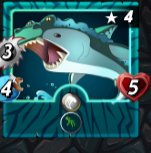 Wave Runner: The monster of the week does well by attacking Torhilo The Frozen and Sea Monster before it was eliminated. Wave Runner was attacked by Lobstradamus and crustacean King increased its health. An attack by the phantom of the abyss damaged its health to 1 before it was finally eliminated by Axemaster.
This is the reason I said, Wave Runner needed strong Monsters at first position.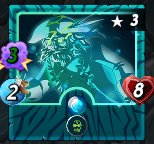 Captain Ghost: This is the only magic monster in my lineup. Addition of this monster makes my battle very fast.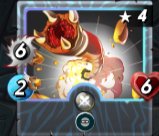 Sandworm: What an incredible sneaky monster that sneaked from behind. It sneaked Crustacean King, Axemaster and damaged the health of Phantasm the Abyss.
One thing that made this monster to attack phantom the Abyss was the 'true aim rule'. The moment I saw phantom the Abyss, I thought I had lost the battle because of the dodge ability.
Sometimes, only this monster defeats me in battles, that was the reason I gave up when I saw it.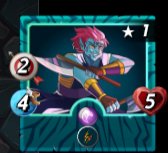 Axemaster: my first monster to attack, it attacks Torhilo The Frozen, Sea Monster, Lobstradamus.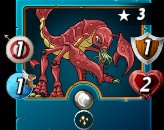 Crustacean King: its healing ability was very crucial to my winning. Healing all monsters in first position. If there's a monster I should give kudos to; it is crustacean King. Without this monster, most of my monsters would have been killed.
At the end of the battle, 4 of my monsters were not eliminated- Captain Ghost, Sandworm, Axemaster and Crustacean King.
In conclusion, my opponent could have selected sneaky monster, when the kraken was killed; it would have eliminated crustacean King from behind which would have led me to defeat. Once the crustacean is eliminated, healing ability wouldn't have possible anymore which was constantly given to monster in the first position.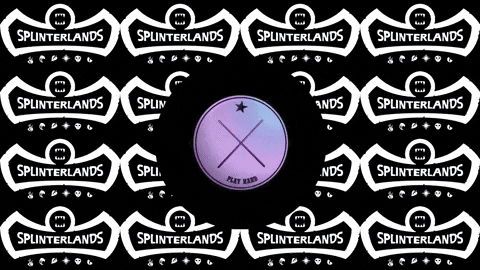 ---
---