The Arrival of Riftwatchers - Fire Splinter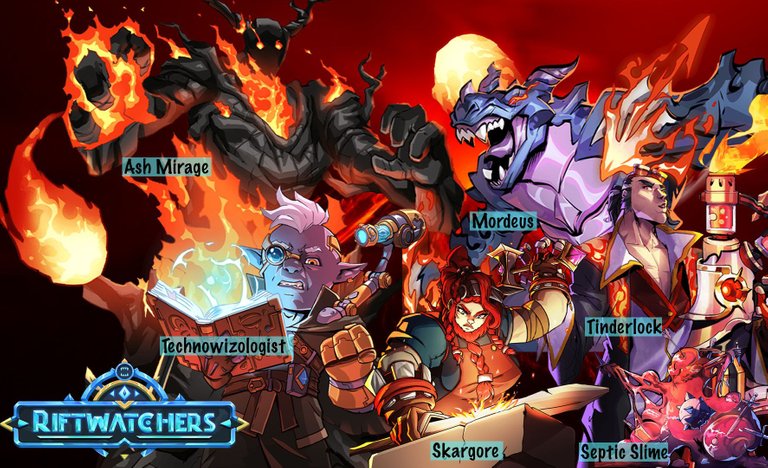 Amidst the Chaos that has brought only darkness and despair.
A small flicker of light may carry all the world's hope.
The Riftwatchers are coming
And the Splinterlands will never be the same
Hello Splinterlands Community!
The Riftwatchers cards has been revealed in the QA server, those new cards are really powerful and very useful especially in the high mana battle.
In this post, we'll quickly look the stats and abilities of each monsters and I will give my opinion regarding those monsters.
Regarding the summoners in the Riftwatchers set, I have made a post before regarding my opinion on each newly introduced summoners.
LINK HERE
Disclaimer: All information below are based on my opinion and playstyle. Each player has its own opinion regarding these cards and I'm just going to share my opinion.

Ash Mirage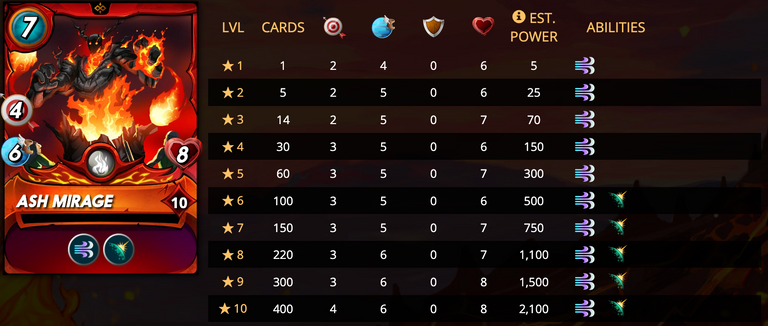 Looking at the stats of Ash Mirage, it is a very powerful common card which deals a great amount of range damage and a high speed. This card with headwind ability is great against Yodin Zaku which negates the +1 range damage. This is a good card that can be use in Silver League especially in dealing with some range monsters.
In my opinion I can use this card as a substitute to Molten Ash Golem and in higher league, this can be a good use when expecting a blast or a return fire damage.
Usage: Can be use for the keep your distance rule to reduce the range damage of the enemy as well as against return fire ability which can be granted by Ilthain and Lir Deepswimmer.
Rating: ★★★

Septic Slime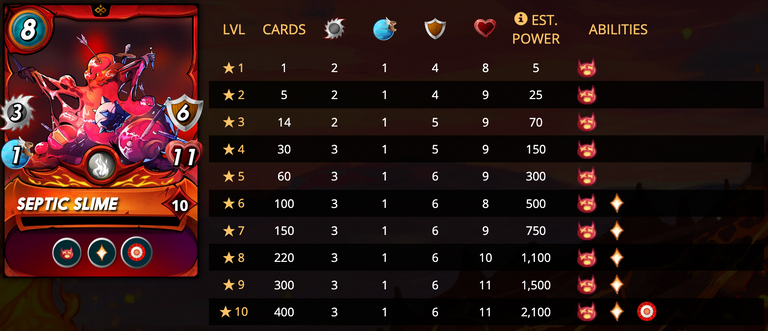 Septic Slime is a very slow monster which mainly focus on the defense area. The good thing about this monster is that in lower level, it can stun a target. At higher level it is a more reliable tank because of the healing ability. Good thing that its previous ability which is snare has been changed to True Strike. In normal rule it might not be able to hit the flying enemies to snare them.
In my opinion I can use this card as a substitute to Antoid Platoon in the frontline or even with Living Lava.
Usage: Best to use in the frontline position especially with the reverse speed ruleset.
Rating: ★★

Tinderlock

At first look, Tinderlock is an overpower monster in a rare rarity. This card have a four abilities overall which are all powerful. Starting from the last stand ability and close range, it is a pretty great card. The silence which is is available in ★4 is a great counter against magic. Moreover the last ability which is the deathblow is also a very useful skill especially against a one on one scenario. Due to its super high stats, this card has been updated with a speed reduction by 2.
In my opinion this card is built against Llama + Kron in higher league. Imagine this card with Kitty, It will do last stand, a reduced magic damage to Kron because of the silence and the deathblow which is a double damage against remaining enemy. I think that this card will win with Kron in the Diamond League for a one on one. (Llama + Kron vs Kitty + Tinderlock)
Usage: This is a very powerful card which I think is best in many scenarios.
Rating: ★★★★

Technolowizologist

The very nice thing that I like with Technowizologist is the stun it can provide in lower league. It also have the Fury ability which deals x2 damage towards taunt monsters. In the maximum level the camouflage is pretty amazing as this guy could shoot freely.
I would say that Technowizologist is like Djinn Biljka that can attack freely because of its camouflage but only in the diamond league. The great thing is that it does have a chance to stun the enemy and deal x2 damage to taunt monsters.
Usage: Best to use against taunt monsters so it can do a double damage to eliminate the taunt monster easily.
Rating: ★★★★

Mordeus

Mordeus is a very powerful legendary card. The opportunity attack that it can offer deals a massive of 5 and 6 in the lower league which is pretty nice. There are not enough monsters that have a forcefield ability in the lower league and Mordeus will target those enemies with lower health. The piercing and stun ability is a bonus to Mordeus attacking prowess. The only problem this monster have is the low health and slow.
I would definitely choose Mordeus when playing in the lower league together with Jacek so that the 5-6 damage can penetrate through the armor. Also Jacek will provide a +2 speed which boost Mordeus a chance to attack first together with some speed buffs such as Sinash. In reverse speed I can use Tarsa with this
Usage: A pretty good monster that can be use in different case with different summoner. For a standard ruleset, I will go with Jacek, for a equalizer I will use Skargore and for reverse speed I will use Tarsa.
Rating: ★★★★★

Verdict
Riftwatchers monsters are really powerful and cost a lot of mana. It is truly applicable in the high mana matchup. The game is now pretty much more interesting with the addition of these monsters and my opinion regarding these monsters might change once we experience to use these cards in the battle.
The good thing I like with the new Fire monsters is Technowizologist, Mordeus and Tinderlock as these three are really powerful. Looking at those 5 monsters, they don't have great speed except for Ash Mirage which is why Jacek is a great addition in the Fire Splinter to boost the speed.
Thank you for reading and see you on the next post.

Want to join our awesome community? Signup to @Splinterlands using my referral code.

---
---