The Runicore!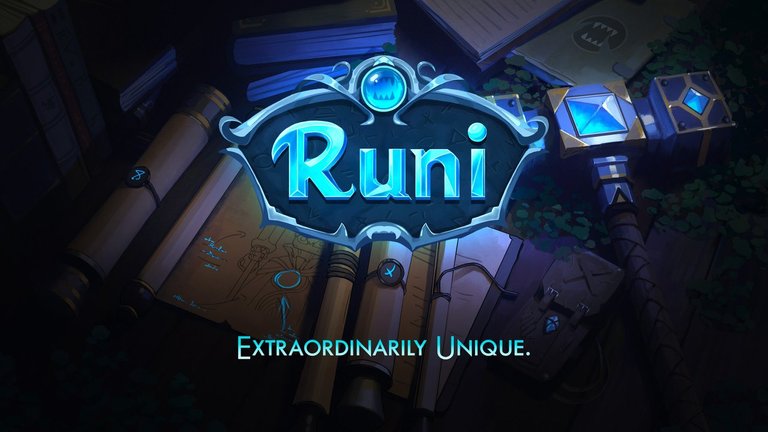 A unique artwork card
A limited supply card
A card that possess a new ability
The First Generative NFT in Splinterlands
Hello Splinterlands Community!
Welcome again to my post. How are we holding up given that there are a lot of things that is currently happening in the Splinterlands? We just finished the presale of Riftwatchers and we will see and play those new cards in the coming days, the trench 1 validators were sold out, Tower Defense presale is coming next week and then we have the Runicores which is very unique and interesting.
In this post, I will be discussing the Runicores as this project sounds really interesting to me and I will give my own opinion on this project.

The Runi Project
What is the Runi Project?
The Runi Project is a new upcoming project in the Splinterlands which will introduce a very limited-edition promo card.
What is so special about this card?
Runicores (Runi for short) are a very special card. The very first thing that made this special is that every Runi cards will have its unique appearance or artwork which is the same for other NFT projects out there. The visual of this card will be random upon minting. Though the appearance of this card very unique, its stats and abilities in the game will be the same. The minting process is very different on the minting process in Splinterlands and the supply is very scarce.
Show me the stats of this Runicore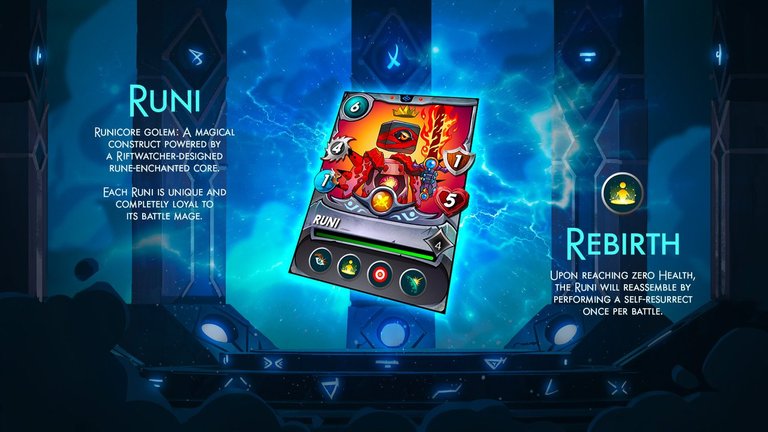 Looking at the stats of Runi, it does have a high attack, a slow speed, a 1 armor and a 5 health. In terms of abilities, a opportunity that is very useful, a truestrike, the newly introduce ability Reflection shield and a very new ability which is rebirth. A splinterlands player would easily notice this new ability and I think would be very interested to get this card. This card is a neutral monsters which is available in every elements and cost 6 mana.
Opportunity - by having this ability, Runi can be place anywhere in the battlefield and can be able to maximize its high melee damage towards low health monsters. This monster is very useful especially in reverse speed ruleset because of its 1 speed.

Rebirth - a resurrection can be annoying but by having the rebirth ability, it can do a self-resurrect which is the very first card to have this ability in the game. It may be the ONLY card that possess this ability, the same with Halfling Alchemist. This is very useful for noxious fumes as once killed, a reassembled Runi does not have any poison.

True Strike - by having 1 speed, Runi's attack towards flying and dodge monsters with high speed will surely missed. With this True Strike, this card will have no problem dealing damage.

Reflection Shield - another very important ability, any blast damage or thorn damage won't impact Runi. Placing Runi besides a Taunt monsters for explosive weaponry ruleset or fight against Yodin Zaku will greatly impact the outcome of the battle. Since it does have a opportunity, placing it on the 2nd or 5th position if the taunt is on the frontal or rear position will do no harm preventing this card to attack. Dealing an attack towards monsters with thorn damage won't impact this as well.
I must say that loooking at the ability of this card, it is truly a powerful card that can be use in many different scenario.
Take note that all Runicore will be in MAX level and could not be able to combine. We might see the stats of this card in different level as every league have a level cap.
How much does a Runi cost and how many Runis will be available?
Minting a Runi cost roughly $500 in ETH and the exact amount of ETH will be provided in the later date but by participating in the whitelist spots, there will be a 50% discount. The whitelist spots though will happen on Thursday, September 22nd, 2022 at 2 PM ET / 18:00 UTC at a cost of 100 VOUCHERS and limited to only 2000 slots.
The minting is scheduled on Tuesday, October 25th, 2022 at 2 PM ET / 18:00 UTC and there will be a total of 6,500 Runi NFTs for minting. This means that only a maximum of 6,500 Runi will exist and according to the offical post, if the minting does not sell out for 30 days, any unminted Runi NFTs will never be minted again thus the supply could be lower than 6,500.
Why Ethereum?
In my opinion, the team choose Ethereum to attract more people to join our growing community as well as to showcase how awesome Splinterlands is beyond Hive Community.
Other Thoughts?
As a player of Splinterlands, I think Runi is a very great card which will introduce a lot of new strategy in the game. I believe that most players would want to get this limited-edition promo card.
In terms of the cost of this card, I believe because of being very limited and very unique, the cost for a single MAX card seems to be reasonable. Once the minted is closed, the resell value for this card seems to be very HIGH especially that if you got the Gold Foil version which is roughly only 130 supply. Those who will get the 2000 whitelist spots will be pretty lucky because of the current price of a 100 VOUCHERS is not $250 it is a pretty good deal to have 50% discount. Splinterlands investors who have nodes and SPS staking even got this for free. That alone I think is already a profit.
Having Runi in your collection is truly a good achievement as this card cannot be rented because the card is tied up with the NFT. Staking the NFT over the ethereum blockchain will then delegate the cards to the specified player hive ingame.
Overall, I think this project is awesome. Having an very unique card that cannot be rented and a unique NFT that can be use as Profile Picture in various social media. This card would absolutely be expensive after the minting period and I think a very good investment to get this during the minting period. (Of course NFA)

For the complete information of Runicore, please refer to the offical post below:

LINK HERE
Thank you for reading and see you on the next post.
Want to join our awesome community? Signup to @Splinterlands using my referral code.

---
---