Silver II to Gold III 420 DEC rental cost for 7 chest. Was it worth it?
I ended the season with 1902 ranking which qualifies for Gold 3 but I only had collection power(CP) of 44,000. Decisions to make.
Options Silver 2, Silver 1, or Gold 3
Is it worth renting the additional 56,000 CP to reach the 100,000 CP needed to reach league Gold 3? How about an additional 26,000 to reach Silver 1?
At my current ranking and CP I am qualified for Silver 2 which grants 15 chest for season reward.
For an additional 3 chest I can rent enough CP to be promoted to Silver I.
For an additional 4 chest I can rent enough CP to be promoted to Gold III.
Chest Value
Splintercards has a chest value estimator. Loot Chest Value estimator
Information from the Loot chest estimator.
Chest value: 45 DEC
0.676 USD
1k DEC @ 15.01$
| League | Value | USD$ |
| --- | --- | --- |
| Silver II | 676 DEC | 10.143 $ |
| Silver I | 811 DEC | 12.172 $ |
| Gold III | 991 DEC | 14.877 $ |
According to this chart the additional chest should be worth. 135 DEC for Silver I or 315 DEC for Gold III.
Using that value I will lose 105 DEC renting into Gold III.
Other Considerations
At the beginning of this season it took me two days to move from Bronze II to Silver III. I felt that moving up into Silver from Bronze would be worth it due to the changes in payouts from DEC to credits that occured last season.
@powermeat wrote an article showing the relative payouts at 100% ECR per league.
Payout DEC per league
Bronze I - 3-8 DEC per win
Silver I - 20-25 DEC per win
Using this info and my ~average 10 wins per day equates to 130 DEC per day playing in the Silver II league vs staying in Bronze league. Make that 110 DEC when I take into account my ECR generally stays in the mid 80's.
Decisions Summary
7 chest @45 DEC = 315 DEC
1 day in Bronze League @110 DEC = 110
Total value 425 DEC
Rentals spent 420 DEC for 56,000 CP.
Justified... LOL
Technically I should break even on my rental decision.
Season Rewards
The first 15 chest I would receive anyway so we will start with those.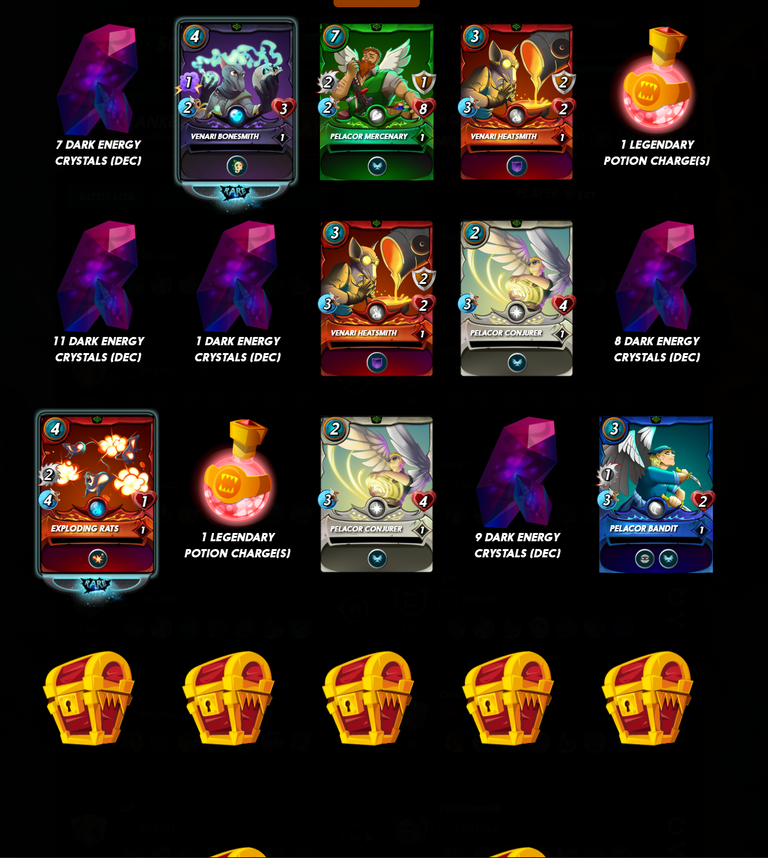 I am satisfied with these results 8 cards of 15 hit the 50% card rewards on the nose.
I got 2 rare cards and 4 others which allows me upgrade at least one to level 2. 36 DEC and 2 potions top off my original Silver II reward.
Gold III additional 7 chests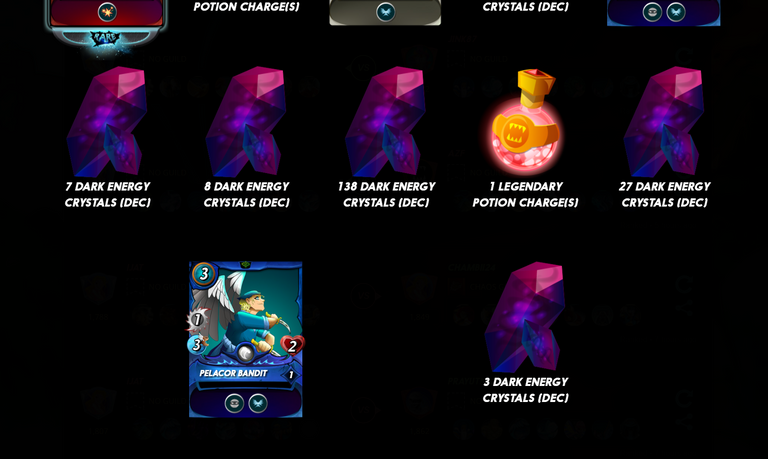 1 card and 1 potion and 183 DEC.
Conclusion
My 420 Rental cost is offset with
1 common card valued at .17$ or 11 DEC
1 potion valued at 3 DEC
183 DEC
Sub Total : 197 DEC
Battle Payout 1 day : 110 DEC
Total Value 307 DEC
The decision to rent at end of season to reach Gold III has cost me approximately
a loss of 103 DEC.
I gambled I lost but I am still happy:)
---
---