Share your Battle! Cruel Sethropod [EN-ES]
Introduction
New week, new challenge. This time it is the turn of Cruel Sethropod, a water card, one of the strongest splinters in the Chaos Legion edition (at least his summoner is the most valued). This card is not one of the ones I use the most, the truth is that it doesn't seem very good to me, but like all the cards in the game, it can be useful in some cases.
Semana nueva, reto nuevo. Esta vez le ha llegado el turno a Cruel Sethropod, una carta de agua, uno de los splinters más fuertes de la edición de Chaos Legion (por lo menos su invocador es el más cotizado). Esta carta no es de las que más utilizo, la verdad no me parece muy buena, pero como todas las cartas del juego pueden tener su utilidad en algunos casos.
Cruel Sethropod
The card of the week is a common card. It is currently $0.08 in its normal version and $1.67 in its golden foil. I've always really liked gold cards, so with the low price I got this version. Looking at the price range we see that it is the fourth cheapest water card in the game, so we already see that it should not be a very good card.
La carta de la semana es una carta común. Actualmente se encuentra a 0,08$ en su versión normal y a 1,67$ en su versión dorada. Siempre me han gustado mucho las cartas doradas, así que con el bajo precio que tiene me hice con esta versión. Viendo el rango de precios vemos que es la cuarta carta de agua más barata del juego, con lo que ya vemos que no debería ser gran cosa.
Cruel Sethropod costs 3 mana, at level 1 it has 1 damage, 1 speed, 3 protection, and 4 health. As we can see, it is a card that does not acquire any ability, so it does not stand out much. Despite not being a great card, I find it interesting to have it at level 3, because it gets 2 points of damage that can always go very well for us, and with a simple gold card we already have it at this level.
Cruel Sethropod cuesta 3 de maná, a nivel 1 tiene 1 puntos de daño, 1 de velocidad, 3 de protección y 4 de salud. Como podemos ver es una carta que no adquiere ninguna habilidad, así que no destaca mucho. A pesar de no ser una gran carta a mi me parece interesante tenerla a nivel 3, porqué obtiene 2 puntos de daño que siempre nos puede ir muy bien, y con una simple carta dorada ya la tenemos a este nivel.
My battle

In this case the battle conditions are Unprotected and Little League. In these conditions, since I don't have a shield, I don't need to play with magic attacks, but I am interested in cards that attack quickly. Regarding the second condition of Little League, it conditions me a lot to cards with low mana, also the total mana of the game is only 14, so I will have to look for cards with very little mana.
En este caso las condiciones de batalla son Unprotected y Little League. En estas condiciones al no tener escudo no tengo necesidad de jugar con ataque mágico, pero sí que me interesan cartas que ataquen rápido. Sobre la segunda condición de Little League me condiciona mucho a cartas de bajo maná, además el maná total de la partida es solo de 14, así que tendré que buscar cartas de muy poco maná.
Line up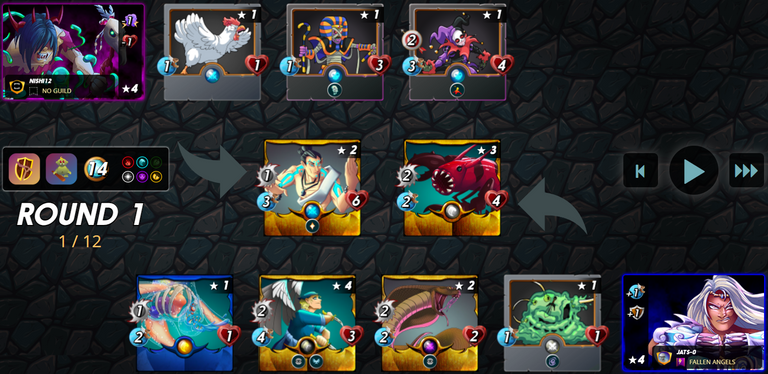 1- Cruel Sethropod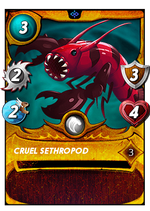 Despite losing his shield, which is one of the great attributes of this card, I'm going to use it because it only costs 3 mana and has 2 attack points.
A pesar de perder su escudo, que es uno de los grandes atributos de esta carta, la voy a utilizar porqué sólo cuesta 3 de maná y tiene 2 puntos de ataque.
2- Creeping Ooze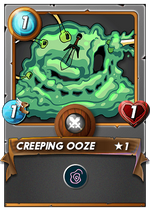 I had 1 mana left over, since there is no shield and I want to attack before the rival, it will always be good for me to subtract a speed point from the rival cards.
Me sobraba 1 de maná, cómo no hay escudo y quiero atacar antes que el rival siempre me irá bien restarle un punto de velocidad a las cartas rivales.
3- Uraeus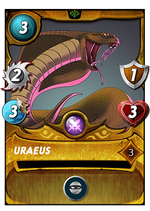 I love this card, 2 attack for only 3 mana. In this game it will also lose his shield point, but it will be good for me to attack from behind. It is a very cheap card, for me it is very undervalued, I use it in many games.
Me encanta esta carta, 2 de ataque por solo 3 de maná. En esta partida también perderá su punto de escudo, pero me irá bien para atacar por la espalda. Es una carta muy económica, para mi está muy infravalorada, yo la utilizo en muchas partidas.
4- Pelacor Bandit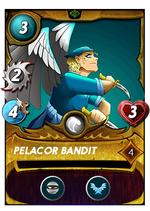 Another very undervalued card. Another 2 attack points for only 3 mana. It also has good speed and the ability to fly and sneak. Together with Uraeus, I hope that they finish off the last cards of the rival soon.
Otra carta muy infravalorada. Otros 2 puntos de ataque por sólo 3 de maná. Además tiene una buena velocidad y la habilidad de volar y sneak. Junto con Uraeus espero que acaben pronto con las últimas cartas del rival.
5- Torrent Fiend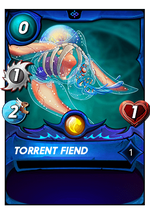 It is essential to play it when there is no more mana left, I put it at the end in case the rival plays with a Sneak to be able to protect the cards that should do the damage.
Imprescindible jugarla cuando no queda más maná, la pongo al final por si el rival juega con algún Sneak poder proteger a las cartas que deberían hacer el daño.
Line up Costs
Let's look at the price of the decks to see if the most expensive deck wins (which should mean better cards) or you don't have to spend a lot of money to win if you know how to use the cards well. Knowing that there are gold cards that are very expensive compared to the normal version, I only take into account the price of the card according to the level and considering the normal version.
The current market price of my enemy's cards is: $100
The current market price of my team's cards is: $118
Vamos a ver el precio de los mazos para ver si gana el mazo más caro (lo que deberían implicar mejores cartas) o no es necesario gastarse mucho dinero para ganar si se saben utilizar bien las cartas. Sabiendo que hay cartas doradas que son muy caras respecto la versión normal, tengo en cuenta sólo el precio de la carta según el nivel y considerando la versión normal.
El precio de mercado de las cartas que ha alineado mi enemigo asciende a: 100$
El precio de mercado a día de hoy de las cartas de mi equipo asciende a: 118$
As we can see the price of the two decks is quite similar, mine being somewhat more expensive, mainly because my summoner alone costs $108, so the rest of the cards I use only cost $9.
Como podemos ver el precio de los dos mazos es bastante similar, siendo el mío algo más caro, más que nada porqué solamente mi invocador ya cuesta 108$, así que el resto de las cartas que utilizo solo cuestan 9$.
Results
And here I leave you the link of my battle so you can see how it has been.
Y aquí os dejo el link de mi batalla para que podáis ver qué tal ha ido.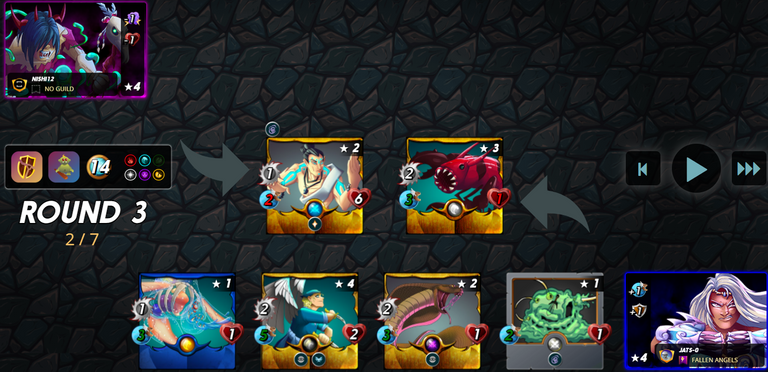 My battle link
Did my Strategy Work?
The truth is that the strategy has worked very well for me. I have attacked before the rival and with the two sneaks I have been able to kill one of the two cards that he had to do damage before it could attack. Despite the fact that Cruel Sethropod has held up well and seems like a very good option as a tank in low mana games, after seeing the opponent's lineup his Xenith Monk really seems to me to be a much better option in a game where there was no shield, mostly because it has the healing ability.
La verdad es que la estrategia me ha funcionado muy bien. He atacado antes que el rival y con los dos sneaks he podido acabar con una de las dos cartas que tenía para hacer daño antes de que ésta pudiera atacar. A pesar de que Cruel Sethropod ha aguantado bien y me parece muy buena opción como tanque en las partidas de maná bajo, después de ver la alineación del rival su Xenith Monk realmente me parece que era mucho mejor opción en una partida dónde no había escudo, más que nada porqué tiene la habilidad de sanación.
In this case the most expensive deck took the victory, and here is the summary of the Battle Challenges won by the expensive and cheap deck since I do the monitoring.
En este caso el mazo más caro se hizo con la victoria, y aquí el resumen de los Battle Challenge ganados por el mazo caro y barato desde que hago el seguimiento.
| Expensive deck Victories | Cheap deck Victories |
| --- | --- |
| 2 | 3 |
(Photos I used in this post are taken from splinterlands.com for this post purpose only)

---
---