Share your Battle! Scavo Firebolt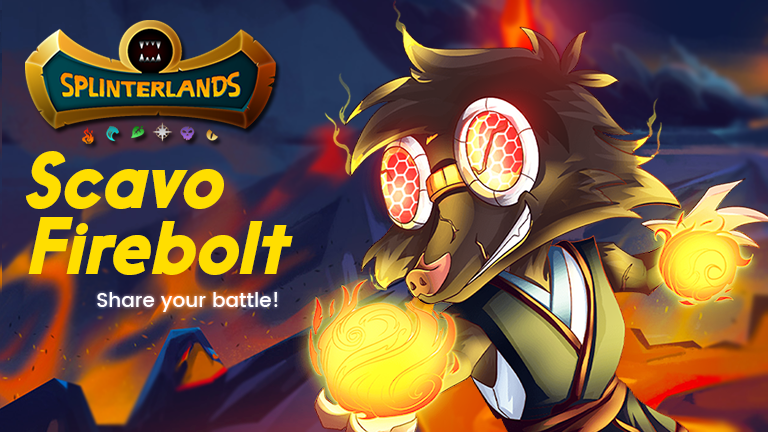 Introduction
New week, new battle challenge. This time is the turn of Scavo Firebolt, a fire card, one of my favorite splinters. This card is not one of the ones I use the most, because Tarsa (the fire summoner from Chaos Legion) does not combine very well with it.
Semana nueva, reto nuevo. Esta vez le ha llegado el turno a Scavo Firebolt, una carta de fuego, uno de mis splinters favoritos. Esta carta no es de las que más utilizo, porqué Tarsa (el invocador de fuego de Chaos Legion) no le combina muy bien.
Scavo Firebolt
The card of the week is a rare card. It is currently $0.14 in its normal version and $3.44 in its golden foil. I've always really liked gold cards, but being a card that I don't use so much in this case I got the normal version. Looking at the price range we see that it is the second cheapest rare card in the edition, so we already see that it should not be a very good card.
La carta de la semana es una carta rara. Actualmente se encuentra a 0,14$ en su versión normal y a 3,44$ en su versión dorada. Siempre me han gustado mucho las cartas doradas, pero al ser una carta que no utilizo mucho en este caso me hice con la versión normal. Viendo el rango de precios vemos que es la segunda carta rara más barata de la edición, con lo que ya vemos que no debería ser gran cosa.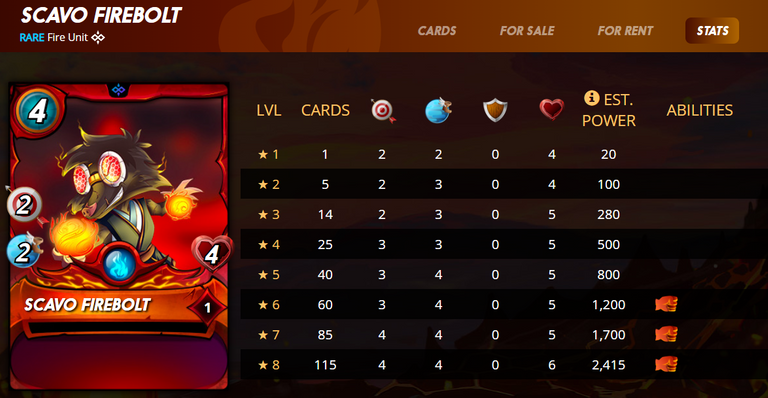 Scavo Firebolt costs 4 mana, at level 1 it has 2 ranged damage, 2 speed, and 4 health. It is a card without abilities until it reaches level 6, where it acquires Knock Out, an ability that at least in the leagues where I play (silver and gold) is not very useful. Despite not being a great card, I find it interesting to have it at level 4, so the silver league has an additional point of damage that could be very useful.
Scavo Firebolt cuesta 4 de maná, a nivel 1 tiene 2 puntos de daño a distancia, 2 de velocidad y 4 de salud. Es una carta sin habilidades hasta llegar a nivel 6, dónde adquiere Knock Out, una habilidad que por lo menos a las ligas dónde juego yo (plata y oro) no es muy útil. A pesar de no ser una gran carta a mi me parece interesante tenerla a nivel 4, así a liga plata tiene un punto adicional de daño que nos puede ir muy bien.
My battle

In this case the battle conditions are Unprotected and Heavy Hitters. In these conditions, since I don't have a shield, I can go to high damage cards without having to play cards with a magic attack. Regarding the second condition of Heavy Hitters, as I have mentioned before, at least at silver or gold leagues, they do not usually take much advantage of it, so it will not condition my strategy. I'm going to focus on using cards with high physical damage and quick to finish off opposing cards as fast as possible.
En este caso las condiciones de batalla son Unprotected y Heavy Hitters. En estas condiciones al no tener escudo puedo ir a cartas de alto daño sin necesidad de jugar cartas con ataque mágico. Sobre la segunda condición de Heavy Hitters como he comentado antes por lo menos a ligas de plata y oro no se le suele sacar mucho provecho, así que no condicionará mi estrategia. Voy a centrarme en usar cartas con alto daño físico y a poder ser rápidas para acabar con las cartas rivales rápidamente aprovechando que no tendrán escudo.
Line up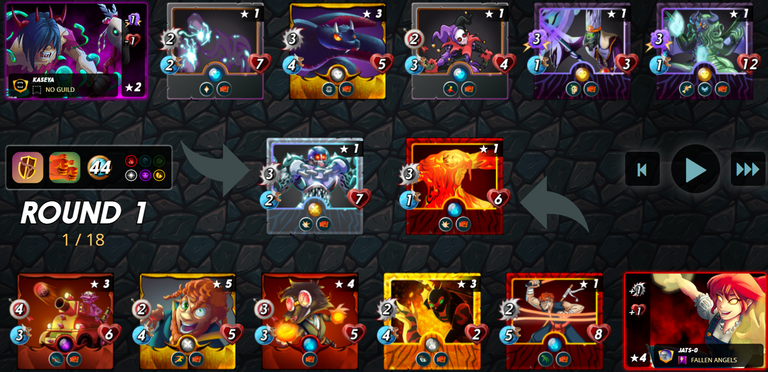 1- Living Lava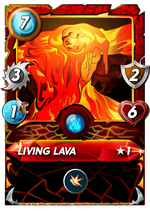 Probably this is my favorite tank of fire. It has the ability of shield which is very usefull and also it has high attack.
Probablemente sea mi tanque favorito de fuego. Tiene la habilidad de escudo la cuál es muy útil, también tiene un buen ataque.
2- Fineas Rage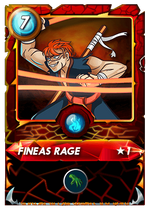 Great card to use in second position. I always have certain doubts between this and Radiate Brute. In this case, there are no shields, I prefer to use Fineas Rage because it has a very high speed.
Gran carta para utilizar en segunda posición. Siempre tengo ciertas dudas entre éste y Radiate Brute. En este caso cómo no hay escudos prefiero utilizar a Fineas Rage porqué tiene una muy buena velocidad.
3- Serpentine Spy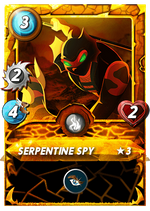 I love this card, 2 attack (3 with Tarsa) and only costs 3 mana. I think it's important to have it at least level 2, where it gains this extra speed point that can kill the opposing Serpentine Spy (if the enemie has one). It has 4 speed points, si probably it also will attack the rival card with less health very fast.
Me encanta esta carta, 2 de ataque (3 con Tarsa) y solo cuesta 3 de maná. A mi me parece importante tenerla por lo menos a nivel 2, dónde gana este punto extra de velocidad que puede matar al Serpentine Spy rival (si lo tiene). Tiene 4 puntos de velocidad, así que seguramente también atacará a la carta rival con menos salud rápidamente.
4- Scavo Firebolt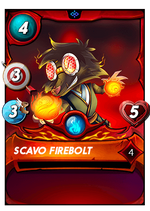 Card that costs low mana, and has 3 ranged damage. I guess the opponent will also expect that I'm not going to use magic attack, so maybe he's focused on reducing my melee attack. If he does so, it will be good for me to have archers which will not be harmed.
Carta que cuesta poco de maná, y tiene 3 puntos de daño a distancia. Supongo que el rival también esperará que yo no voy a utilizar ataque mágico, así que quizá se centra en reducir mi ataque de melé. Si así lo hace me irá bien tener arqueros que no serán perjudicados.
5- Supply Runner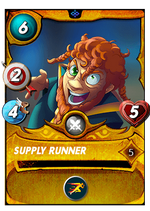 Since there are no shields, I want to focus on quickly attacking the opponent, so this card will add an extra speed point to my team. I'm hoping that with this I can take out a lot of opposing creatures before they can attack.
Al no haber escudos quiero centrarme en atacar rápidamente al rival, así que esta carta le sumará un punto de velocidad a mi equipo. Espero que con esto pueda acabar con muchas criaturas rivales antes de que puedan atacar.
6- Lava Launcher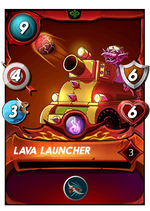 It is the cheapest epic card in the game, for me very undervalued. At level 3 it has 4 points of ranged damage and a good speed (3). If it is true that in this battle it loses its 6 shield points, but it still has a very good attack and I am looking for fast cards.
Es la carta épica más económica del juego, para mi muy infravalorada. A nivel 3 tiene 4 puntos de daño a distancia y una buena velocidad (3). Si es cierto que en esta batalla pierde sus 6 puntos de escudo, pero aún así tiene muy buen ataque y estoy buscando cartas rápidas.
Line up Costs
Lately I like to analyze the cost of the decks to be able to analyze a little if the expensive deck really is the one that wins. Knowing that there are gold cards that are very expensive compared to the normal version. I will only take into account the price of the card according to the level and considering the normal version.
The current market price of my enemy's cards is: $220
The current market price of my team's cards is: $133
Últimamente me gusta analizar el coste de los mazos para poder analizar un poco si realmente el mazo caro es el que gana. Sabiendo que hay cartas doradas que son muy caras respecto la versión normal, tengo en cuenta sólo el precio de la carta según el nivel y considerando la versión normal.
El precio de mercado de las cartas que ha alineado mi enemigo asciende a: 220$
El precio de mercado a día de hoy de las cartas de mi equipo asciende a: 133$
As we can see, the opponent's creatures cost almost $100 more, because he has legendary cards from older editions that cost a lot of money. Despite this, the summoner he uses is only level 2 when mine is level 4. A priori it may be even, let's see who wins the battle.
Como podemos ver las criaturas del rival cuestan casi 100$ más, porqué tiene cartas legendarias de ediciones más antiguas que cuestan mucho dinero. A pesar de ello su invocador que utiliza es sólo de nivel 2 cuando el mío es de nivel 4. A priori puede estar igualado, vamos a ver quien gana la batalla.
Results
And here I leave you the link of my battle so you can see how it has been.
Y aquí os dejo el link de mi batalla para que podáis ver qué tal ha ido.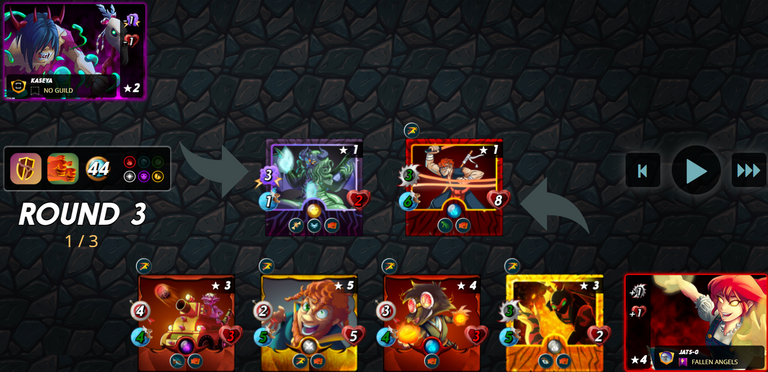 My battle link
Did my Strategy Work?
The truth is that much better than expected. As you can see, at the beginning of the third round, the rival only had one card left with only 2 life points, and I had only had one dead. My strategy of attacking quickly worked really good, and I think the opponent made a mistake that was to spread his damage too much, he had a tank in the second position that could not attack, a sneak and a sniper, which weakened several creatures without end any of them.
La verdad es que mucho mejor de lo esperado. Cómo podéis ver al inicio de la tercera ronda al rival ya solo le quedaba una carta con solo 2 puntos de vida, y yo sólo había tenido una baja. Mi estrategia de atacar rápidamente funcionó de maravilla, y creo que el rival cometió un error que fue repartir mucho su daño, tenía un tanque en la segunda posición que no podía atacar, un sneak y un sniper, con lo que me debilitó varias criaturas sin acabar con ninguna de ellas.
Once again, it can be seen that having expensive equipment doesn't mean winning the battle. I managed to take down the opponent easily even though my team was almost $100 less.
Otra vez se puede ver que tener un equipo caro no es sinónimo de ganar la partida. Conseguí acabar con el rival fácilmente a pesar de que mi equipo costaba casi 100$ menos.
(Photos I used in this post are taken from splinterlands.com for this post purpose only)

---
---