Runemancer Florre: the misunderstood (EN-ES)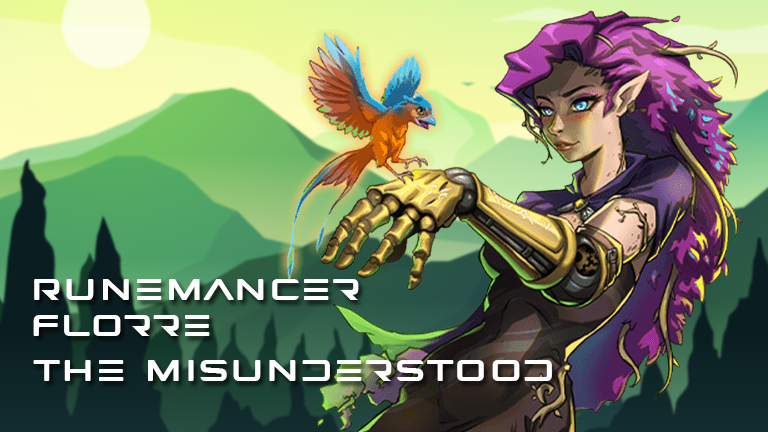 Images obtained in @splinterlands | Freepik
Hello Splinterlands friends, this week we will analyze a legendary card of the Riftwatchers edition. His name is Runemancer Florre and in my opinion is one of the cards with one of the most attractive graphic designs of this edition.
In the following post I will analyze the card, we will study its statistics and ability to finally show several battles in which it has been used and give our final verdict.
Let's start with the analysis...
Hola amigos de Splinterlands, esta semana analizaremos una carta legendaria de la edición Riftwatchers. Su nombre es Runemancer Florre y en mi opinión es una de las cartas con uno de los diseños gráficos más atractivos de esta edición.
En el siguiente post analizaré la carta, estudiaremos sus estadísticas y habilidad para finalmente mostrar varias batallas en la que ha sido utilizada y dar nuestro veredicto final.
Comenzamos con el análisis...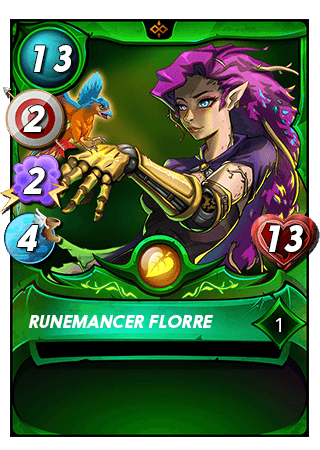 Runemancer Florre is a card from the Riftwatchers edition. It belongs to the Earth Splinter. As expected being a legendary card of this edition its mana cost is very high, 13 points to be exact. Among its features it stands out for its 2 attacks, one magical with 2 points of damage and another ranged with 2 points of damage as well. It also has 4 points of speed and a life of 13 points. A very powerful creature.
Runemancer Florre es una carta de la edición Riftwatchers. Pertenece al Splinter Tierra. Como era de esperar al ser una carta legendaria de esta edición su coste de maná es muy elevado, 13 puntos para ser exactos. Entre sus características destaca por sus 2 ataques, uno mágico con 2 puntos de daño y otro a distancia de 2 puntos de daño también. Además dispone de 4 puntos de velocidad y una vida de 13 puntos. Una criatura muy poderosa.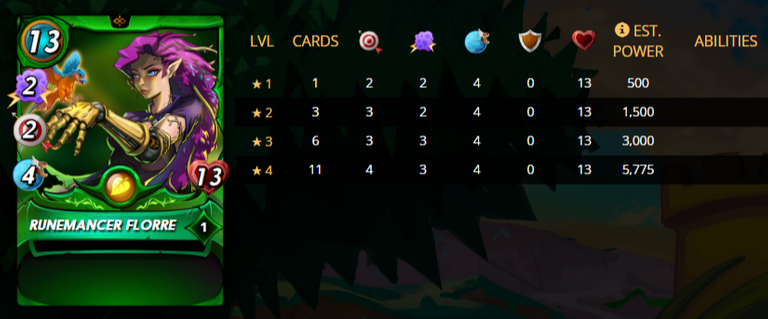 As we can see in his progress tree, as he increases in level, he only manages to improve his attacks, both magic and ranged attacks, achieving very powerful attacks at level 4.
Como podemos ver en su árbol de progreso, según va aumentando de nivel consigue únicamente mejorar sus ataques tanto el mágico como el ataque a distancia, consiguiendo tener a nivel 4 unos ataques realmente muy poderosos.


To my regret, I have to tell you that this card will go down in Splinterlands history for being the first legendary card to not have any ability.
While it is true that it is a good card and very powerful, I think it would not have been bad to have rewarded it with some ability due to its high summoning cost.
In this sense I think it will not be a card in demand with the rest of the legendary cards in the Riftwatchers edition.
Muy a mi pesar, tengo que deciros que esta carta pasará a la historia de Splinterlands por ser la primera carta legendaria en no tener ninguna habilidad.
Si bien es cierto que es una buena carta y muy poderosa, creo que no hubiera estado nada mal haberle premiado con alguna habilidad debido a su alto coste de invocación.
En este sentido creo que no será una carta tan demandada con el resto de cartas legendarias de la edición Riftwatchers.


Image
Splinter
Conditions
Earth
vs.
Life
Mana: 29
Stampede
Earth
vs.
Life
Mana: 54
Spreading Fury - Holy Protection
Earth
vs.
Death
Mana: 40
Back to Basics - Taking Sides
Earth
vs.
Life
Mana: 99
Spreading Fury - Counterspell
I have tried to play Runemancer Florre in numerous combat conditions and mana amounts to get an idea of whether it is really a valuable card.
With low amount of mana it is practically impossible to play with it since we have a card that if it ends up in the first position will only be able to use its magic attack.
When the amount of mana we can use is high then it changes completely. It is a very good card with a very fast attack and thanks to its 2 attacks can do a lot of damage.
It adapts perfectly to the Obsidian summoner, as well as to the new Fernheart summoner. I think we'll get more out of it with the latter.
He intentando jugar con Runemancer Florre en numerosas condiciones de combate y cantidad de maná para hacerme una idea de si realmente es una carta valiosa.
Con poca cantidad de maná es prácticamente imposible jugar con ella ya que tenemos una carta que si acaba en la primera posición únicamente podrá usar su ataque mágico.
Cuando la cantidad de maná que podemos usar es elevado entonces cambia totalmente. Es una muy buena carta con mucha rapidez de ataque y que gracias a sus 2 ataques puede hacer mucho daño.
Se adapta perfectamente tanto a la invocadora Obsidian, como al nuevo invocador Fernheart. Creo que con éste último le sacaremos más rendimiento.


After playing several games with Runemancer Florre I have a bittersweet taste. On the one hand, it is a card with an excellent design, very nice. It has good attack, speed and life stats, but its lack of abilities and its high mana cost make it a difficult card to play.
Only recommended if we have a lot of mana, playing it in last position if we go with Obsidian or in first position if we use the summoner Fernheart and supporting it at all times with creatures that can heal it like Goblin Psychic or Spirit Hoarder.
Después de jugar varias partidas con Runemancer Florre tengo un sabor agridulce. Por un lado, es una carta con un diseño excelente, muy bonita. Tiene buenas estadísticas de ataque, velocidad y vida, pero su falta de habilidades y su alto coste de maná hacen de ella una carta difícil de jugar.
Únicamente recomendable si disponemos de gran cantidad de maná, jugandola en última posición si vamos con Obsidian o en primera posición si por el contrario usamos al invocador Fernheart y apoyándola en todo momento con criaturas que puedan curarla como Goblin Psychic o Spirit Hoarder.


---
---