Unknown cards: I talk about Divine Sorceress (EN-ES)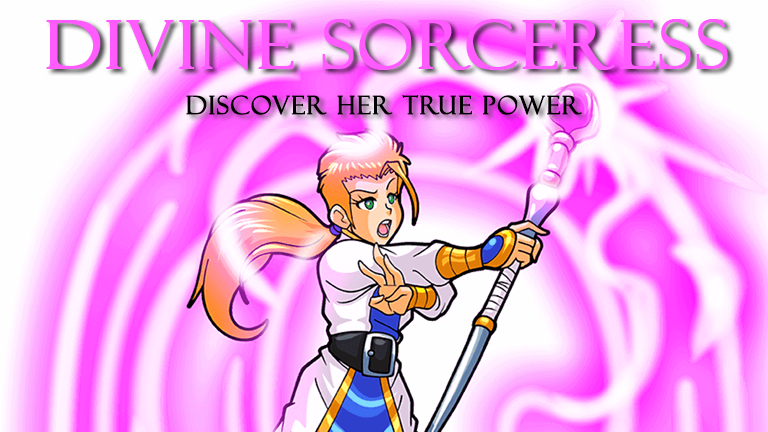 Images obtained in @splinterlands
Hello Splinterlands friends, this week has been the turn to buy a new card in Splinterlands and after much thought about the best option I have opted to continue improving the Splinter Vida with a little known card. Its name is Divine Sorceress.
Hola amigos de Splinterlands, esta semana ha sido el turno de comprar una nueva carta nueva en Splinterlands y después de mucho pensar la mejor opción me he decantado por seguir mejorando el Splinter Vida con una carta poco conocida. Su nombre es Divine Sorceress.
My intention is to gradually collect as many different cards as possible in order to have the option to use them in tournaments in Novice or Bronze. Many of these cards are very good even at level 1 and in this post I will show you why Divine Sorceress has been chosen.
Mi intención es poco a poco ir reuniendo el mayor número de cartas distintas para así poder tener la opción de usarlas en torneos en Novato o Bronce. Muchas de estas cartas son muy buenas incluso a nivel 1 y en este post os enseñaré porqué Divine Soreceress ha sido la elegida.

DIVINE SORCERESS
To begin with, let's talk a little about the menu:
Para empezar hablemos un poco de la carta: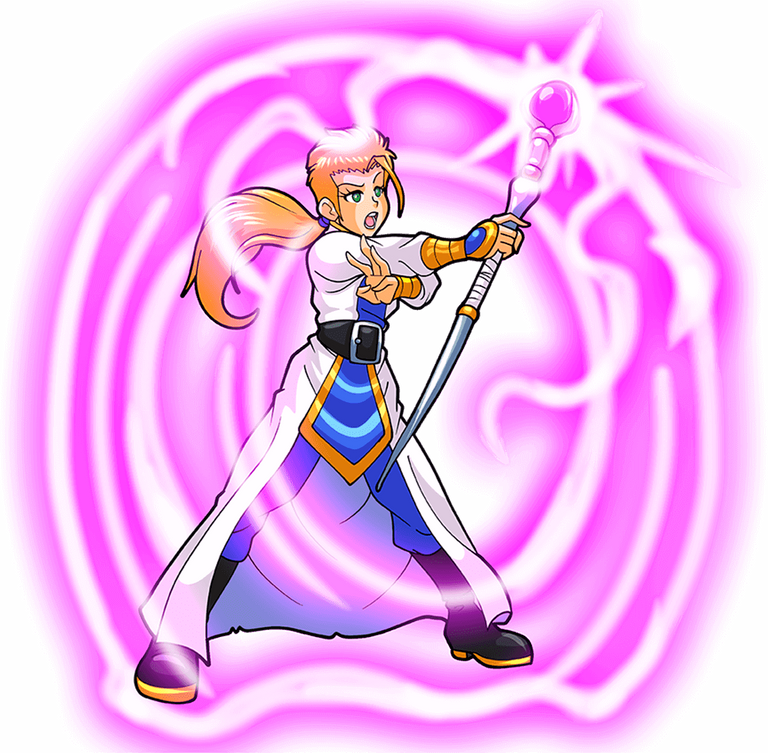 Edition: Reward
Rarity: Epic
Splinter: Life
Attack: Magic
Abilities: Divine Shield
Divine Sorceress belongs to the Reward edition and is of epic rarity. It does not stand out for its strength or endurance since at level 1 it barely has 1 health point, 1 magic attack point and 2 speed points.
Divine Sorceress pertenece a la edición Reward y es de rareza épica. No destaca por su fortaleza o resistencia ya que a nivel 1 apenas tiene 1 punto de vida, 1 punto de ataque mágico y 2 puntos de velocidad.
But its strong point is its ability Divine Shield that ignores the enemy's first hit. This ability is really useful because no matter how hard she is hit, the first hit will not suffer any damage.
Pero su punto fuerte es su habilidad Divine Shield que ignora el primer golpe del enemigo. Esta habilidad es realmente útil ya que por muy duro que la golpeen, el primer golpe no sufrirá ningún daño.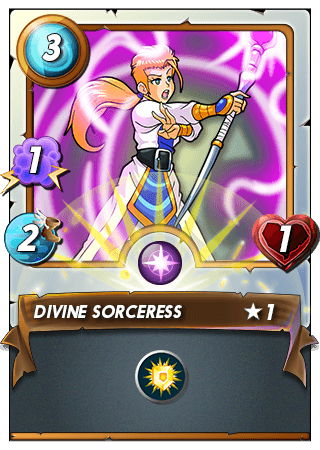 As you can see in the image, at level 3 he quickly gets 2 points of magic damage and little by little his characteristics increase as he levels up. I should also mention that the card gives us 300 points of power, not bad at all.
Como podéis observar en la imagen, rápidamente a nivel 3 consigue 2 puntos de daño mágico y poco a poco van aumentando sus características con la subida de niveles. También debo comentar que la carta nos da 300 puntos de poder, no está nada mal.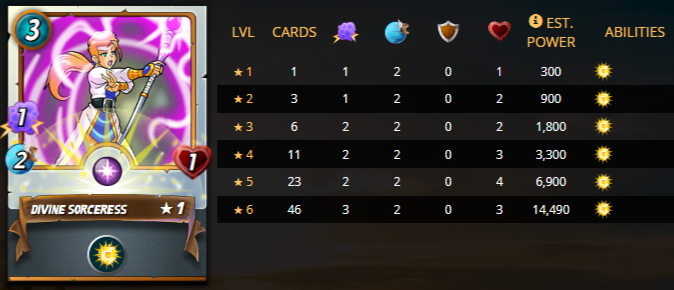 DIVINE SORCERESS IN COMBAT
One of the things I like the most about Splinter Vida is the amount of low mana cost creatures with magic attack. In addition, many of them have very interesting abilities that can give us the victory. This is the case of Divine Sorceress that without being a decisive card, it fulfills its role perfectly and can be really useful in combat as we will see below.
Una de las cosas que más me gusta del Splinter Vida es la cantidad de criaturas de bajo coste de maná con ataque mágico. Además muchas de ellas tienen habilidad muy interesantes que nos pueden dar la victoria. Es el caso de Divine Sorceress que sin ser una carta decisiva, cumple a la perfección con su papel y puede ser realmente útil en combate como veremos a continuación.
In addition, thanks to its Divine Shield ability, we ensure that it stays alive after its first hit. We can use this ability to extend the life of the card.
Además gracias a su habilidad Divine Shield nos aseguramos que siga viva tras su primer golpe recibido. Podemos usar esta habilidad para alargar la vida de la carta.
Let's see some of the combats in which I have used the card. All of them have been together with the summoner Delwyn Dragonscale to boost his magic attack.
Veamos varios de los combates en los que he usado la carta. Todos ellos han sido junto al invocador Delwyn Dragonscale para potenciar así su ataque mágico.
Image
Splinter
Conditions
Dragon/Life
vs.
Water
Mana: 26
Explosive Weapondry
Dragon/Life
vs.
Water
Mana: 25
Weak Magic
Dragon/Life
vs.
Earth
Mana: 28
Standard
Dragon/Life
vs.
Life
Mana: 38
Super Snike - Explosive Weapondry

End Notes
Playing with new card combinations is a challenge in Splinterlands. Getting out of the established and experimenting with new cards is what makes Splinterlands a game different from the rest. There are hundreds of cards that we can use and improve the way we play.
Jugar con nuevas combinaciones de cartas es un reto en Splinterlands. Salirse de los establecido y experimentar con nuevas cartas es lo que hace que Splinterlands sea un juego distinto al resto. Existen centenares de cartas que podemos usar y mejorar nuestra forma de jugar.
Personally, I see daily how players use Splinter Vida with ranged attack cards along with General Sloan without imagining how powerful it can be with magic attack creatures and Delwyn Dragonscale.
Personalmente, veo a diario como jugadores usan el Splinter Vida con cartas de ataque a distancia junto con General Sloan sin imaginar lo poderoso que puede llegar a ser con criaturas de ataque mágico y Delwyn Dragonscale.
A good example is the Divine Sorceress, a low mana cost card that if we can boost its attack either by leveling it up or with the summoner it can be really powerful thanks to its Divine Shield ability.
Un buen ejemplo es la carta que de la que os he hablado Divine Sorceress, de bajo coste de maná y que si conseguimos potenciar su ataque ya sea subiéndola de nivel o con el invocador puede ser realmente muy poderosa gracias a su habilidad Divine Shield.


---
---