JEANLUCSR WEEKLY 002: Priorities
Introduction
Yes, this weekly update is a little late, but it is due to priorities. However, I have committed to weekly updates, so welcome back to the JEANLUCSR WEEKLY.
Making my book a priority
One of the biggest changes to my schedule is making sure that I write daily. The rough draft should be done by the end of August, with the goal to write between 25.000 and 30.000 words for the first draft. Currently, I'm at 12.500 words, with an average rate of 500-1250 words per day, depending if I write 1 or 2 hours. Writing daily has become important because missing the deadline will push back the launch to 2023 and personally, that isn't really an option at the moment.
The biggest sacrifice came this Monday, when I decide to write for my book instead of writing this weekly update. For me, that was the only way not to break my streak. And yes, it worked. While the word count wasn't that great, it is starting to become more of a routine to write. It does also help that the Self Publishing School offers multiple writing rooms where I can join other writers writing at the same time, helping a lot with accountability.
Business as usual
While we are currently in full swing with the preparations towards the Social Media Conference Suriname 2022, there are a lot of now clients coming in, putting a little bit of pressure on the our operations at INEFFABLE. At the same time, it is allowing us to grow as we are slowly moving away from a start up to a more established business.
The maturity of the business does help a lot. It allows the team to structure their work better and deliver better quality to our clients as well. While more expensive, it offers us the opportunity to serve companies we weren't able to serve 4-5 years ago.
Connecting Sports to Hive
Every Tuesday, I run a sport show with two co-hosts called the 'Loeki Di Show'. The show is in Dutch, mainly focusing on the locals and the Surinamese diaspora interested in developments in the Surinamese sport scene and occasionally a little bit on the larger international sports competitions as well. That's why I was excited that the Hive Fantasy Premier League is back. @hivefpl is a mini league for those on Hive that are avid Premier League followers.
To make it easier to follow, my fantasy league this year is directly connected to the Loeki Di Show, meaning that our viewers get to decide who I trade and/or put in my weekly line up. This makes it easier to commit, as the show runs weekly, less than 24 hours before the weekly line ups lock.
Another sports related announcement is that @splinterlands and the MLSPA are joining forces to create the Genesis League Soccer! This is just awesome news and a great way for me to be more involved with the MLS.
I went to visit my first MLS game earlier this year supporting LA Galaxy, where Surinamese international Kelvin Leerdam plays. Leerdam was one of the first professional players to join our national squad when they started allowing a sport passport, making players with Surinamese heritage play for our country.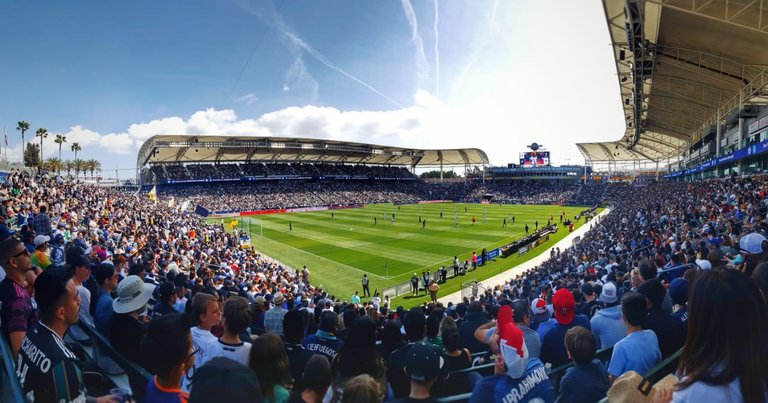 The seats we had for our LA Galaxy Match earlier this year has a pretty good view of the stadium.
I often joke around the LA FC is the club for real football lovers and LA Galaxy is the commercial club, but I have to say from an experience perspective, the stadium was really built around having a great time for both fans, families and tourists. Recently they also added Riqui Puig to their squad from Barcelona, hoping to secure their playoff seat.
So yes, having Splinterlands connect Hive and the MLS is nothing short of awesome :).
---
---