Splinterlands Season Review: How to feel at home in the Silver League as a beginner
This past season was a rough season. I didn't even get a chance to stream some @splinterlands gameplay on Twitch, and only played one solid day to get up in the ranks. In all fairness, I did quite well. I started the day around 15k and got all the way up to around the top 250 of the Silver League.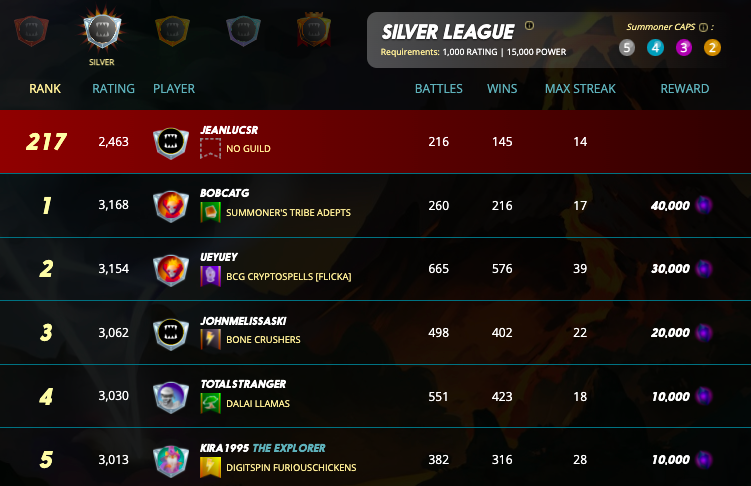 For me, it was quite impressive for someone that doesn't own a single legendary card, a single summoner or a single gold foil card and has a collection worth around a $100. I decided to go a little all out the last 2 days and rented because everything I needed to at least have a shot in Silver. The biggest issue with playing in the Silver league is the Summoner levels. All of a sudden there are other things you have to deal with. Like a level 3 or 4 Flesh Golum that heals, are just too much firepower and also tactics that you've never seen before. In reality, getting into the top 100 in the Silver league was kinda out of reach. In Bronze league, the worst thing you can face is the Llama / Kron the undying combo. Silver is different. Kron is very much dying in most battles ...XD...
Still it was a lot of fun, I spend about $10 a day on rentals, just to be strong enough and diverse enough to not get smothered in Silver. The best part, I was able to win many battles with a level 1 summoner against players that had up to level 4 cards. Some awesome card combo's I'd recommend:
Yodin / Fire demon. Yodin of course does not come cheap, you'd be spending at least $1 on average. But, this card is a killer. You just pile up ranged attackers with Lava Launcher as a tank (in high mana battles) and it's just chaos. But in lower mana battles, the Fire Demon is awesome. Even at level 1, it has great health (3) for 4 mana card.
Ruler of the Sea / Venari Wavesmith. My favorite combo. The Wavesmith has been a gamechanger for water teams, especially when you know you'll be playing someone that prefers to play with fire. Combined with Ruler of the Sea's blast, you can really surprise a lot of opponents.
Minosa Nightshade / Acient Lich. My go-to combo against ranged teams and teams that rely on healing of their cards (except for the bloody llama).
Hope this helps some newer players who don't have a huge bankroll or have been playing for years.
As for my season rewards.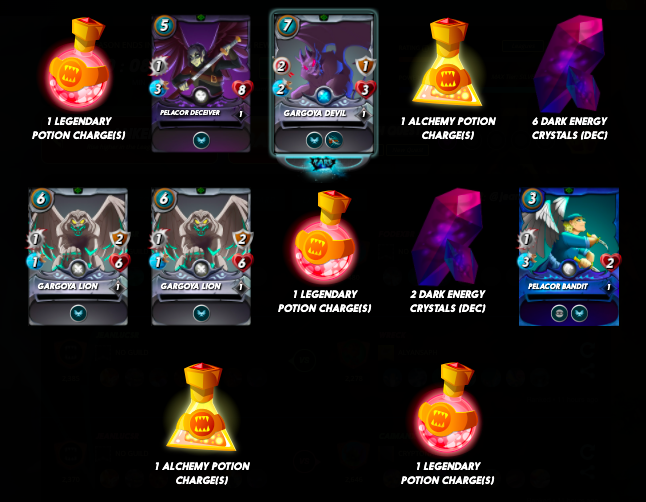 Not great, but not bad either. Hope to get a little lucky this season and pull an epic card.
Wishing you all the best this new season.
My the best team win!
---
---