Splinterlands Weekly Challenge Battle! FLYING SQUID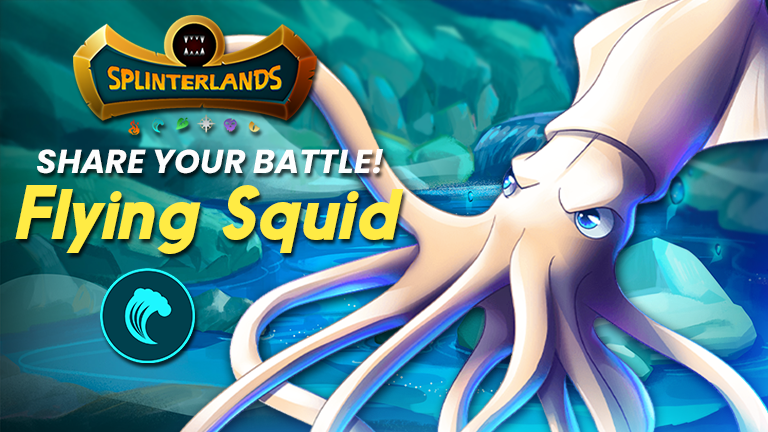 Every week there is a Splinterlands challenge to share a battle using a specific card and on this week's post it is the Flying Squid card. I also encourage Splinterlands players to partake in the challenge because you get to try different strategies and earn some crypto in the process.
Featured Monster: Flying Squid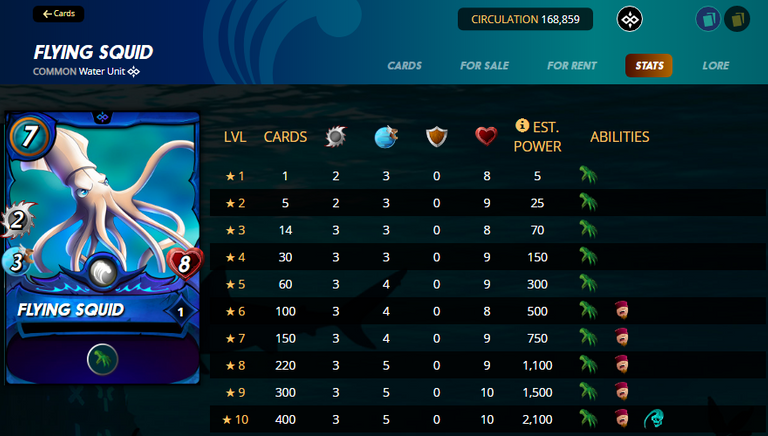 Flying Squid is a water splinter card that costs 7 mana. It starts with reach, learns blind at level 6, and learns backfire at level 10. It has decent stats and functions well as a backup tank plus damage dealer.
I do use this card from time to time and it's one of the cards that I am considering buying a gold foil card (for 3 attack at level 3). Sometimes I just opt for Wave Runner because I have a level 3 version and for the bonus reward points. This is why I think having a gold foil version of this card would make me consider using it more often.
Rule set, Battle and Plan

The ruleset this time is up close and personal. This means that only melee monsters can be used in this fight. There is 52 mana available and you can choose between water, earth, and life splinters.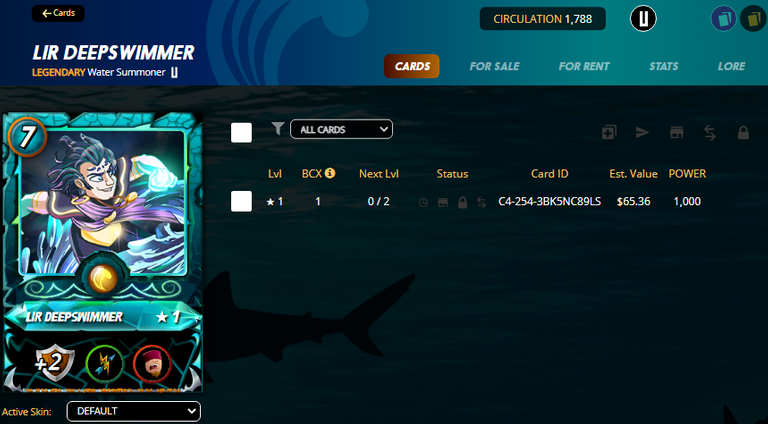 The summoner I choose to use this time is Lir Deepswimmer. This summoner gives +2 shield, return fire, and blind ability. However, return fire is useless in this match. The +2 shield and blind are useful though against the melee monsters.
| Splinter | Mana Cost | Position | Reason |
| --- | --- | --- | --- |
| Lir Deepswimmer | 7 | Summoner | +2 shield and blind |
| Chain Golem | 8 | 1st | Tank with shield |
| Flying Squid | 7 | 2nd | Reach and backup tank |
| Disintegrator | 7 | 3rd | -1 melee attack |
| Sand Worm | 9 | 4th | Sneak monster |
| Deeplurker | 6 | 5th | Opportunity monster |
| Demented Shark | 6 | 6th | +1 melee attack |
| Total Mana: | 50 | | |
My plan is just to have Chain Golem be my primary tank and leave most of the damage to Sandworm and Deeplurker. Disintegrator and Demented Shark are there to buff and debuff the opponent. Flying Squid will be my backup tank.
Round 1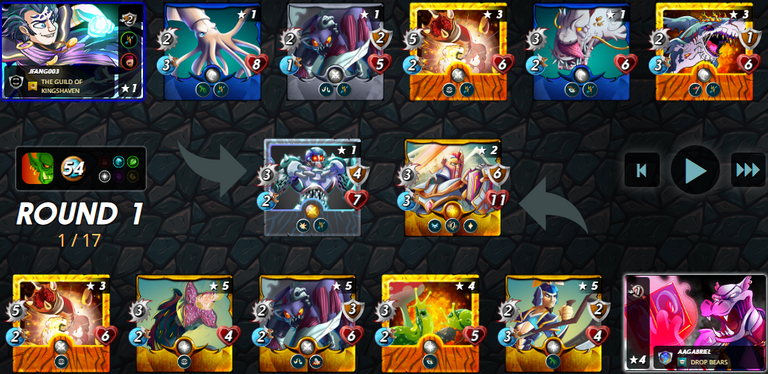 At the first glance of my opponent's lineup, I believe that I am the winner. My opponent has a lot of damage, but I believe the extra 2 armor will give me the edge. There is also going to be blind against my opponent. My Chain Golem should be fine up front and it won't be in danger for a few rounds.
Round 2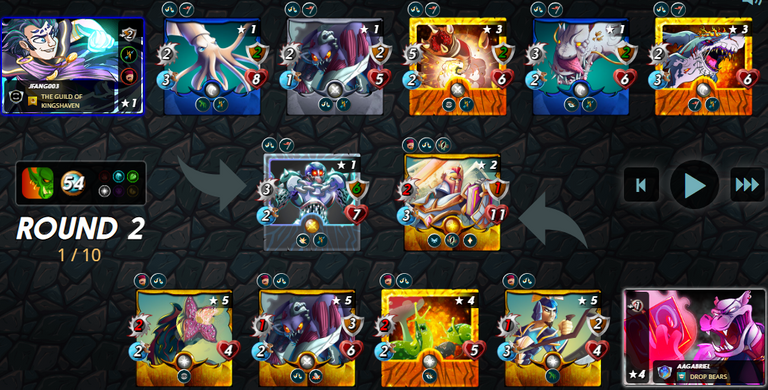 I took out my opponent's Sand Worm and I saw my opponent miss a lot of his attack due to the blind effect.
Round 3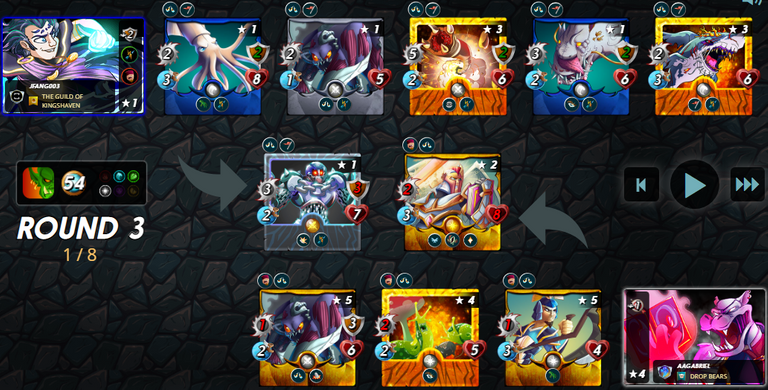 I have lost some shields but I did not lose any health yet and I have taken out both of my opponent's sneak monsters. Overall, I don't think it will be possible to lose this match unless I miss all my attacks. The front line is still at a stand still due to his self-heal.
Round 5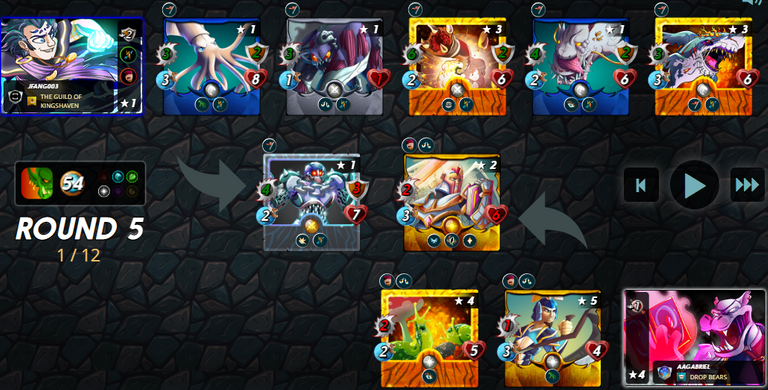 I decided to skip ahead to round 5 where things actually happen. My opponent's disintegrator is down and I will be doing more damage now. Based on how our lineup differs, I believe that it is only a matter of time until my win.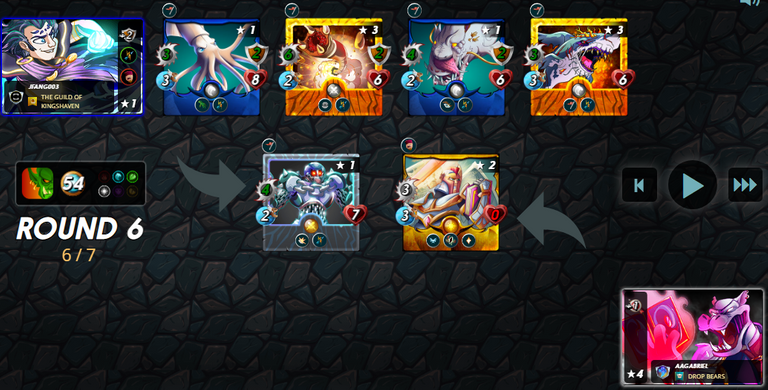 After a another round, I was able to finish of my opponent. I did lose my disintegrator but I was able to take out all of my opponent's monster by outside of his main tank.
Conclusion
The battle this time around went exactly as I expected. Chain Golem was doing a great job of keeping the front line alive while my Sand Worm and Deeplurker were killing off his backline. Flying Squid was just there to do more damage and it wasn't required as a backup tank. However, I do think it's better to be more prepared than less prepared. So, I won this match with a lot of space left over.
Lir Deepswimmer was a great summoner choice for this match. The +2 shield and blind ability definitely was a key factor in lowering the damage I take per round. It's not like my monster was that much faster than my opponent either. My opponent had a similar strategy as me but the extra armor helped me out. So it became an endurance match to see who can take out the other side's backline first.
You can see my entire match here.
What did you think of my match? Was there anything you would have done differently? I think it is quite interesting to see how different players use the same card.
---
---