Splinterlands Weekly Challenge Battle! GIANT ROC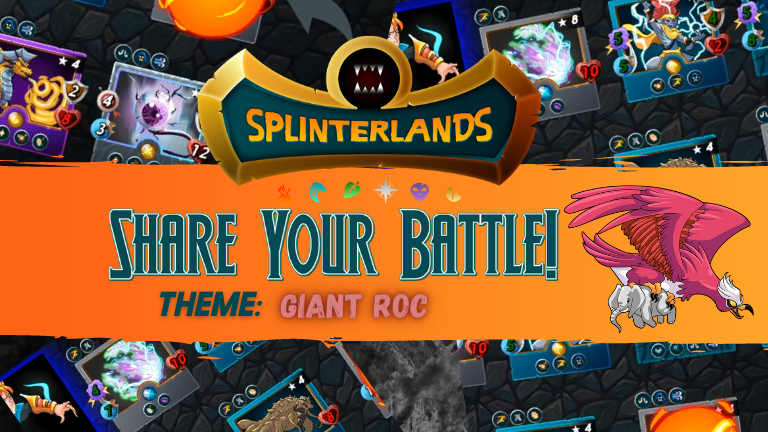 Every week there is a Splinterlands challenge to share a battle using a specific card and on this week's post it is the Giant Roc card. I also encourage Splinterlands players to partake in the challenge because you get to try different strategies and earn some crypto in the process.
Featured Monster: Giant Roc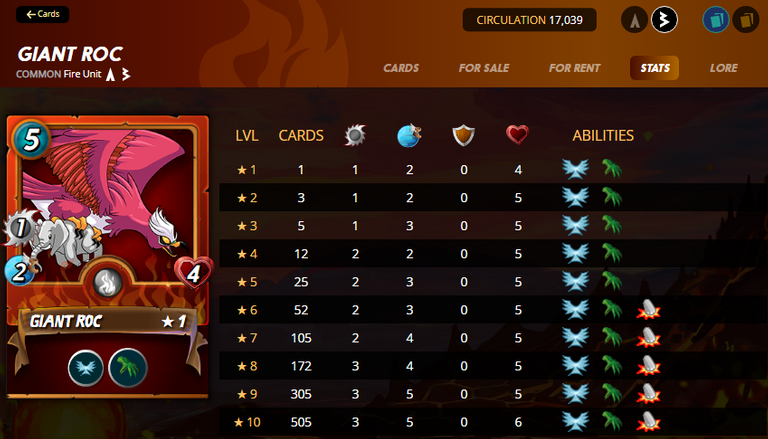 Giant Roc is a fire splinter card and it cost 5 mana to use. It starts off with the flying and the reach ability. At level 6, it learns the trample ability. The stats itself at level 1 does not really appeal to me. At my current league, having 1 attack doesn't help much but I do think the flying ability is nice to have and it would help in the earthquake rule set. Although both ability makes it a good choice as a secondary tank if my main tank dies.


I use to have access to this card before the starter pack changed and it doesn't cost that much as a common Beta card. So I decided to purchase a copy of it for myself as I do not know if I would ever run into the earthquake rule set using fire splinters. I used Monster Market for my purchase to get some cash back.
Rule set, Battle and Plan

The rule set this time is stampede and equalizer. So this means that all cards will start with the same health before buffs and they will also have the trample ability. I don't have any good cards with trample so I don't think I will be taking advantage of it and I rarely see my opponents use it either. So the main focus will be the equalizer rule set. We have 44 mana available and we can use any splinters except for dragon.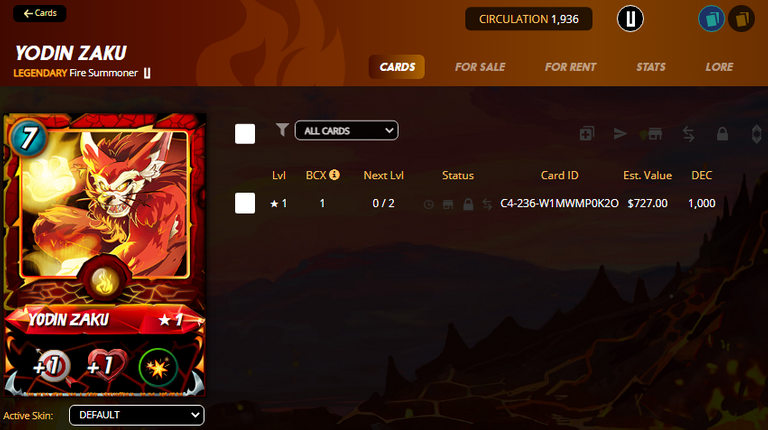 The summoner I choose to use this time is Yodin Zaku. With the equalizer rule set, I have a Lava Launcher with plenty of armor. The extra blast, +1 health and +1 ranged attack buff from the summoner will definitely help me slowly damage my opponent because every single card will have a decent amount of health to start. So from the view of trying to out last my opponent, this card is too good to pass up on.
My plan would be to have a physical tank and chain golem looks like a great choice as it also has 4 armor points and the shield ability. Then my 2nd monster would be the Giant Roc. It may not be an earthquake rule set but the ability makes it a good tank from the 2nd position. Then I will have my ranged monsters as damage dealers. I know I have spark pixie with the flying ability so I will put that in and I know Lava Launcher is a good choice as it has 6 armor points. So the remaining two monsters would snipe monsters to maximize my damage.
Round 1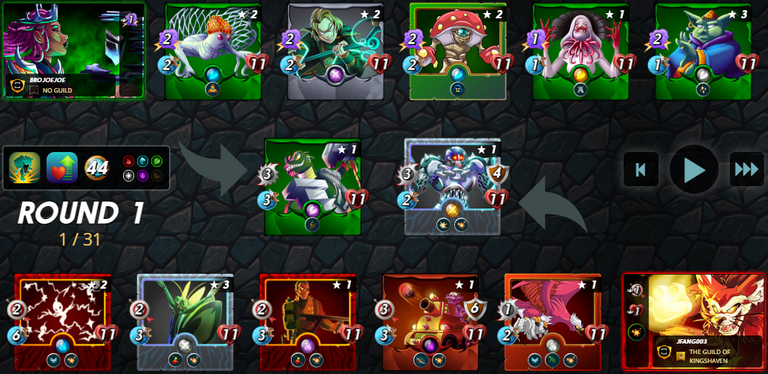 With my opponent using a magic line up, my choice of Chain Golem wasn't the best choice. However I still think I have a chance because the taunt ability will make my ranged monsters damage 3 cards at once. This fight will be a fight to see who can live longer.
Round 2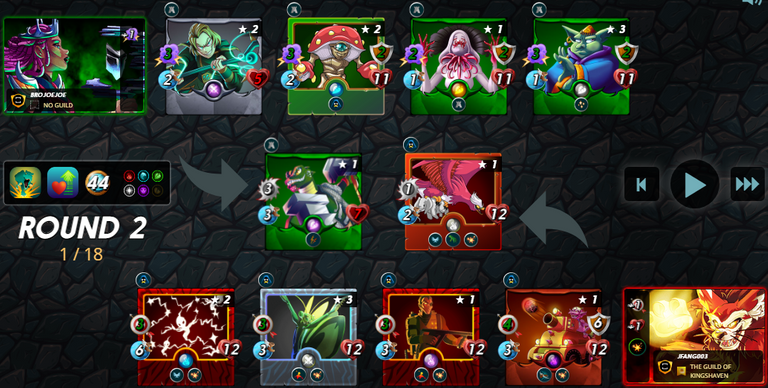 With my Chain Golem down after the first round, I am a bit worried because he also has a healer and the armored up ability on his cards. However I know that I did way more damage compared to my opponent so I still have a chance.
Round 3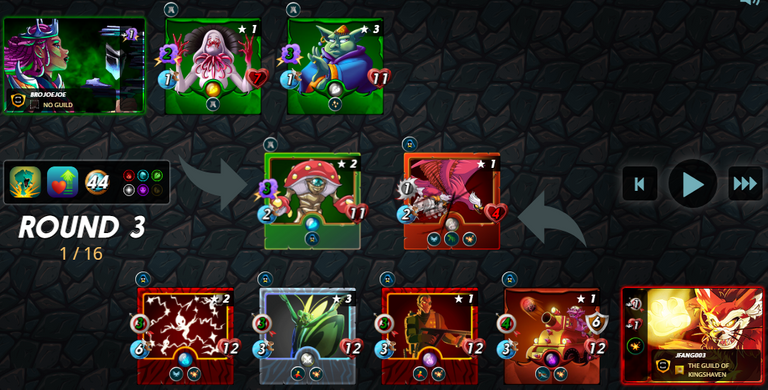 All of my remaining cards moved before my opponent had a turn so I was able to take out two monsters before they had a chance to attack. My Giant Roc is still tanking the hits and it is still alive. However I do think I have this fight won. My Lava Launcher also has close combat so I won't lose much damage output from losing the Giant Roc.
Round 4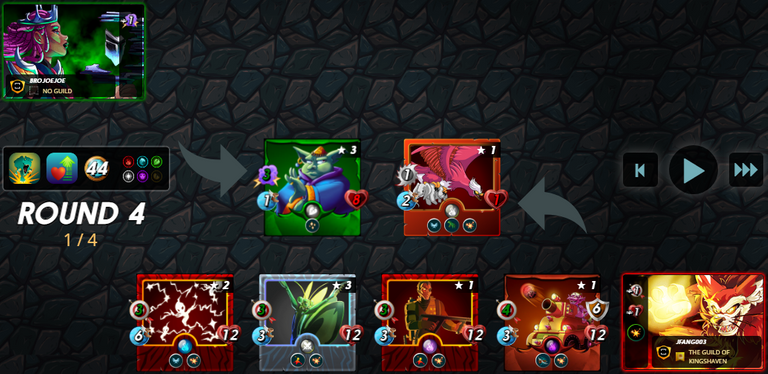 Once again, I was able to attack before my opponent and I dealt critical damage to my opponent's line up. With this, I don't think there is any chance of my opponent winning this match as his final monster has a speed of 1 so his chances of dodging will be low.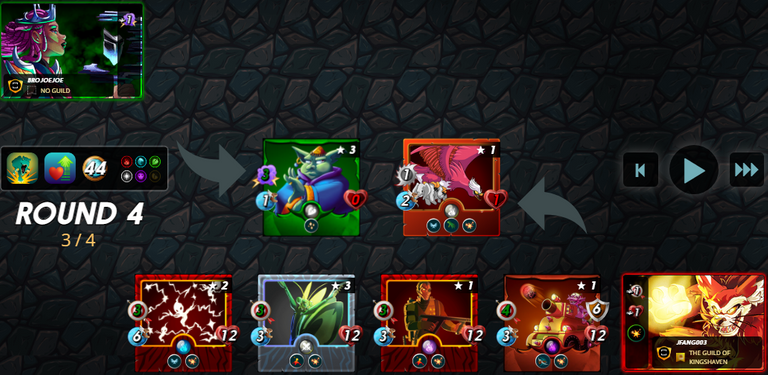 As I expected, I was able to finish off my opponent without any issues. All that speed and the blast ability really helped me in this match as I was able to deal some quick damage to my opponent's mage monsters.
Conclusion
The battle this time around also did not go as I expected. I was not expecting my opponent to bring a magic build to this battle so it made my tank less effective. However the rest of my line up was fine as they dealt damage quite fast. One big plus on my side was the fact that my monsters were faster than my opponent's cards. The Giant Roc did a great job as a secondary tank as he took all the hits but his abilities were wasted due to magic.
Yodin Zaku was quite a beast in this fight as it helped quite a bit to reduce my opponent's health. I was able to make use of all three of its buffs and four of my monsters were able to mix in the increased range attack together with the blast ability.
On my oppoent's side, I think he could of chosen some faster cards. My opponent's silent debuff went to waste because I did not use any magic monsters and the taunt ability only helped me. I think my opponent wanted his front line tank to live longer so he could deal 6 melee damage per round. However he was not expecting me to use Yodin Zaku and the blast ability.
You can see my entire match here.
What did you think of my match? Was there anything you would of done differently? I think it is quite interesting to see how different players use the same card.
---
---