Splinterlands Weekly Challenge Battle! PORTAL SPINNER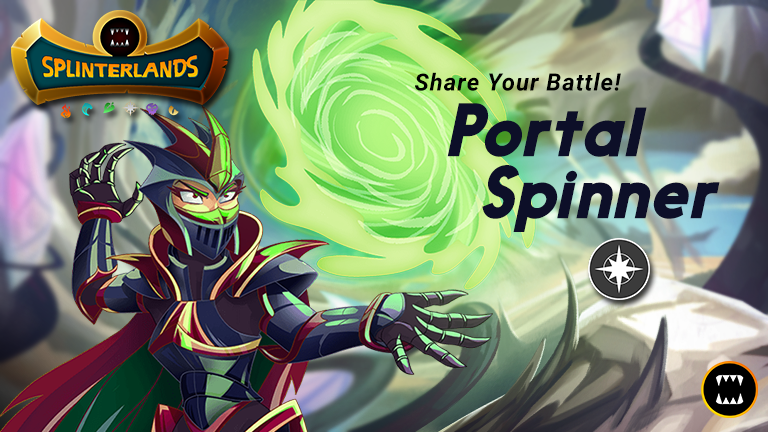 Every week there is a Splinterlands challenge to share a battle using a specific card and on this week's post it is the Portal Spinner card. I also encourage Splinterlands players to partake in the challenge because you get to try different strategies and earn some crypto in the process.
Featured Monster: Portal Spinner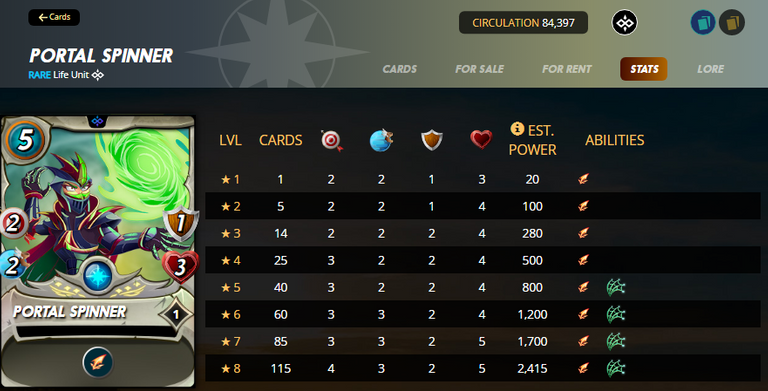 Portal Spinner is a light splinter card that costs 5 mana. It starts with the scattershot skill and learns the snare ability at level 5. The scattershot ability targets a random monster and the snare ability will remove the flying ability on the monster. Its stats are fine but it has relatively low health but it does have 1 armor. Overall, I think it's fairly weak for a 5 mana cost card.
I rarely use this card because I don't like the scattershot ability too much. It makes the entire fight more random and that can go against you quite easily. As I have other cards with better abilities with a 5 mana cost, there are just too many other alternatives that I could use.
Rule set, Battle and Plan

The ruleset this time is healed out and holy protection. This means that I can't heal and the first damage a card takes is negated. There is 22 mana available and I can use either life or death splinters.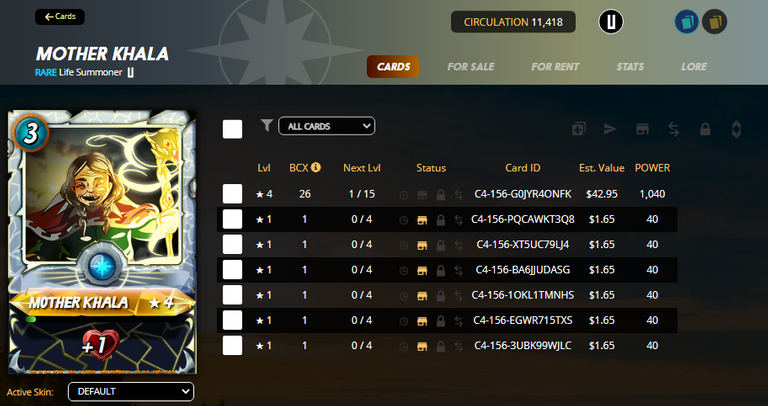 The summoner I choose to use this time is Mother Khala. Out of all my light summoners, this is the highest level. Without it, my cards will be weaker and some of them will be missing abilities.
Splinter
Mana Cost
Position
Reason
Mother Khala
3
Summoner
+1 health
Crystal Jaguar
4
1st
Thorns
Luminous Eagle
6
2nd
Reach and backup tank
Soul Fiend
0
3rd
Filler monster
Portal Spinner
5
4th
Damage dealer
Venari Crystalsmith
4
5th
Damage dealer
Total Mana:
22
My plan is just to have a lineup with a Crystal Jaguar for thorns followed by Luminous Eagle for the reach ability. Next up is a filler monster to take an extra hit or to soak up hits from an opportunity monster. My last two cards are damage dealers and I am using Venari Crystalsmith because of its stats even if it can't heal.
Round 1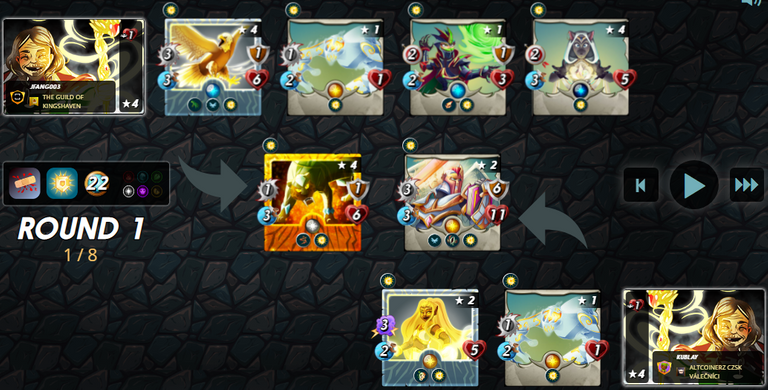 At the first glance of my opponent's lineup, I think I have a good chance of winning this match. Having a shield on my Crystal Jaguar and Luminous Eagle means that the charged attack won't hit my cards if I can kill off his tank fast enough. My opponent only has 1 attacker outside of this so I will fast forward until the match gets interesting.
Round 4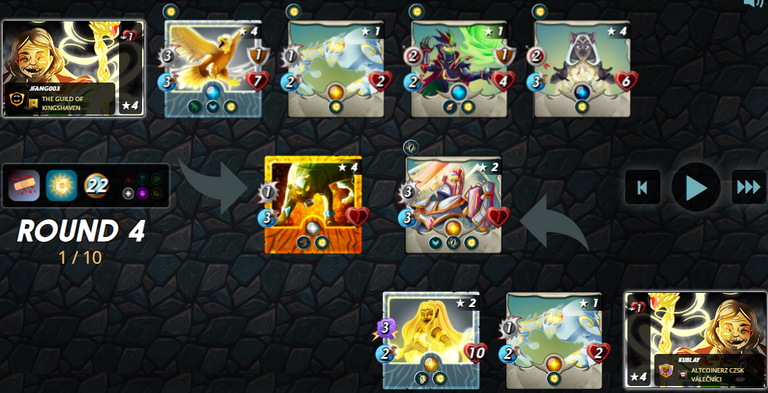 After a few rounds of back and forth, both of our tanks are at 1 health. My portal spinner has also taken out the holy protection for his last two monsters. The only danger is whether or not I can kill Bila in time with the rest of my monsters. However, I believe I should be fine as the rest of my monsters still have the holy protection.
Round 5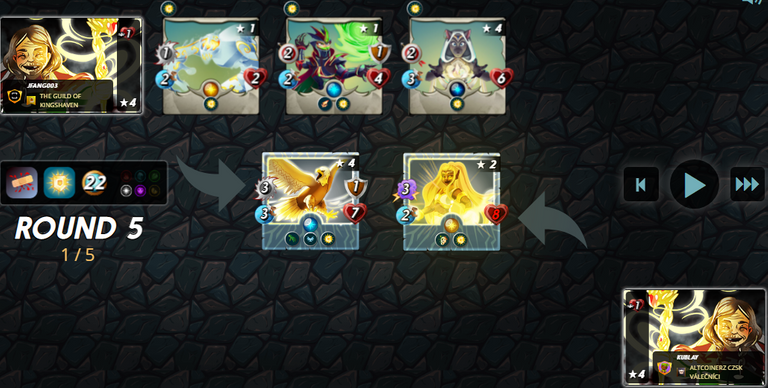 I forgot that Holy Protection stops the leech health ability so it gives me some more time to finish off my opponent. I don't think there is any danger in me losing because I have 7 damage available and I have 3 turns of this damage.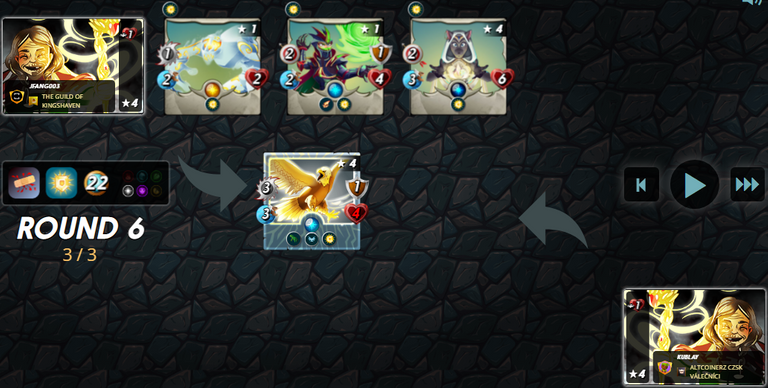 After another round of trading blows, I was able to finish off my opponent and he only hit me once more.
Conclusion
The battle this time around went exactly as I expected. The luck I received was random but it did take out the holy protection of the backline monsters. While it would have been nice to focus on the damage more, I am happy with what I got this match. It was nice to see that the 1 armor on my first two monsters gave me reassurance against the charged-up attacks. With that, I only had to deal with 1 damage dealer on my opponent's side. My damage dealers were able to freely attack from the back and take out my opponent's cards.
Mother Khala was a great summoner and the extra health made the difference between my first two monsters dying in 3 attacks instead of 2 attacks. As for my opponent, I do not know why he chooses to use all those high mana cards in this match with the holy protection rule set. I do think I would have been in more trouble if heal was not banned but I still think I would have won this match.
You can see my entire match here.
What did you think of my match? Was there anything you would have done differently? I think it is quite interesting to see how different players use the same card.
---
---