Splinterlands Battle Review: The Lucky Tank Healer
This is one of my battles in Bronze II, against what I assume is a bot (@hieucool7 say hi if you're human!)
The decks were both Life Splinters using Mother Khala. Main difference: my opponent used two tanks, where I went with a Tank Healer setup.
Both of us suffered ugly misses, so luck was certainly a factor. If every hit had landed I'm not sure how it would've turned out!
---
---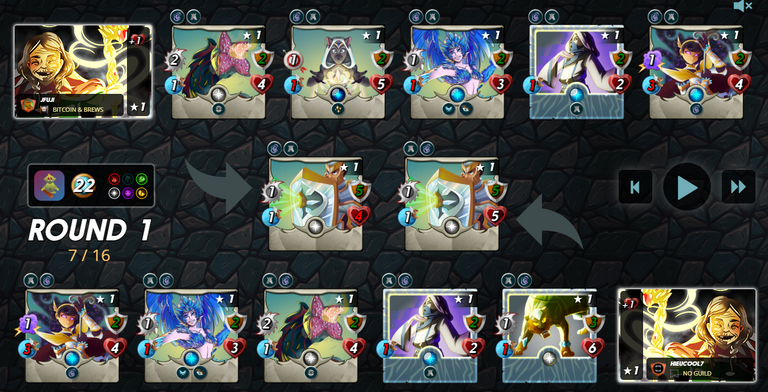 Battle rules
Mana cap: 22
Little league: Max card mana = 4
Splinters: Everything except Water
---
Card lineup (all level 1)
Strategy
The Life Splinter has some excellent low mana cards in the starter deck, making it a good choice for the Little League ruleset.
Both lineups use Truthspeakers to shield up the whole line, giving the deadly Time Mage extra padding so she can keep the other team slowed up for longer. The Stitch Leech is an excellent sneak card: healthy and hard hitting—the tradeoff is its 1 Speed.
🦅 The Harpy is also a great low cost card, with both Flying and Opportunity.
The main problem here is that all these cool combos kind of cancel out when pitted against themselves!
My opponent stacked two tanks upfront, whereas I slotted in a Venari Crystalsmith (not part of the starter deck) in position 3. All else equal, my hope is that I can outlast not one, but two tanks as the Leeches and Harpies pick at the non-tanks.
---
---
Battle Summary
Early game (rounds 1 to 4)
After three rounds, everyone's a little dinged up. 🤕
I've lost my Time Mage, and my opponent's first tank is down. My tank is still kicking, thanks to the Healer. And the Healer's looking healthy too!
Mid game (rounds 5 to 7)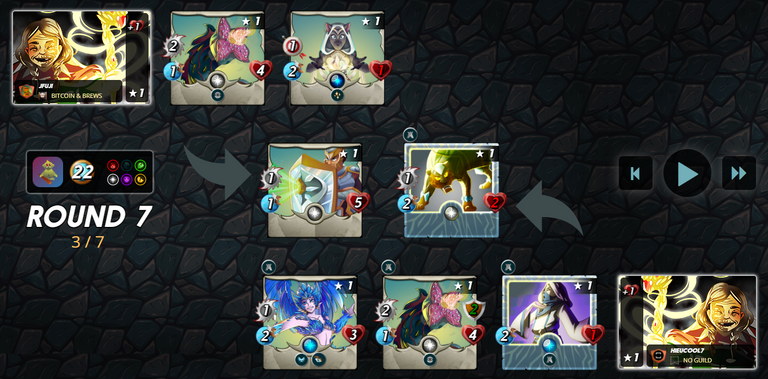 Things could go either way here. I had some huge misses with the slow Leech. I think it failed to hit my opponent's back line Harpy twice! I'm worried here because the combined HP and attack is just about even, and the enemy's Truthspeaker is still alive, giving shields to the deadly Leech.
My Healer has 1 HP 😭
End game (rounds 7 to end)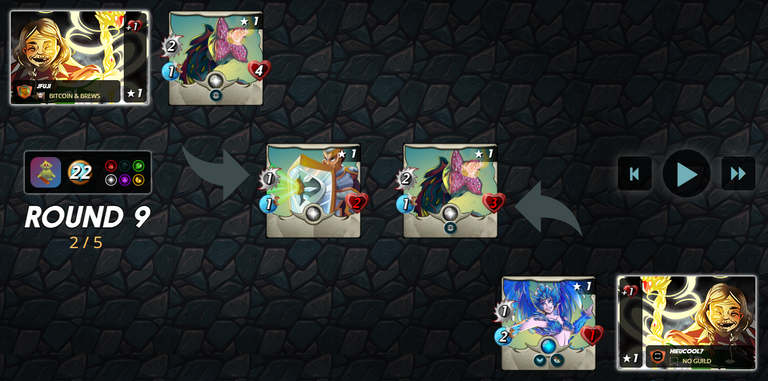 But the miss karma came around. My opponent missed my Healer twice in a row, buying precious time so I could break through the last tank.
🎉 In this endgame matchup, I have a clear HP advantage, and go on to win the game! 🎉
Post-mortem
I like both lineups for this ruleset and mana cap. I might even recommend them for regular match. The cards work well together.
The outcome of this battle seemed to come down to the misses, so I'm not sure if one or the other has a distinct advantage.
What do you think? How would you augment the lineup?
---
Thanks for reading and/or watching! Get in on the Splinterlands action here.
---
---