13th November 2021 - Last day to visit HiveFest 2021 on the AltspaceVR platform. Important links & Presentation Schedule in this post! #oneup @oneup #hivefest #hivefest6 #THGaming
HiveFest 6 - What is it?
---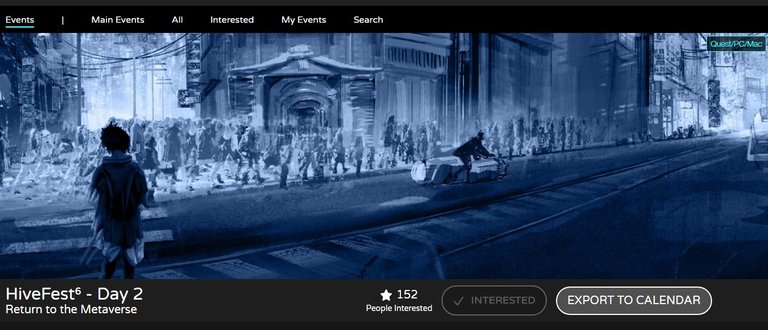 "HiveFest is the annual gathering for Hive users and its ecosystem. It is a reunion x conference x social event. Join this free event and learn about the diversity of the Hive community, what drives them and the many possibilities & recent developments within the Hive ecosystem."
@THGaming will be making an appearance at #HiveFest2021. Below you will find sign up links and information about this virtual reality #hivechain focused #festival
1 - Official Hivefest Webpage < HERE
2 - Official Hivefest AltVR channel < HERE
3 - Community Posts : All you need to know about #hivefest2021 by @roelandp < HERE
---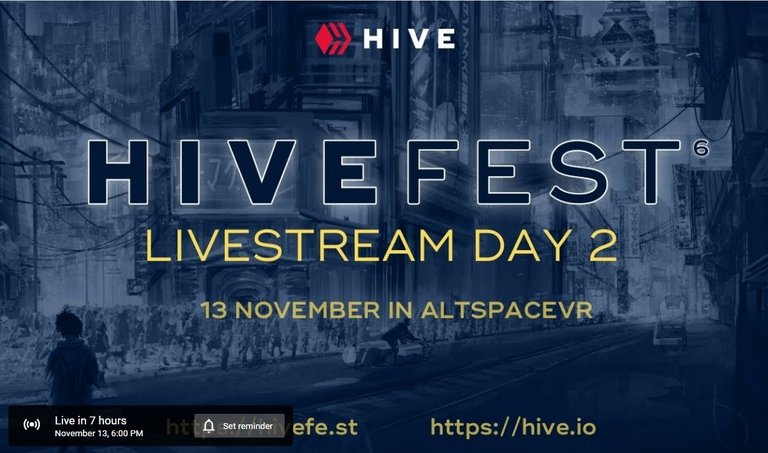 DAY 2 - SATURDAY 13 NOVEMBER
---
TIME PRESENTATION SPEAKER(S)
4:00 PM UTC opening @roelandp
4:01 PM UTC Core Dev Updates @howo, @blocktrades
4:45 PM UTC Vimm @ddrfr33k
5:00 PM UTC Hive Authentication Services @arcange
5:15 PM UTC Hive Keychain @stoodkev
5:30 PM UTC Hive Creators and whyHive @eddiespino
5:45 PM UTC Ecency @good-karma
6:00 PM UTC NFT Showroom @crimsonclad
PM UTC PRESENTATION SPEAKER(S)
6:15 PM UTC Value 4 Value, Podping @brianoflondon
6:30 PM UTC Valuable User Feedback @jarvie
6:45 PM UTC Dlux @disregardedfiat
7:00 PM UTC Dbuzz @jacuzzi
7:15 PM UTC Sports Talk Social Community @patrickulrich
7:30 PM UTC Skatehive/Stoken @howweroll
7:45 PM UTC Cryptobrewmaster @rollie1212
8:00 PM UTC Hive.Pizza @thebeardflex, @hivetrending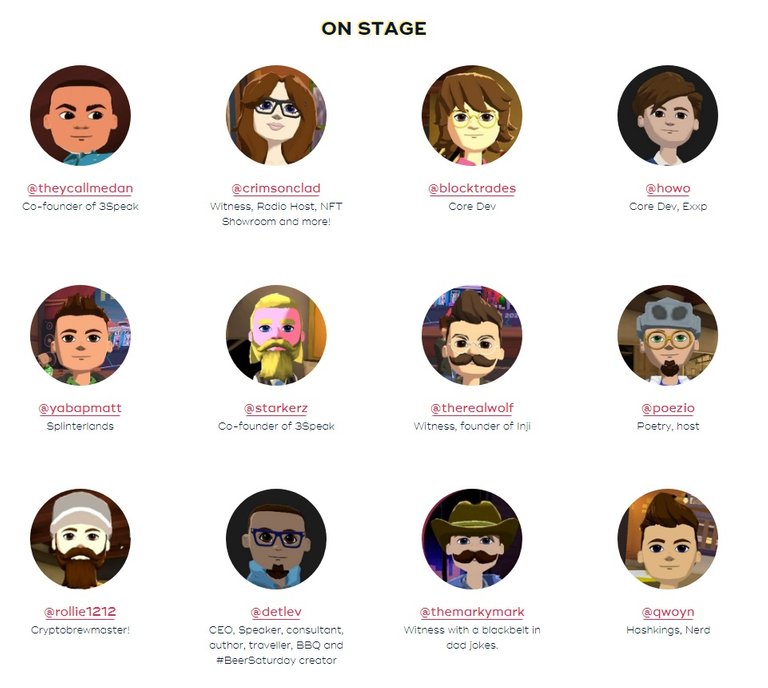 #hive #party #conference #blockchain #hivefest
According to AltspaceVR : Hive is an innovative and forward-looking decentralized blockchain and ecosystem, designed to scale with widespread adoption of the currency and platforms in mind. By combining the lightning-fast processing times and fee-less transactions, Hive is positioned to become one of the leading Web3 blockchains used by people around the world. The Hive blockchain has been battle tested for the past 6 years and is under active development by a passionate community.
---
ALTSPACEVR
#HiveFest goes virtual reality once again. These times still prevent us from getting together in real life. Plus last year saw record numbers in attendance levels! Lets get together from all over the world into 1 virtual world space: #HiveFest6 in @AltspaceVR.
AltspaceVR is not limitted to VR headsets. Apps for both Windows and Mac are also available to join this year's HiveFest on desktop too. Keen to sign up? Click the link below:
---
HIVEFEST BADGE REGISTRATION CLOSED BUT...
...you can still join the festival you just won't get a 'Conference Badge'. There are many prizes available as well as informative virtual conferences from some of the biggest names on the Hivechain. If you are unable to sign up to #AltspaceVR for whatever reason you may still watch Hivefest 6 via the YOUTUBE Livestream (link below):
---
---
Trade wisely, game hard & enjoy the endless possibilities that exist within the #hivechain
I hope to see you at #hivefest6 or else I'm sure we will cross paths somewhere in the #metaverse
THE END
---
---
---
All votes on this post will be converted into $HP + #HiveEngine Tokens and will be kept within one of the many #hivechain exchanges 🚀
Official Social Media Links :
---
---