Bootylickers are back in Guild Brawl with our new members
---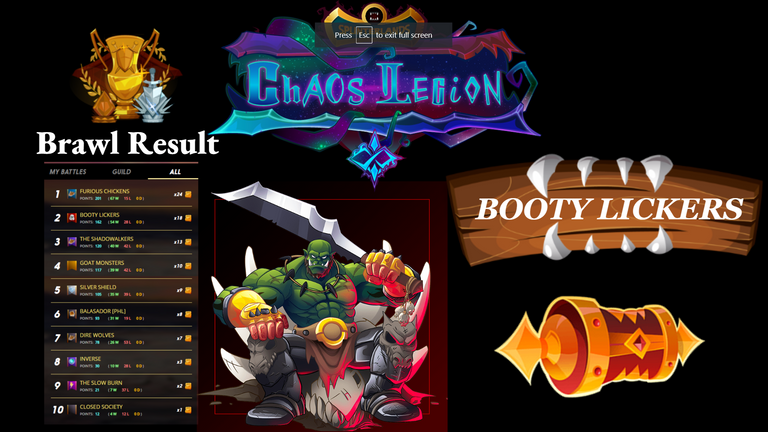 Hey Guys, its time to give the results of our latest guild brawl this May 5. There are a lot of new members in our guild. If you want to check my previous post about why you need to join guild brawls, check this link. You can also check my post about our guild requirement in this link

GUILD RANKINGS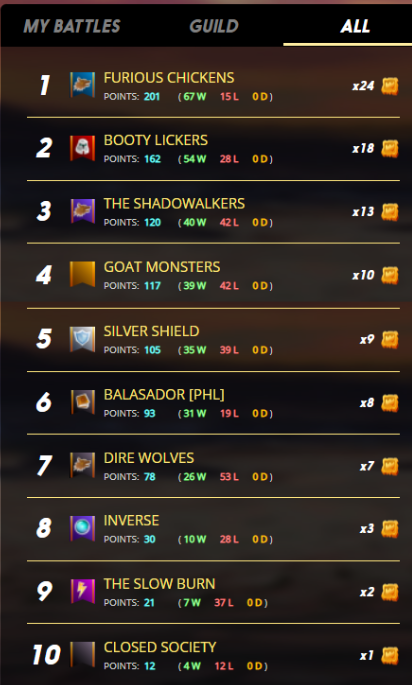 We ranked 2nd this time with each of participating members receiving 18 Crowns and 969 Merits. We were able to outranked top guilds like THE SHADOWALKERS, GOAT MONSTERS and the SILVER SHIELD. FURIOUS CHICKENS had a great performance with 67W and 15L.

TOP BRAWLERS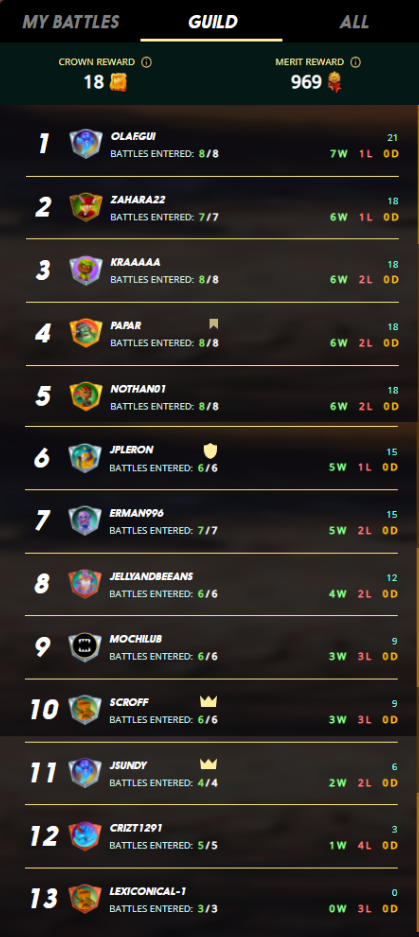 As always, brawl is always a team effort. The performance of each one of us affects the result of the guild scores.
Each of us received 969 Merits and our guild received 18 Crowns
We also have new members who showed great performance in this latest brawl match: @kraaaaa @mochilub @crizt1291.







Booty Lickers Brawl Rewards:
Aside from the merits we get in brawl rewards, our guild leader also gives DEC rewards to the member who gets the most win per Tier.
Tier1: Fray1 - Fray4 = 25 DEC
Tier2: Fray5 - Fray7 = 50 DEC
Tier3: Fray8 - Fray10 = 100 DEC
Tier4: Fray11 - Fray13 = 150 DEC
And these rewards are multiplied based on the guild performance (1st place is x4, 2nd place is x3, 3rd place is x2).
Aside from that, members who are undefeated in they frays gets DEC rewards as well.
For members who are undefeated and the Tier champ will get the same reward on thier tier. While members who are undefeated but are not the tier champ gets half of the reward on their tier.
And here are the results of the latest brawl (May 05, 2022):
Guild - 2nd place - 18 crowns | 969 merits
Tier1: @olaf.gui 7 wins | 25 x 3 (2nd) = 75 DEC
Tier2: @Zahara22 @Krazorcen 6 wins | 50 x 3 (2nd) = 150 DEC
Tier3: @papar 6 wins | 100 x 3 (2nd) = 300 DEC
Tier4: @Scroff 3 wins | 150 x 3 (2nd) = 450 DEC
Does your guild gives you that kind of motivation to perform your best in every brawl? If you haven't found join a guild, I suggest to comment your ign below so we can check your profile just in case we have slots open. You can check our guild here --> https://splinterlands.com/?p=guild&id=9c3a022a0e389f7b4c123323f3608284aa124d99&tab=about

Post Match Analysis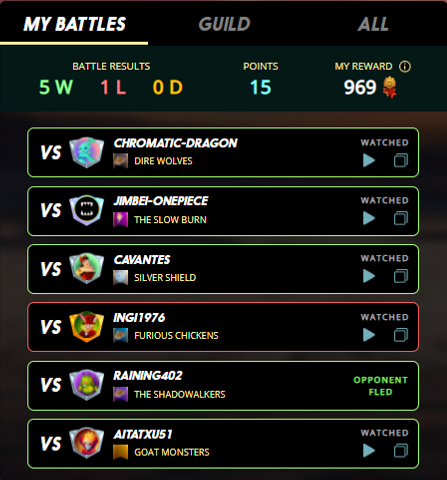 I have been building my team for Chaos Legion Silver league in a while. I haven't completed it yet with most Epics and Legendary cards still missing. Hopefully I will be able to complete it without renting anymore. So in this brawl, I was assigned at Fray10 with only Chaos Legion Silver League cap.
I spent around 100 DECs in rentals. This is less compared with the previous expenses I got from renting cards for brawl. I also have some delegations from @scroff which really helps.
I managed to get 4 victories, 1 defeat and 1 Opponent fled.
---
https://splinterlands.com?p=battle&id=sm_CM5ANC9HE2r6o7W6b42A&ref=jpleron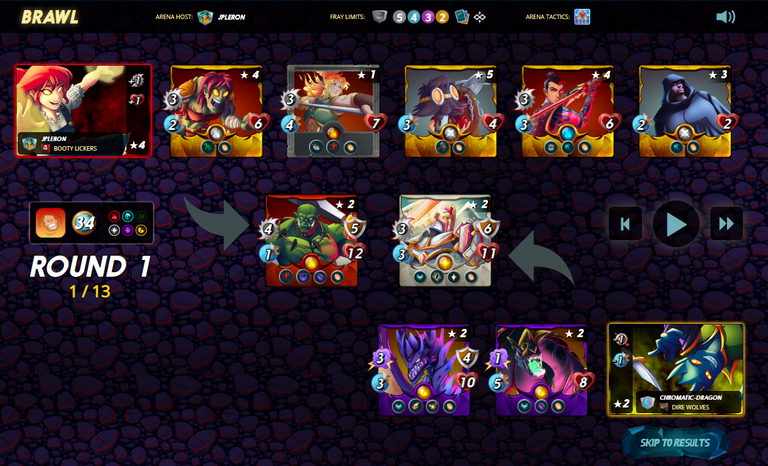 | Battle Condition | Description |
| --- | --- |
| Rule #1 | Spreading Fury: All Monsters have the Enrage ability. |
| Mana Cap | 34 |
| Allowed Splinter | Fire, Life, Water, Death and Dragon |
In this match, Spreading Fury provides all monsters with Enrage ability. Enrage ability increases Monster's Speed and Melee damage when it receives an attack. With this, it is better to use Melee attacking monsters to fully utilized this Enrage ability.
| | Tarsa provides additional Melee damage and Health to each friendly monsters. Since I am deploying an all-melee cards, the stats will benefit all monsters. |
| --- | --- |
| | Grum Flameblade has high armor and high HP. This is a good tank against Magic monsters as it has both Void and Void Armor ability. It also has the Bloodlust ability which increases its stats whenever it deals a killing blow. |
| | Radiated Brute is a melee monster with Reach ability that allows it to attack even in the 2nd position. It has high HP and high melee damage as well. |
| | Fina Voxom was our Gladius cards for this match. It is a melee monster with Opportunity ability that allows it to attack in any position and targets the enemy monster with the lowest HP. Monsters with Opportunity are considered the finisher and is the highest priority in every line-up. With the help of Opportunity ability, the effect of Bloodlust can easily be triggered. |
| | Scavo Hireling has the Armor Repair ability which is very helpful to support our main tank, Grum Flameblade. |
| | Tenyii Striker has the Sneak ability which allows him to attack backline monsters. It has a high damage and HP, as well as the Dodge ability when it reaches level 4. |
| | Chaos Agent is a neutral monster with no attack. It has the Dodge ability which helps to evade attacks from melee or range. Chaos Agent can be used as a decoy. I place it on the last position so it can take damage from Sneak, and Opportunity ability since it has the lowest HP from all of my monsters. |
---
https://splinterlands.com?p=battle&id=sm_9CZFjKNYHpORQ9LVqmGq&ref=jpleron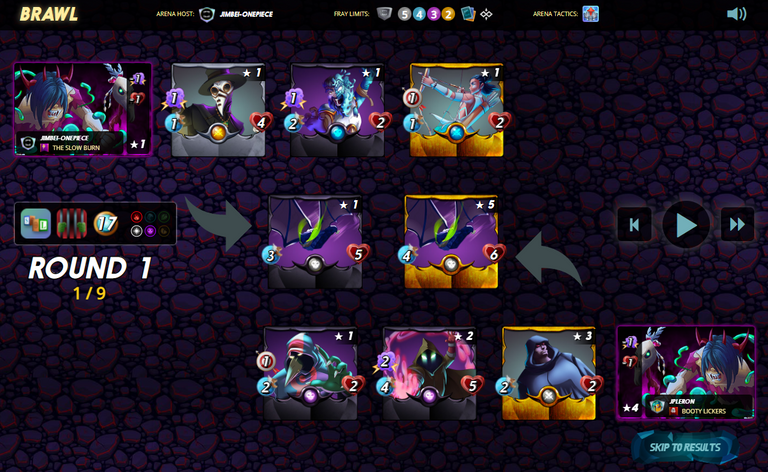 | Battle Condition | Description |
| --- | --- |
| Rule #1 | Back to Basics - Monsters lose all abilities |
| Rule #2 | Keep Your Distance: Monsters with Melee attack may not be used in battles. |
| Mana Cap | 17 |
| Allowed Splinter | Fire, Life, and Death |
With the Back to Basics and Keep Your Distance ruleset, the probability of using a Magic line-up is very high. Ranged monsters can only attack from the backline so once it reaches the first position, it cannot attack anymore.
Given this prediction, I opted to use Thaddius Brood to go for the defensive strategy. I deployed a pseudo-tanks, Riftwing and Chaos Agent, to absorb the damage from enemy attacks while Magi Necrosi and Weirding Warrior attacks from the baclkline.
We have almost the same strategy and only differs with the backline attackes. I managed to win this round because of speed, although it was a tight match.
| | Thaddius Brood reduces the magic damage and health of all opponent monsters. It is good for countering magic line-up and the minus 1 health is very crucial. |
| --- | --- |
| | Riftwing has a high Speed and high HP. It is a no-attack monster in which we can used as a pseudo-tanks as well. Its high HP is enough to absorb some damage from enemy attacks |
| | Chaos Agent is also a no-attack monster with 2 HP which is good for absorbing few attacks from opponent. |
| | Magi Necrosi has 2 magic damage, 6 Speed and 5 HP. Although its damage was reduce to 1 before of our enemy's Summoner, it is still a good choice since. |
| | Weirding Warrior is a 2 mana monster with ranged attack. |
---
https://splinterlands.com?p=battle&id=sm_hAMG8q9C7qUuOrxjqXjn&ref=jpleron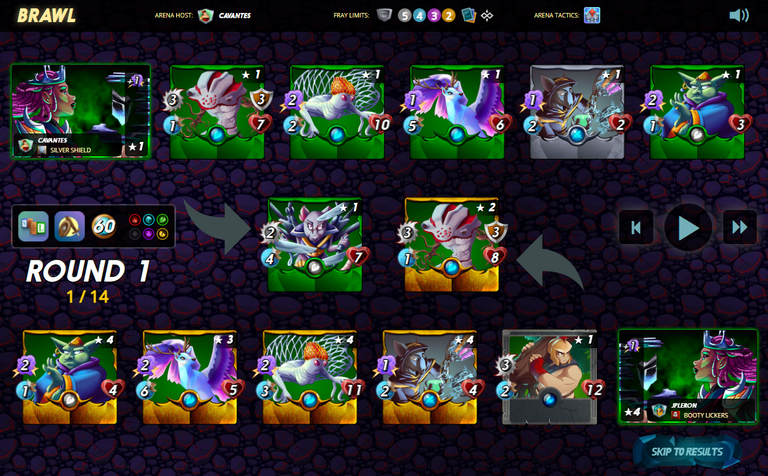 | Battle Condition | Description |
| --- | --- |
| Rule #1 | Back to Basics - Monsters lose all abilities |
| Rule #2 | Rise of the Commons: Only Common and Rare Monsters may be used in battles |
| Mana Cap | 60 |
| Allowed Splinter | Fire, Earth, Water, Death, and Dragon |
With the Back to Basics, I opted to used Magic monsters paired with Obsidian as the Summoner to increased their damage. Dragon splinter was open with a lot of high mana monsters, but I thought that going for a strong magic line-up will be better.
We almost have the same line-up except for only 1 monster, I had Palidon Rakk with 12 HP while the enemy has Venari Knifer with 7 HP. I also have higher leveled monsters which helps in this situation.
| | Obsidian provides additional magic damage to friendly monsters. |
| --- | --- |
| | Mycelic Infantry has high melee damage and high HP as well which will be effective in absorbing a lot of damage from enemy monsters. |
| | Palidon Rakk also has high melee damage and high HP. This is the only monster in which is different from our enemy line-up. |
| | Venari Spellsmith is a magic monster from Neutral splinter. With the Rise of the Commons, we had limited monsters to choose from so I think its one of the good fit to our strategy. |
| | Mycelic Slipspawn is a magic monster with 2 magic damage and a high HP as well. |
| | Regal Peryton is a Flying monster with 2 magic attack. It has high speed and a decent HP as well. |
| | Goblin Psychic is a magic monster with 2 magic damage as well. |
---
https://splinterlands.com?p=battle&id=sm_Or3HB4YoXg2Y19wjcQ6p&ref=jpleron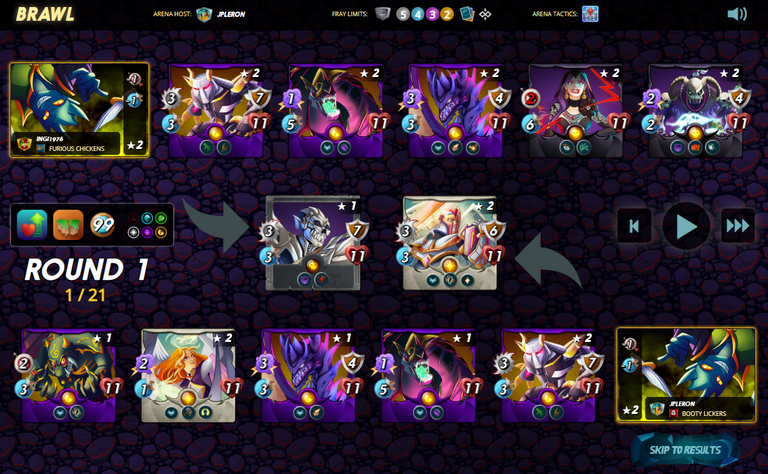 | Battle Condition | Description |
| --- | --- |
| Rule #1 | Equalizer: The initial Health of all Monsters is equal to that of the Monster on either team with the highest base Health. |
| Rule #2 | Earthquake: Non-flying Monsters take 2 Melee damage at the end of each round. |
| Mana Cap | 99 |
| Allowed Splinter | Water, Earth, Death, Life, and Death |
With the 99 mana cap battle and Earthquake ruleset, I opted to used Dragon and Life combination since it has a lot of monsters with Flying ability. I also deployed monsters with high armor like Carnage Titan since Earthquake damages the armor first before the heatlh.
I have five monsters with Flying abilities to counter the Earthquake ruleset:
Uriel the Purifier
Void Dragon
Chaos Dragon
Adelade Brightwing
Zyvax Vuul
On the otherhand, my enemy uses the Dragon and Death combination which utilizes Lira the Dark's Snare ability to remove the Flying abilities of my monsters. Although the enemy has less monster with Flying ability, he was able to counter our strategy with Snare to remove our Flying ability and also with the use of Giant Killer to deal double damage against monsters with 10 or more mana.
I may have won that match if only my Chaos Dragon is at level 2. The Blast ability had a huge factor in this match.
---
https://splinterlands.com?p=battle&id=sm_E408xXh4h9wPUP8Qk3jG&ref=jpleron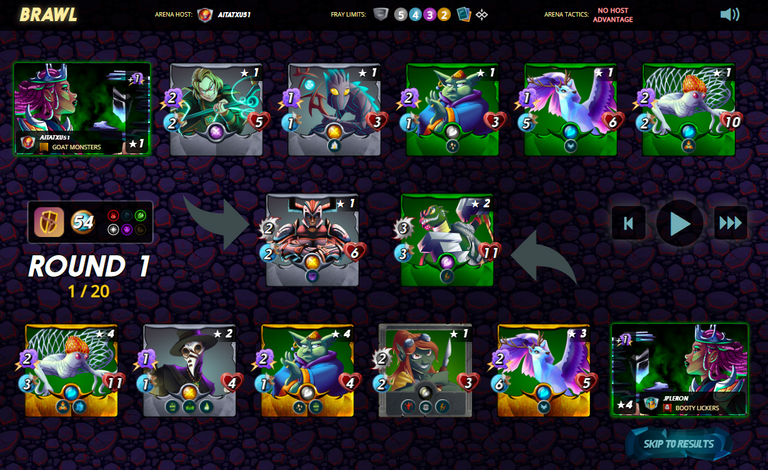 | Battle Condition | Description |
| --- | --- |
| Rule #1 | Unprotected: Monsters do not have any armor and do not get armor from Abilities or Summoner Buffs. |
| Mana Cap | 54 |
| Allowed Splinter | Fire, Earth, Death, and Life |
With the Unprotected ruleset, I opted to still go with Obsidian from Earth splinter. Aside from the heavy mage line-up the Earth Splinter have, I also utilized the Double Strike ability from Grund and Katrelba Gobson. Without the Armors, melee damage will directly hit the monster's health.
Our opponent used Legionnaire Alvar which is not ideal for this ruleset since its armor was negated. It also has low HP and low damage compare with Grund.
I also utilized Affliction ability to counter opponent's healing abilities. I have Doctor Blight which has Affliction and Poison ability. While Goblin Psychic has Affliction and Tank Heal ability.
Mycelic Slipspawn provide the much needed damage absorber in this match. Grund did not have to worry about being attack and was able to dealt a lot of damage with its Double Strike.
---
This is the end of my post analyis. Hopefully, you got something reading this post.
Till next time!!!

If you want to know more about the game, you can visit their website at https://splinterlands.com?ref=jpleron
Splinterlands is a digital, collectible card game built on blockchain technology. It is similar in concept to games like Magic the Gathering and Hearthstone where you build up a collection of cards, which all have various different stats and abilities, and use them to battle other players in skill-based matches. By using blockchain technology, players can buy, sell, and trade their digital assets freely just as if they were physical cards, and all transactions are recorded publicly and immutably.
Use my referral link to register and I will give you some cards to help you start your own Splinterland journey.
---
▶️ 3Speak
---
---