(DE/EN) Hattrick for the Legendary Raptors? - Analyzing my three games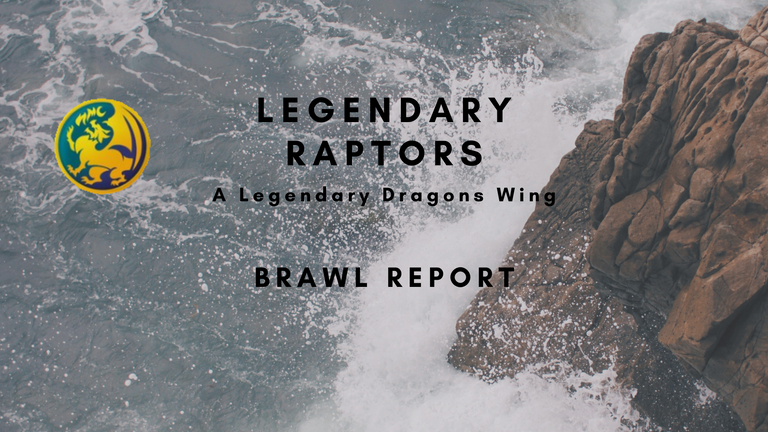 Zweite Chance
Erneut hatten die Legendary Raptors zwei Brawls in Folge gewonnen.
Würden wir dieses Mal den Hattrick machen, oder wieder kläglich scheitern, wie beim letzten Mal?
Second Chance
Once again, the Legendary Raptors had won two Brawls in a row.
Would we do the hattrick this time, or fail miserably again like last time?

Hattrick = 3 Siege in Folge
Wir haben es geschafft. Die Legendary Raptors gewinnen erstmals 3 Brawls in Folge.
Dieser Sieg war gleichzeitig mit deutlichem Abstand zum Zweit- und Drittplatzierten.
52 Siege aus 67 Spielen entspricht einer Gewinnrate von 77,6 %. Das ist ordentlich.
Ohne unseren Gegnern im letzten Brawl zu Nahe treten und unseren Sieg schmälern zu wollen, waren die Gegner in diesem Brawl aber auch andere, als in meinem letzten Report.
Hattrick = 3 wins in a row
We did it. The Legendary Raptors win 3 Brawls in a row for the first time.
This victory was at the same time with a clear distance to the second and third place.
52 wins out of 67 games equals a win rate of 77.6%. That is decent.
Without wanting to belittle our opponents in the last Brawl and our victory, the opponents in this Brawl were also different than in my last report.
---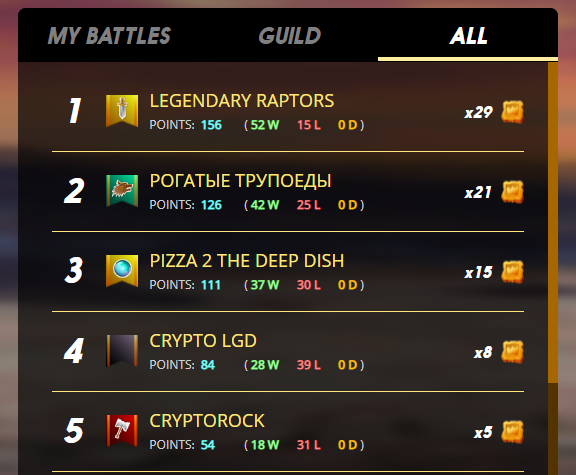 Meine 3 Spiele
Leider hatte ich in den letzten Brawls relativ wenige Spiele.
auch dieses Mal hatte ich nur 3 Begegnungen, so dass mein Report etwas kürzer als gewöhnt ausfallen wird.
Von den 3 konnte ich 2 für mich entscheiden.
Wie immer wollen wir uns die Spiele etwas genauer anschauen:
My 3 games
Unfortunately I had relatively few games in the last Brawls.
Also this time I had only 3 encounters, so my report will be a bit shorter than usual.


From the 3 I could decide 2 for me.
As always, let's take a closer look at the games:

Match 1 Niederlage / Loss
https://splinterlands.com/?p=battle&id=sm_Dp17P3OTuAanbXh7gswD
25 Mana - Super Sneak & Taking Sides
---
Bei Super Sneak setze ich gerne auf Obsidian, um meine Gegner die sich vor allem gegen Melee Angriffe schützen zu kontern.
Gleichzeitig positioniere ich die Mycelic Infantery mit der Shield Ability auf dem letzten Platz, um die gegnerischen Nahkämpfer zu "empfangen".
Gleichzeitig stärkt Queen Mycelia meine Truppen mit weiterer Rüstung.
Die Idee ging gut auf. Auch die Dornen des Venari Kniffers auf der letzten Position meines Gegners konnten mir nicht viel anhaben.
Leider hat meine Infanterie zweimal den Gegner verfehlt und mein Gegner hat Quora eingesetzt. In Bronze ist diese Gladiatorin einfach unheimlich stark.
With Super Sneak, I like to rely on Obsidian to counter my opponents who are primarily protecting themselves against Melee attacks.
At the same time, I position the Mycelic Infantry with the Shield Ability in the last place to "receive" the enemy melee fighters.


At the same time Queen Mycelia strengthens my troops with further armor.
The idea worked out well. Even the thorns of the Venari Kniffer on the last position of my opponent could not harm me much.
Unfortunately, my infantry missed twice and my opponent used Quora. In bronze, this gladiator is just incredibly strong.

Match 2 Sieg / Win
https://splinterlands.com/?p=battle&id=sm_Jr0Dsc1tozDHYLVk9Htz
26 Mana - Earthquake & Odd Ones Out
---
Da ich nur über Chaos Legion Summoner verfüge, kann ich für Earthquake nicht auf die beliebte Brighton Bloom zurückgreifen.
Daher muss ich auf Monster setzen, die selbst über Flugfähigkeit verfügen.
Regal Peryton finde ich in diesem Zusammenhang sehr gut, da der Magieschaden immer durchgeht, und die Flugfähigkeit mit einer hohen Geschwindigkeit kombiniert ist, und so oftmals dem gegnerischen Schaden ausgewichen werden kann.
Ich entscheide mich für Quix weniger wegen des Debuffs auf den Fernkampf, sondern wegen des Zugangs zu einem weiteren Flieger (Void Dragon) und der Reduktion der gegnerischen Geschwindigkeit.
Zusätzlich bringt der Void Dragon neben der Flugfähigkeit auch die Fähigkeit Void mit, falls der Gegner stark auf Magie setzen sollte.
Der Hill Giant an Position 1 ist ein günstiger Tank mit guten Lebenspunkten und der Slipspawn hällt den Schaden von den anderen ab, solange es geht.
Die ersten beiden Runden kann mein Gegner noch einigermaßen mithalten. Ich verliere meinen Tank und den Slipspawn. Aber auch mein Gegner muss Federn lassen.
Ab Runde 4 hat er jedoch nur noch das Regal Peryton dessen Schaden durch den Void Dragon deutlich reduziert wird.
die Strategie auf zwei statt nur einen Flieger zu setzen, war eine gute, auch wenn dadurch mein Magieschaden nicht durch den Summoner erhöht wurde, wie bei meinem Gegner.
Since I only have Chaos Legion Summoner, I can't use the popular Brighton Bloom for Earthquake.
Therefore, I have to rely on monsters that have flight ability themselves.
Regal Peryton I find to be very good in this regard, as the magic damage always goes through, and the flying ability is combined with high speed, and so can often be used to dodge enemy damage.


I choose Quix not so much because of the debuff to ranged damage, but because of the access to another flyer (Void Dragon) and the reduction in enemy speed.


Additionally, the Void Dragon brings the Void ability in addition to the flying ability, should the opponent rely heavily on magic.
The Hill Giant at position 1 is a cheap tank with good health and the Slipspawn keeps the damage from the others as long as it can.


The first two turns my opponent can keep up to some extent. I lose my tank and the slipspawn. But also my opponent has to give in.


From turn 4 on, he only has the Regal Peryton, whose damage is significantly reduced by the Void Dragon.
The strategy of using two Monster with Flying ability instead of one was good, even though my magic damage was not increased by the Summoner, as it was for my opponent.

Match 3 Sieg / Win
https://splinterlands.com/?p=battle&id=sm_bDUjSfoywWLpsNcybm4f
60 Mana - Super Sneak
---
Wieder Super Sneak aber diesmal mit 60 Mana. Ich kann aus dem vollen schöpfen.
Bei 60 Mana setze ich nicht auf Obsidian, da ich das Mana hier bei weitem nicht ausgeben kann.
Bei hohen Mana glänzt jedoch Sloan mit seinem Buff auf den Fernkampfschaden und Zugang zu teuren Nahkämpfern.
Uriel ist ein sehr guter Tank, der aufgrund seiner hohen Rüstung der Lebenspunkte und seiner Flugfähigkeit einiges wegstecken kann.
Dies wird noch versteckt durch die Repairfähigkeit von Adelade Brightwing.
Der Disintegrator auf Position 2 reduziert den gegnerischen Nahkampfschaden den ich erwarte.
Der Pelacor Arbalest und der Prismologist machen viel Schaden pro Mana und viel Druck auf den vorderen Tank.
Der Chaos Knight sichert die Formation von hinten.
Mein Gegner setzt auf eine Tank mit Shield an erster Position und drei weitere Nahkämpfer darunter den Disintegrator, sowie Nerissa Tridawn und River Hellondale.
Ich hätte nicht gedacht, dass mein Desintegrator in Kombination mit dem Chaos Knight zum Matchwinner werden.
Alle gegnerischen Nahkämpfer werden auf 1 Nahkampfschaden reduziert, das komplett vom Shield des Chaos Knight aufgehalten wird.
Uriel muss dagegen bereits in Runde 2 aufgrund des Magieschadens von Nerissa und River gehen.
In Runde 3 gehen der gegnerische Tank und Flying Squid auf Position 2 vom Feld.
In runde 4 verliere ich zwar meinen Desintegrator, aber auch beide Magier meines Gegners sind Geschichte.
Zudem hat mein Gegner nun nur noch zwei Nahkämpfer, so dass der nun erhöhte Schaden nicht so ins Gewicht fällt.
In Runde 8 erledigt mein Chaos Knight den letzten verbliebenen Gegner.
Again Super Sneak but this time with 60 mana. I can draw from the full.
At 60 mana, I don't go for Obsidian, since I'm nowhere near spending the mana here.
At high mana, however, Sloan shines with its buff to ranged damage and access to expensive melee.
Uriel is a very good tank who can take a beating due to his high health armor and flying ability.


This is further hidden by Adelade Brightwing's repair ability.
The Disintegrator at position 2 reduces the enemy melee damage I expect.


The Pelacor Arbalest and Prismologist do a lot of damage per mana and a lot of pressure on the front tank.
The Chaos Knight secures the formation from behind.
My opponent relies on a tank with Shield in the first position and three more melee fighters including the Disintegrator, as well as Nerissa Tridawn and River Hellondale.
I didn't think that my Disintegrator in combination with the Chaos Knight would become the match winner.
All enemy melee fighters are reduced to 1 melee damage, which is completely stopped by the Chaos Knight's Shield.
Uriel, on the other hand, has to leave already in turn 2 due to the magic damage of Nerissa and River.
In turn 3, the enemy tank and Flying Squid leave the field in position 2.
In turn 4 I lose my Disintegrator, but also both of my opponent's mages are history.


In addition, my opponent now has only two melee fighters, so that the now increased damage is not so important.
In turn 8 my Chaos Knight kills the last remaining opponent.

Preise
Für diesen Brawl erhielten die Raptors 29 Kronen und jeder einzelne von uns 1785 Merits.
Damit kann ich mir auch erneut ein Gladiuspack leisten, welches jedoch nichts besonderes enthält.
Prizes
For this Brawl, the Raptors received 29 Crowns and each of us received 1785 Merits.
With that I can afford a Gladius Pack again, but it doesn't contain anything special.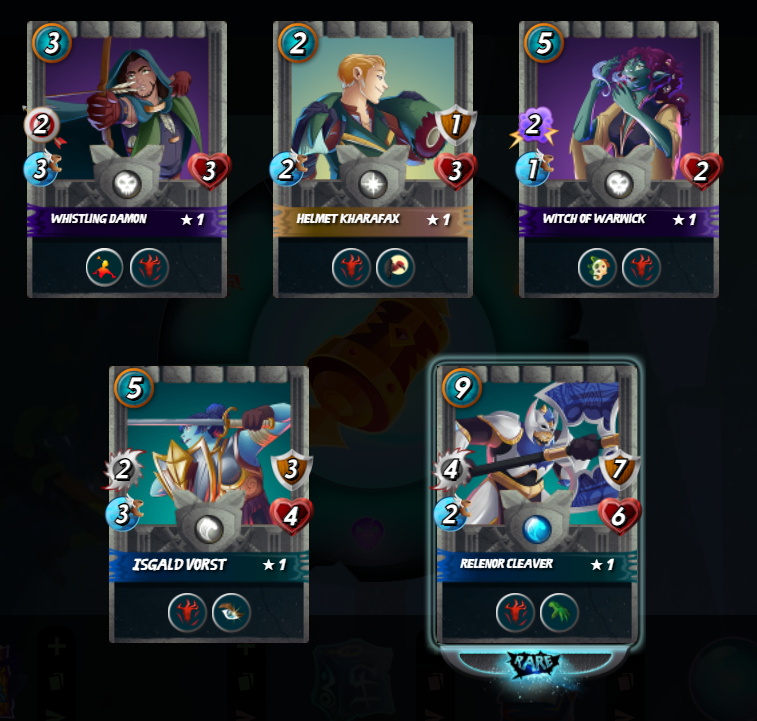 Du spielst noch kein Splinterlands?
Dann probiere es kostenlos aus mit diesem Link:


https://splinterlands.com?ref=kheldar1982
Wenn Du Spaß am Spiel haben solltest und dich entschließt, das Zauberbuch für 10 $ zu kaufen, bekomme ich von Splinterlands einen kleinen Betrag als Belohnung. Nimm Kontakt mit mir auf und ich werde Dich bei Deinen ersten Schritten in Splinterlands mit 150 DEC und ein paar delegierten Karten unterstützen.
You are not a Splinterlands player yet?
Than give it a try by signing up to this game for free using this link:

https://splinterlands.com?ref=kheldar1982
If you have fun playing the game, and decide to buy the spell book for 10 $ I will get a small cash back from Splinterlands. Get in touch with me and I will support you in your first steps in Splinterlands with 150 DEC and by delegating few cards.
---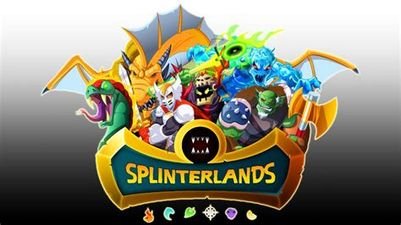 ---
---