💥 2021 Metafrens Splinterlands Final Showdown 🤯 [#1]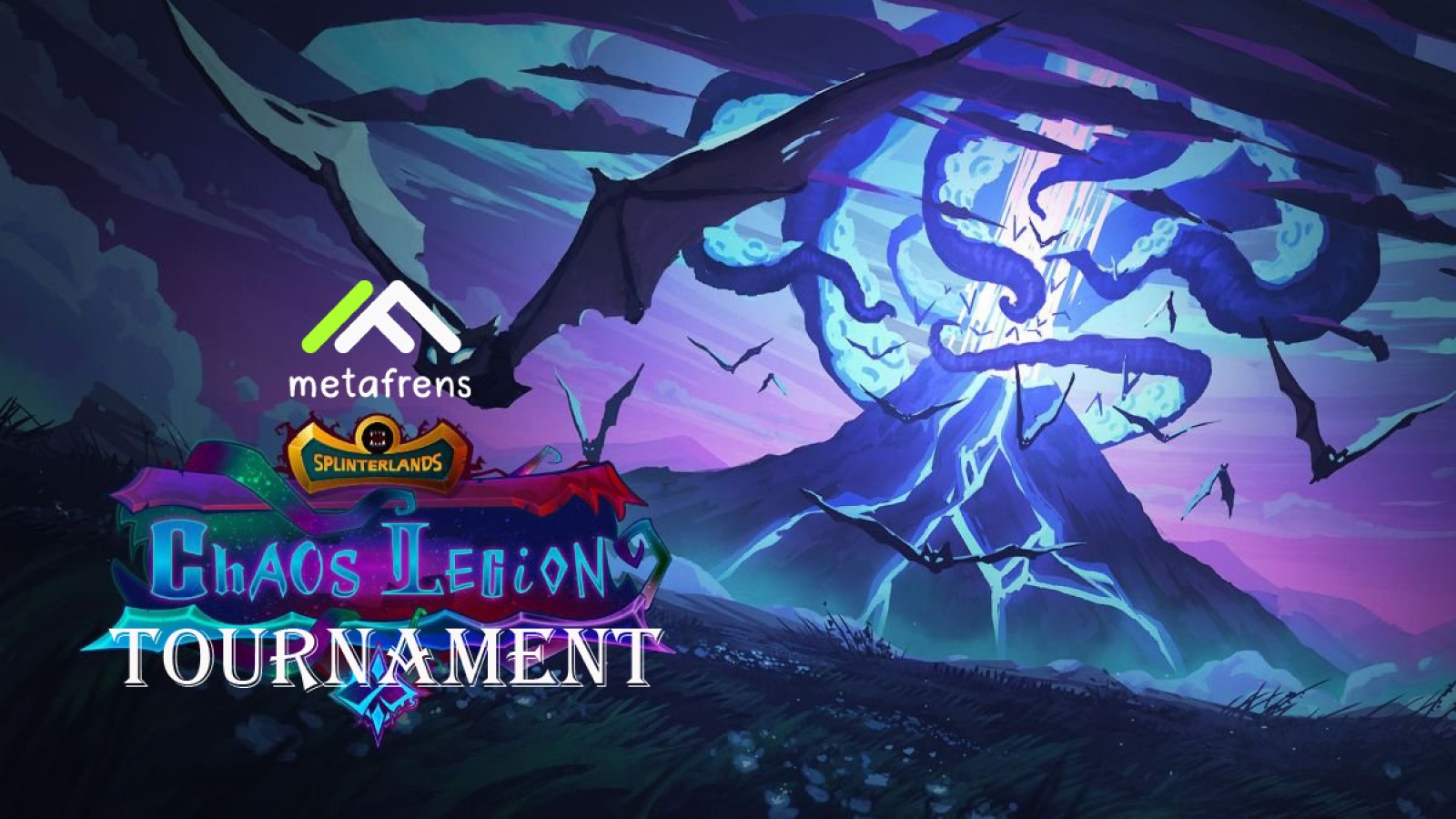 Hello everyone, as mentioned on my last post, over at Metafrens we had a final showdown on Splinterlands just right before the end of the last season and 2021. First, I will like to give my thanks to @namelessnameless for setting up the tourney.
Check out Metafrens summary post over here:
https://www.1up.zone/@koodies/metafrens-a-gang-of-four
---
Join my giveaway right over here it's ending soon! DEC and 500 CP delegation to be won!
[Giveaways] Random Challenge How long can you last in an earthquake matchup


Novice League
No Legendary Summoners
Chaos League Edition Only
Alright, let's get down to business, here is the breakdown of my battles on the 1st round! Comment down below if you think I could have selected a better lineup.
1st Round
Battle #1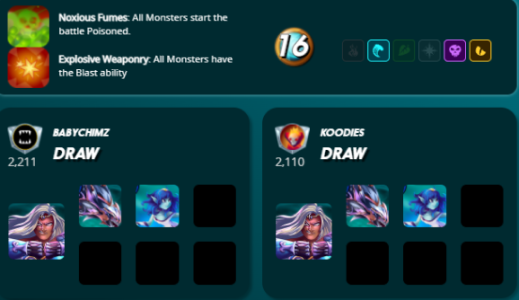 https://splinterlands.com?p=battle&id=sm_EmGVqasHdxcz9FQChfcm&ref=koodies
Well, it's a draw. Nothing to see over here. Nothing could have survived poison better than this lineup with all this restriction.
Battle #2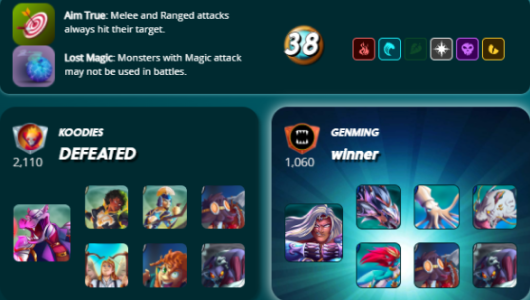 https://splinterlands.com?p=battle&id=sm_v82AoENWpoNVirj7MDD3&ref=koodies
Lost due to no idea what lineup to use. Good one @genming! Lesson Learnt! 😈 High Damage is not the way to go.
Battle #3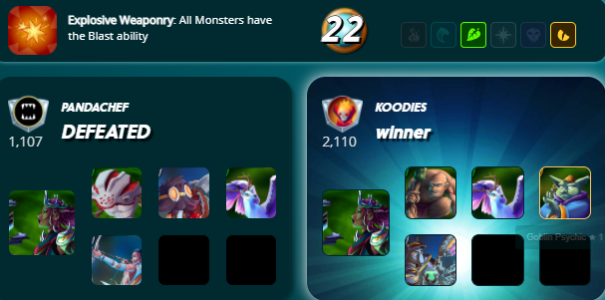 https://splinterlands.com?p=battle&id=sm_QKBrZNv98s1gjfHSrJOv&ref=koodies
Gooooo Hill Giant! As this is a chaos card only and no legendary summoner tourney, we could only use Earth here.
Battle #4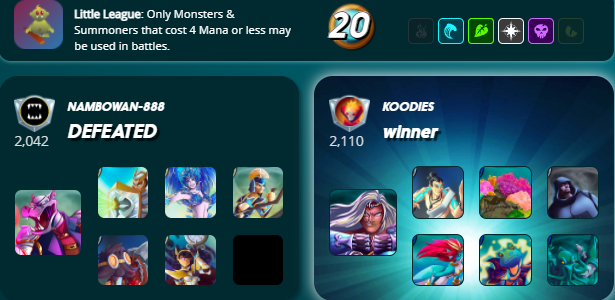 https://splinterlands.com?p=battle&id=sm_oKcwAvP8kkK4CnxuE4nq&ref=koodies
Only 4 mana or less. Xenith Monk is the best tank for this kind of match-up right behind Hill Giant which costs 3 mana, the reason why I choose water here is due to the mana restriction, most of the Earth damage dealer is above 4.
Battle #5
https://splinterlands.com?p=battle&id=sm_nGqk66pA7Y73gRH9RzO7&ref=koodies
... I just suck at light splinters, end of the story.
Battle #6
https://splinterlands.com?p=battle&id=sm_CNhpwJHl1eEBRQklFJXy&ref=koodies
Chosen Dhampir Stalker as my main damage dealer, should have switched position with Silent Sha-vi but lucky @blitzzzz didn't have any sneak attacker 😅 and he place his range near the front, luckily I got a -1 magic attack from my summoner!
Battle #7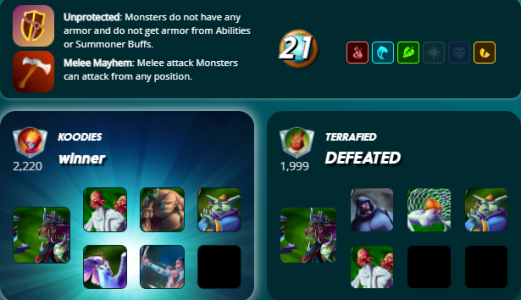 https://splinterlands.com?p=battle&id=sm_Dbc5L5MrDz2Gf52ja55W&ref=koodies
Hill Giant has proven to me that he is the most valuable splinter in an Earth team! Compare to Mycelic Slipspawn which has a 6 mana difference.

Round 1 Result

Most Valuable Splinters
Disintegrator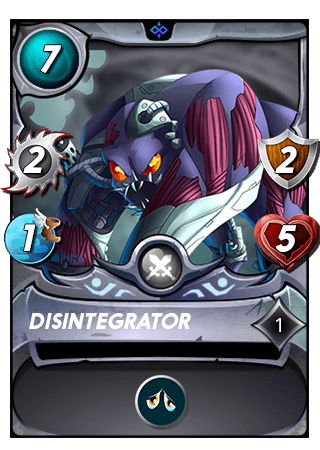 One of the best cards to have against a full melee match! I mean look at how long this beast dragged my Battle #2. He is also a neutral, a good investment.
Hill Giant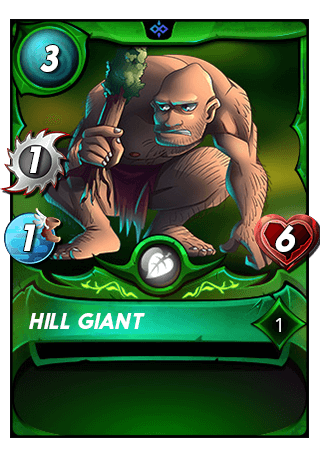 Enough said about this Giant! He has 6 health with the cost of 3 mana. Definitely a great tank, and he has yet to let me down!
End of round 1 - Final Thoughts
Overall did good, except for battle 2 & 5, where I used a light team, it seem like I am pretty weak and inexperienced using light team. Can't wait to see how modern league will mess up my gameplay! Wait till @namelessnameless posts his overview of this tourney, so many surprises!
Added namelessnameless as a beneficiary for this post for his hard work and undying spirit to enhance our local community life in Splinterlands 🎉
Check out my next post for the final round breakdown!
---
Join us over at Metefrens:
Gitbook: https://docs.metafrens.xyz/
Medium: https://medium.metafrens.xyz/
Website: https://metafrens.xyz/ (WIP)
Discord: https://discord.com/invite/fScGsXSncb
Hive: https://peakd.com/created/metafrens
---
---