Sharing My Battle of Weekly Challenge! SUPPLY RUNNER
https://images.ecency.com/p/3RTd4iuWD6NUeJEn5AVrJUoyatFqBqfcCJi1N7UixR4g2KPKN7w8NpZL7qrJ4ETeGdj5C8fSCmkKo5esx79gRzNWusCU58um8dde81fgQJdeSUJYiKF2Tvtb5onm62Gz8B94TN3YTnZNkoB6tbAH45NQGsPAzoA2TwpvGYGHr1FwLr.webp?format=webp&mode=fit
Hello Blockchain Gamers!
Today I am sharing my battle about Weekly challenge, Theme: SUPPLY RUNNER
I am a new player at Splinterlands.
This post is the first post about I sharing the Weekly challenge battle.
My weekly challenge is to share the victorious battle using the card "SUPPLY RUNNER".
---

---
About SUPPLY RUNNER
SUPPLY RUNNER is a card from the Chaos Legion Edition.
Its Rarity is Common type.
It is a Neutral Elemental card and its attack type is Range.
Its special ability is "Swiftness" at level 5.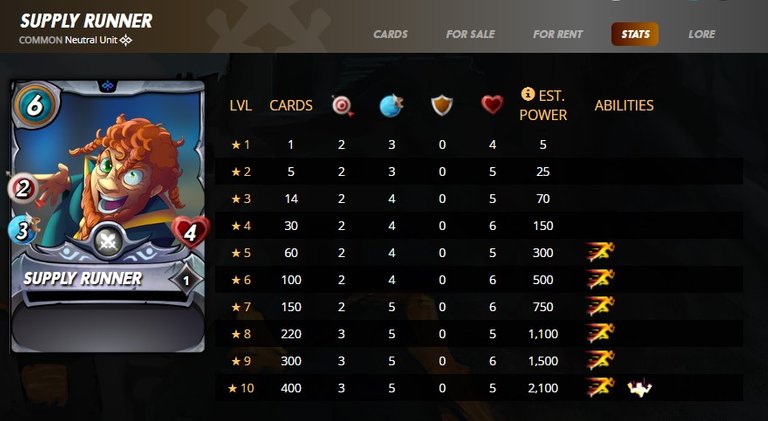 Well, I prepared my Challenge battle using "SUPPLY RUNNER" as below:
The rules of battle are not very restrictive for lower level players like me. Battle rules are always Standard. Mana 26 is allowed ( it is appropriate mana cost allow ).
I had choosing the Death Summoner for the battle.
My Choosing Summoner is Death Summoner, THADDIUS BROOD.
His summoner ability give the -1 magic attack and -1 health for all enemy monsters.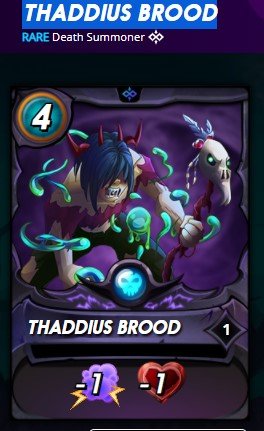 My Line up are as follow:-
Position 1 : CURSED WINDEKU
Position 2 : UNDEAD BADGER
Position 3 : SILENT SHA-VI
Position 4 : SUPPLY RUNNER (Theme Card )
Position 5 : DEATH ELEMENTAL
| Position 1 | Position 2 | Position 3 |
| --- | --- | --- |
| | | |
| Position 4 | Position 5 |
| --- | --- |
| | |
The battle started with the above arrangement.
In the game play, My opponent team is using Earth Splinter.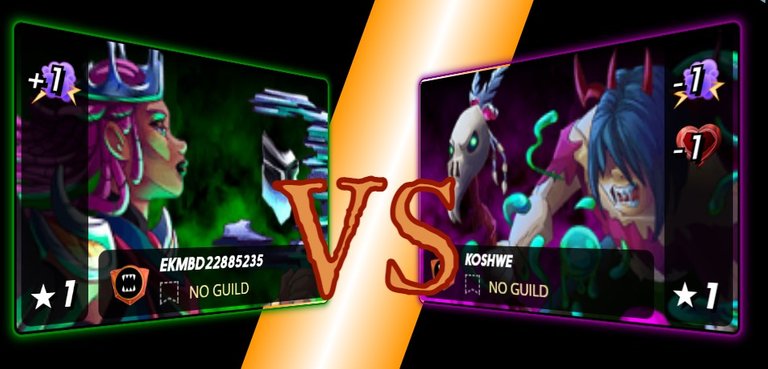 ---
Battle Round 1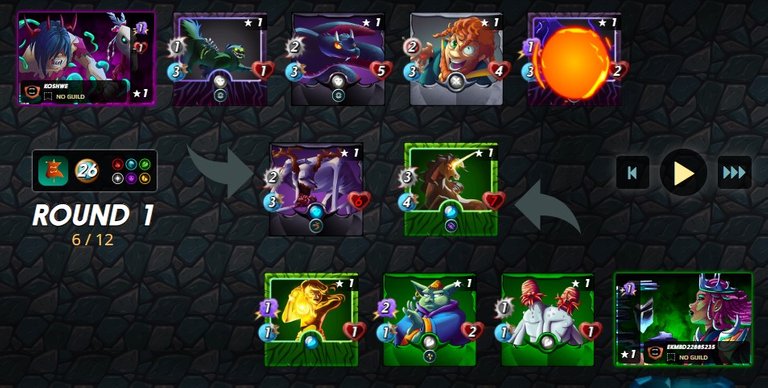 At the first round : Our team attackers are trying to knock down each other side. Opponent team line up are strong tanker at 1st place and the second is a melee attacker as a damage reducer and the third place is a magic attacker with "Tank Heal" ability and then at the last place is a magic attacker again.
At the start of this 1st round, opponent team's last places ( 3rd and 4th places) magic attackers are knock out by my team sneak attackers. Wow! it is awesome result. Competition is happening very fast. During the first round, two of the opposing team's main magic attackers were defeated. It is good condition for my team.
Now at the end of this first round, my team still stand with full team members and opponent team stand with low health tanker and a melee attacker.
---
---
Battle Round 2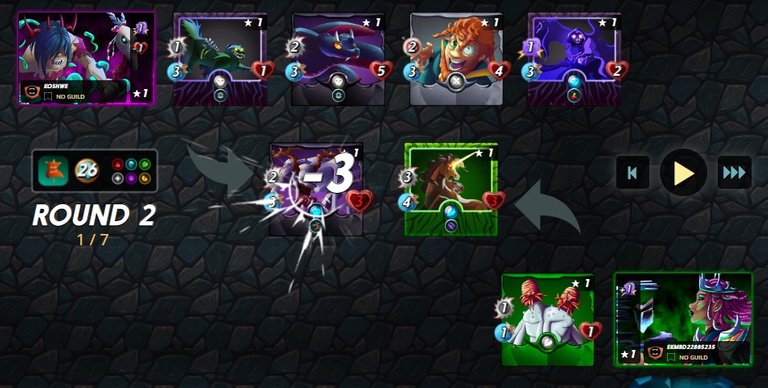 At the beginning of the second round, the opposing team's tanker started attacking, but it could not get rid of my team tanker. Then my team's Theme card "Supply Runner" knock out the opponent team tanker. And then the last low health melee attacker of opponent team is loose again. The battle is end wit victory for my team.
The battle ended abruptly. I did not expect the match to end so quickly. Sometimes I look back at the replay of that amazing ending battle.
I share the battle that ended quickly with my friends who came to support my post.
In these pass rounds, my team's theme card SUPPLY RUNNER is showed his range attacking power. And the whole team is showed the best attacking moves. And so, battle is end with victory for my team.
---
---
Battle Results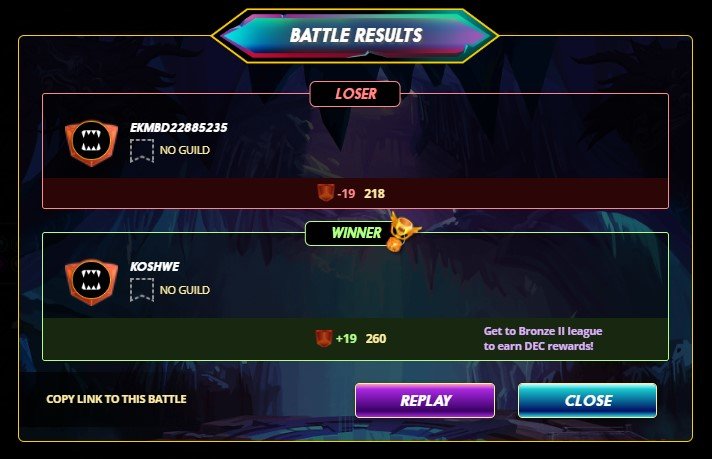 I love Splinterlands game so much because of all the excitement.
This battle has given both of us a excited, and I'm sure it will give a excitement to my friends who have come to support this post.
If you want to watch my full match, you can click the Battle Link below.
You can also watch my battle in Twitter post.

Battle Stats ...
Opponent team is strong line up at this mana cost battle. His lineup relies heavily on strong tanker and a tank-healing magic attack supporter. In the battle field, his main supporter of back row magic attackers are falling faster. And then his tanker is going to weak. By these facts, my team leads the battle and victory.
My lineup and strategy
My team lineup and strategy is worked well. At the start of the battle, the strong tanker take his job. The theme card SUPPLY RUNNER is show his Range attacking power and also the sneak attackers are completely fix with team.
So my team showed the teamwork power and at last won the battle.
Like or Dislike SUPPLY RUNNER
Yes, I like SUPPLY RUNNER because of her range attack damage and low appropriate mana cost. The SUPPLY RUNNER is a priority for the team as it provides a fair amount of mana and good support for the team.
In the future, I will upgrade the SUPPLY RUNNER to higher level and upgrade it to be the best supporting card for the team.

Well- Let me end for the sharing about my weekly challenge battle.
All of images using in my post are tacking screen shoot from Splinterlands game sources.
Thanks You Splinterlands.
Thanks to all the friends who came to support my post.
Good luck and see you all friends.

---
---