Brawl Report #25, Share the Fire Giveaway!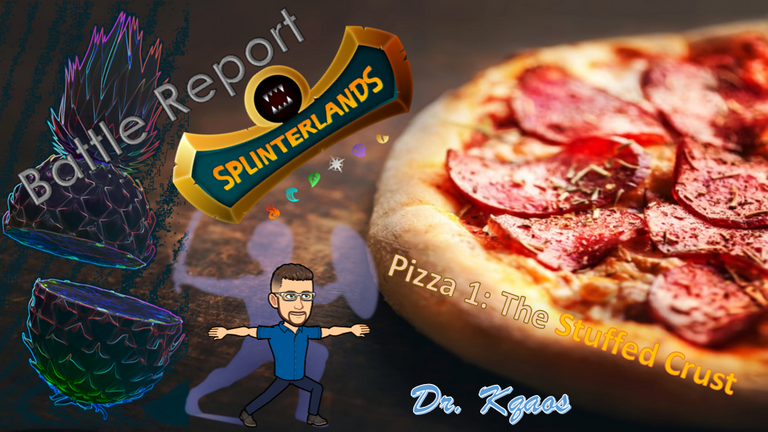 Since this is my quarter of a dollar brawl report I am going on fire with this one!
Everything on fire we need to giveaway the fire element! We start with the Venari Heatsmith, however, if we make it to 85 up votes I will increase it to the Exploding Rats with fire exploding with celebration!
I know my last giveaway did not hit the 85 mark, but I am also going to be sharing this with the Splinterlands Social Media Challenge to hopefully get some more upvotes! As they say, let's see if we can get it trending! If you are not playing Splinterlands yet, click on any of the battles or the link towards the bottom, would love to have you!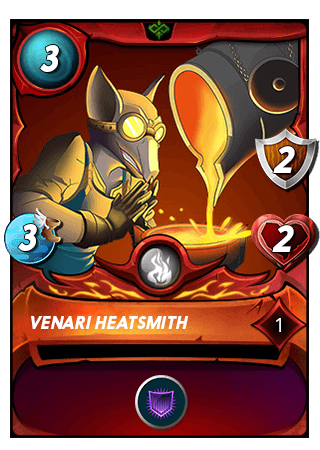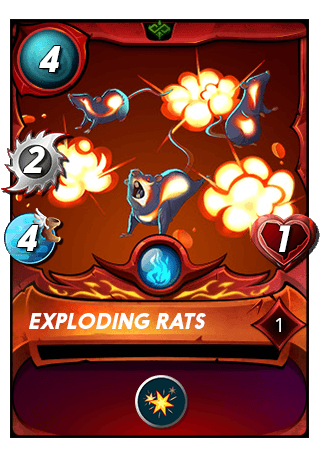 Rules:
• Leave a comment with your username, along with something about
Fire
!
•
No repost, upvote or tips, !PIZZA, !BEER, !WINE, !LOL, etc. required, but if you want to I will be appreciative!
• When this post pays out, a winner will be decided by random name picker (
https://filoz.info/picker/
)
• Winner will need to comment within 48 hours on the winning post, I want to make sure it is going to someone alive! No response, no winnings, but I want to send it out, the prize will roll over to my next brawl report.
---
As I post this SPS is currently trending at $0.093, a big drop, it seems to be moving up this past week, still a good time to get in! Speaking of buying things, there are 485,602 packs to go until the next airdrop, a summoner of some sort, we do know that it will be a legendary Life summoner!
The guild filled 10 out of 13 spots this time around, we are missing the Silver, Silver CL, and Bronze Gold Foil CL, hopefully we will fill those out soon! I am rocking 8 fights in the Novice Chaos Legion only.
---
Battle #1
We start at home, get that cheesy stuffed crust goodness in me before the fight! 21 mana, Spreading Fury and Rise of the Commons going on in the ruleset. I decided to go death on this one since the choices were only life and death, the minus 1 heath is nice along with a sniper that will grow in strength! However, they fled from me.
---
Battle #2 (Link)
This one is away, so we had to try cooking a pizza on the horses back in the sun, unfortunately, it did not cook well, oh well, back to the drawing board! 27 mana, odd, and blast, only able to use Death and Dragon, since I do not have a dragon summoner, I am using death. I don't have a lot with the odds on this one, so I went Disintegrator upfront to hopefully soak in some of the damage. I wasn't sure on this one when the other team showed up, but the speed is what really helped me with the win!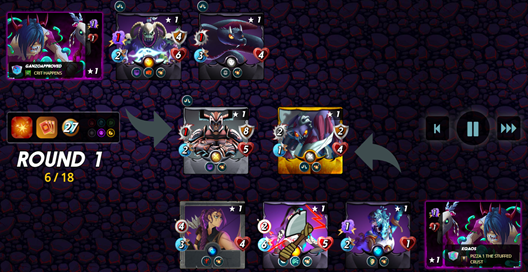 ---
Battle #3(Link)
Still working on that travelling Pizza idea, this time we used some coals to get a wood fired idea going, we almost set one of the wagons on fire, so getting closer! This one has blast and odd again, but only 12 mana, ouch. I went water on this one for the speed and extra shield, along with the gladiator that has extra speed on them. They went earth on this one, the magic just took me out quickly.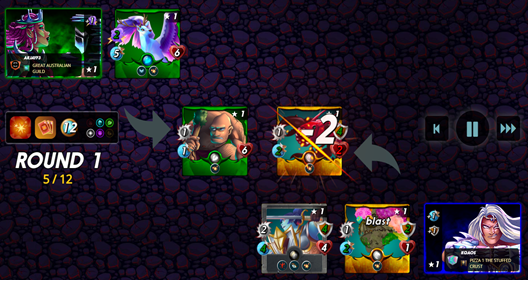 ---
Battle #4 (Link)
Back at home, I decided to visit Pizza 2 for some good Deep Dish Pizza this time around, always a great time seeing them! The battle commenced with 99 mana, divine shield along with Noxious Fumes, not great but not bad. I decided to go water since that is where I have some high health cards, along with a cleanse ability, so I put Alva The Crusher upfront for the shield ability. They went water as well, but more magic damage which really hurt!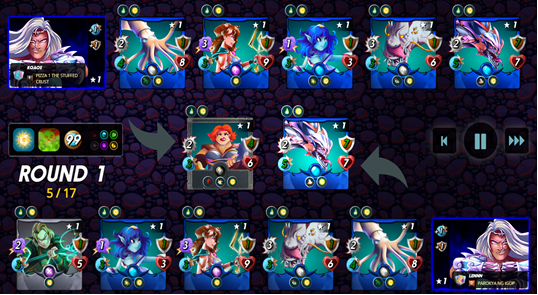 ---
Battle #5
This time around I decided to visit Pizza 3, where I used to call home, a good hand tossed pizza is great at times! We are looking at 30 mana, super sneak so all melee have the sneak ability. Even though everyone has sneak I decided to go light on this one, the extra damage from ranged could come in handy, but I also put the Chaos Knight in the back for the shield ability. This one fled from me as well.
---
Battle #6 (Link)
This is another one on the road, but we got a tip for a tavern that has some amazing pepperoni breadsticks, they were really tasty! We were looking at super sneak again, along with evens only and 14 mana. I went fire on this one, hoping that Gorth can get through with some good damage. They went earth with Quora, who is very difficult to beat! Luckily, I had enough damage to win, I even got a shot of Quora throwing the first fireball!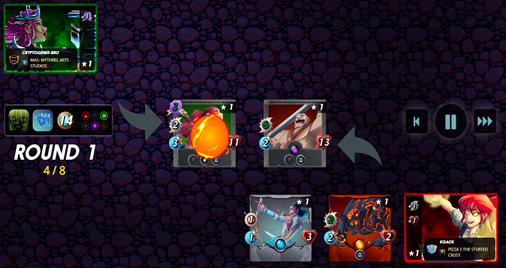 ---
Battle #7 (Link)
This one is at another enemy arena, we found a great roadside tavern by the smell of smoke, the barbeque smelled amazing! When we got there, they made a beautiful brisket calzone, I will have to send @chefbgob here with Pizza 420 the Calzone, they could get some ideas! 60 mana, and super sneak again, seems to be the rule set of the day! I went fire on this one, with Tusk the Wide upfront in case they went earth splinter and then some strong hitters along with the Disintegrator to knock down some of the sneak damage. They went fire, with some very heavy hitters, I do not like the look on this one! However, my Djinn Inferni came through with the Giant Killer ability, that I forget about since it doesn't get used much, but the double damage against cards that cost 10 or more, MVP talk!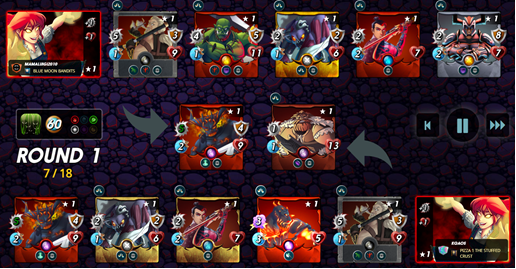 ---
Battle #8
The last one, the homecoming fight, downside I really wish they would stop throwing olives for the celebration, they just stick to everything! Looking at 28, no neutral and aim true, son all ranged attacks will always hit their target! I decided something different, I went earth on this one, using the taunt to grab attacks, but then with Grund and Katrelba, a double attack in the front and the back is useful! I was looking forward to this one, but I was not able to see it due to the enemy not showing up.
---
There is under 7 hours to go, I am currently sitting at 3 and 1, not bad, the downside is that we are currently sitting in 3rd place, but we have done many less fights than the 2nd and 1st place people, the other downside, they have 12 and 13 more fights than we have in total, which makes it difficult.
I ended up 6 and 2, a good showing. We did have @funnel giving us a sweep of 7 and 0! The guild as a whole ended in 4th place, 1 win behind 3rd, so close!
---
Other than that, the pizza family is doing all kinds of things over on Discord, come join us!
---
Giveaway Pings
@amaillo
@luizeba
@irisworld
@h3m4n7
@blitzzzz
@shawnmichael-gt
@koodies
@postapocgamer
@jfang003
@henruc
@bokica80
@relf87
@cogie88
---
Thank you for reading this far, additionally, I do want to thank the people in Pizza, a great place to hang out! I have learned a lot from it and there are great people and a very positive community.
You can find them here: Awesome Pizza Discord
I'm starting to track the Pizza token a little bit more as well, it is currently sitting at $0.02543 a change of over 31% in the last day or so, great time to join!
At some point I will be doing some other posts about my experiences in Crypto, but here are some links if you are interested in some other NFT Games or other games as well!
---
Splinterlands
If you use my referral link I will send you 100 DEC to get started!
Layer 2 Labs
A Great community for Splinterlands, with games and a faucet to help players as well, new name as well, was Splinterlabs.
Rising Star
Great music NFT and a way to support up and coming musicians!
Sorare
Still learning this one, but it is a football (American Soccer), easy to set up and go!
Star Citizen Referral code: STAR-LRKQ-D6NK
Space game, still in alpha development, playable, very immersive, sign up with the referral code it will give you money in the game along with both of us receiving a free ship!
Unmineable
A great way to get into Crypto mining, easy to set up, code gets you a 0.25% fee discount, uses the graphics card while you are not using your computer, or you can mine with just your CPU.
---
Let me know if there are any questions, you can find me in the messages here or in the Pizza Discord.
Lastly, thank you again, remember you are awesome and have a wonderful week!
Dr. Kqaos
---
Photos come from PowerPoints stock image, Bitmoji with Splinterlands logo on top of it, or my own screen shots of Splinterlands
Disclaimer: This is my opinion, not financial advice.
---
---