Social Media Challenge, Brawl Report #54, Flying with some Pizza!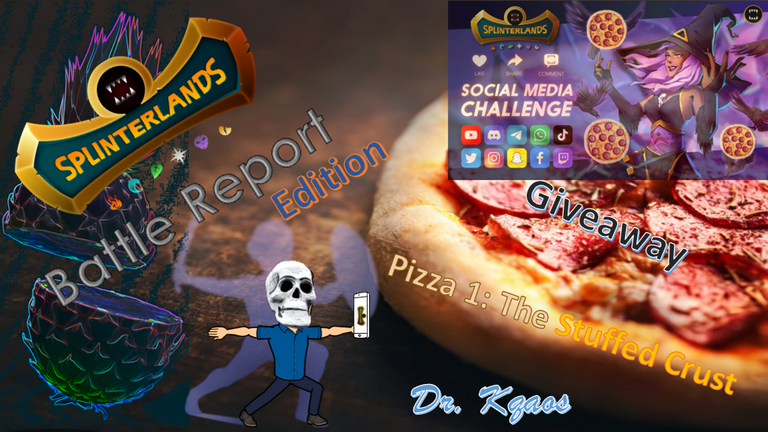 This image just draws it in, awesome to look at, the ravens mixed with pizza, just golden, like nice melty cheese as you take a bite… okay, maybe I am just hungry as I am writing this one! Pizza can just bring everyone together, no matter the background, so let's get going in the positive way with celebrating diversity and equalization for all! So grab yourself a slice of pizza and sit back and enjoy!
I am also doing the Social Media Challenge that Splinterlands puts out there, let's get awareness of an awesome game, follow me on twitter and retweet! @DrKqaos If you are not playing Splinterlands yet, click on any of the battles or the link towards the bottom, would love to have you! So let's start with the flying pizza killer, the Ever-Hungry Skull! However, if we get up to 100 upvotes on this post, it will come out to the Venari Bonesmith, a very useful card, not to mention, some magic pizza killing!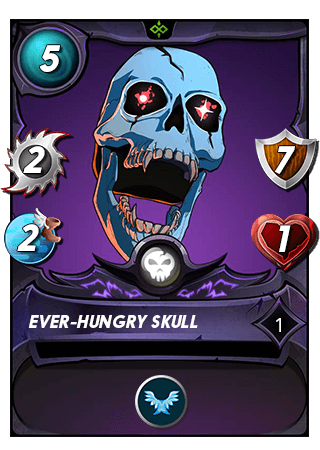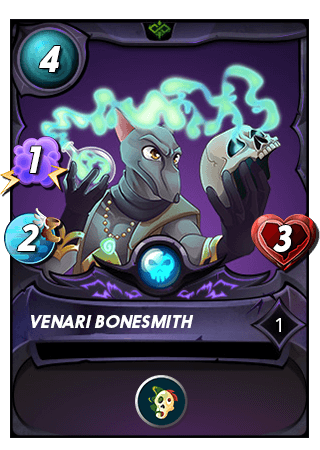 Rules:
• Leave a comment with your username, along with your
Favorite thing about people
(there has been way to much negativity going on, lets bring the conversation back to positives)
•
No repost, upvote or tips, !PIZZA, !BEER, !WINE, !LOL, etc. required, but if you want to I will be appreciative!
• When this post pays out, a winner will be decided by random name picker (
https://filoz.info/picker/
)
• Winner will need to comment within 48 hours on the winning post, I want to make sure it is going to someone alive! No response, no winnings, but I want to send it out, the prize will roll over to my next brawl report.
---
As I post this SPS is currently trending at $0.041, a big hit on this one, like all crypto. Additionally, there are 611,184 packs to go until the next airdrop, they are dropping fast for the next summoner, for Chaos Legion, and 126,226 gems to go for the next Riftwatchers air drop!
---
Since I have been looking at cards a little bit more, the lore really pops, and this one, has gladiators within the brawl, so let's look at the one that worked well for me!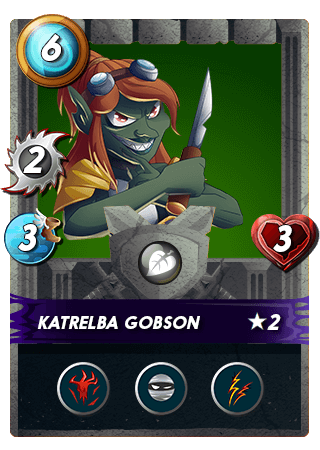 The Lore behind the Katrelba by Splinterlands:
The eldest daughter of Rock Gobson, Katrelba, has gotten the city into trouble for the last time. Her last spree nearly resulted in a full-out war with the Centauri people of the north, who could easily use their astral magic to level the entire goblin city. Luckily, the centaurs are more forgiving than goblins, so when Katrelba (while flying high on poppypoof) desecrated their most sacred shrine with a band of her unruly cronies (also flying high on poppypoof), she was grudgingly released by Kron the Undying without a fight. Still, a band of Centauri messengers brought the Gobson patriarch a stern warning two days later that led him to send the reckless daughter across the sea. Knowing how tough and formidable in combat his eldest daughter was, Rock Gobson decided to enlist her as a Gladiator. It was his hope that Katrelba could be someone else's problem for a while.
---
We are getting better at this with 14 out of the 16 filled, we are looking for a Gold Foil Silver Brawler if anyone is interested! I am in the Bronze league with only Chaos Legion cards, with 8 battles to my name.
---
Battle #1 (Link)
We start on the away side of things, a trip down the road to visit everyone! Looking at 21 mana, thorns, and no sneak or snipe. I don't know if this will work, going light on this one… They went water, so that magic lineup might hurt me bad, that gladiator is killing it. That blast from them just took me out.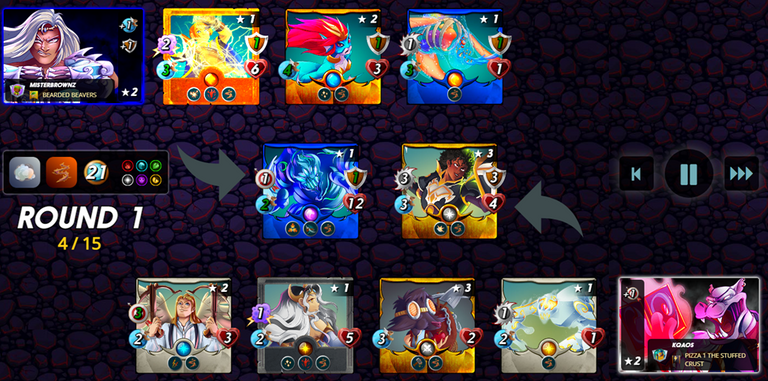 ---
Battle #2 (Link)
This one is at the home arena, so strategy talk with @theacks, hopefully he can help me figure out what went wrong that first fight. Looking at 18 mana, opportunity and enrage. I might regret this but I went earth for the taunt followed by Katrelba for a double attack. They went fire, once of my concerns actually. However, that double attack, came through for me! Even with an action shot!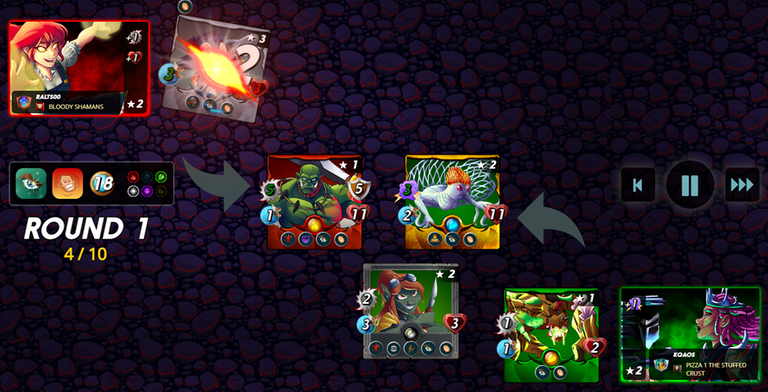 ---
Battle #3(Link
This one is staying in the home arena, so here is hoping for good things! Looking at 15 mana and enrage, I am going earth on this one again, looking for a double strike and an opportunity attack. They went death, that minus to health might hurt a lot. This one was basically over the first round, I took out all of their damage dealers, a quick win!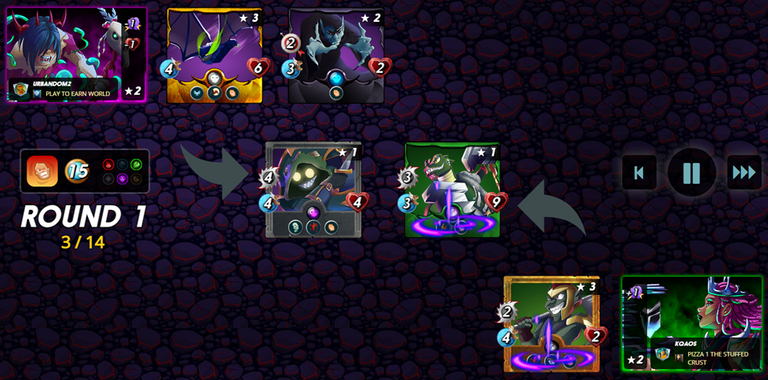 ---
Battle #4 (Link)
Starting well, into enemy territory again with 38 mana, no neutral, and magic reflect, also, I cannot seem to use Kelya in this fight. So, I decided to go light on this one, hopefully Marisol will come through for me! They went fire, with Jack, the opportunity alone is going to take me out! Well, I did not expect that one! Marisol is up on the shoulders, awesome fight!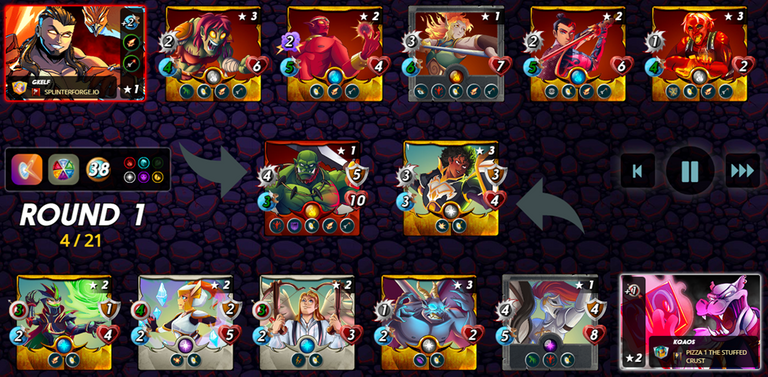 ---
Battle #5
Well, this was a really easy fight for me… Log into the brawl and the opponent already fled, good job for me!
---
Battle #6
The worst that I can do at this point is 50/50, but I want more! On the road again with 52 mana, evens only, oh and no armor. I am going fire on this one, hoping that Chimney can knock it out of the park for me! This one fled from me as well!
---
Battle #7
Second to the end, the last of the home fights, let's get the crowd roaring! Starting with 25 mana and equalizer ruleset. I went light on this one, hoping that Sola with the heal can tip the scales. Another one fled from me, this is crazy!
---
Battle #8 (Link)
Last fight of this brawl for me, it is in enemy territory, but I joined a parade that was quite fun, I even pulled @fletcher12314 into the fun! Looking at 16 mana, magic hits shields and blast. I don't know how this will go, but I decided to go water on this one with an opportunity strike. They went water as well, A little bit different setup, we shall see. Timing was off by one for me on this one.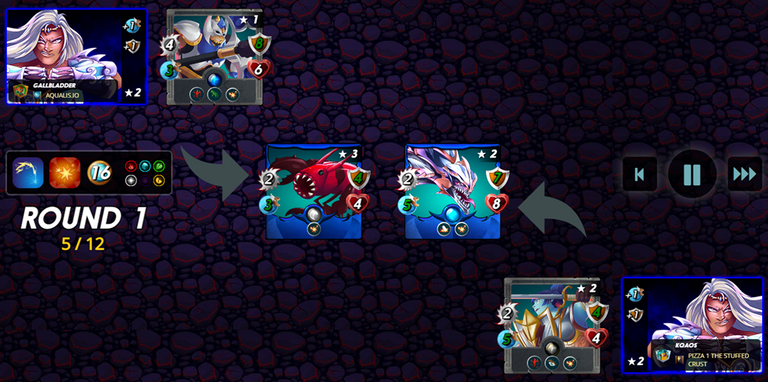 ---
12 hours and 45 minutes left to go and I am sitting at 4 and 2, not bad, a good way start! The guild is currently sitting in 1st place, we have it by 3, but a little over half the battles to go, so anybody's game!
The guild as a whole did well, we ended up in 2nd! Due to that we received 2400 merits, but the big one this time is the 23.247 SPS!
---
Due to those merits, another gladius pack, two rares at least: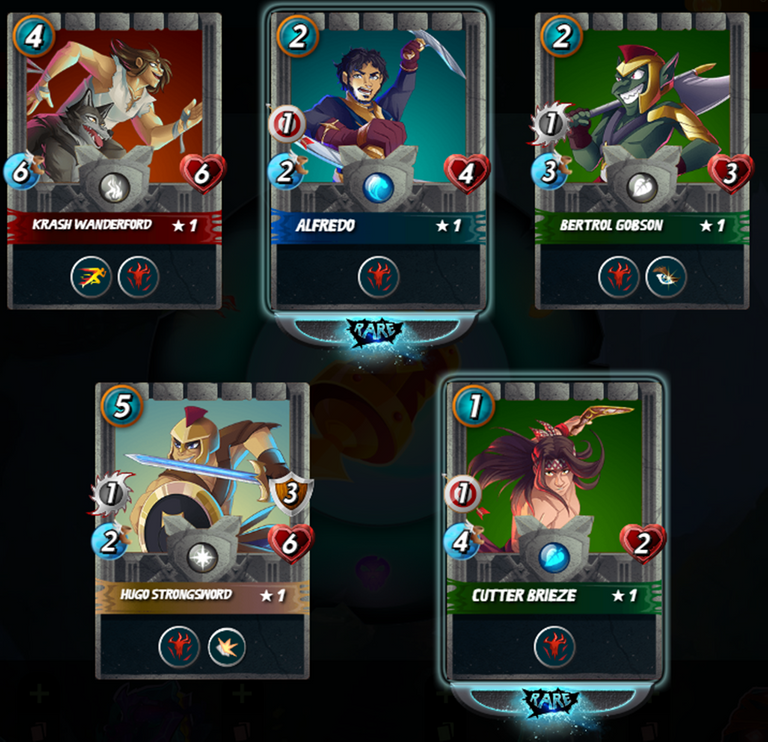 ---
Check out other Pizza Guild Brawls:
@candnpg Splinterlands Share Your Battle Challenge — PIZZA Brawl Report
@relf87Guild Brawls With Pizza 2 - Brawls Now Give Out SPS!
@edskymiguel PIZZA 1 The Stuffed Crust - BRAWL REPORT
@blitzzzz Splinterlands & PIZZA Brawl Report : My 58th Brawl Report with 🍕PIZZA 2 The Deep Dish Guild🍕 ⚜️⚔️🛡️🔥🐉
@vaynard86 Social Media Challenge: Splinterlands Weekly (Nov 11 - Nov 17) + Brawl Report
@fletcher12314 My First Brawl Report in PIZZA 1 The Stuffed Crust
---
Giveaway Pings
@amaillo
@luizeba
@irisworld
@h3m4n7
@blitzzzz
@shawnmichael-gt
@koodies
@postapocgamer
@jfang003
@henruc
@bokica80
@relf87
@cogie88
@candnpg
@chefbgob
@qoogohome
@mercysalifu
@thoth442
@bonehead752
@marcinxyz
@urkanon
@criptosectadepit
@urkanon
@plicc8
@theacks
@danideuder
@vagabond42069
@zekelol
@waynechuasy
@xheadhunterz
@eijibr
---
Thank you for reading this far, additionally, I do want to thank the people in Pizza, a great place to hang out! I have learned a lot from it and there are great people and a very positive community.
You can find them here: Awesome Pizza Discord
I'm starting to track the Pizza token a little bit more as well, it is currently sitting at $0.01687, a great time to join the Pizza family!
At some point I will be doing some other posts about my experiences in Crypto, but here are some links if you are interested in some other NFT Games or other games as well!
---
Splinterlands
If you use my referral link I will send you 200 DEC to get started!
Layer 2 Labs
A Great community for Splinterlands, with games and a faucet to help players as well, new name as well, was Splinterlabs.
Rising Star
Great music NFT and a way to support up and coming musicians!
Sorare
Still learning this one, but it is a football (American Soccer), easy to set up and go!
Star Citizen Referral code: STAR-LRKQ-D6NK
Space game, still in alpha development, playable, very immersive, sign up with the referral code it will give you money in the game along with both of us receiving a free ship!
Unmineable
A great way to get into Crypto mining, easy to set up, code gets you a 0.25% fee discount, uses the graphics card while you are not using your computer, or you can mine with just your CPU.
---
Let me know if there are any questions, you can find me in the messages here or in the Pizza Discord.
Remember to reach across the aisle and talk to someone that might be different than you, you might be amazed at the person you find!
Lastly, thank you again, remember you are awesome and have a wonderful week!
Dr. Kqaos
---
Photos come from PowerPoints stock image, Bitmoji with Splinterlands logo on top of it, or my own screen shots of Splinterlands
Disclaimer: This is my opinion, not financial advice.
---
---