Carnage Titan - Splinterlands Weekly Battle Challenge
Hi guys, this is one of my battles in our guild BRAWL and I will be sharing how powerful a DRAGON monsters is.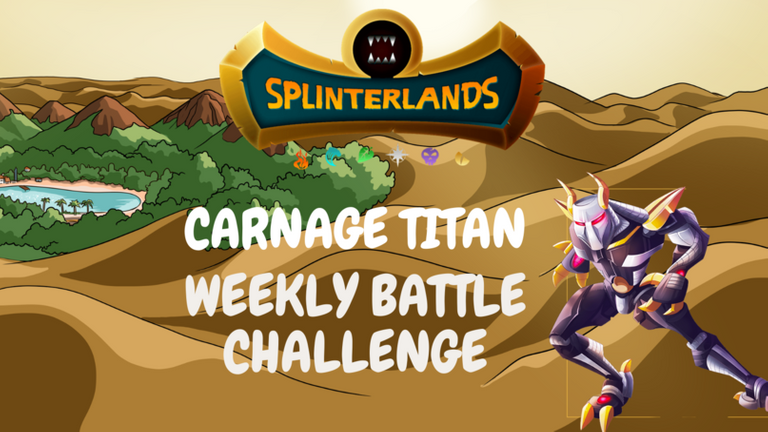 First, we have to know the story of CARNAGE TITAN.
A mysterious man from the Chaos Legion brought the bone and the armor of the finest Gloridax Guardian to Morloth the crazed tinker. The tinker crafted these remains and used the green crystal from the Disintegrator as the main ingredient. He worked day and night to finish and assemble the masterpiece. Passed out after finishing it, only to realize that the masterpiece was missing.
The mysterious man that asked Morloth to craft the monster was Blight, and he took the finished work and used it to spread carnage.

CARNAGE TITAN is a powerful monster that has multiple abilities which are Reach

and Double Strike

that will be available at level 1, and Shield

at level 3.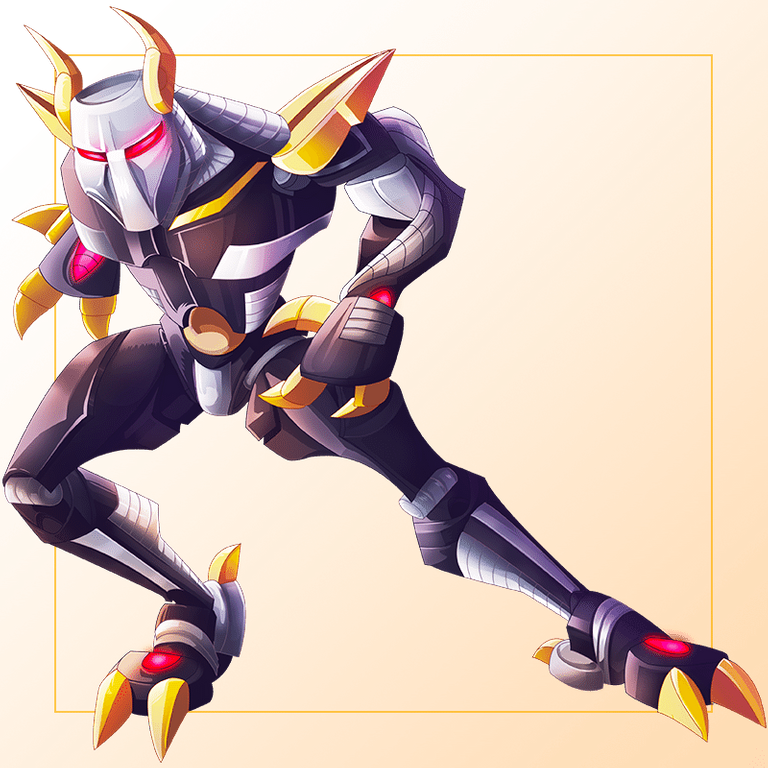 | | | |
| --- | --- | --- |
| | MANA | 11 |
| | | |
| | ARMOR | 7 |
| | | |
| | HEALTH | 8 |
| | | |
| | SPEED | 3 |
| | | |
| | DAMAGE | 2 |
CARD PRICE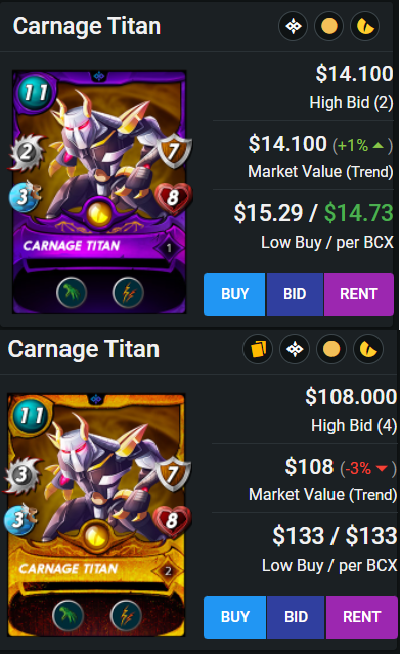 Since this is a legendary dragon monster, we can expect that the price of buying and renting this card will be expensive.
A REGULAR FOIL CARNAGE TITAN costs $15.29 at the time of writing. And if you intend to level him up to level 2 to gain the +3 damage. You'll need 3 bcx of him, which will cost you at least 45.87.
A GOLD FOIL version of this card costs $133 and will automatically put you at level 2, as well as give you a 12,500 CP and a 10% bonus DEC for winning a rank game match.
Renting a level 1 regular foil CARNAGE TITAN costs 2.977 DEC per day, while a level 2 will cost you 14.750 DEC/day.
GOLD FOIL CARNAGE TITAN will cost you a 64.885 DEC/day
---
WEAKNESS AND STRENGTHS
STRENGTHS, CARNAGE TITAN is an overpowered monster with an amazing HP, armor, speed, damage, and abilities. He is one of the best second-position monsters in the game, especially in the lower league. This monster is one of the best damage dealers and tank that you will need in a second position monster.
WEAKNESS, having excellent stats always has a drawback, which is that this monster costs 11 MANA and can only be used in games with a high mana cap. He is also a legendary dragon card, which can be difficult to obtain due to the high cost of purchasing or renting.

RULESET

We will not be limited to picking a high mana cap monster because this is a CHAOS LEGION ONLY 60 mana cap game, and we will not be expecting any magic damage monsters because we have the LOST MAGIC

ruleset. There is also a NOXIOUS FUMES ruleset

where we can expect monsters with HEAL and IMMUNITY. Thus, I planned to get monsters with high mana damage to end the game as soon as possible and ensure that my monsters get their turn first by getting a monster/summoner that will slow the enemy and a utility monster that will reduce the melee damage of the enemy and finally picking a monster with an IMMUNITY in case he chose a high mana damage monster.
---

SUMMONER

QUIX THE DEVIOUS, a legendary dragon summoner who deals -1 speed and -1 range damage to enemies. The -1 speed debuff will work well with CARNAGE TITAN because the speed difference will cause enemy monsters to miss.
---
TANKS

GRUM FLAMEBLADE, a legendary fire splinter monster with high damage, armor, and speed. I need a good tank to put my *CARNAGE TITANdamage *'s to good use; the longer GRUM FLAMEBLADE lives, the more damage CARNAGE TITAN can deal.
---

CARNAGE TITAN, another legendary dragon splinter monster. This monster will serve as the secondary tank as well as the primary damage dealer. With his speed and ability Double Strike, he can deal 4 damage per round and last 4 rounds even with poison damage.
---
SNEAK COMBO

ORELLA ABADON, a rare fire splinter monster that can only be used in BRAWLS. Since we already have great frontline damage. I need monsters that can deal damage to the enemy's backline, and ORELLA ABADON is one of the best monster available.
---

TENYII STRIKER, a rare monster from the fire splinter. And the second Sneak monster from my Sneak combo. He will be the first monster to remove or damage the enemy monster while my ORELLA ABADON will finish off the enemy.
---
UTILITY MONSTERS

FORGOTTEN ONE, an epic fire splinter monster. In a NOXIOUS FUMES ruleset, we need a monster with the IMMUNITY ability, and this monster is the best fit. In case my sneak combo or frontline damage failed. My FORGOTTEN ONE would be the secret weapon. That is why I put him in the safest position; while the enemy and my monsters trade damage and take poison damage, my FORGOTTEN ONE will be safe and will be my last winning card.
---

DISINTEGRATOR is a neutral common monster with the ability DEMORALIZE, which makes him a must-have in this game. He will be a counter to the enemy's melee damage, and I placed him in the last position to tank the enemy's Sneak damage.
---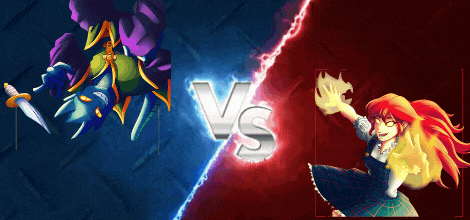 The enemy, as expected, went for a heavy melee lineup with a TARSA summoner, making my DISINTEGRATOR pickup worthwhile. And his lineup was geared toward obtaining high HP monsters.
Battle Link Here
ROUND 1
The first round was both of us trading damage, since I opted for a high damage lineup, I lost 1 monster in the first round due to the poison damage when he did not lose any.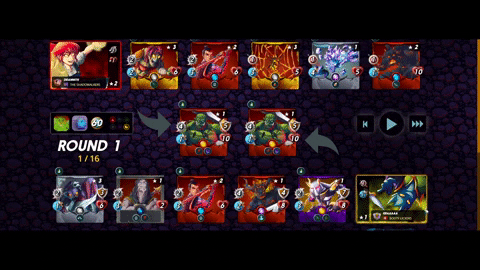 ROUND 2
I lost another monster in the second round, leaving me with four monsters remaining. However, all of his monsters' HP is rapidly dwindling, whereas my FORGOTTEN ONE still has 8HP.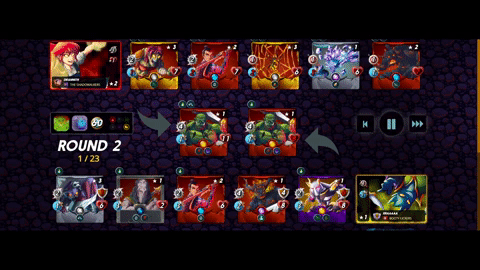 ROUND 3
I lost my DISINTEGRATOR in the third round, losing my -1 melee damage negative effect to the enemy monsters. However, I got lucky with the misses against my CARNAGE TITAN thanks to his high speed and -1 speed from my summoner QUIX THE DEVIOUS.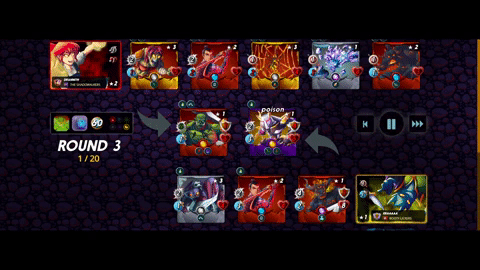 ROUND 4
Most of the enemy's monsters died from the poison damage that made the game back to 2v2, and since the enemy's monsters have a low HP, my CARNAGE TITAN eliminated the remaining enemy monsters without my FORGOTTEN ONE doing anything.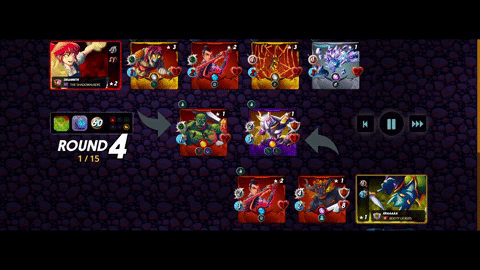 AFTERTHOUGHTS
I won the game comfortably, even though my FORGOTTEN ONE has almost no contribution. Even if given a chance to change my lineup, I would still use the same monsters/summoners.
I still believe that DRAGON monsters are the best monsters in High Mana Cap games. They are expensive, and the majority of them are legendary monsters, but once available, they will be the best monsters to use to win games.

If you don't have an account yet you can use my referral here to start playing.
All the images are owned by Splinterlands.
The cover photo was made in canva.
The GIF's was made in giphy.
---
---