My REGRETS and SUCCESS in playing Splinterlands
Hi guys. I'll discuss my Recap of the previous season, Rewards I received, Rebuild of the cards I own, Regret in my game and opinion, and Result of my experience playing this game.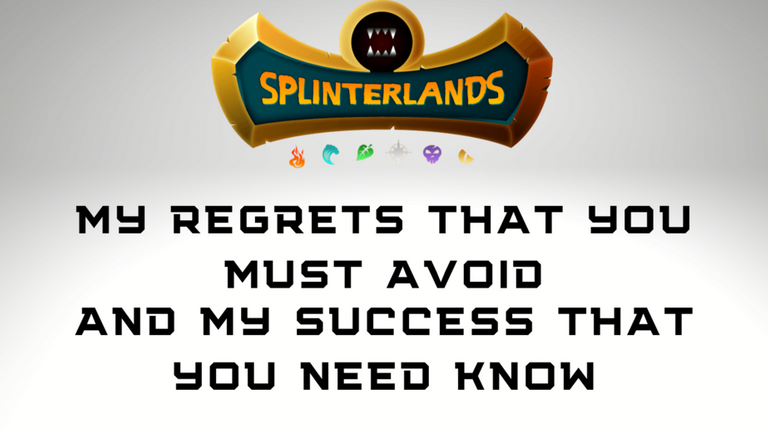 RECAP
A new reward system was implemented. The rental cost of the cards was dirt cheap at first, the DEC gained from rank battles was higher than ever, and the BOTS vanished. My original plan was to stay in the silver league and play with my own cards rather than renting, and I am now getting at least 10 - 15 chests per day and learning 70 - 100 DEC per day with a high win rate. However, in the middle of the season, my BRONZE DECK is getting stomped by max silver deck players, and I'm only getting 5 - 10 chests per day. I rented a max gold level fire deck, which I posted in here, and successfully reached 3k ratings while having enough power to play in the diamond league, which I did. However, once I started playing in the diamond league, the gameplay changed and became more enjoyable, making me want to return. After my ECR recovered to 100%, I rented a level 7 ALRIC for only 30 DEC/Day. I was able to reach DIAMOND 1, and with a rating of 3.7k, I could enter CHAMPION for the first time since I started the game, but I don't have the CP to do so, so I stayed and planned to familiarize myself with the diamond league.

REWARDS
I don't remember how many chests I opened from yesterday's EOS chests, but I'm sure it was more than 500, and the best reward I received was a 2 bcx of JARED SCAR from my silver account. Those chests were opened from 10 bronze accounts, 3 silver accounts, and 1 gold account.
These are the chests that I opened from my 13 alt accounts and my main account
---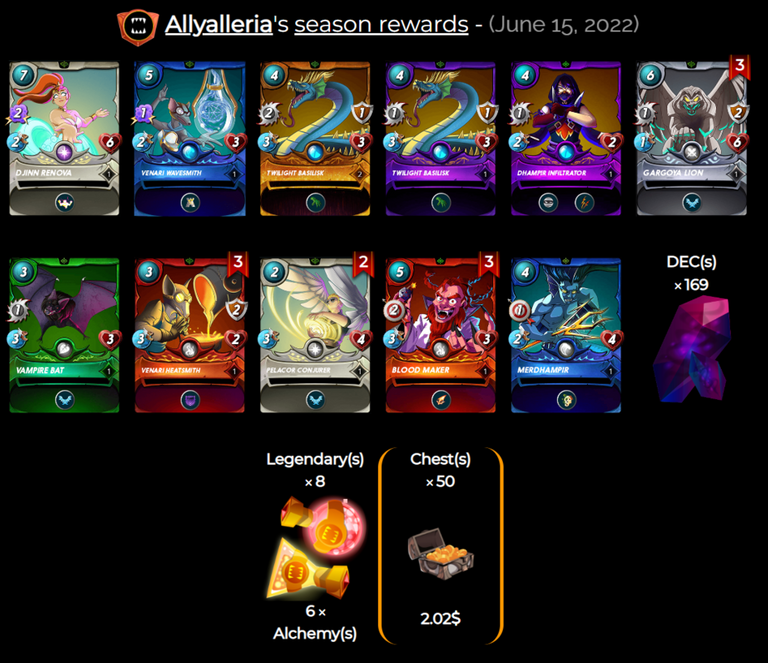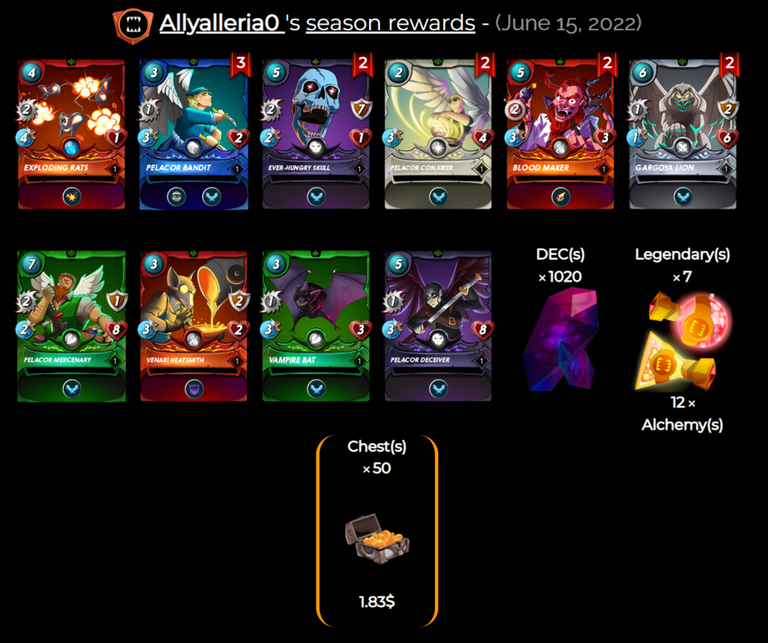 ---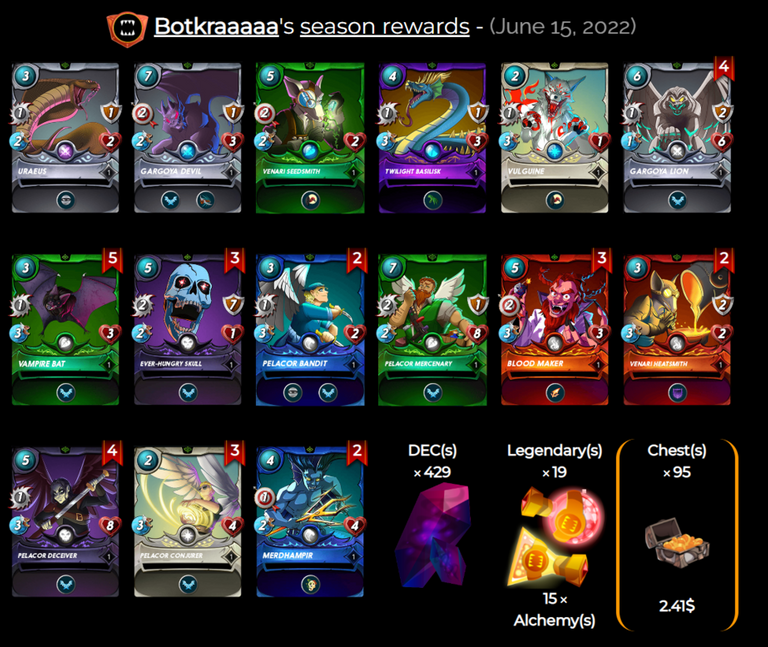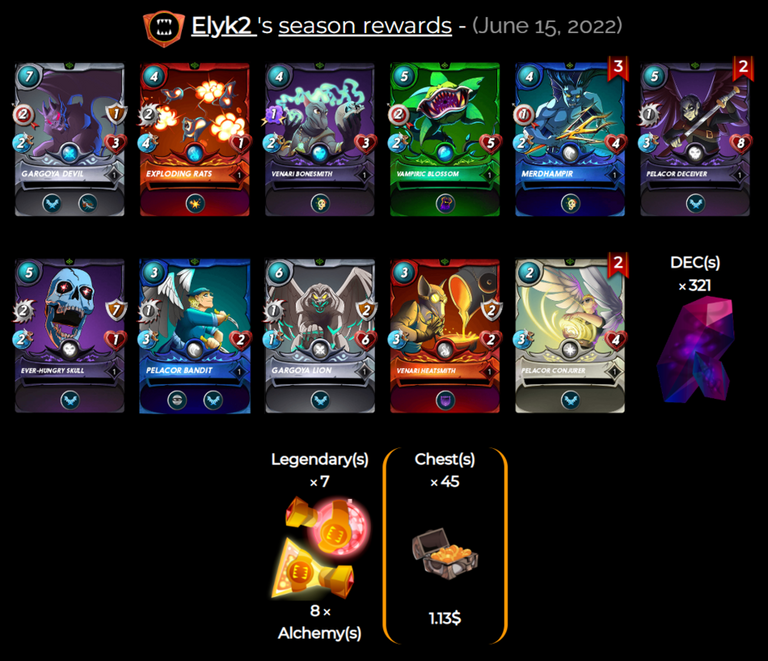 ---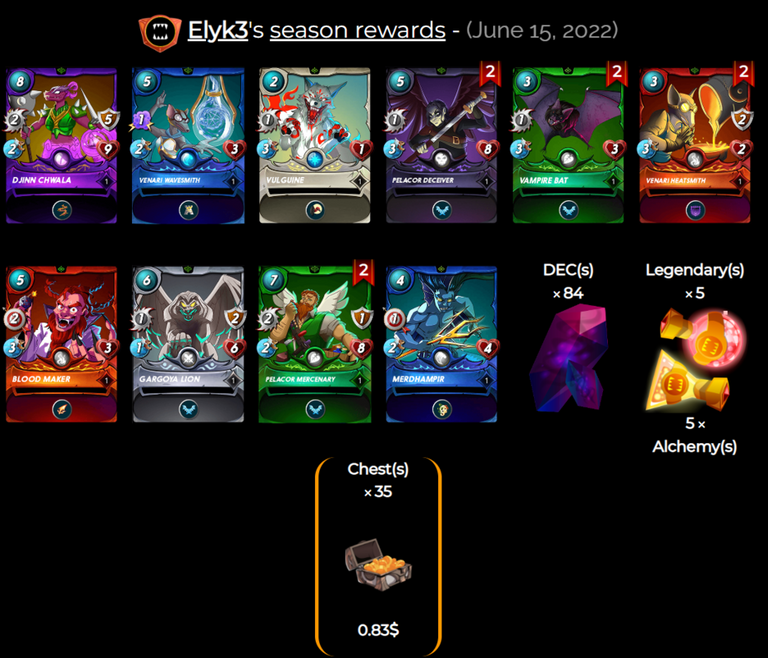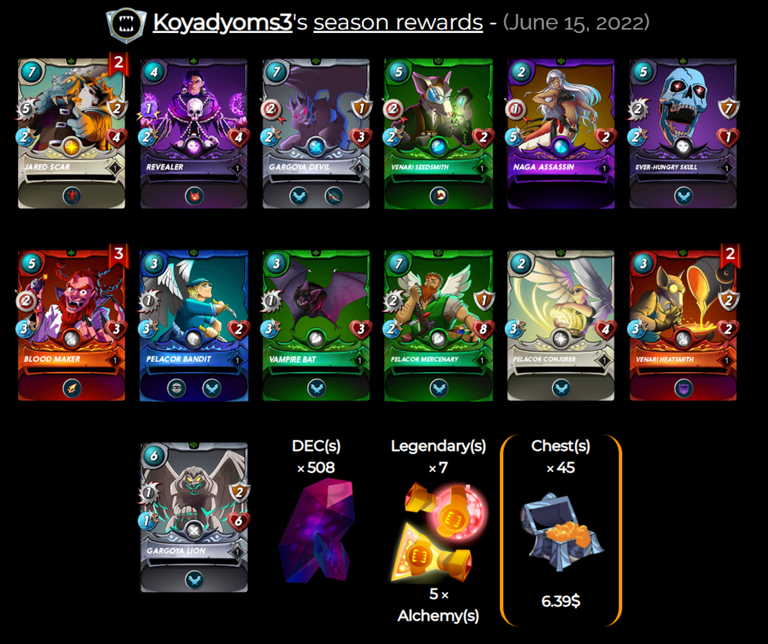 ---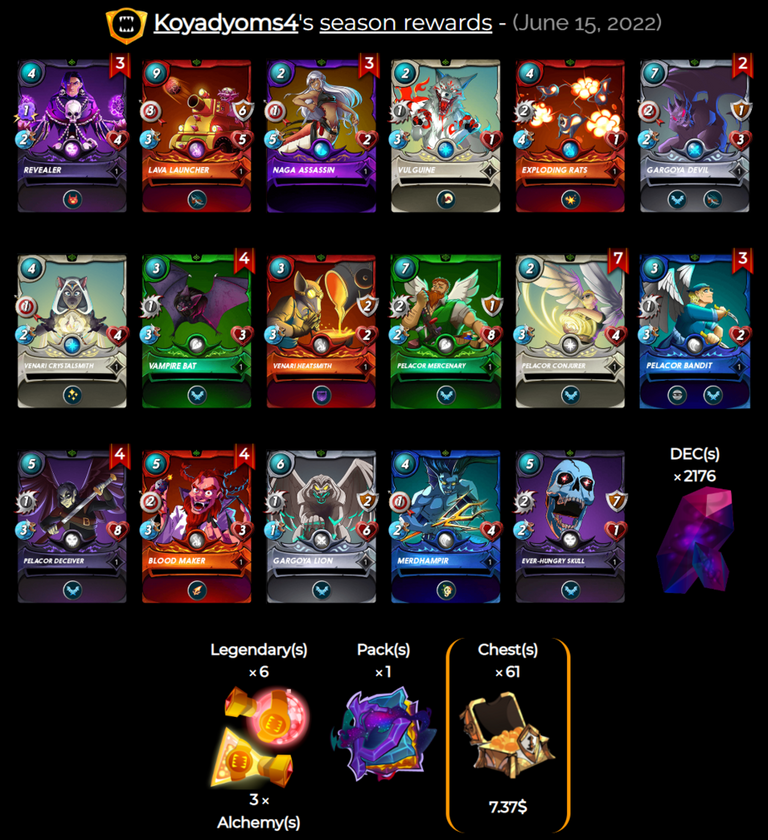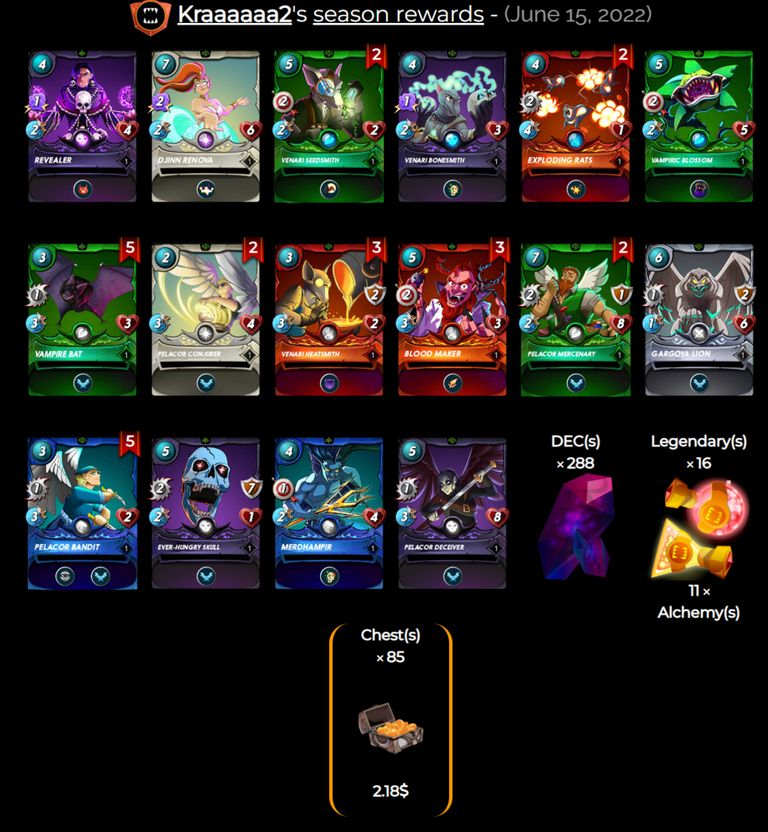 ---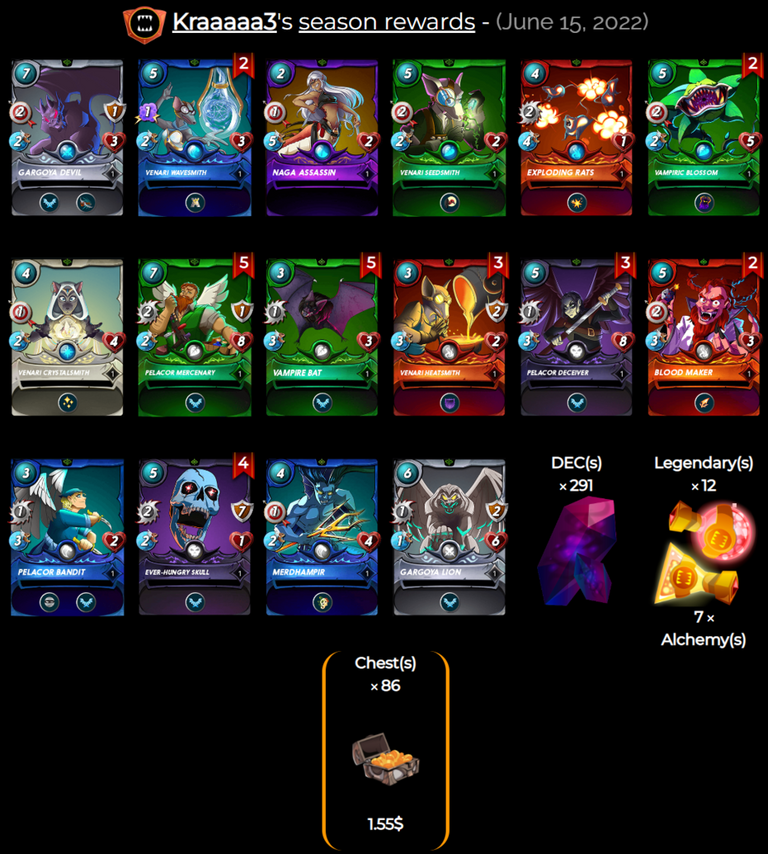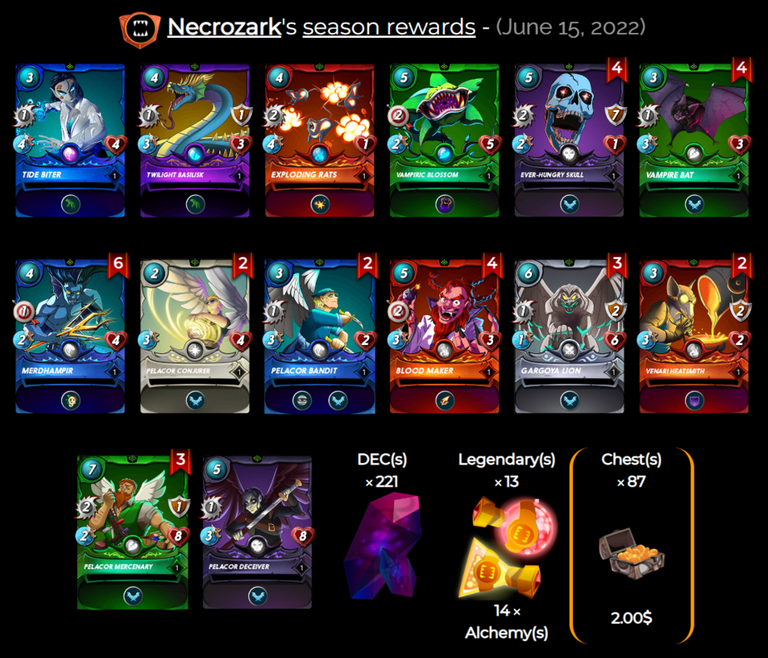 ---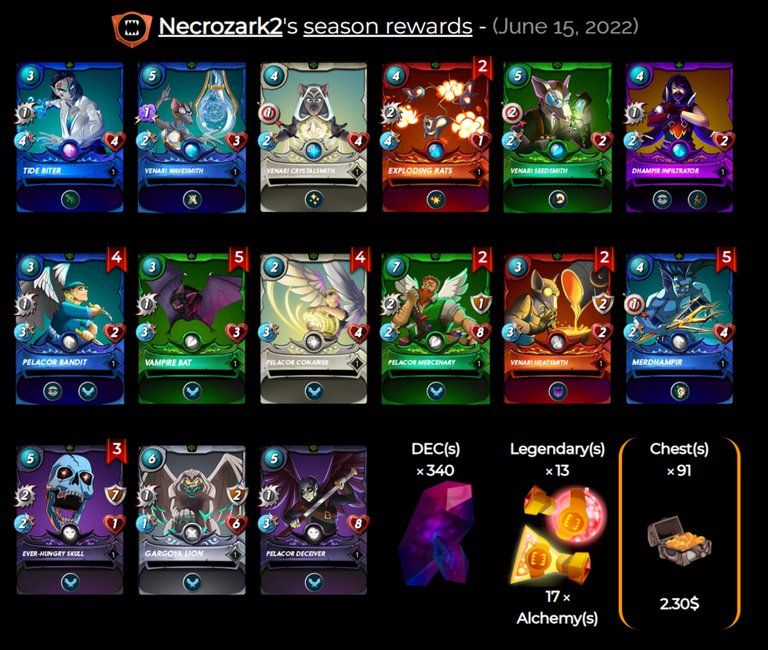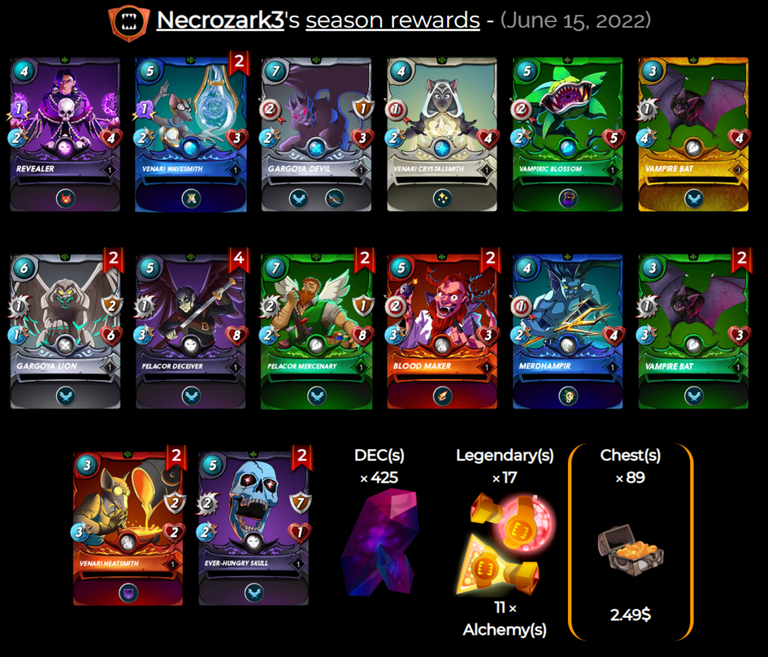 ---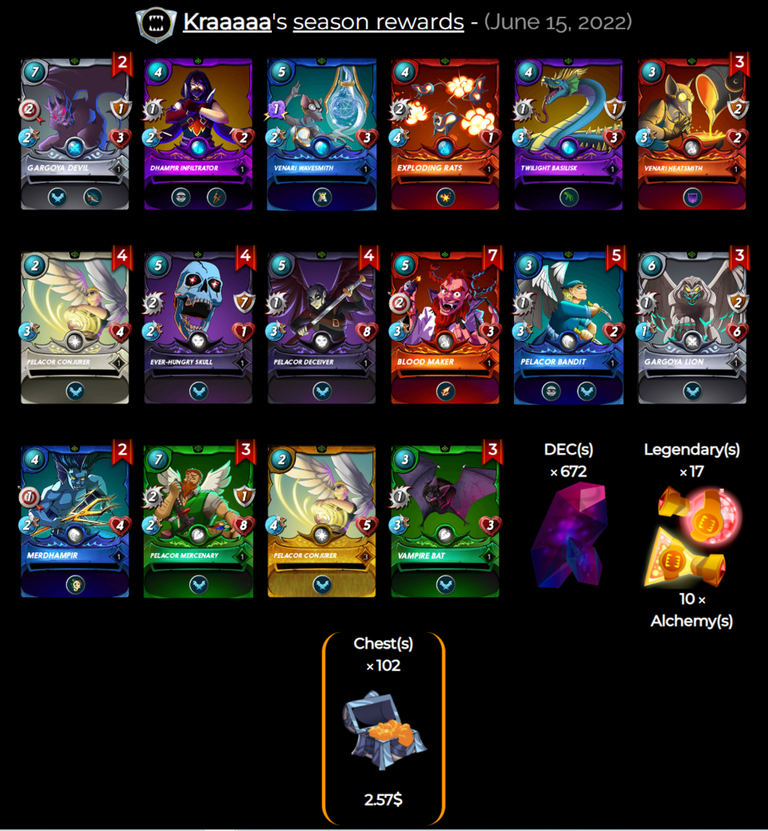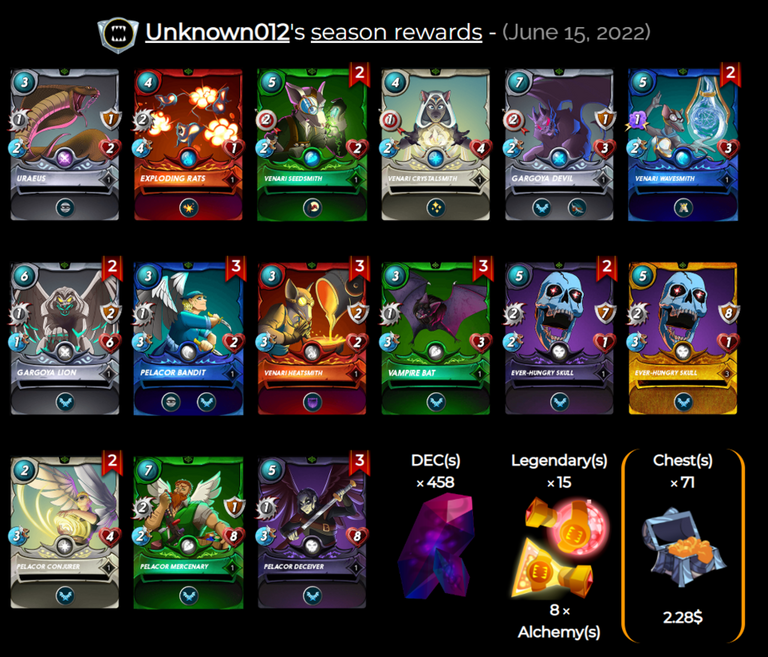 ---
This images were taken from splintershare.info.
I received an average EOS reward, as usual, and the best value came from the GOLD CHESTS.

REBUILD
I played in the silver league after building a max bronze deck in every splinter. I was very pleased at first, but then I started losing games due to the enemy's level advantage, which forced me to sell my BRIGHTON BLOOM and some legendary monsters that I rarely used and upgrade my water deck to silver, which cost me a total of $242.17.
This is my silver deck:

I am confident that with this silver deck, I will have a 60 percent or higher win rate.

REGRET
People say Splinterlands is a GAME and in other games like Clash of Clans, Counter-Strike, and Dota2 you spend money and time without getting anything in return, whereas in Splinterlands you OWN the cards you buy and earn money while playing the game. Splinterlands is Play 2 Earn and cannot be compared to other normal games, I LOVE THE GAME. The game is addicting and entertaining. However, I began playing this game because it is a Play 2 Earn game, and I understand that in order to earn money, you must spend money, which I did.
I began playing the game seriously in September 2021, when it was at its peak. I had no idea the prices were at an all-time high, I was just told the prices of the cards would go even higher and I got FOMO'd into buying cards, I bought a lot of random cards such as DJINN OSHANNUS for $40 and HARKLAW for $20. I spent a total of $1,400 on the game, and my deck is average in every splinter. However, with the new reward update FOCUS POINTS, my bronze decks became almost useless because I play in the silver league and still need to rent cards to compete, or I can simply go back to the bronze league and dominate, but that is no longer an option for me because I am already in the silver league.
I wish I had done more research.
I regret purchasing cards that I will not use.
My $1,400 worth of cards are now worth $636.24.

RESULT
I am now familiar with the game and the methods for earning money while playing it. I shared my regrets because I want to share my thoughts on the game and don't want other people to experience it. But, despite my regrets, I still have my successes in this game, which are my gains and profits.
I have cashed out a total of $500.

I earned 486.25 SPS via SPS airdrops.
And the majority of my HBD/HP came from my blogs for Splinterlands Challenges and daily posts. And, despite the fact that we are in a bear market and the HIVE price has dropped, I still have a value of $175.169 in my hive-keychain.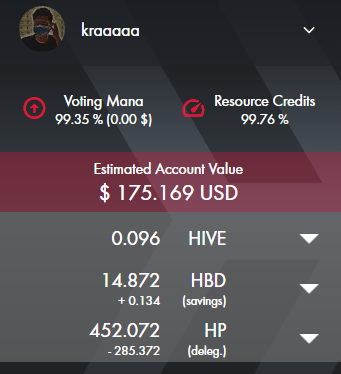 You must HAVE A PLAN if you want to earn money in this game.
And here are my plans for the future with Splinterlands:
On the last day of of the season, I will sell half of the DEC and HODL and the remaining half for the SPS AIRDROPS.
If a Legendary Reward Card drops, I will always sell it as soon as possible and reinvest 50% and take 50% profit.
I'll be holding the reward cards COMMON, RARE, and EPIC because I intend to max them all in order to reach CHAMPION.
To maximize my profits, I will play the game until I reach 50% ECR and then rent out or delegate my remaining cards.
Card Flipping, I'll try this on my alternate account first.
Collect 1000 SPS and stake it.
The most important aspect is BLOGGING; make sure to participate in the splinterlands challenges created by splinterlands because they are awesome and will ensure that your blogs are upvoted. You have nothing to lose by blogging and will earn free money as a result.

All of the images are owned by splinterlands.
The reward pictures was taken from Splintershare.info.
The cover photo was made in canva.
If you are not playing splinterlands yet. You can use my referral here.
---
---