Silent Shavi - The Silent Killer
Hi guys, have you ever played a game that you really want to share because it's both funny and amazing? This is one of my favorite battles since I started playing Splinterlands, and it was taken when I am playing in the GOLD league trying to climb into a diamond. A game that took 12 rounds without me losing any monsters because all we did is tried to counter each other.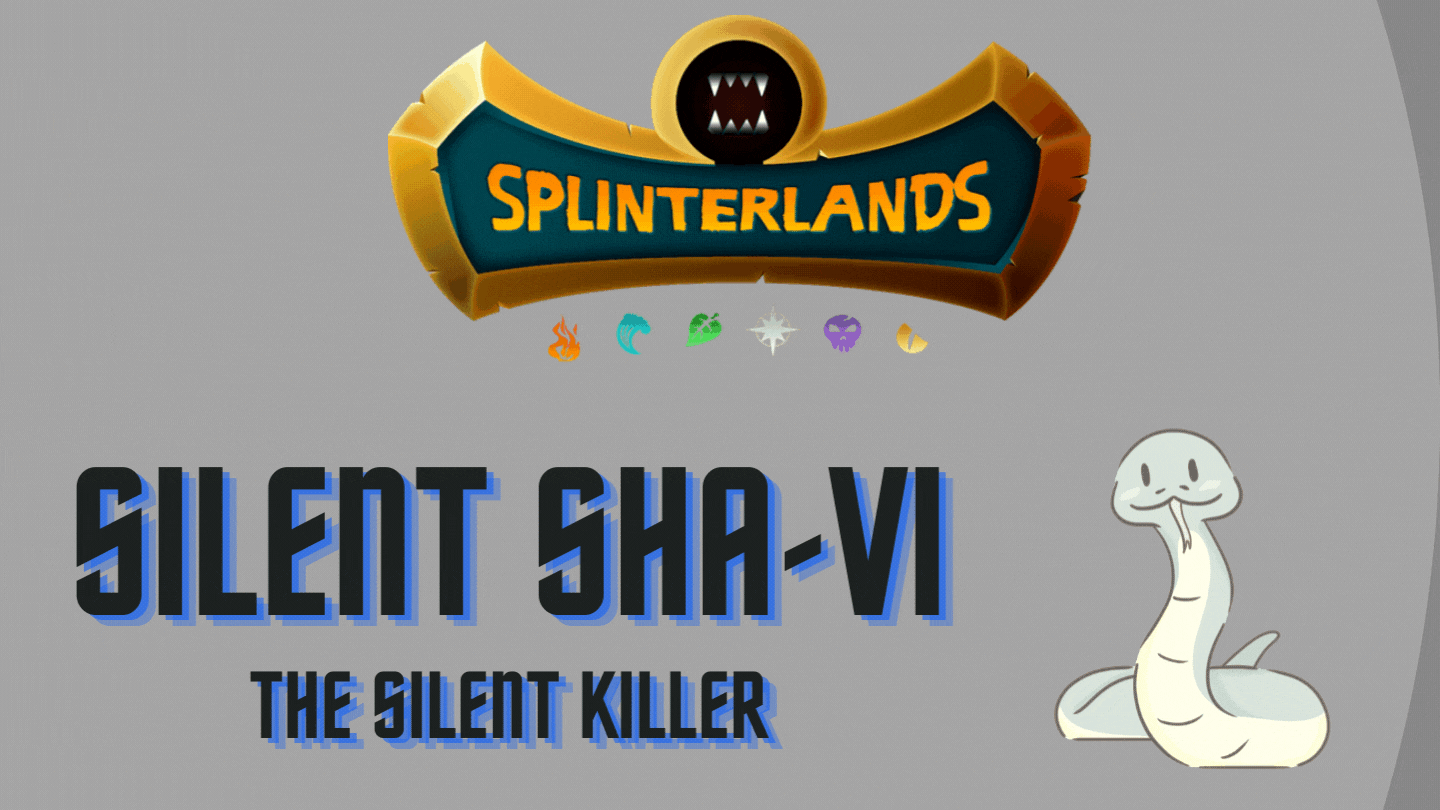 SILENT SHA-VI, according to the splinterlands lore: Silent Sha-vi are entities from the shadow realm that take the form of giant snakes. They travel in darkness and shadow as if each dark corner is a gateway that leads elsewhere. They have an appetite for slow and creeping deaths, feeding off the escalating fear of the victim. If you think there might be a monster under your bed, it's probably a Silent Sha-vi.

SILENT SHA-VI has three abilities: SNEAK, which is automatically unlocked at level 1, CRIPPLE, which is unlocked at level 6, and according to Splintercards, each time a Monster hits an enemy with Cripple, it loses one max health, and PIERCING, which is unlocked at level 10, that attack damage exceeds the armor of the enemy monster will reduce it's health.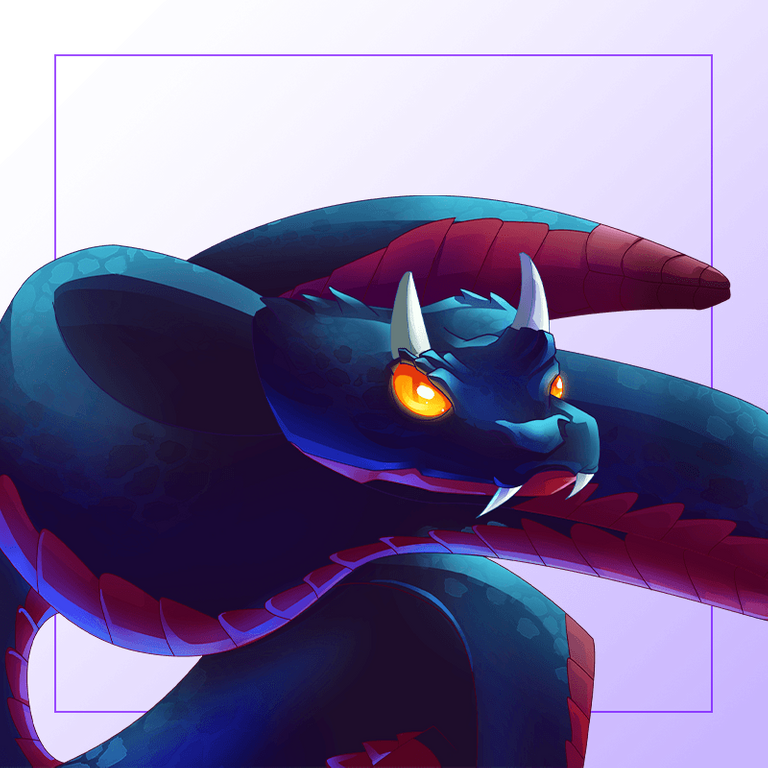 | | | |
| --- | --- | --- |
| | MANA | 5 |
| | | |
| | ARMOR | 0 |
| | | |
| | HEALTH | 7 |
| | | |
| | SPEED | 6 |
| | | |
| | DAMAGE | 3 |
CARD PRICE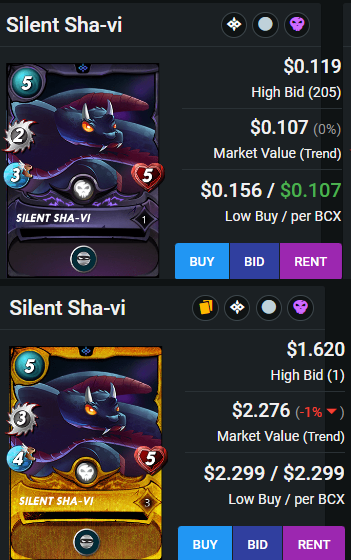 This monster's foil 1 bcx gives 5 CP, and when upgraded to level 8, it gives a total of 1100 CP. While a Gold Foil Version of this card will give you 125 CP, upgrading to level 8 will require a 20 bcx and will give you a total of 2500 CP.
At the time of writing, a regular foil 1 bcx of this monster costs $0.119, and leveling up to 8 requires a 220 bcx of this monster, which costs $26.18.
A gold foil version of this card will cost you $2.299 per bcx/piece, and upgrading to level 8 will cost you $45.98 total.
A regular foil level 1 bcx of this card costs 0.1 DEC/Day and a level 8 costs 24.991, a gold foil of this card is automatically level 3 and costs 0.255 DEC/Day and a level 8 costs 110.198.
---
WEAKNESS AND STRENGTHS
STRENGTHS, this monster is one of the best SNEAK monsters in the DEATH deck, whether in the Higher or Lower league, in my opinion. His basic stats alone can dominate the enemy's last position monster in the lower league, and with all of his abilities unlocked in the higher league, he will be a beast.
WEAKNESS, SILENT SHA-VI is a 5 mana cost monster, making him difficult to use in low mana cap games. He lacks armor and only has 5 HP, making him a glass cannon. A powerful damage dealer, but one who is easily defeated.

RULESET
The rules were UP CLOSE & PERSONAL

and AIM TRUE

, which means only melee monsters are permitted and they will never miss. Choosing a monster with a DODGE or FLYING ability is thus pointless in this match.
My plan is to use monsters with the SHIELD and DEMORALZIE abilities to reduce melee damage, as well as a summoner that will do the same.

---

SUMMONER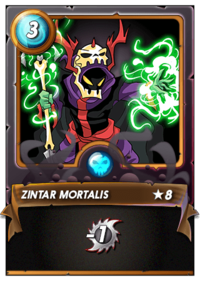 ZINTAR MORTALIS is the best summoner in this match; this summoner will debuff the enemy monsters with -1 melee damage.
---
TANKS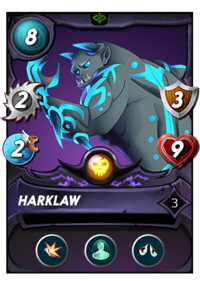 HARKLAW is the main tank and has been placed in the last position to counter any SNEAK monsters; his abilities DEMORALIZE, SHIELD, and IMMUNITY will be among the best in this match; he will not be affected by any poison damage, and with his SHIELD ability will render the SNEAK monster of the enemy useless.
---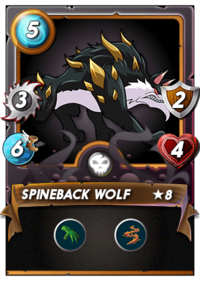 SPINEBACK WOLF, I chose this monster for his THORNS ability and placed him in the second position because of his ability REACH.
---
SNEAK COMBO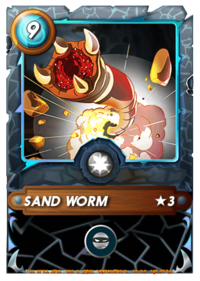 SAND WORM is the main damage dealer in my SNEAK combo; with his 6 melee damage, he will be a lethal monster that will eliminate the enemy's last position monster.
---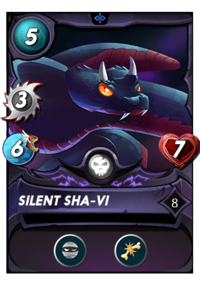 SILENT SHA-VI is the main character in this lineup; I already have the support and utility monsters in the match, but with his speed and damage, he will be the first monster in my SNEAK combo to deal damage, followed by SAND WORM. Because this is a high mana cap game, the enemy will have monsters with a high amount of HP, and his ability CRIPPLE will reduce the maximum health every time SILENT SHA-VI hits.
---
UTILITY MONSTER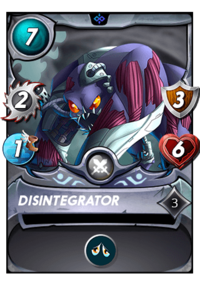 DISINTEGRATOR is one of the utility monsters I used in this match; his DEMORALIZE ability reduces enemy melee damage even more.
---
MAIN DAMAGE DEALER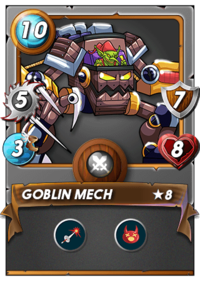 GOBLIN MECH is the main damage dealer in this match, and I put him in the first position to maximize his damage and ensure that he can use his STUN ability, which can disable his front-line monster by stunning it.
---

My ZINTAR MORTALIS versus his CHANSEUS THE GREAT, he has an excellent lineup with frontal and back tanks as well as three SNEAK monsters as the main damage dealer.
Battle Link Here
ROUND 1 & 2
Because of all the debuffs I have, all of his SNEAK monsters have 0 damage against my HARKLAW in the first round, while I am slowly killing his SHIELDBEARER, we are trading hits but I am not taking any damage but he is.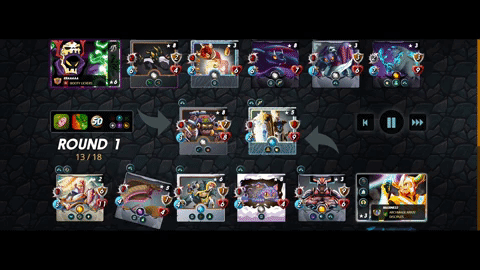 ROUND 3
In the third round, I was able to kill his SHIELDBEARER, but his summoner resurrected it. However, I was still inflicting more damage than him.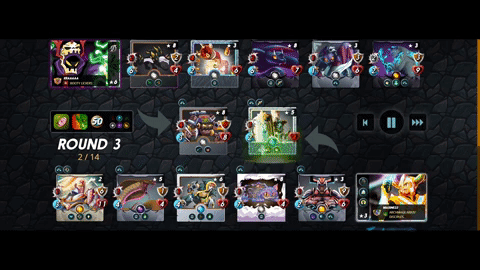 ROUND 4 - 6
I was finally able to eliminate his SHIELDBEARER after 5 rounds, and my SNEAK monsters are starting to damage his last position monster while slowly killing his first monster.
ROUND 7 - 9
I killed his ALVAR and nearly killed his URIEL in the 7-9th round while keeping all of my monsters alive.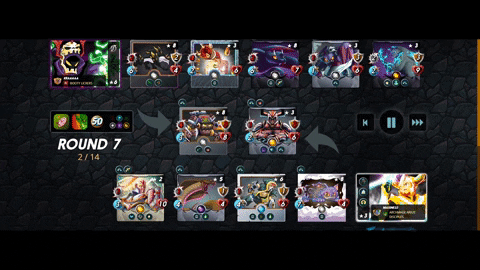 ROUND 10 - 12
I was able to easily finish all of his remaining monsters and win without losing anything because all of his high HP and ARMOR monsters died.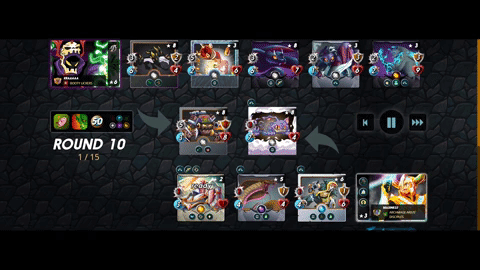 AFTERTHOUGHTS
SILENT SHA-VI is one of my favorite monsters, particularly my favorite SNEAK monster in the death lineup because he's cheap and a SNEAK monster that I always enjoy using. This match demonstrated how good this monster is due to his CRIPPLE ability, which reduces the enemy monster's health each time he takes his turn, and with my lineup that is compatible with each other, I won the game without losing any monsters.
Playing in a higher league is more fun but also more expensive, but my goal is to reach the CHAMPION league, which will cost me a lot of DEC, but I will still try to get there and have fun while doing so.

If you don't have an account yet you can use my referral here to start playing.
All the images are owned by Splinterlands.
The cover photo was made in canva.
The GIF's was made in giphy.
---
---